10 Highlights From Biennale Interieur 2018
Fifty years after it was founded, Biennale Interieur remains one of the most unique events on the international design calendar. Small in scale but big on ideas and quality, each iteration combines design, culture, and commerce with ease. This year, the fair took over the Xpo trade fair site in Kortrijk, Belgium, and an abandoned hospital nearby. The latter wowed with its unsettling but fascinating interiors that still abounded with the machinery and switches of recent life.
The 26th edition introduced crucial changes to move with the pace and needs of the times and different audiences. "The economic climate has changed and there are so many design events now that the market has become over-saturated," explains creative director Dieter Van Den Storm. In turn, the main exhibition was shortened from ten days to five, a move that helps better target professionals and specialists. The off-site program, however, will stay open for three weeks—locals can experience the biennale, too. The Interieur catalogue was replaced with a graphically poppy magazine, allowing the organizers to reach at least 40 times as many people.
Remaining the same are the fair's attention to detail and ambitious design. Italo-Dutch architects Studio Verter created a "hall within the halls—a piazza that you always come back to," says co-founder Claudio Saccucci. It's filled with landmarks or monuments commissioned from international talents. Though many international brands exhibit in Kortrijk, it remains one of the most prime places to spot Belgium's most promising designers and manufacturers.
Below is a selection of launches, products ,and installations that caught our eye.
1. The intriguing and sophisticated COIL shelf/cupboard by Bram Kerkhofs received the Interieur Award in the Objects Category. Composed of a staggering 400m of elastic rope that moves aside to place things inside, it comes only in gray. "The objects inside provide the color," says Kerkhofs.
2. Montreal-based lighting designers and manufacturers Lambert & Fils showcased the new Dorval 01 by Paris-based SCMP DESIGN OFFICE, the brand's first international collaboration. Equal parts pendant and chandelier, the powder-coated aluminum fixture's four heads are individually adjustable.
3. Emerging Belgian design collective Brut returns after debuting in Milan with neutral- and dark-toned objects displayed on a bed of coal—a nod to Belgium's industrial mining heritage. Ranging from functional to emotional, the pieces include Linde Freya Tangelder's sculptural Bolder Chair, made entirely from chipboard and pressed textile fiber board.
4. Belgian design practice barh launched a collection of sleek, crafted, and unexpected pieces. Sam Goyvaerts's brut stools come in American ash, green marble, or terrazzo, and feature a thick patterned layer of urethane rubber for greater ergonomic comfort and flexibility.
5. Japanese brand Ariake, seeking to refresh their traditional roots, partnered with designers Staffan Holm, Gabriel Tan, and Keiji Ashizawa. Interieur was the brand's second European design show, after Stockholm.
6. One of four temporary bars installed at Xpo, Geofood by multidisciplinary design practice Raams Studio (based in both China and Spain) took cues from typical white Spanish cave houses and made out of easy to reuse or recycle Styrofoam for the walls and raw brick and wood for the table, stools and counter.
7. Every year, an architecture firm designed Xpo's layout. Rotterdam- and Ghent-based Studio Verter created a rectangular central piazza made out of translucent white scaffolding mesh "walls" (pictured in the background). All roads led back to the square, filled with five landmarks, including a 30-foot-tall kaleidoscopic obelisk digitally printed by British designer Adam Nathaniel Furman.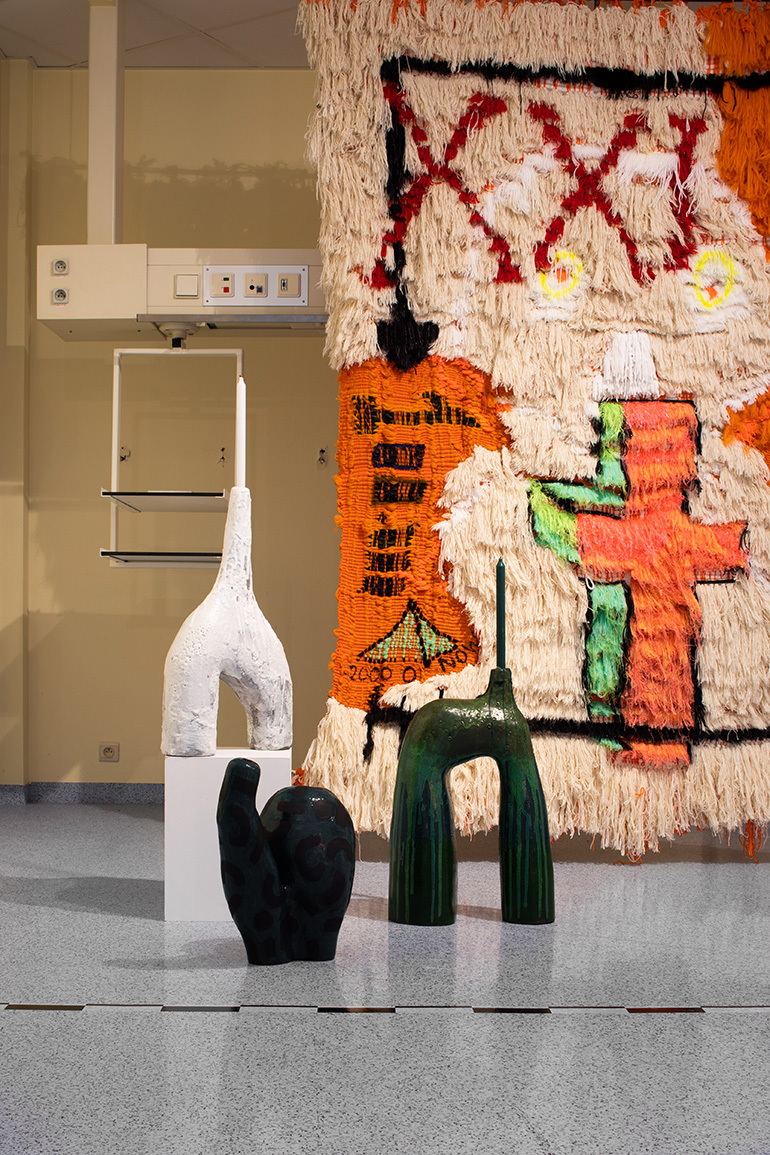 8. In the hospital's recovery room, Antwerp-based ceramicists Harvey Bouterse and Wouter Hoste showed pieces from their latest collections, leaving the pastel surroundings of light blue furniture, buttery yellow walls, and vinyl terrazzo flooring intact. Pictured are works by Bouterse and rugs by German textile designer Joana Schneider.
9. Ghent-based creative branding agency DIFT asked 20 artists to take over a hospital room and honor the biennale's 50th birthday by using the organization's graphic design archive as inspiration. One result of this project, called "New Masters," includes a floor-to-ceiling waiting room design by Belgian muralist Wonderwalls and based on a 1980's Kvadrat curtain.
10. The GESTALT collection is a low table, lamp, and bench by Brussels-based design duo Sment that's unexpectedly made out of hand-mixed pigmented concrete. Despite its heavy appearance, the table is lightweight thanks to hollow space inside and doubles as an objet d'art when rested on its side. In Kortrijk's disused hospital site, it took pride of place next to an elevator.