10 Highlights from Prague Designblok 2018
Designblok, Prague's annual international design festival, marked its 20th anniversary this year. Appropriately themed Celebrate, the event saw international guest star Jaime Hayon design a birthday cake for the occasion, while design collective Okolo looked back on Czech design over the last two decades through the eyes of international media.
Now one of Central Europe's largest international design events, Designblok presents the latest collections from leading Czech designers, studios, and brands, alongside Czech design stars of tomorrow and a line-up of international guests. The main venue was the Art Nouveau Industrial Palace of Vystaviste in Prague's Holesovice district, although other venues throughout the city also hosted events. Here are 10 highlights.
Part of the new For You From Czechoslovakia collection by Dechem, Magion 6 takes its name from a series of famous Czechoslovak satellites that orbited the earth in the 1960s. The fixtures are made from hand-blown glass and polished brass. Photo courtesy of Dechem.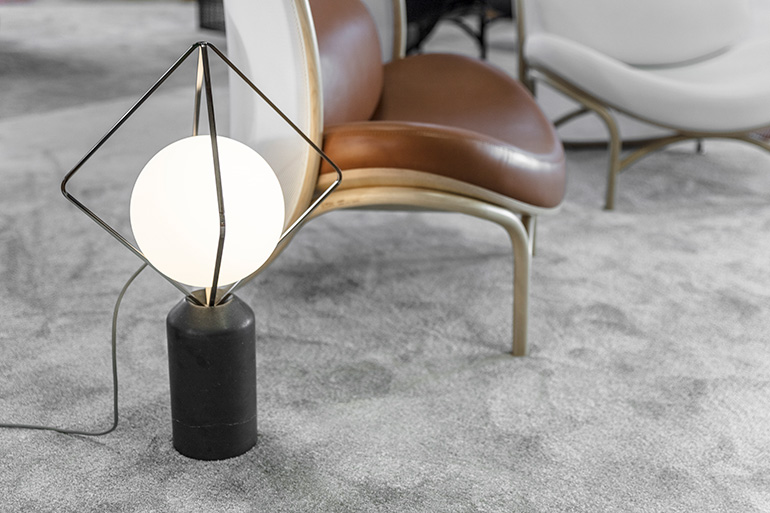 Taking home the Designblok 2018 Award for Best Furniture Collection for her Chips Lounge produced by TON, Lucie Koldova also presented her latest lights for Brokis as well as a new edition of Fragment, side tables made from shards of recycled glass. Photography by Martin Chum.
Originally designed in 1958 by Jiri Jiroutek, the U-453 marks the first reproduction by Nanovo, a Prague-based firm that restores and sells original Czechoslovak furniture from the second half of the 20th century. The founders worked alongside the designer. "The entire cabinet is made the same way Mr. Jiroutek designed the original 60 years ago," says Nanova co-founder Adam Karasek. Photography by Damian Skorepa.
Presented as part of Designblok's "Manifest" exhibition, HEX—designed by Studio deFORM and manufactured by BOMMA—is a series of hexagon-shaped, glass side tables that can stand alone or together. Photography courtesy of Studio deFORM.
A collaboration between designer Jakub Vavra and ceramicist Milan Pekar, Gradient combines eucalyptus and maple woods with handmade ceramic tiles that have been individually glazed in 80 different shades of green and brown. Photography courtesy of AMAN.
Winner of the Designblok 2018 Best Home Accessories Collection, Mirror Stage is by Terezie Lexova and Stepan Smetana, product design students at Prague's Academy of Arts, Architecture and Design. Featuring long steel legs, the mirrors are tinted in grey, bronze and green. Photography by Tomáš Slavík.
Set inside Prague's late-Baroque Colloredo-Mansfeld Palace, "Manifest"—Designblok 2018's core exhibition—invited 14 designers whose executions ranged from the poetic to the playful to the political. Along with Jaime Hayon's cake, celebrated Czech design studio Olgoj Chorchoj presented massive glass bulbs accented in wood, while Maxim Velcovsky built an undulating tower of golden cans entitled "Yes, We Can." Photography by Lucy Creative Agency.
Designed by Vrtiska-Zak and produced by U1, Only 2 is an adaptable office desk system with a wide range of color and accessories options, from notebook compartments to flower pots. Launched at Designblok 2018, Only 2 won the award for Best New Product. Photography by Kristina Hrabetová.
Distort is a new line of unusually shaped walls, furniture, and panels. Mainly made from gypsum, the products are manufactured in the Czech Republic both digitally and by hand. Photography by Stanislav Holy.
As part of its Canapé pop-up inside Prague's Old Town Court residential project, local slow-living magazine Soffa, furnished a two-story apartment with the latest from local brands including BOMMA, Haenke, Gravelli, and Ruckl. Photography by Lina Neméth.