10 Highlights from Salon Art + Design
Visiting a fair should unfold similar to turning the pages of a magazine, says Salon Art + Design executive director Jill Bokor. Coming from a nearly 25-year experience in publishing, Bokor pays attention to the instances of discovery across the fair booths, just like flipping through a glossy read. "Salon celebrates the continuum of design through centuries, so we create jumping points between objects from B.C. to the contemporary," she tells Interior Design.
The fair's upcoming 10th edition at the Park Avenue Armory celebrates many firsts: for one, the booths exhibit objects from broad geographies, such as Japan and the African continent; on the material side, jewelry, minerals, glass, and wallpaper make their Salon debut. There will even be a runway show by the New York-based fashion line Spoliā on November 13. Bokor considers the noticeable abundance of firsts in this iteration a positive aspect of the pandemic-related restrictions. "Most of our European galleries could not attend, so suddenly we had room available for a wider range of exhibitors from the US," she explains. "This a moment for contemporary American design to shine and demonstrate its diversity."
Another consequence of the pandemic is reflected in aesthetic tendencies. In comparison to former iterations, Bokor notes that the objects emphasize utilitarianism over edge given the sudden escalation in time spent at home. "We all realized we needed to change up our interiors, but we knew we would be using everything for a while." Thus, she says the search for function has overshadowed the avant-garde or the trendy. "Collectors look for objects they can easily live with and use," she adds and notes the number of practical pieces among even contemporary galleries. Regardless, Bokor underlines that design has not gone anywhere and the fair's decennial celebrates it in all aspects.
A total of 46 exhibitors and nine installations occupy the Armory's gilded Drill Hall, as well as many ornate nooks and rooms for special displays—the experience of visiting the decorated building itself is once again a voyage to the former century. Here are our 10 highlights from the fair which runs from November 11-15.
Culture Object
Culture Object, helmed by Damon Crain, is among young galleries that find the needed spotlight in this year's edition. For the gallery's Salon debut, Crain brings a range of objects to celebrate experimental design. Note French designer Bertrand Charlot's colorful painted vinyl toy boxes, which blend unabashed whimsy with detailed craftsmanship. Striking colors also spill onto Maxwell Mustardo's three bulbous vessels that seem to be excavated from a historical future. Their glazed stoneware surfaces convey this chronologically vague effect while the vases' splashy neon hues render them contemporary and humorous.
Onishi Gallery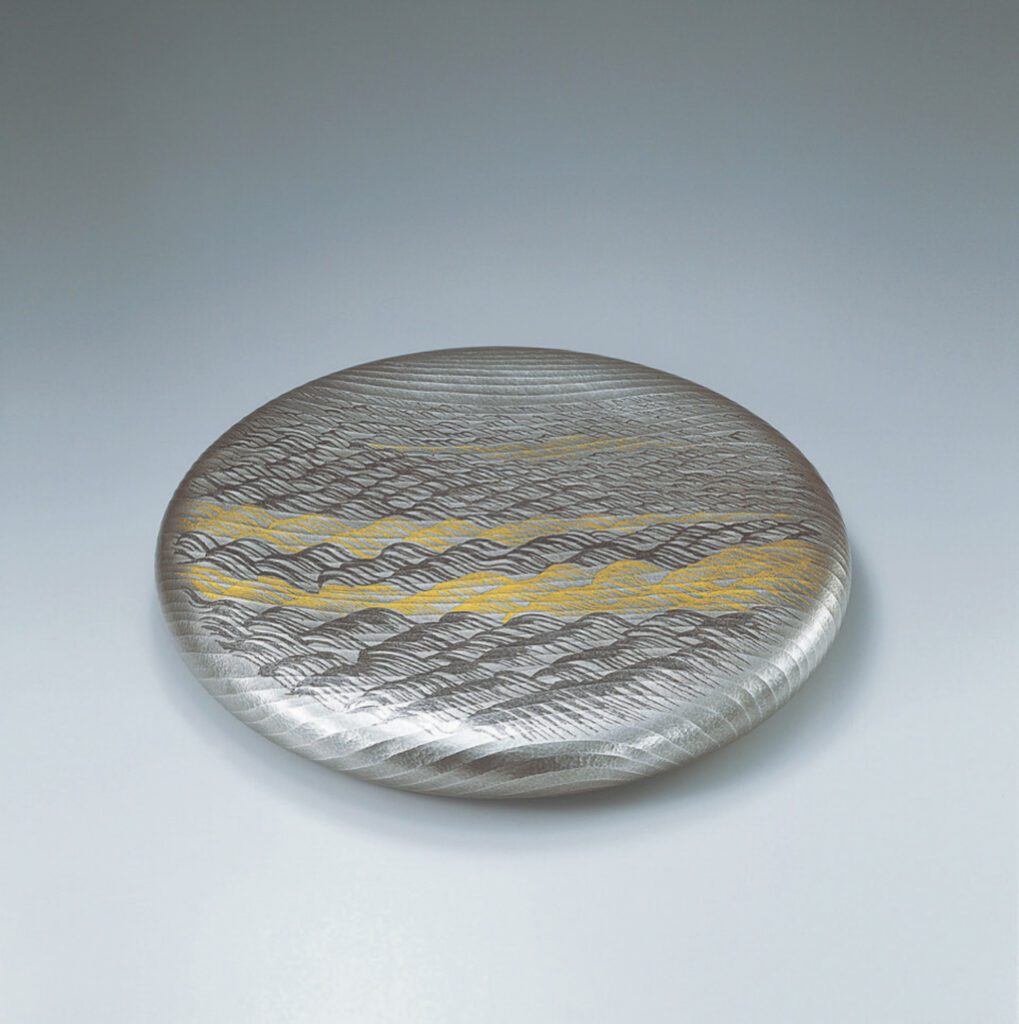 Another first-time exhibitor is New York's own Japanese art-focused Onishi Gallery, which celebrates the country's metal mastery. In a display titled, The Eternal Beauty of Metal, Onishi brings together works in gold, silver, platinum, copper, lead, and Japanese alloys by Osumi Yukie, Sako Ryuhei, Iede Takahiro, and Tamagawa Norio. The display's title stems from a quote by Yukie, whose hammered silver plate textile imprinted with lead and gold vividly reflects Japanese metal artistry. For those intrigued by the works' poetic elaborateness, the show continues at The Metropolitan Museum of Art's year-long exhibition Japan: A History of Style where works by the same artists are included along with fourteen other masters.
Hostler Burrows
Another local gallery that builds a parallel between its booth and elsewhere is Hostler Burrows. The Los Angeles and New York-based Scandinavian art- and design-focused gallery's East Village location currently hosts the group exhibition, Matter At Hand: Ten Artists in Denmark, which features new works by 10 Danish artists and designers. In parallel, their booth is a nod to Danish creativity, with biomorphic hand-built glazed stoneware sculptures by Martin Bodilsen Kaldahl from his Spatial Drawings series and Steep Ipsen's popping ruby-hued glazed earthenware sculpture, Eclipse 3. If you're fascinated by Bodilsen Kaldahl's eye-catching serpent pieces, travel downtown for their wall-hanging versions.
R& Company
New York's decades-old design gallery R& Company has been a fair fixture; however, they respond to this year's energy with their own firsts. After just announcing representation of the design world's l'enfant terrible, Job Smeet, the gallery unveils a work from the Belgian designer's newest Weeping Lanterns series, which are large scale bent bronze lamps in his signature cartoonish forms. The gently hunched pink lantern is joined by two elegantly amorphous crumpled and pearl-studded glass vessels by Jeff Zimmerman—who opposite to Smeet has been with R& since its opening—and Sebastian ErraZuriz's era-defying marble console which salutes the antiquity with its carvings of Greco-Roman figures.
Tambaran
Despite being a neighbor of the Armory building, the Upper East Side gallery Tambaran is another newcomer. Fittingly, the gallery's booth span its program's breadth, featuring art and objects from Africa, Oceania, and the American Northwest. A Dan mask from the early 20th century Ivory Coast is a standout. Wood-carved and decorated with fiber, the 19-inch-tall mask reflects the tradition of wearing sacred Dan masks to ward off fires during drought. Another find at Tambaran's display is another object from the early 20th century Ivory Coast—a standing 22-inch wooden spoon completed with the bottom half of a human form.
Les Ateliers Courbet
Salon signals not one, but two firsts for Les Ateliers Courbet. Besides joining the fair for the first time, the New York-based gallery premiers its Editions Courbet program, which pairs contemporary designers with master craftspeople for capsule collections. Although previously yielding porcelain Thierry Dreyfus lamps, for which he worked with master ceramicists in Nymphenburg, or Aldo Bekker's silver vessels as a fruit of his collaboration with silversmiths in Vienna's Wiener Silber Manufactur, the Belgian designer Pieter Maes's furniture marks the series' first full collection. For the suede upholstered solid ash wood or stone pieces, Maes worked with not one but four European artisans: Belgian stone artisans of Il Granito, wood manufacturers of 3DW in Northern Italy, Dutch woodcrafter Rutger Graas, and French upholsterer Jouffre.
Silvia Furmanovich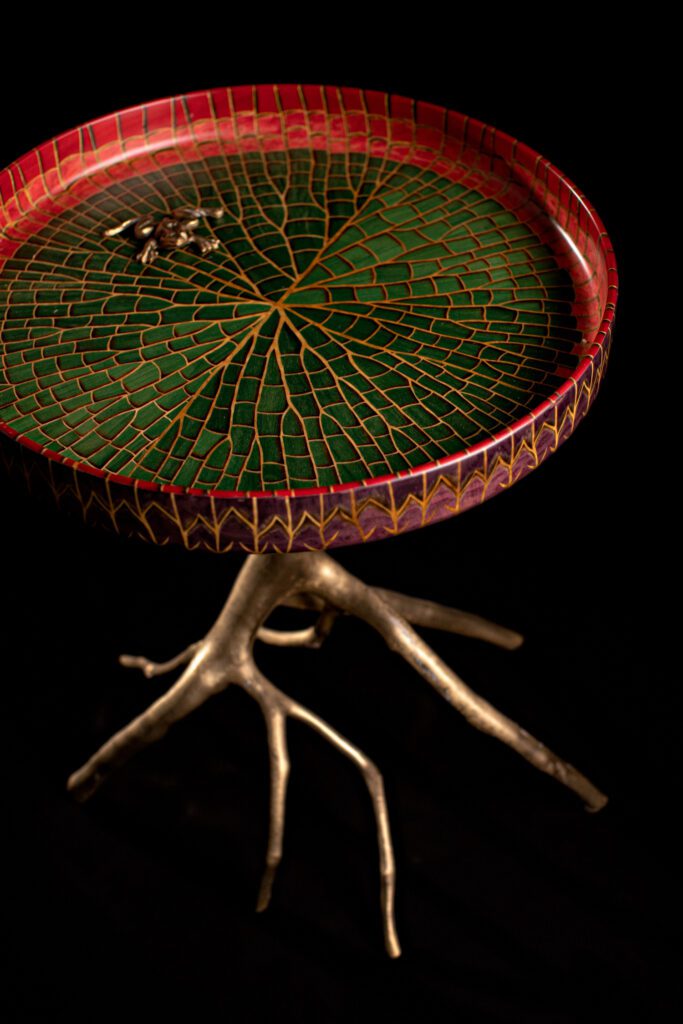 A unique aspect of setting up shop at the Park Avenue Armory is discovering new potentials for its ornate rooms and orchestrate experimental settings that may otherwise not be possible at Drill Hall's main booths. Brazilian jewelry designer Silvia Furmanovich's take-over at the library is a brisk example of a gem of a transformation. Following her recent forays into wood marquetry handbags and jewel boxes, Furmanovich here introduces home objects inspired by her decades-long jewelry practice. A similar artisanal approach to materials is traceable in tables, bowls, vases, and mirrors, all exhibited in an Amazon forest-like environment. Nods to nature echoes in design, too. A marquetry side table's light green surface is inspired by lilies while its brass leg replicates a tree stem with branches providing support.
Trove
Under the Armory's one of two red carpet-covered colossal stairs, look for Trove's wallcovering installation. Among the fair's many firsts, wallpaper is a perfect way to utilize the nook at the entrance to the main event, and Jee Levin and Randall Buck's fifteen years old custom print wallpaper brand delivers a statement with images of idealized male beauty at a 12-foot-high and 6-foot-wide scale. Taking cues from collage, art history, and nature, the duo's designs burst with color and determined painterly figures, whether they are sharp geometric abstractions or loose floral forms.
Nathan Litera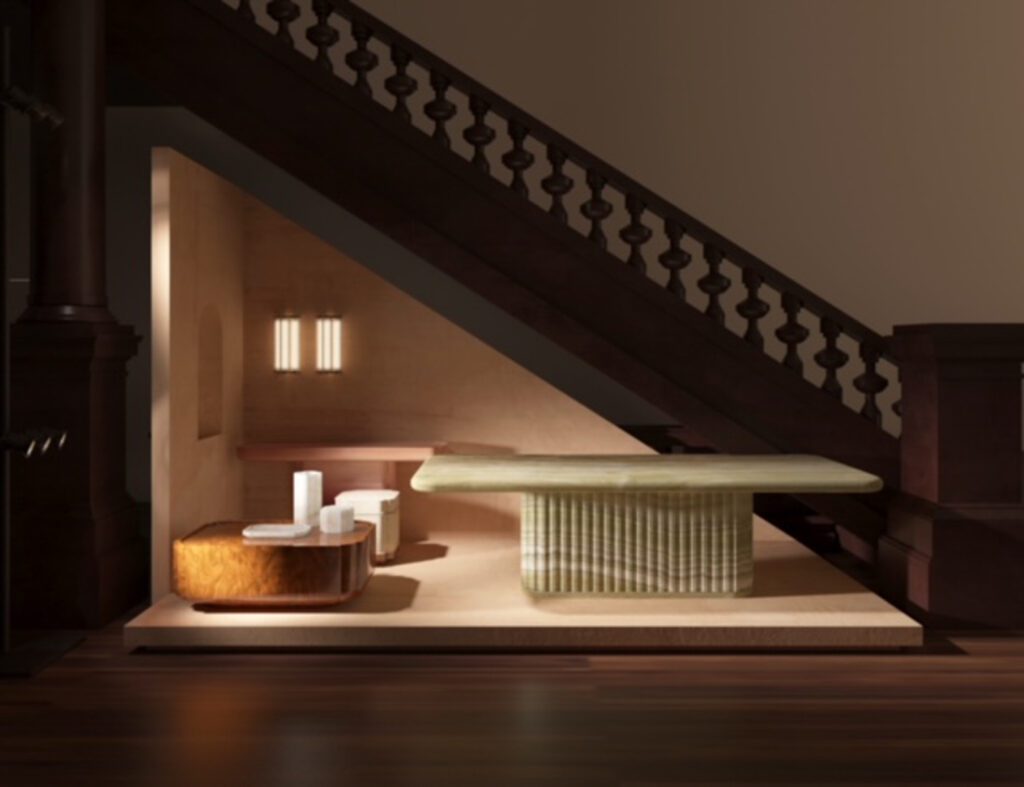 The nook under the right staircase is reserved for Parisian architect and designer Nathan Litera. The presentation marks Litera's return to New York where he started his career as an architect at Kohn Pedersen Fox, before moving back to Paris for Atelier Jean Nouvel. Here, Litera debuts the furniture collection, Altana, named after the characteristic wooden structures commonly installed above the rooftops in Venice. Fittingly, the display is a love song for Italy's gothic architecture which carries traits from the Byzantine aesthetic. Litera captures the mood with gentle floral curves—common in church windows and interiors—here on wood, marble and alabaster. The demure tones of natural materials dominate the collection that includes armchairs, side tables, lamps, and coffee table.
Unica
At North Hall awaits Italian furniture makers Unica's installation of a table from their Fioriture line. The term immersive may sound at odds with description of the Rosa Rosae Rosae table, but the smoked extra clear laminated glass surface dotted with an array of gold-finished stainless-steel flowers conveys such impact. The table sits on numerous steel legs—stems in this case—which blossom into these floral accents live inside the quarter inch thick glass. The surface's silhouette is echoed in the stainless-steel base, also gold-finished, which yields reflection similar to that seen on the surface of a placid water.