10 Highlights from The Winter Show at The Park Avenue Armory
The Winter Show has returned to the Park Avenue Armory for its 66th edition (through February 2, 2020), offering a refined selection of art, design, and antiques from 70 exhibitors. Known as New York's oldest antique and design fair, the show benefits its founding organization, East Side House Settlement, by contributing to its programming via proceeds from ticket sales and private events, including the Young Collectors Night on January 30. "Since its establishment in 1891, the Settlement has served over 250,000 families, and an important portion of our growth has been through fundings from The Winter Show," says East Side House Settlement Executive Director Daniel Diaz, who spearheads the organization's various community-based projects, including career development and education, in the South Bronx and upper Manhattan.
Featuring exhibits from a range of galleries, mainly from the United States and Europe, the fair brims with hidden gems—from a Dali-designed watch to Warhol's little-known drawings of Cambodia. Since 2010, the loan exhibition initiative has offered attendees mini museum-style exhibitions, displaying slivers of collections from institutions such as the Virginia Museum of Fine Arts, Abby Aldrich Rockefeller Folk Art Museum, or last year's exhibitor, the Nantucket Historical Association. This this year, fair-goers can see a selection of works from the Hispanic Society Museum & Library, emphasizing East Side House Settlement's dedication to culture in upper New York City. Co-organized by curator Philippe de Montebello, chairman of the Hispanic Society Museum & Library, and Hall of Fame member Peter Marino, Unrivaled spans a wide breadth of art and objects, including paintings by El Greco, Diego Velázquez, and Francisco de Goya.
Here are 10 highlights from the fair.
Maquette for Alligator Bender by Nathaniel Choate at Hirschl & Adler Modern
A Massachusetts-born sculptor who was trained in Paris in the 1920s, Nathaniel Choate was recognized for his mastery of stone-carving. Under the influence of his European training and travels across the continent, he leaned toward antiquity in his aesthetic language with strong references to the Art Deco movement of his time. Exhibited by New York's Hirschl & Adler Modern, Maquette for Alligator Bender is a 31-inch plaster study of a 61-inch marble garden sculpture, reflecting the original sculpture's dynamic rendition of a battle between a male nude and alligator at modest scale. The reptile's circular form and the model's heroic posture build a geometric balance that shrouds the intensity of the challenge with grace.
The Cup of Montezuma at Thomas Heneage
Believed to have been made on the northern coast of today's Peru prior to the rise of Inca empire and Spanish invasion, the golden beaker on display at the Thomas Heneage Art Books booth belonged to 18th-century British naval officer Lord Oxford, who purchased the cup during his official stay in Cadiz in 1694. At 4-inches in height and 6-ounces in weight, the cup was hammered from a fine gold sheet with an aesthetic sensitivity manifested in the creation of a man's face on its surface, complete with his ears. While its origin is disputable, the most probable sources are to the Moche people (100-800 AD) and the Chimú kingdoms (900-1400 AD).
Hasu by Matsuda Yuriko at Joan B Mirviss LTD
Parallel to ceramics' foray into contemporary art in recent years is the medium's interpretation by traditional ceramicists employing contemporary accents. In this vein, Japanese ceramicists stand out with their spiritual and meditational approaches to the genre, finished with minimalist touches. At Joan B Mirviss LTD's booth, Matsuda Yuriko's lotus leaf sculpture Hasu is a sensual embodiment of natural phenomena and human perception, using the polychrome technique in which she decorates porcelain akin to a painter's treatment to canvas. From aquatic blue and green inside its body to its colorful edges, the sculpture is a testimony to Yuriko's ongoing interpretation of nature's mysterious wonders through a contemporary language.
Portrait of Laurence Peter Alexander Harrison at Adelson Galleries
The Morgan Library Museum recently hosted a marvelous exhibition of John Singer Sargent's little-known charcoal-on-paper portraits of the New York elite, titled Portraits in Charcoal, which focused on his ability to convey the complexity of human emotion through simple gestures. In its 30-year-long representation of Sargent's work, Adelson Galleries exhibits examples from Sargent's portraits on paper, including Portrait of Laurence Peter Alexander Harrison, a 14-inch by 10-inch drawing illustrating the subject, a lawyer, with an elegant display of masculinity and poise captured in his gentle hand positioning and deep gaze.
Lampe Branche by Georges Jouve at Lebreton
A San Francisco-based gallery with an outpost in Southern France, Lebreton offers a broad selection of ceramic works from the 1950s to the present at its booth, including Lampe Branche, a 21-inch glazed ceramic side lamp by Georges Jouve from 1946. The lamp is crowned with an intricate metal frame, welded by French industrial designer Max Sauze, whose expertise in creating lighting design with bent metal and aluminum is evident in the lamp's detailed geometric metal work that gently contrasts with the ceramic body's seductive form. The lamp's lip-like forms may be considered a salute to Jouve's wife, Jacqueline, who intended to gift the lamp to another ceramicist friend of the couple.
Angkor Wat, Cambodia by Andy Warhol at Daniel Blau
Munich's Daniel Blau exhibits a series of blue pen-on-paper drawings by Andy Warhol, shedding light on minimalistic and intimate works by an artist known for his interpretation of excess and flamboyance. The selection includes modest sketches of Warholian subjects such as a peacock and a dancer, as well as a series of considerably more elaborate drawings the artist created during his time in Cambodia in the mid-1950s. Angkor Wat, Cambodia is a 17-inch by 13-inch rendition of the temple surrounded by trees, which Warhol illustrated as scribbles, using quick hand gestures. A larger portion of Warhol's drawings were subject to the New York Academy of Art's Andy Warhol: By Hand exhibition in early 2019, with a display of more than 150 drawings he created between the '50s and the '80s.
Head of Saint John the Baptist, Luisa Roldán at the Hispanic Society Museum & Library
The Hispanic Society Museum & Library's loan exhibition Unrivaled refers to the institution's unparalleled collection of art and objects, including 600,000 books collected from the entire Spanish-speaking world, from Madrid to Manila. "There is nothing like it in Spain; there is nothing like it in South America," says Philippe de Montebello, who joined the institution after three decades at the Metropolitan Museum of Art, about its assemblage of Hispanic heritage. Spanish artist Luisa Roldán's 17th-century polychromed terracotta bust of Saint John the Baptist is a colorful illustration of death, captured in the decapitated head's ghostly pale skin and red blood. Believed to have been made between 1692 and Roldán's passing in 1706, the work entered the institution's collection in 1912.
Timeless Lantern by Salvador Dali at Didier Ltd.
Those interested in immersing in Salvador Dali's whimsical Surrealist universe may stop at London-based jeweler Didier Ltd.'s booth. A series of exquisite wearable gold items by the artist includes telephone-shaped earrings, titled Persistence of Sound, and Timeless Lantern, a watch Dali designed in 1976 for the bicentennial of independence during his time in the United States residing at New York's St. Regis Hotel. From the Statue of Liberty to the American seal, the watch is adorned with homages to American iconography and finished with a small Surrealist watch in its center. Dali created 12 editions of the same watch after a lithograph of the same image completed in 1975.
Three Reclining Figures: Studies for Sculpture, Henry Moore at Browse & Darby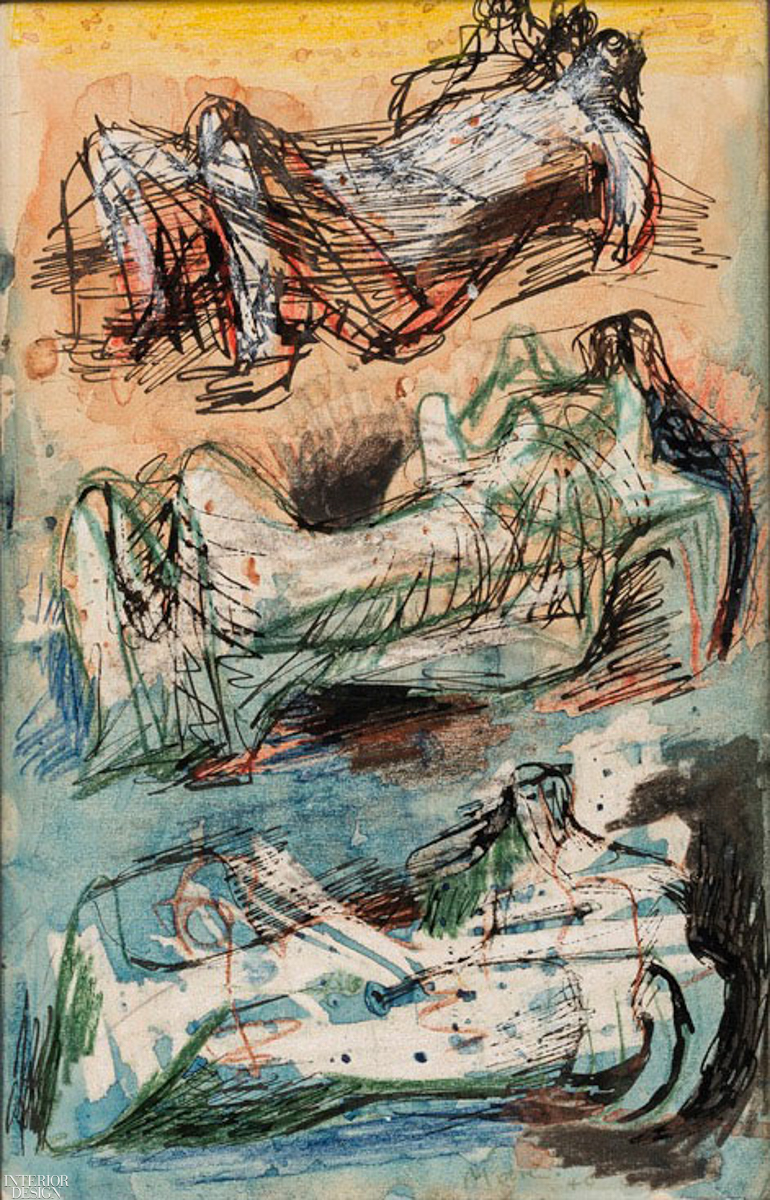 Henry Moore, a pioneer of British sculpture, created drawings as Official War Artist in the early 1940s, due to a shortage of sculptural materials during Germany's attack on the United Kingdom. His subjects also reflected the troubling conditions of the war, capturing trauma and violence on paper, similar to his three-dimensional bronze works, with the immediacy of rapid hand gestures. Illustrated in pencil, wax, crayon, watercolor and ink, Three Reclining Figures: Studies for Sculpture at the Browse & Darby booth shows three homeless people seeking refuge in the London subway, echoing his sculptures' robust silhouettes, here awash in shades of yellow, red, and blue.
Shell-formed silver bowl basket at Koopman Rare Art
Visitors will encounter numerous silver objects at London-based Koopman Rare Art's booth, including a shell-formed silver bowl from 1745, standing on its dolphin-shaped feet and accentuated by its handle replicating a female body. Reflecting the Rococo period's excessive design sensibility and fascination for the sea, the bowl is an unabashed celebration of lavishness and beauty, most vividly captured in the nude woman rising from the shell and the silversmith's detailed carvings. Two other versions of the bowl are currently in the Ashmolean Museum of Art and Archeology at the University of Oxford.
Read more: 10 Highlights of Miami Art Week 2019