10 Highlights of Miami Art Week 2019
Art and design are front and center year-round in Miami, but the city literally explodes with creative energy every December when throngs of art lovers, innovators, creators, collectors, dealers, and VIPs from around the world converge here during Miami Art Week, the art world's most fully loaded annual event.
The centerpiece of the action is Art Basel Miami Beach, where this year 269 galleries from 35 countries showcased the work of some 4,000 artists to 81,000 visitors at the Miami Beach Convention Center from December 5-8. Earlier in the week, more than 20 satellite fairs, including Art Miami, Pinta, Context, Untitled, Scope, NADA, Pulse, Spectrum, and Design Miami, as well as the city's constellation of museums—including the Pérez Art Museum Miami, the Bass Museum of Art, the Wolfsonian-FIU and the Institute of Contemporary Art—kicked off the action with curated presentations of new music, films, performances, installations, and visual arts by world-class creators. Local galleries, furniture showrooms, and hip hotels added to the creative mix by hosting pop-ups, parties, special events and celebrity conversations highlighting everything new clothing and jewelry to the future of the planet.
Amid the swells of emerging and established creative thinking, some recurring themes served as connective tissue binding many of the individual works with a sense of collective conceptual consciousness. Among the common threads were notions of spirituality, indigenous craftsmanship, feminine energy, water, political protest, ancestral roots, sustainability, and artificial intelligence.
The spectacle of Italian artist Maurizio Cattelan's attention-grabbing work called "Comedian" notwithstanding (the commotion-causing piece composed of a banana duct-taped to a wall reportedly sold for $120,000 before the rotting fruit was eaten by performance artist David Datuna when Cattelan's dealer Emmanuel Perrotin observed that the work was becoming a safety hazard), the fairs brimmed with inspired new works that enriched the city's sunny atmosphere with a rarefied mix of guts, gravitas, and sensitivity apropos of a complex global era. Here are 10 highlights.
Urban Archeology: At Scope, RGB Contemporary showcased large-scale pieces by New York-based French artist Sebastien Devaud, who sees his work as a modern form of urban archeology. His close-up photographs of layers of torn posters and graffiti on the walls of the city are manipulated as oversize abstract C-prints and mounted on plexiglass.
Ode to Miami Beach's Queer Culture: Set in Miami Beach's newly dubbed Pride Park across the street from the convention center, "Bent Pool" is a massive sculpture of an empty pool folded in half and accented with a diving board, lights, and a chrome ladder by Scandinavian artists Michael Elmgreen and Ingar Dragset, nods to the gay community's historical contribution to the cultural texture of the city.
Westward Expansion: After championing emerging artists around the world since they acquired their first work in 1964, Don and Mera Rubell expanded their mission this year with the opening of the Rubell Museum, where they showcased pieces by artists such as Keith Haring, Julian Schnabel, and Yayoi Kusama among many others from their collection of some 7,200 works by 1,000 artists. Composed of a series of former warehouses that were reimagined by architect Annabelle Seldorf, the new museum, located in the Allapattah neighborhood west of its former location in Wynwood, was designed to attract a much wider audience within a 100,000-square-foot campus with 40 galleries and a garden courtyard. A highlight of the opening exhibitions was the work of Amoako Boafo, an emerging painter from Ghana, who is the Rubell Museum's first artist in residence.
Organic Influence: Within a sprawling booth divvied up into five distinct spaces at Design Miami, R & Company presented solo exhibitions of leading contemporary artists as well as a curated presentation of rare historical masterworks, including pieces by Wendell Castle. A standout was an immersive installation of glass objects and suspended illuminated glass sculptures created by Jeff Zimmerman with James Mongrain and developed at the Corning Museum of Glass. Another highlight was a presentation of new organic sculptural works inspired by extraterrestrial forms and creatures of the deep sea and created by Rogan Gregory.
Contemporary Abstraction: Alongside works by the late modernist sculptor Ruth Duckworth, Salon 94 at Art Basel showed vibrant new works by painter Elizabeth Neel. With her distinctive lexicon of colorful marks made with brushes, rollers, and the force of gravity, the artist pushed the narrative potential of abstraction to another level as she explored the relationships among architecture and the body, nurture and nature.
On a Cloud:The Mexico City-based studio Atra debuted in the Curio section at Design Miami with a new series of pieces called "Following Matter," created by Mexican-Swedish designer Alexander Díaz Andersson and his artist brother Andreas. Drawing on their own dichotomous identities, they explored the intersection of art and design and anticipated the future with pieces that blend clean Scandinavian lines with whimsical elements of traditional Mexican design. Covered in raw boiled wool and set on a polished brass base, Alex's anthropomorphic chairs were designed to appear to be floating like a cloud, while Andreas's trompe-l'oeil two-dimensional works are made of oxidized brass to create the effect of visual volumes that pay tribute to Oscar Reutersvärd.
A Matter of Perception: The Pérez Art Museum Miami presented a broad view of the works of Teresita Fernández, a New York-based artist born in Miami to Cuban parents. The retrospective included large-scale sculptures, installations and mixed media works from the mid-1990s to the present that reflect the artist's ongoing exploration of perception. By manipulating light and space to create immersive and evocative experiences with diverse materials—from silk, graphite, and onyx to mirrors, glass, and charcoal—Fernandez creates variations of landscapes marred by violence, climate change, and warring ideologies that starkly contrast with an idealized vision of the American dream.
Artifacts of the Future: At the Untitled fair housed in a tent on the beach along Ocean Drive, Ross + Kramer Gallery showcased the work of Japanese artist En Iwamura, who draws on antique Japanese funerary objects, miniature sand-raking techniques, and the influence of artificial intelligence on the future of the human form to create ceramic and bronze sculptures that represent what he sees as artifacts of the future.
Light and Color: At Pinta, the Latin American fair at the Mana Wynwood arts center, Artespacio Galería offered a look at the work of the young Chilean artist Francisca Garriga, whose finely crafted kinetic relief works made with toothpicks, pigment, and wood reflect her investigations into light as a constituent element of color.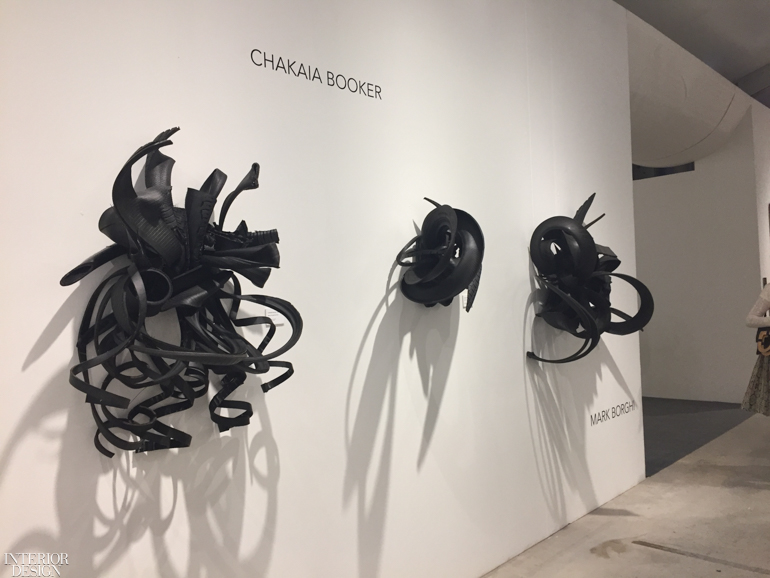 Environmental Spiritualism: At Art Miami, Mark Borghi showcased a new body of work by African-American sculptor Chakaia Booker, who uses cast-off materials, including fiber, wood, metal, and discarded rubber tires salvaged from city streets and dumps, to create bizarrequasi-organic forms that turn iconic symbols of urban waste and blight into phenomenal compositions of renewal through her unique expression of environmental spiritualism.