10 Must-Sees at Dutch Design Week 2018
Dutch Design Week is the go-to event for speculative design ideas, experimental projects, and new materials and technologies. The 17th edition—entitled "If not us, then who?" and spread across 120 locations—was no exception. Its finger focused firmly on the pulse of work with potential to improve lives, and projects that were open-minded, futuristic, and often had environmental and social ramifications.
This year we spotted projects that used minerals from urine as a ceramics glaze, a material called Kaumera, which is extracted from sludge granules created by water purification processes (and used to create a glue and a fabric dye), and the world's first 3D-printed bridge. The latter was designed by Joris Laarman and created by a Dutch startup called MX3D headed by Tim Geurtjens and displayed in the city's Ketelhuisplein. It is soon to be permanently relocated to the Oudezijds Achterburgwal canal in Amsterdam's red light district. And, of course, there was the ever-inspiring graduation show of the world-famous Design Academy Eindhoven. Its new location, the city's former Campina milk factory, offered a vast and theatrical setting.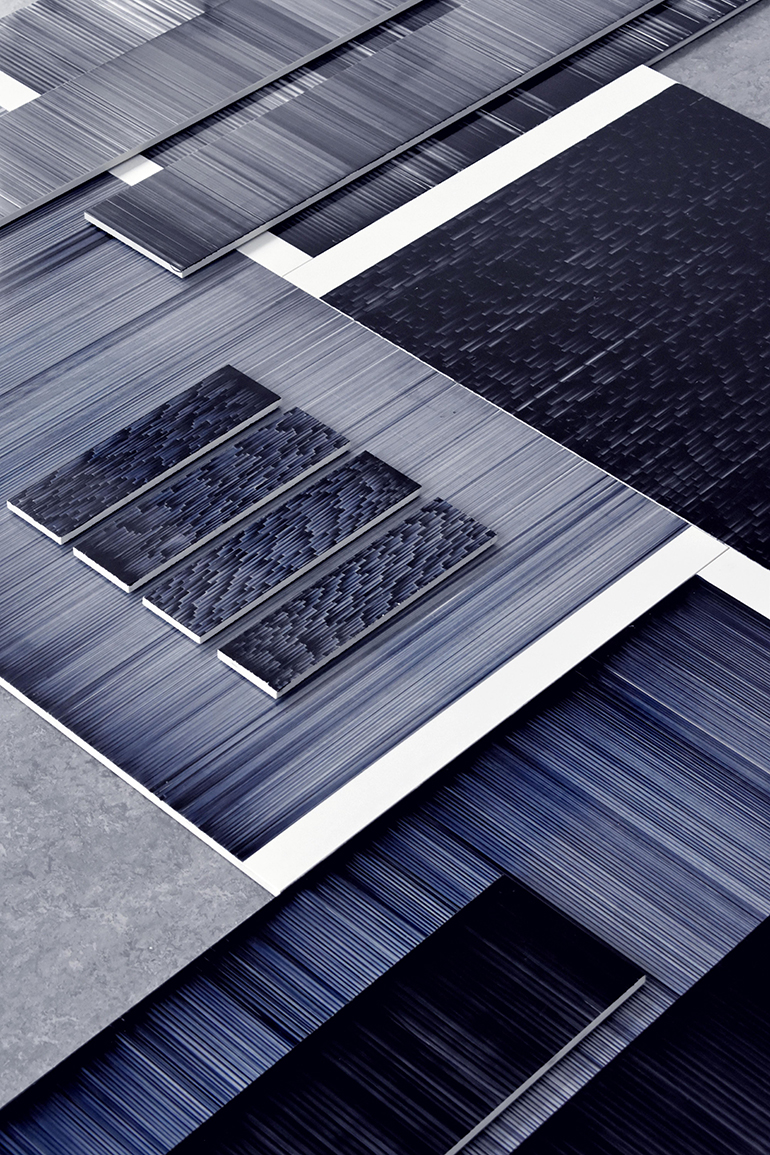 1. Léa Mazy showed unique tiles as part of the Design Academy Eindhoven graduation show. Called "The Production of Fatigue," her project focused on the patterns created when printer cartridge ink runs low. It questions society's obsession with productivity and effectiveness, as well as the unsustainable idea of perfection in mass production and what the aesthetic qualities and nuances of fatigue in human and machine performance might be. In collaboration with Italian porcelain manufacturer Florim Ceramiche, Mazy is now working on developing this printing method for the industry.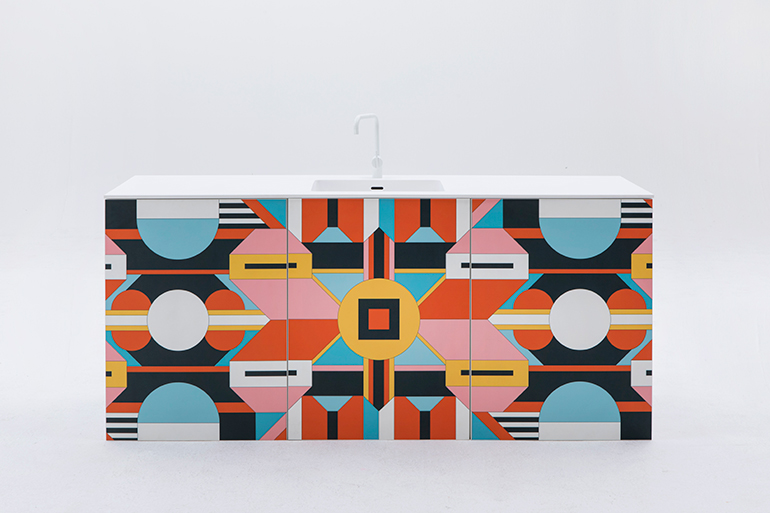 2. Leading Dutch decorative materials specialist Baars & Bloemhoff created one of Dutch Design Week's most memorable exhibitions via "Time is Now," which addresses such themes as circularity and sustainability. The project combines Baars & Bloemhoff castoffs with elements from previous exhibitions to create new pieces. Its accompanying show "Transitions IV: The Not So Flat Exhibition" showed a new flat-pack furniture concept of accessible and experimental pieces by five Dutch designers. Pictured is Johan Moorman's geometric and abstract configurable kitchen (made out of Arpa Fenix high-pressure laminates and HI-MACS solid surface worksheets), inspired by Italian inlaid marble floors and the Bauhaus movement's functional systems.
3. Os & Oos presented an exhibition called "Body of Work," which included limited-edition collectible design pieces. Other works have become production pieces or been used in such projects as the W Hotel Amsterdam or the Deloitte HQ in Denmark. On show was, among others, the studio's Repeated Mirrors series, Tunnel collection, Mono-Lights, and Trilithon marble and onyx furniture range.
4. Last year, Studio Thier&vanDaalen showed a curated selection of pieces in the home of friends. This year, they opened up their recently renovated 1960s-era house in Eindhoven, converting it into a living gallery of art and design produced by them and colleagues they admire. The studio showed a round blown glass light in a square brass frame, a coffee table made from leftover kitchen and bathroom surface materials, and a shelf made out of lumps of industrial polyethylene waste from a tube-making factory. When sliced open, the latter reveals a marbled pattern. The copper light is by Vantot.
5. Louise Permiin's project for Design Academy Eindhoven wowed for its theatrical presentation. It also demonstrated how urine can be used to create a series of dyes—because of its ammonia content, it's both a natural cleaning agent and a fixative. She took things a step further and used the textiles to reveal information about the environment and health of the person's urine. When she detected Bisphenol A—a substance found in plastics and cans—she marked the fabric with a blue square.
6. It may be difficult to believe, but these beautiful cups and vessels by Studio Klarenbeek & Dros in collaboration with Atelier Luma were made out of algae-based biopolymers. If grown locally and in closed systems, they could provide a sustainable alternative to oil in the production of plastic, or even a replacement for bioplastics made out of genetically engineered corn, say the designers. What's more, they absorb C02 during production.
7. Simone Doesburg's Grace of Glaze project was born out of the somewhat odd fact that most porcelain and ceramic objects are either made out of colored clay or glazed in different hues, but hardly ever both. Doesburg uses different tones of clay and combines them with colored glazes to create countless different and subtle gradients. The possibilities are endless and inspiring.
8. Nane-Sophie Bergmann's original take on garden furniture, called "Split," is made out of a manually split, locally sourced, and minimally treated 60-year-old Robinia tree trunk. Split or cleft wood is more weather-resistant and stronger than sawn timber, explains Bergmann, who sourced the pieces from Eindhoven's municipal timber yard. By storing the benches and table on their sides when not in use, water cannot pool on the pieces and make them rot. The bits in contact with soil are scorched for extra protection. Not only was the project environmental in its use of timber that can then be returned to the ecosystem to decay naturally, but its rugged beauty was a powerful statement against standardized products.
9. "HOW& WOW" by the Dutch Crafts Council, who showed in the former Veem warehouse building in Eindhoven, elevated such humble materials as plastic into crafted objects. Boris de Beijer's polyethylene goblets and glasses emanated a stately glow, while Daan Veerman showcased 3D printing explorations to create contemporary craft pieces, pictured.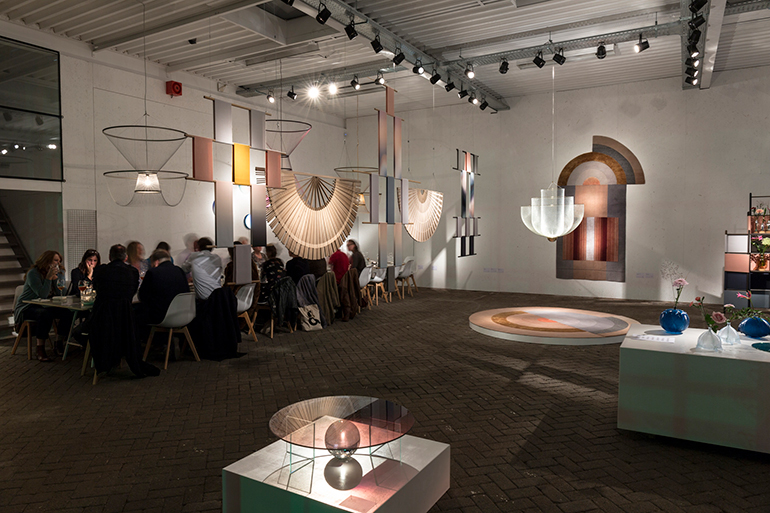 10. Food experiences and design stole the show. One of the most memorable was "28 Grams of Happiness," a sensorial multi-course lunch or dinner experience created by food design studio The Eatelier and Eindhoven restaurant Pippens. It delivered in a space filled with uplifting, colorful, and healthy design objects selected and curated by Justine Kontou. Objects on display included Rick Tegelaar's Meshmatics wire, mesh and waste wood chandelier for Moooi, tactile wall coverings by Alissa+Nienke, a modular kinetic tapestry by Rive Roshan, and an interactive installation by Tom Kortbeek and Roos Meerman.