10 Product Highlights from Dubai's Downtown Design 2019
At the heart of Dubai Design Week—the Middle East's largest creative festival with over 200 events being held November 11-16 covering architecture, product design, interiors, multimedia, and graphic design—Downtown Design is the region's leading design fair. The 2019 edition is taking place in Dubai Design District (d3) with representation from 30 countries, including 100 new brands.
The guest curator of Dubai Design Week, Ghassan Salameh, will spotlight regional design through the exhibition "MADAR," presented within Downtown Editions (part of Downtown Design). Kuwaiti Meshary AlNassar, UAE-based Tashkeel, Sharjah-based Irthi Contemporary Crafts Council, Aljoud Lootah, and architectural studio Binchy and Binchy—among others—will showcase works inspired by the culture and traditions of the Middle East.
Among the installations being presented this year are Carousel of Light by Preciosa, the glass and LED sculpture "Icosahedron" by technology artist Anthony James, and an interactive space by global architecture practice LWK + Partners. Running parallel with Dubai Design Week, the first edition of the Sharjah Architecture Triennial was inaugurated on November 9 and will be on view until February 8, 2020.
Here are 10 highlights from the 2019 edition of Downtown Design.
1. Jack O'Lantern by Lucie Koldova
Described as "a sentinel of the evening and the night" by product and furniture designer Lucie Koldova (who is based in Prague), this table lamp, manufactured by Brokis, comprises a geometric metal frame with a hand-blown glass sphere placed within it.
2. Oblique Stool and Side Table by Jian Yoo for Arijian
Through these design pieces by Korean brand Arijian, artist and designer Jian Yoo—who is inspired by both architecture and nature—combines the beauty of mother of pearl with a modern approach.
3. Tribute Table by Binchy and Binchy
Designed by Dubai-based studio Binchy and Binchy, this table was inspired by architecture and explores a design language that is truly Emirati. The tabletop is a reference to mashrabiya screens, a typical architectural element in Arabic residences.
4. The Shimmer Platter by Douxteel
According to designers Eason Yang, Yu Jun, and Ellen Chan, this plate for Douxteel was inspired by the reflection of the moon on the water. "The full moon is like a wheel, a plate, or a mirror, and the softness of water has infiltrated the texture and layering of the moon," they say.
5. Aurora, Marina, and Sahara Mirrors by Fernando Mastrangelo
Bringing his designs to the Middle East for the first time, Brooklyn-based sculptor and designer Fernando Mastrangelo launches three mirrors inspired by Dubai as an architectural oasis. Hand-dyed sand is the primary design material for this collection.
6. RIN by Tasca 4D
Silk cords are reflected on the mirror-like metal surface of the RIN chair by Japanese brand Tasca 4D. Delicate and elegant, this piece created by Kyo Yasuda, Takashi Fukuda, and Ryuta Fukuda demonstrates a high level of craftsmanship.
7. Tramonto by Meshary AlNassar
Based in Dubai, Meshary AlNassar launches the 410 collection with a series of sculptural lamps inspired by his childhood memories. Made of stone and embedded LED technology, Tramonto, which means "Sunset" in Italian, evokes the warm sunlight setting on the horizon.
8. Acacia 11 by Roudha Alshamsi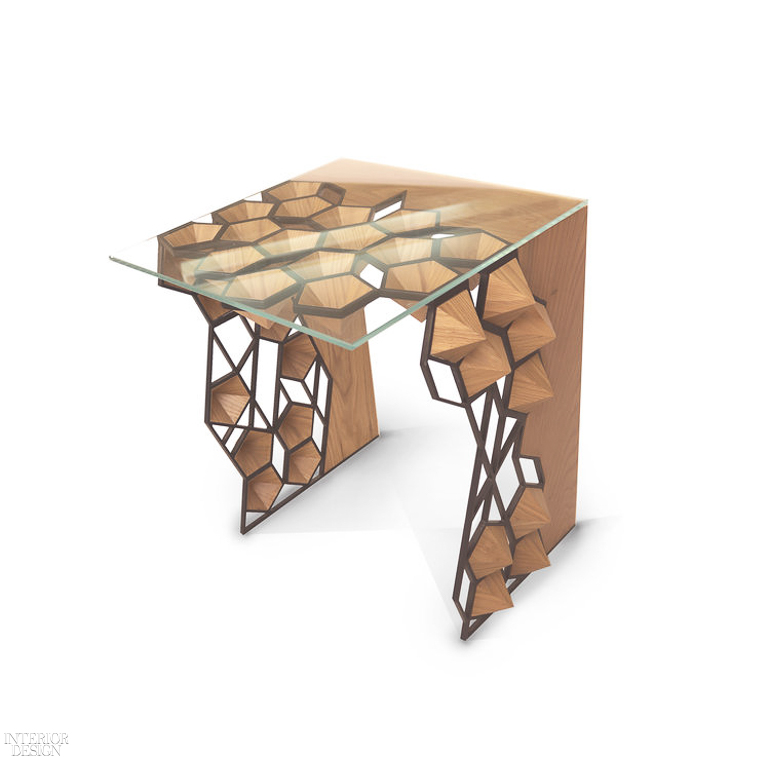 Inspired by Acacia trees and designed by Roudha Alshamsi, who studied local Emirati wildlife and landscape, this table bridges the line between furniture and art. "Just like a painter or a sculptor, the outcome of the design process is a mix of an appropriate idea and refined skills," Alshamsi says.
9. KAPPA Table by Radhwa Kabli Design
The main concept of Radhwa Kabli's KAPPA collection is to showcase the beauty of geometric design by creating harmony and illusion of movement. Based in Saudi Arabia, the designer uses natural and recycled materials.
10. Room Divider by Yara Habib
Thanks to local incubator Tashkeel, graphic designer and emerging product designer Yara Habib presents her room divider, which comprises interactive rotating elements, inspired by the UAE traditional geometric weaving practice "Al Sadu."
Read more: 10 Highlights at Dutch Design Week