10 Qs with… Alex Papachristidis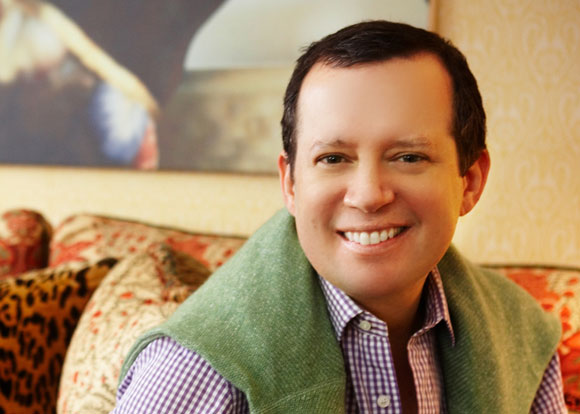 Alex Papchristidis, founder and principal, Alex Papachristidis Interiors.









A top mind in New York's interiors world since the mid-1980s, Alex Papachristidis, founder and principal of

Alex Papachristidis Interiors

, is known for classic tastes and a scholarly approach to decorating. Enlivened by challenges and eclectic projects, he strikes a rare balance between sophistication, wit, and livable comfort for a wide range of residential clients. His work is on beautiful display on the pages of Rizzoli's


The Age of Elegance: Interiors by Alex Papachristidis


. Here, Papachristidis shares his thoughts on transcending trends, getting inspired, and bringing comfort into an exquisitely appointed home.

Interior Design: How does your new book,

The Age of Elegance

, add to the conversation about "elegance"?

Alex Papachristidis: A truly elegant home shouldn't look like a showroom or a hotel. It's about being collected and personal. My taste tends to be on the more formal side–I'm a traditional, classic decorator in the old-school sense—but not all of my clients are super-formal. I think elegance is just about sophisticated living.
I tried to bring a lot of variety to the book, because there's a lot of variety in my work. All of my clients are different. That's what's fun about doing what I do—my eye is always changing, and the only thing that isn't new is my knowledge of the history of decoration. I'm constantly reading and researching. It's my passion.

ID: You've had your firm since 1987, through countless trends and industry-wide highs-and-lows. Why do clients come to you, specifically?

AP: My most successful projects are always about creating a home, a place they can use and enjoy. Most of them are quite private, and I offer them an environment that is comfortable, functional, and beautiful. Some people want things to be more impressive, while others want things to be more functional. If anything has changed, people are looking for a "homier" feel than in years past.

ID: What are some hallmarks of your aesthetic?

AP: I do love neoclassical furniture and antiques, and tend not to use a lot of repro furniture. I also pride myself on not using the same fabrics. Once a print has been used, it has been used. None of my clients get the same thing… That would be boring, because there are so many beautiful things out there.
The living room is a very important room in my opinion—given its general exposure, the size of it, its location. Whatever I can do to encourage my clients to use their living rooms, I will. Put a game table and chairs in it. Since so many people have kids, I like to bring special attention to a family room, and I have always believed in an eat-in kitchen. Above all, I take how clients live and their tastes very seriously. As they travel through life, I want them to have a focus and direction so they can collect more things that they love.

ID: What kind of rapport do you like to encourage with clients? Do you encourage a lot of back-and-forth?

AP: I don't have a cookie-cutter approach. It's all very personal to me, as mine is not a big business. I like to choose all my own antiques, though I encourage clients to look around, buy every magazine, search the internet, and identify things they like. I want them to say, "Hey Alex, this is what I love. What do you think?" Their home has to end up being a reflection of them, so it's wonderful if they come to the process with interest and desire.

ID: You're known for being big on color. What's your take on bringing more color into the modern home?

AP: I love color in a modern homes. I tend to think of modern as being more monochromatic, so I would tend to use a strong color as an overall base and then another color as an accent. For instance, I'd maybe use a beautiful, vibrant coral palette then find a beautiful print that has coral and purple in it for chairs.

ID: What are some of the projects on your plate that are keeping you stimulated and satisfied?

AP: I'm about to start working on a townhouse on the Upper West Side. This is very exciting because we have had a wonderful relationship for years now and push each other. He wants something much cleaner than he's had in the past. Homes are becoming like galleries because art is so important now—but even though you're using great art, you still need to great decorating. It shouldn't fight what the art, but there needs to be a high level of decorating to balance the importance of the art.
I'm also working on an amazing house in the Hamptons, the exterior of which is stucco, with a shingle roof. It is going to be really beautiful. All of the floors and interiors are limestone. This client said, "I want something totally different, that you've never done for anyone else." I love that.

ID: What's your take on the industry-wide move towards more one-off pieces and handcrafted elements in the home?

AP: People are definitely looking to handmade, one-of-a-kind pieces. They want uniqueness, and to set themselves apart from others. Recently, I've asked the artists Nancy Lorenz and Eve Kaplan to make unique pieces for different projects. I said to Eve, "Have you ever made a console? Let's make a console and a mirror for this project in Aspen." It's amazing, this console and mirror made out of porcelain. Another time I couldn't find sconces for this beautiful West Side apartment. "Eve, can you make me four sconces?" They turned out so beautiful. They're this blue-y green and are incredible. Now, Nancy Lorenz is making these incredible lacquered tabletops for me. These artist collaborations are turning out to be so beautiful and interesting.

ID: Have you noticed a renewed interest in construction and development since the economy slowed in 2008?

AP: We've had really good years for the last two years. Business was very strong for us. I think there will always be a group of clients doing things, who hold the opinion that when business is tough in general, there are opportunities. When construction isn't booming, you get better prices on your construction. One thing about me is, while people think I'm grand and fancy—which, OK, I am—I'm also practical and economical.
The bottom line is, I like to finish my projects, down to the dishes, linens, lampshades, and sheets. If I spend my money properly, I get to finish properly. If they save money on something big, they'll finish the project properly. That's always my goal. I do that for myself. You can't go in spending like a drunken sailor, especially because it doesn't look chic that way.

ID: You are a New York City boy, born and bred… What are some of the earliest instances when you found yourself engaged by good design?

AP: My mom was this incredible Auntie Mame figure, always decorating and shopping. I spent my early life in stores with her, at places like Martha's on Park Avenue. It was amazing there—these chairs were set up and women would come out modeling the clothes. You'd just sit there and look at the clothes and they'd bring them to you. It was all French furniture and parquet floors. From that time, I've always loved beautiful clothes and furniture and museums, and I was lucky to get incredible exposure from a young age.
I grew up in New York City and I was, of course, obsessed with the scene at Studio 54. I loved disco, and loved going there with my high school friends. I went to Skidmore, and when I came back from school I was sitting with one of my best friends in the living room that I had decorated. She said, "You have great taste. You should be a decorator." And the bell just went off. I gave her a kiss, ran downtown to Parsons, signed up for courses, and never looked back.

ID: What are some rules of thumb you try never to forget?

AP: Seeing the world always influences my aesthetic, as well as my ability to accept change and differences. And, I'd say be careful about the things you don't think you like. Some day you might like them! We're always learning and evolving. Now I always say, "I'm not sure," instead of "I don't like that." Some day it might suddenly open up your mind to a whole new way of thinking.