10 Questions With… Alexandra Champalimaud
Lisbon-born interiors phenomenon

Alexandra Champalimaud

is grace and innovation personified. The

Interior Design

Hall of Fame member's celebrated work gestures toward the future while growing firmly from a deep understanding of and respect for design and craft history. Her New York-based firm, Champalimaud, which she first established 30 years ago in Montreal, is highly regarded for its residential and hospitality interiors work. She won the Gold Key Award for reviving the

Algonquin Hotel

; has contributed her bold delicacy to the

Drake

, the

Hotel Bel-Air

, the

Waldorf Astoria

, the Pierre, and other top hotels across the globe; made ripples with her inspired work with restaurants and spas; collaborated with the likes of the

Rug Company

and

Holland & Sherry

; and executed inspired residences of the highest caliber.

Here, the divine Champalimaud shares her vision, wonderful work ethic, and guidelines to living with integrity.


Interior Design: You are known for imbuing your work with an incredibly high level of historic relevance and knowledge, all the while remaining fresh. How do you interlace the classic and the new?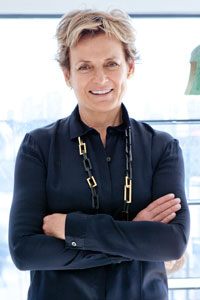 Alexandra Champalimaud: It's a question of confidence. Having a rich background in the history of art and architecture gives me a lot of room to be creative. My life has taken me around the world; I've had projects on every continent, and it always comes down to how I intuitively feel about a space—the proportion, scale, and symmetry. When those are in place, I'm able to extract the personality of the site. My firm brings to the table an understanding of our inherited culture, and knowledge of what is permanent in this world. Our entire history is built upon looking forward.


ID: How are you able to determine the personality that you mentioned?


AC: I think that comes as a byproduct of my insatiable appetite and enthusiasm for life. I see beauty and opportunity in the most delicate or vibrant places. With a new project, we'll know the goals, take in its parameters, and get a clear sense of what the end product needs to be. Then I develop a relevant personality, a design that is rooted in history and sense of place.


ID: You're in the midst of your next condominium project on New York's Upper East Side at

33 East 74th Street

. What are you enjoying about it?


AC: I love the scale of it. A collection of historic buildings have been put together to make ten beautiful, light-filled residences, in this very rarefied part of town. The block is an aspirational place—one that a visitor would see and say, "Very lucky people live in these homes." One penthouse has it's own plunge pool, another a sunken garden. The largest outdoor terrace is 2,800 square feet which is spacious by New York City standards. Now, believe me, I do believe that beautiful, streamlined high rises have their place—but not on the Upper East Side. What we've tried to do is present the character of the Upper East Side in a contemporary way, meaning it's modern in attitude but still nodes to the buildings' origins.

I also enjoy the sense of arrival we've created; bespoke moldings lead to beautiful double-doors which open into 8ft wide gallery entrance spaces with ten-foot ceilings, surround by historic, arched windows.


ID: You're known for creating some of the most renowned hotels and restaurants in the world. What would you say are the needs and requests of the modern-day hospitality client?


AC: Ultimately, every client wants to fill the rooms or the tables at their restaurants, and for their clients to keep returning. As designers, we have to be forward-thinking and contemporary, in every way. There has to be a modern context and a sense of dimension—more aspirational and exciting then ever before, yet entirely comfortable and user-friendly at the end of the day. You can have a mega-huge-screen TV, but when you plop yourself down on the bed, is it easy to operate? Are the rooms quiet? What we like to create is a project that's ahead of its time, unusual, with a deep soul, and reminiscent of the past in some way. More than anything else, however, it has to be entirely contemporary in the way it's built and functions. The world is becoming smaller and smaller, and also more sophisticated, so our work has to be very inspiring.


ID: What kind of a dialogue do you strike with a client when approaching a residence?


AC: It depends, as I do projects all over the world—hotels or residences. There needs to be complete and total honesty, a huge amount of respect, and transparency. Clients need to be able to communicate what they want and need. Likewise, the time comes when they need to leave us alone so we can do our job. Establishing trust between both parties is vital. Integrity is key. Without it, you can't make a good project, no matter how talented you are.


ID: What are some other current or recently completed projects that have added dimension to your portfolio?


AC: Right now we have a particularly wonderful place—the highest of high-end residential that's extremely sexy, on the top of the peak in Hong Kong. It's to-die-for. Then, we have a wonderful residential property on the water in Miami, the lobby of which is really fun. It's very modern, as suits Miami, yet it has an enormous soul and speaks to the enduring relevance of those great, original art deco Miami buildings. Then, we have a beautiful private boutique hotel project in Nassau, on top of a hill. It feels like a contemporary, modern plantation. Meanwhile, in Bath in the U.K., we're converting a 19th-century hospital into the Gainsborough Bath Spa hotel—with reclaimed Roman ruins we'd found. It features a one-of-a kind spa with therapeutic pools and singular access to the local healing mineral waters. We've also just finished a few residences—one on Park Avenue, another beautiful, turn-of-the-century house in Denver, an incredible from-scratch hybrid club-hotel on West 44thStreet in New York, the lobby of the Verizon building on the west side of Manhattan, and renovations to the public spaces in the New York Palace hotel.


ID: Is variety a source of contentment for you?


AC: It's why I still love what I do. Each new project represents a new challenge and opportunity to adapt my knowledge and experience. Nassau will be so different from Hong Kong, which will be very different from Bath. Of course, there's an aesthetic that is entirely ours—layered, chic, and comfortable. Each is a place where anyone can feel at home.


ID: It must be an exciting environment to work. How have you staffed and structured your office?


AC: There's an incredible energy in my office, because people are actually happy. It's work, of course, but we're elevating our lives every day through the world we do. I have very high standards for myself—particularly as it relates to having a positive attitude. I'm always looking to hold a positive attitude, which goes hand in hand with a sense of survival. I like to surround myself with people of diverse backgrounds, who are culturally sensitive, and naturally artistic and creative. This mix creates a stimulating work environment where everyone has some thing different and important to share. I am present in the office every week because I want to be deeply involved in every project and closely connected with our designers on the creative journey.


ID: How crucial would you say it is to be mentored?


AC: I like to mentor others. I conduct myself in ways that are enticing and inviting. I know I inspire people, and realize that mentorship is part of my role. I like to remind my colleagues that one shouldn't go through one's day with rose–colored glasses. All sorts of things can go wrong in this line of work, so there must be balance. Organically, I've been elected as a mentor for women in my field—perhaps due to the layered and unconventional life I've led, the many places I've lived, and evolutions I've experienced. In the face of monumental upheaval, I've been able to exercise an innate strength, and that is something that I'd like to impart to all the people who work here. I want people to be successful, to be themselves and to laugh a lot. I want to give people a chance. We all work hard, and I would like my team members to enjoy a good life. It is important to ensure that there is time outside of the office to attend gallery openings, to read and to think. I encourage participation in competitions and design fairs, and therefore a lot of travel is associated with our work. Above all, I want my colleagues to express themselves.


ID: What would you say are the opportunities and responsibilities of students of design and architecture, as well as those who are just now entering the field?


AC: Today, students have to be technologically savvy, and they must have a solid education and a good degree in the field. That's where it starts. I see opportunity in product design, may it be furniture, lighting, or carpets. It provides a chance to make a space truly your own. Unlike ten years ago, people today want something original, handmade and local. And we all like to see young people taking risks and creating original work. When building a team, I look for urbane upstarts with passion, stamina, ambition, and I gravitate to people that have that inexplicable, beautiful way about them. You can't get anywhere if you have tools but no soul and no spirit. You have to learn humility and have great integrity.