10 Questions With… Bethan Gray
"I've definitely been drinking more whisky in these last two years," confesses Bethan Gray, whose furniture and accessories for the luxury home market are found in the likes of Harrods, Liberty London, and Lane Crawford. Coincidentally, that's exactly how long it took the London-based designer, who founded Bethan Gray Design with her husband in 2008, to conceive the bottle and case for a rare 50-year-old single-malt scotch. Produced by Glenlivet, the Winchester Collection Vintage 1967 comprises only 150 bottles—each priced at a cool $25,000. Interior Design caught up with Gray at Glenlivet's home base in Moray, Scotland to hear more about her entry into the world of rare spirits, the collection she is launching this month in Milan, and her obsession with sea shells.
Read more: 10 Questions With… Andreas Engesvik
Interior Design: So, you recently designed your first liquor bottle and case. Can you tell us a bit about it?
Bethan Gray: I wanted the craftsmanship to match that of the making of the whisky. On the stained maple wood veneer case, 165 feet of copper overlay is applied by hand on a shaded ombré, while the dhow pattern that we have done in the past is adapted and changed to reference the Scottish landscape, with its mist, rolling hills, and water. The copper references the stills, which are huge, stunning, and such an important part of the process. You'll see the bottle is darker at the top and lighter at the bottom to reference both the charring of the barrels—when they are set on fire—and the liquid as it gets darker with age. The other material I added is mother-of-pearl, which references the freshwater mussels once fished out of a local river. You can still find these pearls, with beautiful colors and slightly odd shapes, in antique furniture and jewelry, but now the mussels are endangered. On the glass bottle, handblown near the distillery, cut lines reflect the light and also emphasize again the change of color. It takes about a week to make two bottles with their cases.
ID: What else have you completed recently?
BG: The Nizwa collection was inspired by the way sunlight falls across the castellations of the Nizwa Fort in Oman and the Dhow collection references the billowing sails of traditional Omani sailing boats. I work with local craftsmen to bring those stories to life. The Nizwa and Dhow cabinets are made using Italian maple veneers. These are dyed when the wood is still "wet," giving really deep, rich colors, and then inlaid with solid brass—108 individual pieces in the case of Nizwa and 65 square feet in the case of Dhow. I collaborated with 1882 Ltd to reinterpret Dhow for a collection of fine bone china tableware called Lustre. The pattern is created from intricate 24-carat gold and black silkscreen decals and then finished with 24-carat gilding.
ID: What's upcoming for you?
BG: In Milan this month at Rossana Orlandi Gallery, I will launch Exploring Eden, a 10-piece collection. It's a collaboration with eco-material innovator Nature Squared and comprises furniture made from natural-materials waste such as scallop shells, goose feathers, and abalone shells. Working with natural materials is a big part of my practice, so it's been really exciting to explore such underutilized and yet sustainable materials—the colors and patterns they make possible are really inspiring.
ID: Is there a collection in your history that is particularly significant to you?
BG: That would have to be the Ruby Tree collection, which came about after renowned Islamic arts scholar Mitchell Abdul Karim Crites wrote to me to say that he was struck by the harmony and intricacy of my patterns. He said that he felt my work revealed "a profound sense of Islamic art." While I have a Scottish father and Welsh mother, my maternal family hails from an ancient Rajasthani clan that migrated across Arabia and Persia and into Europe before settling in Wales where I grew up, so perhaps it's in my blood! Our mutual respect for natural materials, craftsmanship, and that sense of pattern led to a really rewarding collaboration and a whole new vein of ideas and inspiration that I've been exploring ever since.
ID: How do you think your childhood influences your design thinking?
BG: Creativity was always really encouraged when I was growing up, so that definitely had an influence. With the Glenlivet project in particular, my grandfather was a research forester in the Cairngorms, where the distillery is, so that gave me an immediate connection to the area. I came up with a barley field concept for the dinner celebrating the whisky's launch—with barley plants all around the tables—and I actually found out that my grandfather used to do something similar with trees to promote the Forestry Commission! Great minds…
ID: And what about being born and raised in the U.K.?
BG: The wonderful thing about British design culture is that it's so open. Growing up in Wales and now living in London, I've always been lucky enough to meet people from lots of different cultural backgrounds. That really inspires my approach to design.
Read more: 10 Questions With…Tom Fereday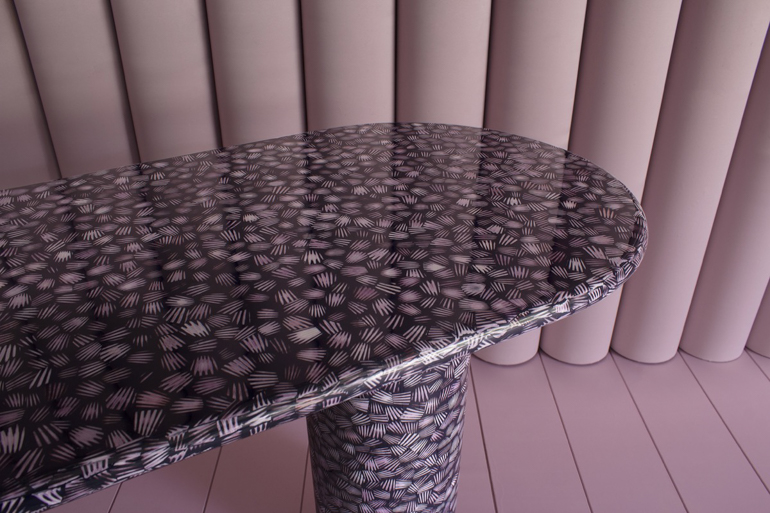 ID: What are you reading?
BG: Seashells of Eastern Arabia. I absolutely love seashells—their colors, textures, and forms are really starting to find their way into my work. In the case of my collaboration with Nature Squared, it's even the shells themselves.
ID: Is there a person in the industry that you particularly admire?
BG: French architect and designer Charlotte Perriand was incredibly pioneering, and her work is just so beautiful and timeless. I've got so much admiration for everything she achieved, particularly in an era when it was more difficult for women. Just imagine what she could do today!
ID: As a world traveler, what destinations you recommend?
BG: Oman, particularly the Jebel Akhdar mountains, is a wonderful place to visit—that part of the world is absolutely stunning. And I might be slightly biased, but the Gower Peninsula in Wales is home to Britain's best beaches.
ID: Since most of us won't get the chance to find out…what does 50-year-old Scotch for $25,000 taste like?
BG: Really lovely! It is velvety smooth and luxuriously sweet—it reminds me of apricot jam, fondant orange, and toasted almonds all at once.
Keep scrolling to see more images of Bethan Gray's products >
Read more: 10 Questions With… Thomas Bentzen