10 Questions With… Carl Gerges
Carl Gerges is best known as the drummer for one of the Middle East's biggest indie rock bands, Mashrou' Leila, who for more than a decade have toured the globe racking up accolades and media attention while insightfully tackling cultural taboos. (Check out their NPR Tiny Desk concert for a taste.) Gerges is also a true multi-hyphenate, having recently launched his own design studio, Carl Gerges Architects, in his hometown of Beirut.
Gerges initially studied engineering and architecture at the American University of Beirut, then worked at various local and international firms (and was a jury member at his university's architecture school) while juggling music. Sophisticated and earthy, his projects handle heritage with innate sensitivity. Recently he talked to us about three of his architecture and interiors projects—Villa Nadia, Villa Chams, and his own home—as well as the parallels between music and architecture.
Editor's note: This interview was conducted in July 2020. To support Beirut, see @bebwshebbek and @matbakhelbalad, two on-the-ground organizations rebuilding homes destroyed in the Lebanon explosion of August 4th and distributing essentials to those in need.
Interior Design: It would be impossible to start this conversation without reference to Lebanon's economic collapse. Living conditions are tough; the lira has lost over 80 percent of its value leaving many destitute. What is daily life like for you in Beirut right now?
Carl Gerges: Yes, it's a very delicate time. Right now, my friends in Europe are struggling with Coronavirus but for us it is almost the last of our worries. Everyone is walking on eggshells. There is no electricity much of the day. But we are resilient and always try to find solutions.
ID: Tell us about your project Villa Nadia.
CG: This is an estate in Beit Meri that was abandoned during the civil war and left for decades as squatters took over. When I first encountered the house, it was incredibly poetic. Trees and vines were growing inside the dining room: nature invading everywhere. It was as if it was frozen in time. All the furniture was still there—but completely ruined! My client, the great-great grandson of the original owner, wanted to get rid of everything. I disagreed. Those objects have experienced so many events, you can't just throw them in the trash. The chandelier we kept, and even the sofas and lamps were refurbished by local artisans and carpenters. You need to get the right people to work on a project. They are the right ones to preserve this ancient feeling but bring it back to life. Lots of renovated places today feel plastic: they look like they could have been built a few years ago. To me, it's not about making it "clean and perfect" but preserving the atmosphere.
In the vaulted basement hammam, curved one-meter-thick walls completely isolate the space from sound and light and have a reflective tadelakt plaster. It's an elemental space that emits the feeling of being cocooned within a cave. There's light play, too, with the pool reflecting gently and the softly shimmering tadelakt.
I wanted the place to have a soul. I spent a lot of time interviewing the family members, finding out what was most important to them. One new addition is a lofted guestroom designed as a modern treehouse accessed by a new spiral stair. You can open the windows on both sides and feel among the pine trees. You can even touch the tree trunks. A green velvet sofa pairs with a wooden floor here, mimicking a forest.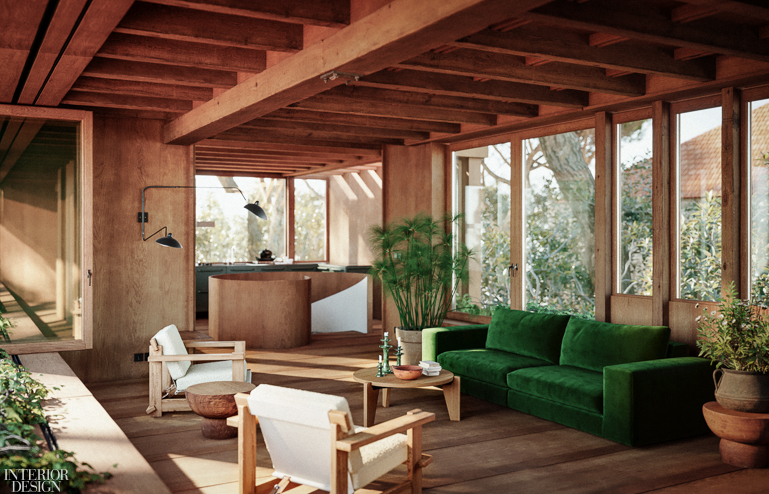 ID: Your Villa Chams ('sun' in Arabic) is monumental in its architecture, much like the Roman temples in surrounding Baalbek.
CG: This was a very special project for me. I performed in Balbeck in 2012 and felt very close to this place. The site was utterly perfect; nature did all the work for me and the challenge was to not compromise it. The trees had been there thousands of years. I wanted to use materials that were from here, so we mixed earth with concrete for walls and the pool terrazzo floor has local mineral aggregates. We did lots of tests to get just the right mix and colors. The house is one simple shell on a grid with rhythmic columns that create indoor and outdoor spaces. The walk-in pool flows like a river past the pillars.
In the bathroom, a skylight lets light in as the wall by the tub and shower is natural rock, so windows weren't possible. We treated the rock to prevent bugs from infiltrating but kept all of its rustic, tactile qualities. I consciously didn't want to use any sound-absorbing materials, only hard, reflecting surfaces to amplify the sound of the water flowing from the shower in the double-height volume.
ID: That's interesting you talk about sound because you're best known as the drummer in one of the Middle East's biggest indie rock bands, Mashrou' Leila. Do you see any overlap in music and architecture?
CG: I use contrast in architecture and music. Grid and proportion. It the same language almost. I don't think you can create anything if you are not sensitive and aware of what is around you. Being an architect made me aware that I have the same approach when I create music. When I write a song, it is led by the conditions, the setting, I have to feel the atmosphere. Design is the same.
Playing at the Barbican was a very memorable moment for us. I find Brutalist architecture very inspiring. Touring is not just about performing in front of different crowds but in different spaces—it's the same set, same lighting, yes, but a different room and the sound always resonates differently.
My university thesis explored the cosmic relationship that has tied music and architecture together since the sixth century B.C. Both are generated by an underlying code, based on rhythm, proportion, and harmony, and they share a clear cultural lineage that many architects and composers studied and experimented with. The composer Pérotin, working at Notre Dame in Paris, introduced a notational system of long and short notes so he could signal basic rhythms, consequently creating the concept of the musical grid. The Greek architect and composer Xenakis was also a pioneer in this field; his research into rhythmic patterns proved useful for the design of the famous undulating glass panes that cover the façade of the Monastery of La Tourette by Le Corbusier. In addition to being rhythmic and sequential—therefore compositional—the main façade of Villa Chams also satisfies a musical principle: sporadically equidistant walls and columns orchestrate a rhythmic flow.
ID: Mashrou' Leila were part of a sound installation at the Met Breuer last year. What was that like?
CG: We collaborated with an amazing British artist, Oliver Beer, on "Vessel Orchestra." He selected vessels from the museum, from thousand-year-old vases to more recent 1960s and 1980s works by people like Ettore Sottsass, and "played" them like instruments. Each vase shape emanates or resonates a specific frequency. A microphone strung above each vessel captured and amplified this sound. Oliver hand-picked every object to create a wider "instrument" that played in perfect harmony and Mashrou' Leila composed a piece for this instrument. It was first time the Met had done a sound installation. It was really moving: Usually there is a quadruple layer of glass protecting things like that, here we were dancing around these 2000-year-old objects.
ID: How did you get into design?
CG: I spent lot of time in Paris when I young and adored the Eiffel Tower; I had tons of little books with hand-drawn sketches of French industrial design. I also had a huge collection of Legos and was obsessed with small-scale models. At university I started studying civil engineering, but my ex was studying architecture and I was jealous! I wanted to be more creative and more hands-on, so I transferred to architecture. This is how the band formed as well: we are all architects and designers. This is why we get along so well during touring, we have the same interests, we all want to see the newest exhibitions.
ID: Favorite design?
CG: David Chipperfield's Neues Museum in Berlin and the thermal baths in Vals by Peter Zumthor,
Both experiences changed me. When I visited the museum, I didn't care about the collections, but the doors by the toilets—that is what I admired! My ideal project would be to design a museum. I think every architect would love to build a museum. It's that dream of having total freedom to work with materials and space and light, and to combine so many different elements, like a cafeteria, a bookstore, galleries.
ID: What are you reading?
CG: A book I always go back to is The Architecture of Happiness by Alain de Botton. It's a good book to recommend to people who don't understand architects. It talks about architecture in a very different way, more the psychology of space. It's very poetic and a simple history of architecture without being about history per se.
ID: What is your design philosophy?
CG: Tough question! I don't know if I fully know yet. I think context is really important: honest architecture respectful of its context. In Lebanon I think a lot of architecture forgets to focus on the essence of the project. What is it really about? What is the story?
ID: Tell us about your own apartment, which ended up with a coveted cover story.
CG: It's an apartment from the 1930s that was abandoned, the walls were splintered by shrapnel from the war and rain was coming in through the roof. The challenge was to respect the art deco features of the building, not butcher the façade or windows, so I refurbished them with air-tight double glazing. I wanted to preserve the traditional aspects. We used local materials, like terrazzo, widely used in Lebanon, and marble in the bathroom, characteristic of Lebanese hammams and which reminded me of my grandmother's kitchen.
All the objects are collected from my travels. My favorite part is the fireplace I added recently. It has a grounding effect. I spent New Year's in Marrakesh, and the wood fire crackling away there really changed the mood inside the space. I live on the top floor of the building, so it was very luckily possible to have a chimney.
I have always loved spending time in my apartment bubble; it's where I can disconnect. Lots of people ask about quarantine but my lifestyle didn't really change. I have projects coming up, some secret. I'm working on a beach house and a villa, both in Lebanon, plus some collaborations with industrial designers and photographers but everything is really on hold for now because of the situation here. The band is writing a new album, but our world tour is cancelled because of Coronavirus. The coming year is going to be difficult that's for sure but I'm trying to have fun within that and work with likeminded collaborators.