10 Questions With… Christophe Delcourt
Paris-based designer

Christophe Delcourt

applies his precise vision not only to furniture, but also to hospitality and retail interiors. After studying theater, the self-taught Delcourt opened his first studio in Paris in 1988 and began to produce coveted interiors, lighting, and furniture, including the Scoop, Rive Droite and limited-edition, ecoconscious Legend lines for

Roche Bobois

.

Interior Design

spoke with Delcourt on the occasion of his latest furniture launch at

Avenue Road

in New York, where new pieces designed in collaboration with owner Stephan Weishaupt channel the craftsmanship of the French Decorative Arts through exquisite materials utilizing tanning, tinting, wood smoking, and metalworking. Keep reading to find out why Delcourt believes sofas are the most important item of furniture.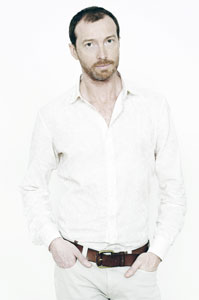 Interior Design: What was the inspiration for the GIS console table in this collection?

Christophe Delcourt: This piece of work is, to some extent, about breaking down structure. It's about a sense of play and rhythm. I thought it was kind of interesting to shake up the very rigid parameters of this piece, simply by blending different things together. . .?I generally like big, generously sized tables, ones that are inviting and bring people together. On the other hand, I was trying to create something refined, something light, something that floats above the ground. The base is extremely slender and the material used, brass, reflects the light. It's been carefully wrought and has a delicate grain and texture. Its structure is quite architectural as well. That's why it has a central element that holds it together, like the backbone of a fish or the beam of a house.

ID: Why did you select these particular materials for GIS, the smoked oak and brass?

CD: The base is brass, which is interesting because it's a material that interacts with light. It takes a very delicate touch to work with brass. The bead-blasted surface reacts to light. And I also wanted to make the most of this kind of oak, smoked oak, which is naturally two-toned, alternating between darker and lighter shades. So I incorporated it as a natural element. One of my inspirations was the celebrated American designer George Nakashima. The piece is a reflection of nature, but a reconstructed version of nature, within something that is fairly strictly defined.

ID: Are there any particular experiences of yours that influenced MUC?

CD: For this piece, the idea came to me during a trip to Germany. I was actually traveling with Stephan Weishaupt, the president of

Avenue Road

. We ended up going to a museum that was this incredible building with a mix of ceramics, sticks and a flood of colours. This piece was influenced by that source of inspiration, a simple form, which itself was inspired by a type of tiled floor the French call a "tomette," with a pattern that can be repeated over and over again. These are elements that can be changed and moved around. It comes in either seven or four parts. I like being able to accommodate the need for mobility: you can place objects in front of the sofa or use smaller items and build them up or break them down.

ID: What other influences do you think have affected your work?

CD: My work is heavily influenced by certain periods, certain key figures that have left their mark on our field, including several from France. There are people like Jean Prouvé, Pierre Chareau and Jean-Michel Frank, who revolutionized furniture design in France and who reinvented, or invented, a contemporary way of designing and producing furniture to meet other needs, such as comfort. I'm more impressed by that approach, which revolves around lifestyle instead of just a given piece—a redesigned chair, for example. Because that's more along the lines of what I do today. I always ask myself how the light will fall, how people will move around and how they will live in, inhabit and grow in a space.

ID: What is unique about the collection's IAN sofa?

CD: I really wanted the accent to be on comfort and softness, while still being extremely light and airy. I wanted something with ample volume but that really floats above the ground. The resulting lines are very pure, very long, very slender. The piece is stuffed with lots of feathers, and the arms are soft and can be moved around. It's very alive. And very sittable. A sofa is first and foremost about comfort, about working on the composition itself. You have to focus on the density, the support, the fabric, the way it moves, the way it settles. With this sofa, I also wanted something that was shiny and reflected light. That's why brass was chosen for the base, around the velvet. I wanted something that feels very alive when you sit in it, something that virtually shimmers and catches the light. That's part of the comfort—the visual comfort. It's attractive—you feel drawn to touch it. These pieces need to be sensual too. It's a sofa that has to appeal to the eye and capture your attention.

ID: What are some of the earliest instances when you found yourself engaged by good design?

CD: You mean why do I want to do what I do? What I really love is the interaction. It's the part where I'm just a gateway, a tool of sorts. And all I want to do is be as faithful as I can to the time we live in. My job as a designer is to be able to respond to lifestyle needs—the need to sit, to eat, to have a table where you can receive guests, to have a place to store things. My inspiration comes from the things that surround me every day. It comes from architecture, the shape of a building, a construction component, a material, an artist, a colour. That's how ideas and impulses emerge, especially the impulse to come up with new concepts.

ID: What do you think about the state of our industry in general? Is it getting healthier in an economic sense?

CD: I just think it's a time when the world is wide open, brands have developed and we have all seen pretty much the same things. Everything looks the same. People's tastes are the same. I think the economic crisis will encourage people to go back to the basics, return to their cultural roots and their own personal roots, and maybe back to thinking local as well. I rather like this trend in that I've always been a supporter of local craftspeople. I like to try to highlight the local aspect in my work, by using materials that come from the same area a piece is made. And I try to be open to the culture I'm working in and sensitive to the people I'm working for.

ID: What is your approach to sustainability?

CD: It's important when you create a piece of furniture to respect the people involved in its production and to protect their health. That means avoiding harmful products, things that are bad for their health and well-being. And it's also about respecting the people who buy the finished piece. So when they bring it home, it won't do anything to harm them—it doesn't have anything that's irritating or rough on the skin, for example. So you have to be careful about the materials and components you use. You have to prevent problems by choosing things that are more natural, more recyclable and minimize the use of petroleum products. You have to try not to spoil anything and find a balance between production and consumption.

ID: What about trends? Do you think about them when designing pieces?

CD: Designers don't, or shouldn't, base their decisions on what trend consultants have to say. What matters is what's inside of you. It's the sensitivity you express and share. You buy something because it makes you feel a certain way—it triggers an emotion, it changes the way you look at something. Our business involves tapping into this sensitivity. So it's not about following influences, it's about being in touch with the here and now. People don't furnish their homes the way they used to a hundred years ago. Our day-to-day realities have changed and things today are more mobile, much lighter. If you really think about it, you only need one piece of furniture these days: a sofa. The sofa is the place where you work, have fun, interact with friends and relax.

ID: What are some of the biggest projects that are keeping you busy right now?

CD: The most important thing is to keep broadening my own collection with my design company. We unveil two collections a year in Paris. So we're in the midst of getting the September 2013 collection ready. I'm also involved in interior architecture projects, which I do for individual clients. I consult on apartments, stores and hotels. And I also design for other furniture-making companies. In those cases, I create the design and they take care of the production end of things.
Related:


10 Questions With… Zeynep Fadillioglu



10 Questions with… Karim Rashid



10 Questions With… Douglas Burnham