10 Questions With… Curtis and Jonathan Moody
Moody Nolan has much to celebrate. Black History Month is one. Receiving the 2021 AIA Architecture Firm Award is another. Still another is its diversity. The Black-owned and led firm with headquarters in Columbus, Ohio, and 10 more offices nationwide counts 42 percent women and 32 percent identifying as minorities in its staff of 230. Kudos to the team, but especially to Curtis J. Moody who had the vision—and bravery—to start an architecture firm in 1982 in the midst of an economic downturn with just one graduate student. By year's end, however, Moody and Associates had grown to nine staff members, and Curtis joined forces with the engineering firm Howard E. Nolan and Associates. Ergo the name of the father-son-helmed firm we know today. Its mantra is "responsive," the precept applying to architecture, interior design, and experiential design comprising the studio's vast portfolio across commercial, institutional, and education platforms.
Columbus-born, Curtis earned a bachelor's degree in Architecture from The Ohio State University, an honorary doctorate from Ohio Dominican University, and continued his education at the Harvard Graduate School of Design and Columbus Technical Institute. In his 48 years of practice, he holds more honors than we can name. Suffice just a few: the AIA's Whitney M. Young, Jr. Award, AIA's Ohio Gold Medal, and the National Organization of Minority Architects's President Exemplary Service Award. Meanwhile, the firm counts more than 320 design citations including being named NOMA's firm of the year in 2000. Moody, senior, is currently chairman of the board.
Jonathan Moody, president and CEO, completed bachelor's and master's degrees in architecture from Cornell University and University of California Los Angeles, respectively. Digital fabrication and social engagement are key to his design approach. Mentoring and education programs for underserved youth are his passions. Before returning to his native Columbus more than 10 years ago, he was a designer for the Yazdani Studio of Cannon Design and Eisenman Architects.
Interior Design: What does receiving the AIA Architecture Firm Award mean to you?
Curt Moody: Growing up, I never had a role model or knew of anyone who was Black in the architecture profession to receive national acclaim. I didn't have mentors. For me, the award means that other minority-owned businesses know that they too can rise to the top.
Jonathan Moody: This award is for everyone who has supported our vision, from my dad's start until now. To be recognized by our peers is one of the most prestigious honors we could've dreamed of. Now, we can be an example to young architects of any color.
ID: How do you intend to pay it forward?
CM: We are now considered an example of success and can provide guidance on matters big and small. We're going to continue to impact communities and people in need.
JM: Project types such as libraries, affordable housing, and schools have helped shape who we are. We will never stray from our philosophy of using our talents as designers to help others.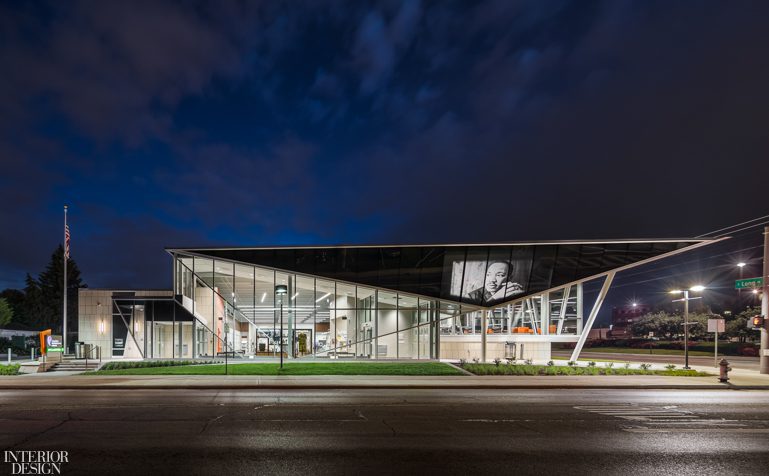 ID: What were your introductions to architecture and design? And Jonathan did you ever consider another career having been immersed in architecture as a kid?
CM: Growing up in a working-class neighborhood, I had my introduction at a friend's house. His father was a contractor who had studied architecture. He had blueprints on his drafting table of houses that he was building. I was fascinated by the drawings.
JM: We stopped to take pictures of buildings on family road trips when I was a kid. One that stands out the most was our trip to Chicago. I was told we were going to see Batman, but we stopped three times to photograph buildings on our way. On a pre-school class trip to a local library, I announced to everyone that my dad worked there, when in fact he was the architect. Today, I'm working on re-design of that library. As for other careers, I wanted to do something smart. Aerospace engineering or aeronautical engineering were the only other considerations.
ID: Part of your mission is to encourage architecture careers among people of color to help carry on your legacy. Among projects to this end were the Martin Luther King Library in Columbus and the Malcolm X College and School of Health Sciences with City Colleges of Chicago. Tell us about them.
CM: When we were awarded the Malcom X project, it was the largest contract in the city of Chicago to be awarded to an African American-owned firm. With that came a lot of pressure to make the project a success. We began with a conceptual design by Cannon Design and continued to design and develop an entirely new campus for City Colleges of Chicago. The new 545,000-square-foot, $252 million facility allowed the College to add 6,000 students to learn in a state-of-the art healthcare setting. Overall graduation rates have increased by 40 percent. Enrollment in the nursing program more than doubled with a 98 percent pass rate for students taking clinical nursing exams.
JM: The Columbus Metropolitan Library Martin Luther King Branch replaces the country's first library named after Dr. King. It was recently awarded a NOMA 2020 design award. The library serves as an act of hope for the Near East Side of Columbus by providing better resources for adults, teens, and children. It was dedicated by King's son, Martin Luther King III.
ID: An exemplary philanthropic endeavor is Legacy House with its plans for a home in the 11 communities where the firm operates. The first, in Columbus, was gifted to a single mother with three children. What was its catalyst, and what is the status of others?
JM: A few years ago, my dad looked at our corporate giving, and we couldn't make a direct correlation to actual impact. He decided that we were going to design, build, and give away a home mortgage—free to a deserving family—selected by a non-profit. Nashville has broken ground. The next is planned for Chicago.
CM: What amazed me was once word got out, everybody wanted to help. Someone jumped in to furnish the house. Someone else donated flooring, siding, etc. It shows that when good people come together, we can achieve great things.
ID: Firm-wide, how did you confront the pandemic challenge?
JM: Like many others, we were faced with the sudden need to set up successful working from home. Our IT department went above and beyond to create a proper technology plan for us to work and communicate effectively. We worked with the CDC to determine a return-to-office plan, but ultimately decided to wait to bring our employees back once it is safe for everyone. We've seen a huge positive from virtual community engagement because it allows more people to access the platform and be involved.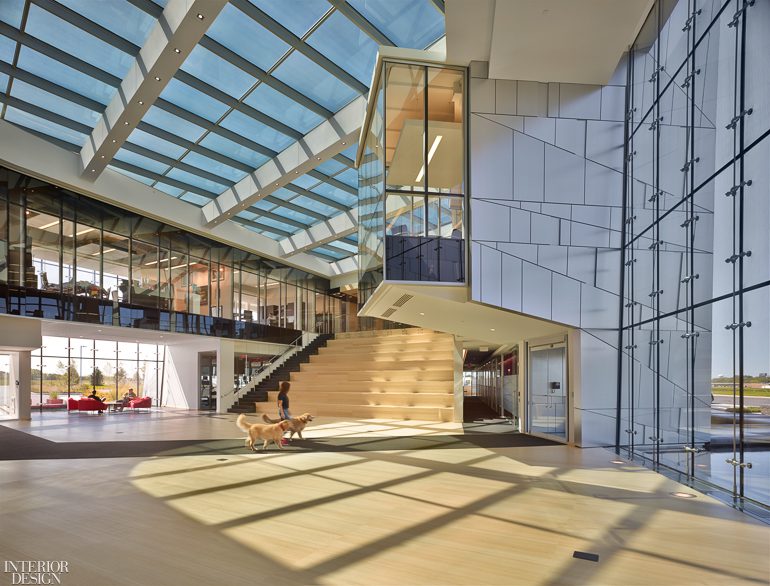 ID: Within your practice, which cities were hardest hit from both health and economic standpoints?
CM: The offices that rely heavily on public transport were hit hardest, like New York and Chicago. Economically, we have been able to sustain ourselves because of our presence in multiple locations and diversity in market types.
ID: What has each of you learned from the other?
CM: I've learned that Jonathan is way better at technology than I am.
JM: My dad has prepared me for more things than I thought I was prepared for. He taught me how to swim by "pushing me into the pool."
ID: What are you working on now? How does "responsive" design come into play?
JM: Central Piedmont Community College (Charlotte, North Carolina), The Greater Dayton School (Dayton, Ohio), the Louisville Urban League Heritage West development (a 24-acre site featuring a state-of-the art sports complex).
CM: Each project begins with responsive design to our clients' site, program, and budget requirements. Our ability to engage diverse voiced and designers provides the greatest impact to be responsive to the client.
ID: Words of advice to prospective architects and designers, minorities or not?
CM: Passion, perseverance, and enthusiasm are hard to beat.
JM: Remain diverse by being yourself.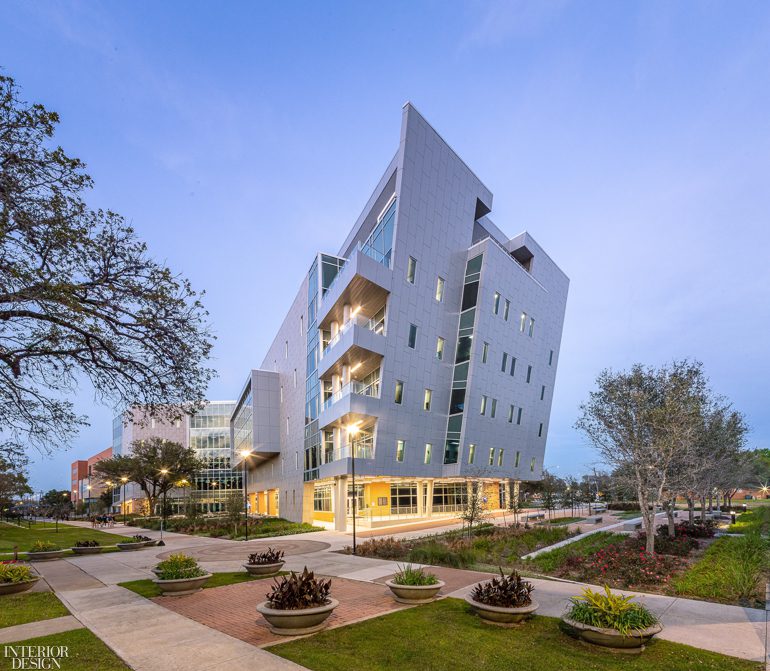 In honor of Black History Month, the Interior Design team is spotlighting the narratives, works, and craft traditions of Black architects, designers, and creatives. See our full coverage here.