10 Questions With… Daniel Libeskind
If the world had taken a different turn, Daniel Libeskind would have been a professional pianist. The Polish-born architect was once a talented music student on scholarship. Today, despite completing his first built project at the age of 52, Libeskind is making an indubitable mark on the world, with his vision retained for dozens of high-profile architecture projects, and, more recently, for interior design and product design.

We caught up with Libeskind during his recent unveiling of "Beyond the Wall" at Cosentino 's headquarters in Almeria, spain (look out for the "Centerfold" print feature on the sculpture in Interior Design 's next issue). Here, he discusses forging a path for a passion, recent projects including a residential tower with student housing, returning to Berlin, and a social project close to his heart.
Interior Design: You've always gone your own way, been at bit of a rebel. Now you have so many projects on the books. Is there something that ties these projects together?
Daniel Libeskind: That's a good question, I think what ties them together is a passion and intensity for architecture and for the world. In the projects that I am pursing now, there are many completely new horizons, things that I have never done before, things that I never even thought I would be involved in. Whether they are cultural projects, whether they are large development projects, whether they are in Asia, or North America or in Europe, they involve a sense of importance of place in a global world. And I think that is the biggest challenge: We live in a global world, with a global economy. How do we create a uniqueness that relates to something very, very specific, very artistic, culturally maybe not so easy to point to, but something that connects us together in a more intimate way? That's the craziness and wonder of the world and the wonder of architecture: It can combine the micro and the mega.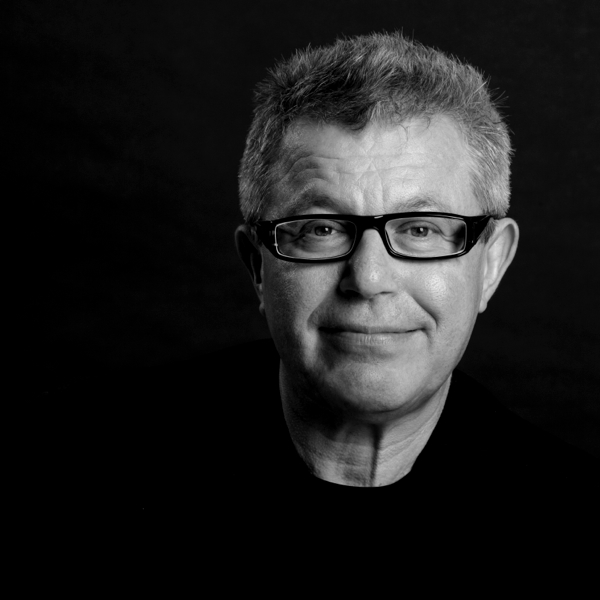 ID: Can you name a few of the projects you are currently working on?
DL: Oh I never know where to start. Some fantastic projects in Sao Paulo, one under construction. Projects in the U.S., Canada. Projects in Berlin; Hamburg; in Lüneburg, Germany; in Belgium—where our convention center is under construction. Projects in Tirana, Albania; in China; in Singapore; in Korea; in the Philippines—I mean it's crazy. There are even projects I can't talk about because they are not public yet. I'm such a lucky architect, especially in a time when it is difficult for many architects to get work.
ID: How many are there? Would you say over 100?
DL: No, less than that. It's a lot, but they're not all in the same stage of development. I don't have a factory, I'm not a big company—we're a small design and architectural studio. We have an office in Milan which is now more and more active with my son and several people running Libeskind Design and Libeskind Architettura, which is amazing—industrial design, all sorts of products, all sorts of interiors and new materials, and also architecture of course, in Italy. Plus we have an office in Zurich, which does our German projects. And maybe we'll move to Berlin soon.
ID: Really! Because your son lives there?
DL: Well that could be a reason—grandchildren! In truth, we now have more projects in Germany and we moved out of Berlin for one very specific reason: There were no direct flights from New York. So Zurich was the city with the best airport. But now there is Air Berlin. It's not as if there are hundreds of thousands of projects—it's projects at different stages—and of course there is a lot of work to be done.
ID: How do you start your creative process?

DL: If I could explain that I would be a very happy person. But it's not really a very rational thing. If I could put it into a formula, I wouldn't have to work any more! (laughs). But it's not like that. Each project is different. Each project requires inspiration. You can't buy inspiration. You can't get it just because you want it. Something has to happen to you to be inspired. That's the point.
ID: Your project in Berlin right now, the residential building Chausseestrasse 43 , what's your design goal with that?
DL: It's not an expensive building, it's not a condominium. It's a rental building, with some small units for students. This project shows that you can create, within all the very severe restrictions, something of architecture volume, that is interesting and gives people a sense of space and light, and contributes in an urban sense to the beauty of Berlin.
ID: Is it a good feeling to return to Berlin, considering that is where your first built project is, The Jewish Museum Berlin ?
DL: I've never really left Berlin. After finishing the Jewish Museum, we did an extension—the glass courtyard—and then I received a commission to do the Academy of the Jewish Museum Berlin across the street. And I am working on other projects in Germany. I just completed Der Kö-Bogen in Dusseldorf. It's a mega project, incorporating two of the most important blocks downtown. It is a very large, important urban project in the historic fabric of a beautiful part of the city.
ID: What stands out, designwise, with the Der Kö-Bogen project?
DL: The defining element is space and light and a completely new sense of elevation, and also public accessibility and the aesthetic component. If you go to Dusseldorf, check it out, it is really a wow.
ID: You do a lot of social projects. Is there one right now that particularly strikes your heart?
DL: Yes, I'm doing something very, very special, which I can not talk about in China, which will soon be released. It's something that is not a hotel, not a stadium, and not a skyscraper—something totally different, because it's about people.
ID: What do you do in your downtime?
DL: I don't have any downtime. I'm so lucky. I love what I do. I don't have a job, actually. That's the fantastic thing about doing what I do. It's not a job. It's such a fantastic thing to be able to do what you do full time without any respite.