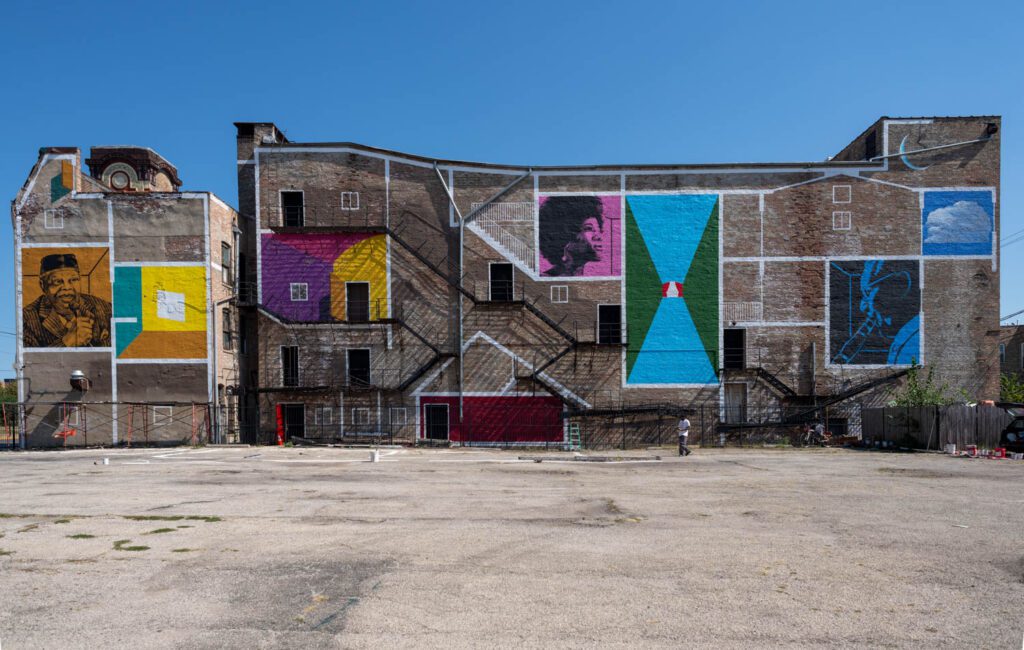 10 Questions With… David Brown
Architecture often concerns itself with the seemingly permanent, but David Brown wants to change that. The professor and associate director, graduate affairs at the University of Illinois Chicago's College of Architecture, Design, and the Arts has spent his career drawing connections between the discipline and jazz, which led to his 2006 book "Noise Orders." A lifelong interest in improvisation in both sonic and physical realms came to fruition in exhibitions at the 2012 Venice Architecture Biennial and the 2015 Chicago Architecture Biennial. This fall, he's the Chicago biennial's artistic director, focusing on what he calls "The Available City," or the roughly 15,000 empty lots the city owns but rarely cares for. The series of installations, mostly throughout Chicago's south and west sides, are on view through December 18th. Here, in a conversation that has been edited for length and clarity, Brown talks with Interior Design about church acoustics, the difference between the available and the vacant, and the possibilities of the temporary.
Interior Design: How did you first become aware of the built environment?
David Brown: When I was seven or eight, in Nashville, my parents began building a house. So there was a fascination of going to see something that's under construction and the changes that happen as it's framed. Every couple of weeks, it's different. My parents had friends who were architects and I ended up interning with them. I went to Brown and did an undergrad in art history, primarily looking at architecture. I think I wanted to gain a kind of foundation without pursuing architecture directly, and I think that led to me ultimately pursuing more academia within architecture than a kind of practice.
ID: Is that where your interest in jazz really began?
DB: I did a jazz history course at Brown [University], and we'd all walk down to Providence to go to record stores. One night, I went to a community center in a Black neighborhood in Providence and a friend had organized an improvisational jazz show, and it was like Oh, wow, amazing. Then I went to Berkeley to study architecture and there, too, was the opportunity to go and listen to a lot of music. The jazz interest continued to develop and ultimately became a thesis focus, looking at Saint John Coltrane Church, which is a church group that plays music by John Coltrane. I didn't really articulate it yet, but I began thinking of architecture as a way of constructing an instrument—how people move through it is how [an instrument] is played. The service takes some of the space, and the band takes up maybe the other half, but these were acoustically linked. While there were types of screens that separated one space from another, sound could leak throughout. And to me, it was something were you could end up exploring the space through sound. Other work is done by playing through light and shadow.
ID: Did this impact the kind of architecture you began proposing?
DB: It lead to a Martin Luther King, Jr. memorial proposal for the Washington Mall while I began teaching at Rice [University]. The idea was a series of glass panels on the southern edge of the plot, suspended on columns, with words by King etched on them. And then a plaza, with polished stone markers of different sizes marking different dates within the civil rights movement. And so, in a way, you could walk across and get a timeline but in the shadows cast by King's speeches. Everyone on the plaza would somewhat interfere with how much light and shadow would actually be projected. Obviously, I didn't win. Too bad.
ID: And it also led to a book?
DB: My thinking shifted to: Well, if there are musicians who improvise, how do they structure what they do to facilitate improvisation? If you think about how you structure something, to me, that's where you get quickly to architecture. What are ways in which architecture structures things that we then do? That's the kind of connection I draw.
ID: Your wife is a musician; how has that relationship affected your thinking?
DB: Through her, I've met a lot of musicians. I do tend to, like, when I go look at architecture, stomp on the floor just to hear what it sounds like. And I think about some spaces as: This would be an interesting space for somebody to play. Some spaces have characteristics of sound. So when you [stomp on] the floor, you're listening to the space, right? For however long it takes the space to take the sound.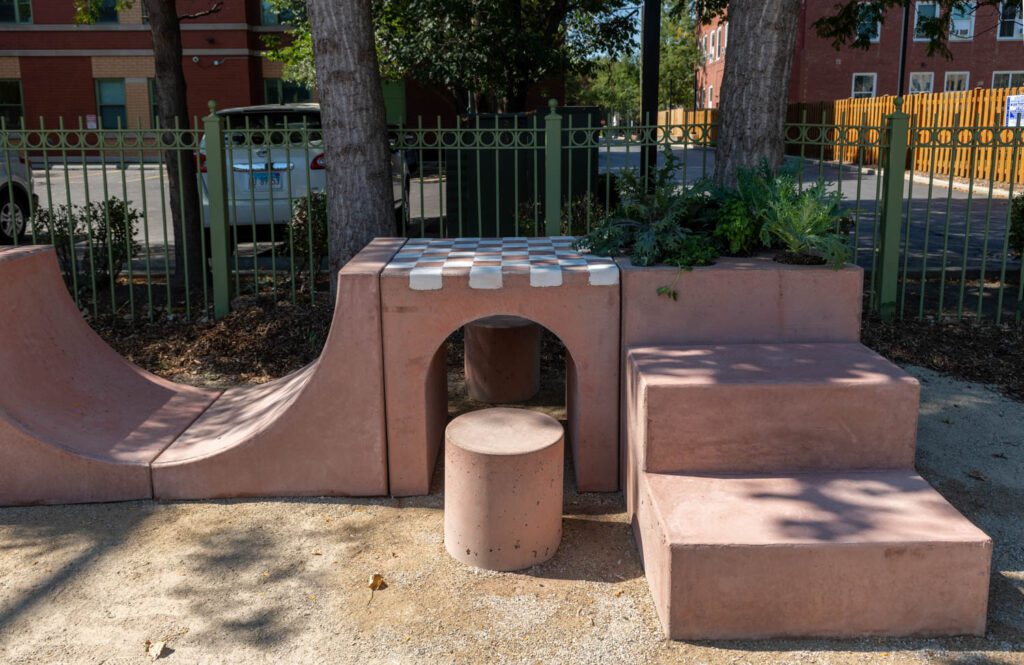 ID: How did the idea of "The Available City" arise?
DB: Cities acquire vacant land in different states of foreclosures and tax delinquencies and misuse. I started to think of the scale of that. Chicago altogether owns land that is about the size of the downtown area. About 70% of that is in 18 neighborhoods on the south and west sides, and the majority are Black and Brown neighborhoods—and the majority of those have low median incomes relative to the rest of the city. You start to realize there's a correlation. But the fact that the city owns it gives us an opportunity that we wouldn't have otherwise. If the city said, we're going to strategically go and acquire 15,000 spaces and clear them, everybody would be asking questions. I'm proposing [that] this is an opportunity we would squander if we tried to put in the kind of normative buildings that would usually go in there. How do you propose something that would impact the residents who are in these neighborhoods from the start? That's where the idea came to work with community organizations as the basis creating spaces and building in direct stewardship of spaces. So it's no longer the city maintaining that land, it's the groups that are hosting the spaces and tending that land.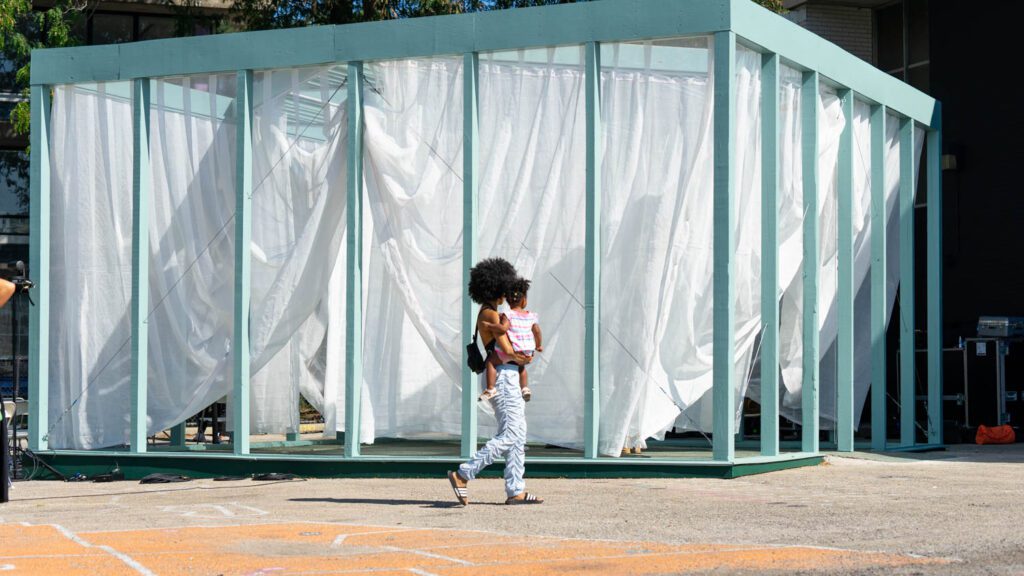 ID: What does it mean to consider land as "available" instead of, say, "vacant"?
DB: The immediate, typical use [of available lots] has been as community gardens. I have nothing against community gardens, but I want to promote the idea that they could, in fact, host a wide variety of collective spaces. I think they can be as diverse as the different interiors of cities. I wanted to capture a wider range.
ID: But the city still owns the land?
DB: I had been looking to primarily work with organizations that already acquired land, or had in some cases hard surfaces or parking lots we could utilize. In the timeframe I'm talking about, leases are less than a year. It's hard to go through a rite of acquisition. For Soil Lab and some other sites, we acquired a rite of entry, so we could have access for so many months. But in some cases the city introduced more long-term leases and organizations have been able to buy them outright. Ultimately, I'm advocating that organizations have the ability to own the space. But these collective spaces by community organizations are an investment in those communities. You're investing in the communities and individuals over time, rather than waiting for the kind of traditional real estate market to find value.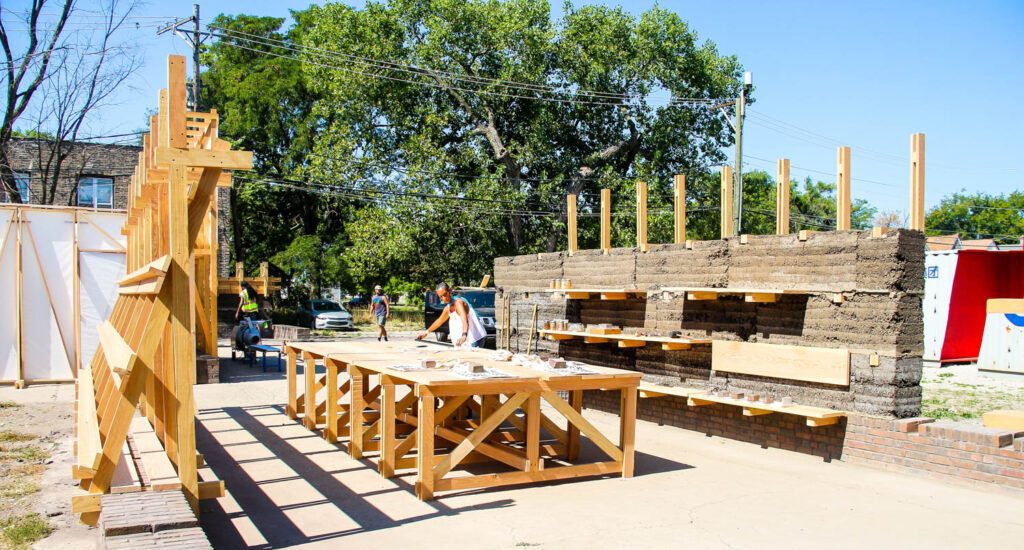 ID: The Biennial is by nature temporary. How are you thinking about these sort of temporary moments versus a more permanent investment in these communities?
DB: Again, my preference would be to make them permanent. But maybe some of them are more portable than others. They don't necessarily need to be dismantled, but they could be moved. Can we find an organization that has an interest in taking the project and continuing to steward it in a space they may already have? In the case of Soil Lab, they brought a kiln to North Lawndale, and there are workshops and activities related to how to use it. Even if that particular site is no long there, did the bricks they make become a resource in North Lawndale? I'm trying to really think about how the Biennial introduces resources that are on the one hand actual spaces and, on the other hand, physical resources.
ID: So it's a kind of improv?
DB: It's an open inquiry as to what should be done in the future. What else can happen inside a basketball court? What else can happen inside a bounce castle? It's a way to evoke activities without necessarily having to make decisions about them fully, while soliciting and gaining community input. The temporary aspect is, I hope, helping to build discussion and consensus about what should happen in the space in the future.