10 Questions With… David Howell of DHD Architecture and Design



David Howell, principal, DHD Architecture and Design.



New Zealand-born architect David Howell guides a sharp, 16-member team at

DHD Architecture and Design

on Union Square in New York. From private builds and high-end retail spaces to design services and fine art consulting, Howell has brought his impeccable sensibilities to retail spaces for

Coach

and

Badgley Mischka

, commercial spaces for

Corcoran

and the

Strand Bookstore

, the

Mandarin Oriental

in Dubai, and luxurious residences throughout Manhattan. Here, Howell shares his penchant for simplicity, his admiration for fashion icons, and the daunting task of making an all-concrete home.

Interior Design

: What are some of the most stimulating projects on your plate right now?

David Howell: We have a great, diverse group of projects at the moment. There are a number in New York, such as a ground-up residential building on 16th Street in Manhattan, a flagshig for the lingerie company

Hanro

, and a townhouse on the Upper West Side. There's also a commercial project in Los Angeles, a project in Salt Lake City, and a very challenging, all-concrete house in Alta, Utah. It's this amazing bunker in which the walls, roof, floors –

everything

is solid 18-inch-thick concrete.

ID: What is the collaborative energy like in your team, and how does it work into your overall design philosophy?

DH: We really work as a unified team as much as possible. I do the job-getting and the overall management, but in terms of creative forces and personality we aren't a hierarchical company. I think part of why we got through the recession and continue to do well is that we bring in very strong creative forces who build a direct relationship with clients. We want our young, new people to get to feel the bumps in the road.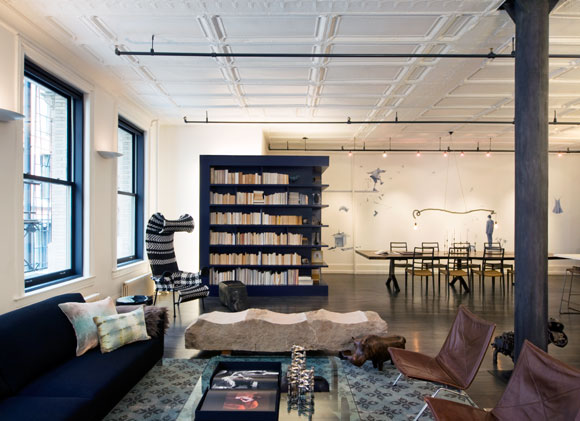 The living area of a Mercer Street loft in New York. Photo courtesy of DHD Architecture and Design.




ID: You mentioned the recession. What are some of the great lessons to have come out of those rough few years?


DH: Well, it's definitely a different environment than in the years pre-recession, a shift which I actually consider refreshing. As an industry, we were able to shake off some of our bad habits. Now we get to refocus on desiging for value. Yes, money, is required to survive, but where is our focus? It makes me think back to working in Dubai, with all of this amazing talk about money with such little oversight. Now, there's a little more appreciation for what we, as architects, do, and it's not just about paying for our time. It's good to get back to some basics, simplify, and look at your team.

ID: What kind of rapport do you like to encourage with clients, and what kind of clients are the most satisfying?


DH: For me, satisfaction is never about the scale of the project. Be it a budget-conscious project or something very high-end, I thrive on a shared sense of passion for design, and an appreciation for what we bring to the table. We've been very fortunate with great clients through the years… I see it as fishing in the ocean. We can never be quite sure what we'll get, but we just fish in the right spots.

ID: How design-conscious are your clients today compared to how they were at the start of your career?

DH: People who love design haven't changed, there's just more of a focus on value and resources. Here in the Northeast, there was a lot more conservatism in the market when I started in the mid nineties. The region seems to have broadened its vision to include more European design. As always, if we build quality, we can't go wrong.




The dining area of a Mercer Street loft in New York. Photo courtesy of DHD Architecture and Design.





ID: How do you approach the task of designing for a well-trafficked public space?

DH: I strive not to have a signature appeal, or an ego-driven practice. When building into the fabric of lower Manhattan, much of the beauty comes from subtle solutions. We ask ourselves, how can we design a lot of interesting longevity into a building? Time and again, it's about good materials and good building practices. Be subtle. Be a good neighbor. Be creative. Be interesting.

ID: How do the concepts of sustainability and prolonged relevance work in tandem?

DH: Sustainability is a sense of self, in which decisions are based on core values. That doesn't change. The nature of the industry is not frivolous in nature. Part of our role is editing and directing what clients are looking at into a focused goal. Failures in architecture are so apparent… When motives are either pure capitalism or square footage, the mistakes last a long time. My philosophy is to focus on a simpler solution that's beautifully done.

ID: What's your take on the state of architecture and design today?

DH: I'm disappointed that despite all the money spent and building that has gone on throughout the past twenty years, there hasn't been one really amazing building, domestically. When people think of New York, they still think "Empire State" or "Chrysler." I think the World Trade Center isn't big enough. There's no way that is has the power to replace what was there. Disappointing, isn't it?
At the same time, I love what we do, and the people I collaborate with. I love the energy of people like Lindsay Adelman, who I'd say is fresh and emerging despite being a household name. I also take a lot of inspiration from the fashion world… I love the humor of Paul Smith; the fact that he can still design and take photos and be flippant, yet maintain a very serious approach to fashion.



A bathroom in a loft on Mercer Street in New York. Photo courtesy of DHD Architecture and Design.




ID: When in your life were you first taken with great design or powerful architecture?

DH: Early on in my career, I went to Australia with three or four other people from my office. We spent a day with Glen Merkot, who took us around to two or three of his houses in the Australian bush. I was mesmerized to think that a single guy did it all completely by himself. It was a very gracious act on his part, to share his passion for why he did things and his single-minded approach to buildings. Every square inch – including the landscape and every bolt and hinge – was designed. That was my moment of "wow." I realized I loved being an architect.

ID:  What locale has endured for you as a source of inspiration?


DH: Recently I went to Barcelona, and I saw every single building there as a different experience. Though if I were to take a future pilgrimage, I would probably want to go to somewhere that doesn't have too many buildings. I would probably go to the Antarctic.