10 Questions With… Design, Bitches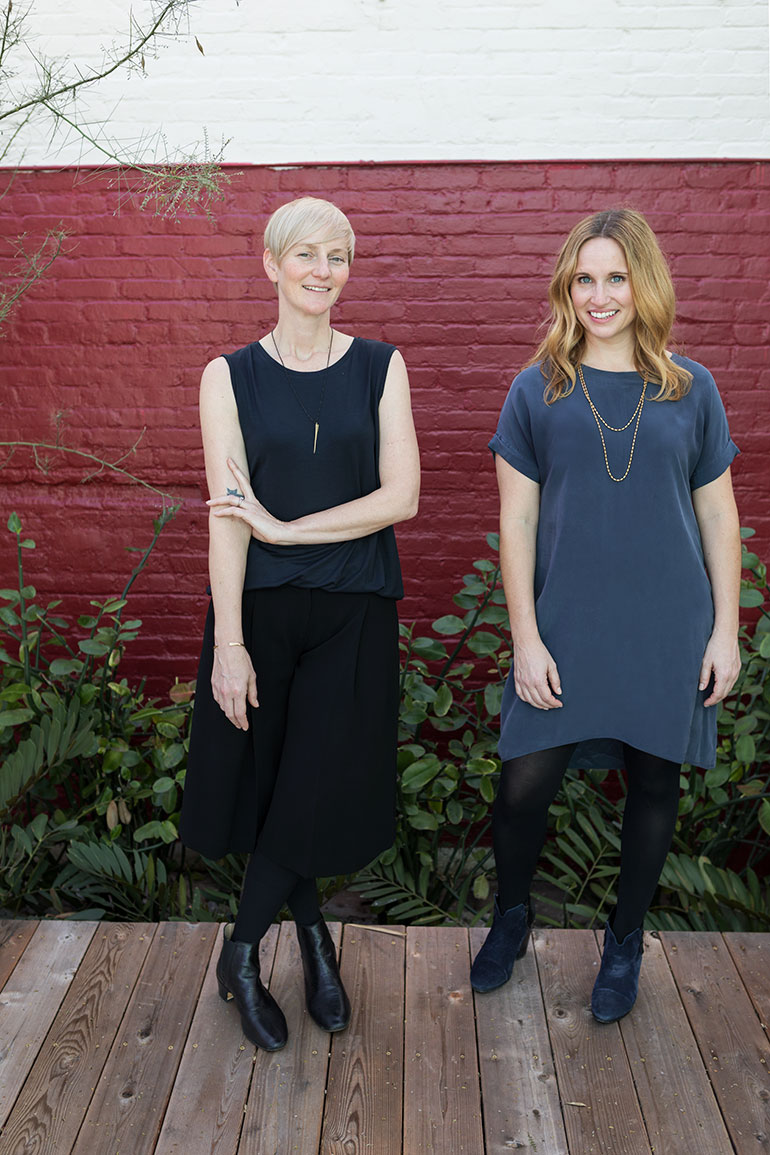 Who could resist finding out more about a firm named Design, Bitches? (Yes, the comma does matter.) Founded in Los Angeles in 2010 by California native Catherine Johnson and quasi-native Rebecca Rudolph (she moved to La Jolla at age two), the studio does a range of work, heavy on the easy-breezy restaurants Angelinos like to frequent yet also including installation and event spaces, a bit of retail, residences, and, of course, branding. What the projects share is an airy modern aesthetic infused with touches of quirkiness and, dare we say, optimism. They stretch from Southern California to San Francisco and further afield to Nashville and Washington, D.C.
The founders met while working at Bestor Architecture, and Interior Design first encountered them at a photo shoot for the firm's showroom for Trina Turk in DTLA. Both hold master's degrees in architecture from SCI-Arc. Johnson earned a bachelor's degree in interior architecture from the University of Oregon, Rudolph a master of philosophy degree from the University of Paris VIII (aka University of Vincennes-Saint Denis). Philosophy to architecture, an intriguing stretch? Rudolph wrote her thesis on Michel Foucault's Discipline and Punish: The Birth of the Prison, examining "how social hierarchies in prisons and cities are affected by physical space," she explains.
Located in L.A.'s Glassell Park neighborhood, Design, Bitches is a six-person firm with principal participation on all projects. Johnson and Rudolph just served as keynote speakers at last week's IDS Vancouver trade show, talking about their brand of architecture, their practice, and their pursuits. Interior Design sat down with them to find out about how cultural influences, material experimentation, and growing up in California affected their design philosophies.
Interior Design: The first question is a no-brainer. How did you come up with the name?
Catherine Johnson: It was a response to a question posed by a 2010 AIA LA competition: Architecture is…?
Rebecca Rudolph: Our answer: It's Design, Bitches, an antidote to a profession in the depths of a recession and a way to remind ourselves of what was fun. We put together a semi-real, semi-fictional portfolio for the competition and received an honorable mention.
ID: Each of you comes with particular talents and skill sets. Describe what it is that your partner brings to the practice.
CJ: Rebecca is a risk taker when it comes to taking on new endeavors. She challenges me to take leaps when I instinctively might take steps. She is constantly thinking about new directions, which help propel our practice into uncharted waters.
RR: Cathy has a passion for design and culture that is inspiring and motivating. She is a rare combination of a big thinker and leader with an incredible head for both design and business.
ID: You cite the importance of cultural influences in your practice. What's important now?
CJ: The climate crisis: How can we explore better ways of living on this planet? Another is the value of distinctive, enduring creativity in an increasingly temporal, trend-and-dollar-driven society.
RR: Equity: how can we ensure that everyone has the opportunity to be seen, heard, and influence culture. Also, what does it mean to live and participate in a democracy? The politics of culture have never seemed as pressing as they do now.
ID: To date, most of your projects have been somewhat small scale, semi-industrial, and scrappy. At the same time, they allude to the best of SoCal modernism. Is this by design, by the nature of the site and project, and/or by the type of clients you attract?
CJ: Our practice has roots in material experimentation, which resonates with our creative clientele seeing the value in our process. While the scrappy roots were partly the result of resourcefulness early on, that use of the unusual permeates as our practice grows and takes on more complex projects.
RR: We see ourselves as rebellious pragmatists. We want to ensure that everything we design is richly detailed, quirky, beautiful, and can be built. Playing with nostalgia, cultural, and psycho-social references, we mix the everyday with the unexpected.
ID: What role does technology play in your practice?
CJ: Our process is a mixture of digital and analog, using tools in both categories.
ID: Do you use AR, VR?
RR: We don't currently use VR. We have dabbled in it a bit and would like to use it more internally.
ID: How did growing up in California influence you?
CJ: I am deeply connected to the outdoors and need to get outside daily. The family trips of my childhood revolved around getting out into nature. California has an air of casualness that is infectious.
RR: California history is deeply layered with stories of migration, entrepreneurial spirit, and cultural experimentation. All of that influenced my desire to dig deep, drawing inspiration from one of the most diverse cities on the planet.
ID: Rebecca, what did you bring home from France to influence the practice?
RR: From France, I brought home a sense of scale and what it means for a pedestrian-oriented, urban environment. And of course, an appreciation for other cultures with friends coming from France, Algeria, Morocco, and Italy.
ID: What kind of work would you like to do more of?
CJ: Cultural work that resonates.
RR: We are especially interested in creating new types of social spaces.
ID: What are you working on now?
CJ: A ground-up house in Venice is under construction. We have an office space for a small movie production company, also ground-up; a veterinary clinic; and environmental branding work.
Read more: 10 Questions With… Anna Karlin