10 Questions With… Edward Schilling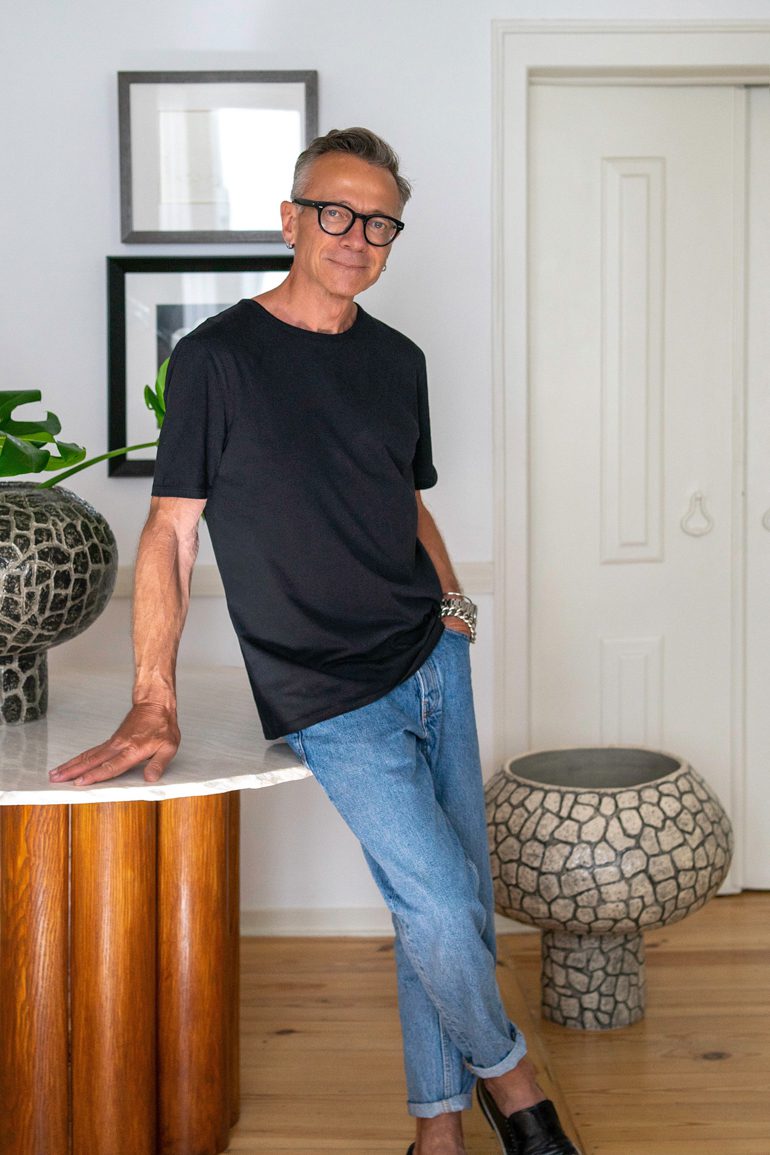 The Los Angeles design community is a super-collegial and closely knit group, and it's a safe bet that almost everyone knows Edward Schilling. After all, he was the charming, friendly face of Pucci, working with Ralph to open the brand's showroom first in the Pacific Design Center, then in a renovated-to-chic warehouse on McCadden Place in Hollywood where jam-packed openings were de rigueur for the see and be seen crowd. It was a working relationship—no, make that more like family—that lasted for 15 years. But Schilling was eager to explore his next stage. With no concrete plan, but plenty of enthusiasm, he relocated to Lisbon to discover and become engaged in Portugal's design scene. Gutsy? You bet. Maybe even a bit envy-provoking for those of us who have visited this most hospitable country. He moved and boom, the pandemic hit three weeks later. Portugal locked down.
Born in Seattle, Schilling grew up in Osmond, Nebraska. The move came with his mother and younger brother after his father, a race car driver, was killed in an accident when Edward was eight. He graduated from The Art Institute of Atlanta with a degree in design and fashion merchandising and spent early career years in the nascent field of visual merchandising. New York was inevitable, thanks to Saks Fifth Avenue. Then came Chicago where he worked for Judith Niedermaier's furniture and design firm as vice president, design. He left to establish his own residential design firm and open a furnishings shop in Saugatuck, Michigan, about two hours away. In 2001, he moved to Rancho Mirage, California. Ralph, whom he had met early on in visual merchandising, was already a fast friend.
Interior Design: What was the catalyst for the European move?
Edward Schilling: I had never really planned for my future. I went from career to career, opportunity to opportunity. Then I was in my 60s. I thought about retirement, or slowing down, or opening my own gallery or company again. I was offered positions with other firms. Nothing seemed quite right, and I couldn't do any of this in the United States due to high costs. So, I started looking outside the U.S.
ID: Why Portugal?
ES: I had visited places in Mexico, Central America, South America, and Asia. There was always something not right. Then I read an article on Portugal and decided to check it out on a week's vacation. I went to Lisbon, Porto, Setúbal, the Algarve, and fell in love. The people and climate were great. I could work and buy property. It was affordable and had socialized medicine. It was the third safest country in the world. It had culture, history, and on and on. I decided on Lisbon, similar in climate to Los Angeles. It's a small city, easy to navigate and meet people.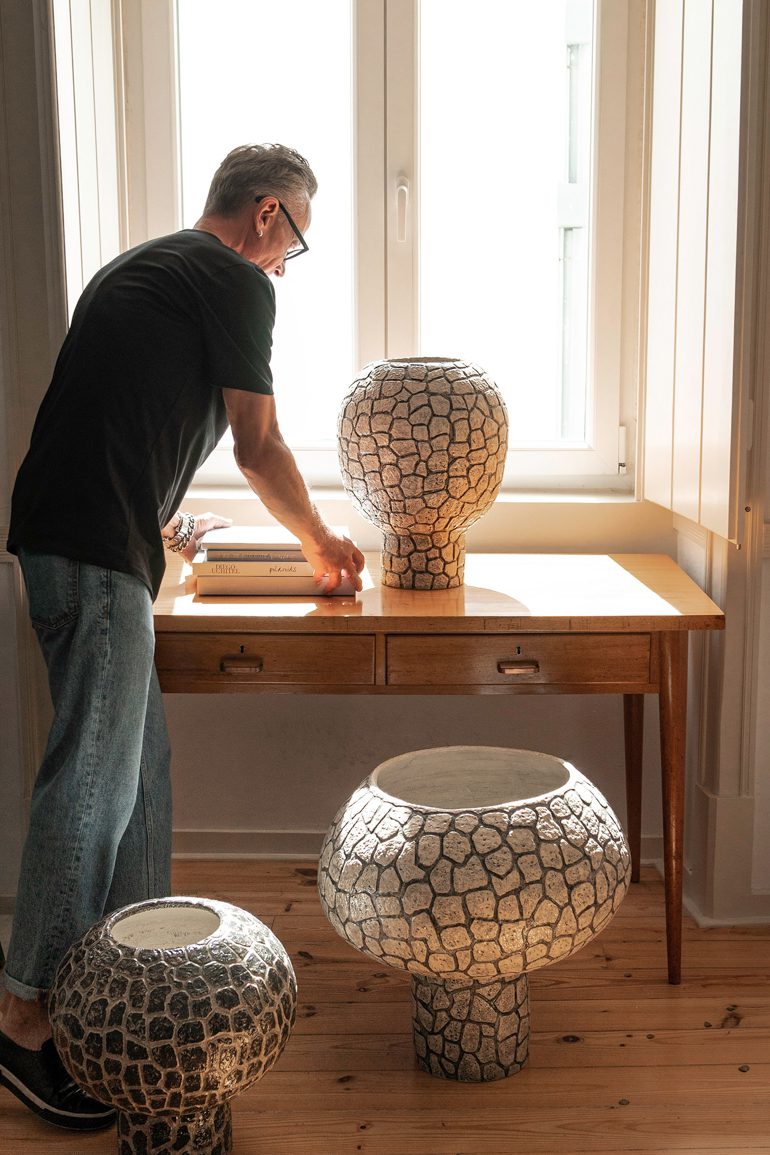 ID: Did you know of a design scene there? Did you know anyone at all?
ES: I had made three trips before moving and met some people in the design world. A friend in L.A. introduced me to the furniture designer Emmanuel Babled and a writer Veerle Devos, author of "To Die for Portugal." They introduced me to the design world in Lisbon and became great friends.
ID: With nowhere to go once the pandemic hit, you became a flaneur, a walker, which was a 180-degree turn from your car-oriented L.A. life. Tell us about your discoveries and how these walks actually led to a new endeavor, Pedra.
ES: On my walks I discovered wonderful neighborhoods, beautiful parks, amazing architecture, miradourous (lookout points), the Tagus riverfront, the ocean. Every day was a new surprise, especially the patterned sidewalks and plazas of stone mosaics known as "calcada Portuguesa." When I found myself not working after working almost 24/7 all my life, I started sketching shapes for a ceramic collection to be influenced by the things I saw in Portugal. Number one was the beautiful sidewalks I walked every day.
ID: Had you any previous experience with ceramics?
ES: I knew very little about ceramics or how to produce them. I had never been a product designer. I knew I wanted pieces to be large, more as pieces of art than a vase. I knew the name would be Pedra, stone in Portuguese, because of the streets.
ID: How did you get from sketchpad to product?
ES: Portugal is a country of ceramics and beautiful crafts, craftsmen, and designers. Few know it, but many designer products from France and Italy are actually made in Portugal. A friend suggested ArteFactory in Caldas Da Rainha, about 1 1/2 hours north of Lisbon, run by Pedro Pacheco. He is the talented and patient artist with whom I worked on the collection of three vessels, each in limited edition of ten. He also produces ceramics from artists all over the world. I learned by doing.
ID: How are the pieces made and what do they look like?
ES: We turn the clay, maybe two or three times, on the wheel until we get the shape and proportions. Then we hand-carve the pedra (stone) design into each. I want the designs to look as much like the sidewalk stones as possible. That's why I chose the colors black and bone. That's why I didn't do other patterns. I've started a second collection and I would also like to do a series of large plates for the wall.
ID: How can we buy them?
ES: Pedra is represented by the gallery Boundary in West Hollywood. I've also sold three pieces to people in the U.S. and have some specified by an architect for outdoor use in a project here in Lisbon. Designers can request custom sizes and colors as each piece is made by hand, not molds.
ID: What else are you doing design-wise?
ES: Now that we aren't in lockdown, I'm working on a few interior design projects. Most are referrals by friends I've met here. I've done a small hotel in Lisbon, am working on a house in the Alentejo region, and am up for a residence in Cascais. Jason Damien Lyn, an American friend whom I've met here, and I are developing some private label items for the home for a lifestyle web site and possible store concept. We're also starting on some design projects. I've sketched a beachwear collection of coverups for men and women and am working on sourcing.
ID: We'll have to pick your brain for galleries, museums, cultural events, and places to visit once we book plane tickets. In the meantime, how's the Portuguese coming?
ES: It's the hardest, but I'm still trying. Maybe by next year….