10 Questions with… Elena Pacenti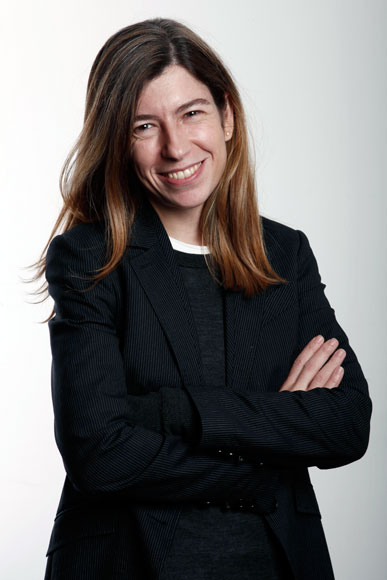 Elena Pacenti, director, Domus Academy School of Design at NSAD.



This August, celebrated Italian designer Elena Pacenti brings her globally focused philosophy of design education to San Diego's

NewSchool of Architecture and Design (NSAD)

. Pacenti, currently the director of

Design School at Domus Academy

in Milan, has big plans for her new students and is eager to integrate hands-on, globally-influenced practices into NSAD's design curriculum, including its Bachelor of Interior Design program. As she prepares to make her big move, Pacenti shares her take on California dreaming, our ever-evolving industry, and her personal social mission—the exploration of beauty's significance in our society.

Interior Design: What are you most looking forward to in the opportunity at


the Domus Academy School of Design at NSAD?

Elena Pacenti: I'm really excited to join NSAD and start these new programs. We're really looking forward offering U.S. students a truly global design education, and helping them to approach design from an international perspective. I strongly believe in a multicultural and multidisciplinary education in design, and we have the opportunity to make something new with the integration of the schools.

ID: Are you a fan of California's experimental and out-of-the-box reputation for design?

EP: It's not really a much-investigated collaboration—Italy in California—yet I feel very comfortable here. The San Diego atmosphere is very close to the friendliness and sensibility we have in Italy. It could appear to be an unexpected combination, but there are several links between the cultures. I've had a lot of students who've gone on to work in San Francisco and Silicon Valley. Design can have many different meanings here, and take new paths.

ID: What are the philosophical roots that link Domus Academy and NSAD, and how can the two organizations bring value and expansion to one another?

EP: We discovered that we have lots of similarities with regard to teaching design, particularly in the way we work with students. I believe in learning from a design approach; that we need to transfer knowledge with traditional classes but then train them in actual project-based activities. Once students have a sufficient understanding of basic skills, we really involve them in the community of professionals—not only by having them come in to classes, but by finding opportunities for students to go in-house with them. We make sure our students are able to design according to real-world challenges.  It's how we help them to anticipate what the industry needs.

ID: What are the most powerful elements of a strong design education, and how crucial is the concept of mentorship for students?

EP: It's the most crucial element. Interactive teaching is the real learning experience for students. It's a way of coaching students, beyond "teaching" them. Mentorship goes beyond what you have in class and allows you to get inspired by architects and designers. It's something that really opens your eyes and your ideas of design.

ID: Would you say that design and architecture is a good gauge for the aspirations and values of a society?

EP: This is a really big question, and really important. It's important to make them think about design in a way that is really open to change. It's an always-evolving profession. A student of product design can become the experience manager for a big brand, or an art director for a big company. Designers can do vital work for digital media companies. It's important is to give them a strong foundation on design and prepare them to face complexity in their professional life. We're very serious about building a foundation and giving them the necessary tools, but also involving a philosophical approach from the start.

ID: How would you instigate this philosophical element?

EP: Have students think about questions such as, "Why are you designing?" "What is it for?" I believe in the "Let's start from the human being" approach. The human-centric approach is the root of Italian design—not just famous for the high quality of the manufacturing, but for cultural sensitivity within the design. It's in our DNA that we are designing for people. Today, we design to create new quality for human life. I think that has to be true for any design concept, be it with a space or a product. I like to stress, any time students are considering an interior space, to concentrate on what activities will take place within the space. This is a crucial starting point, be is with a domestic environment or the interior of a public space, a hospitality venue, a healthcare venue, and so forth.

ID: How do you layer in those special considerations of designing for a corporation, a company with a really strong focus on "brand"?

EP: Similarly, it's about thinking about an experience beyond the aesthetics. When designing for a corporation, it's vital to understand a brand's values and identity, and consider the professional impact of those spaces. There are concepts like the invasion of digital technology into public spaces, and how that changes how people move. It's not possible to design anything meaningful if you don't consider all of these things together.

ID: What does the design world consider "luxurious" these days?

EP: Luxury is a very big and open question. If you look around at and read about marketing, luxury means having access to experiences. There's great value to the idea of spending time in meaningful and compelling experiences, and having quality time. There's certainly pleasure that comes with having certain well-made goods. It's interesting what's happening in our western countries—there seems to be a search for something different, and that has everything to do with experience. This year at Domus, we challenged the students from different master classes to create a design brief for Park Hyatt, asking them to create a sense of exclusivity and luxury surrounding customer experience with their personal devices. It was really difficult and very fun. They were great at working on this issue, and the ideas of luxury emerging from this discussion were significant. We took away an understanding that people want to be treated very carefully and in a unique way. We have to be careful not to be replace human interactions with technology, and not lose that personal touch.

ID: In your career experience—as well as from your seat as an educator—what are the hallmarks of a truly successful design firm?

EP: It's always about observing what's happening, then opening up platforms to make open innovation possible. Great designers are able to observe, understand, and be inspired by different people and cultures. Also, something that's happening with really successful firms is that they're opening up dialogue with clients and involving clients in every stage of the design process to discover what the situations behind their needs are.

ID: What are some of the earliest instances when you found yourself engaged by good design?

EP: I was studying journalism and yet I was attracted by architecture and design. I've always been attracted to the aspects of anything having to do with human beings, the way we shape our lives. So I take a humanistic approach from the beginning, and have been more interested in people than technological innovations. There's also been a continual interest in how important beauty is for our lives. We really we should research more on this idea of beauty within design—not just how to incorporate beauty into a product, but how it refers to our society. I started research a few years ago, about how beauty is really important within education and important in anyone's mind, regardless of culture. We all have an inclination to beauty, harmony, proportion, and the "minimalist" idea. "Less is more" is still so powerful. I try to help people be exposed to beauty. That is my social mission.