10 Questions With… Eran Chen
Eran Chen founded

Office for Design & Architecture

with P. Christian Bailey and Ryoko Okada in 2007. Now known simply as ODA, it may soon become a household name. The 35-person firm won a major competition in December for the Hunters Point South development along the waterfront in Long Island City, Queens. With more than 1.2 million square feet of apartments, commercial space, fitness facilities, restaurants, and community space, it is the largest affordable housing project in New York in almost four decades. And it is the latest in a string of innovative designs by ODA that includes historic restoration, chic hotels, luxurious private residences, and playful furniture collections.

Here, the Israeli-born Chen talks about his approach to design, working at all scales, and how design makes him feel like a little kid.


Interior Design: You started ODA in 2007 just before the recession, when many architectural projects were either put on hold or stopped completely. How did a young firm get through such a difficult time?


EC: It was quite difficult, actually. The phone barely rang for almost two years, forcing us to let go of most of our team. Fortunately though, we had one main commission: to design a super luxury apartment, along with many small jobs including renovations of historic buildings, office retrofits, and furniture design. One of our recession projects was a small bakery in Long Island City called Bread Box. It was an abandoned mechanic's garage next to a gas station. With a minimal budget, we decided to retain the existing structure and cover it entirely with a screen of 2,000 locally made wood rolling pins. In collaboration with a local non-profit group that supports challenged kids, we invited the community to donate money in return for having their names on the pins, and to help in the installation. The result is a very successful neighborhood bakery that has become a real source of pride to the community.


ID: You stress the international aspect of your staff. What does that bring to the studio and your approach to design?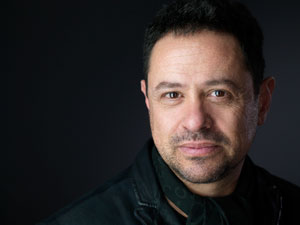 Left: Photo by Peter Hurley.









EC: My personal life story involves a lot of travel all around the world. The constant need for readjustment and recalibration taught me to see the beauty in diversity but also the core similarities in us all. By interacting with people from a wide variety of cultures I learned that globalization has both a positive and negative impact on our built environment. Buildings can be highly contextual and yet express global ideas in technology and materials—a topic we find more and more central to our work. Diversity also encourages conversations about global influences and forces us to better articulate design solutions. When an architect from Spain says that something is "cool," an architect from Serbia might not understand the shorthand and need a more in-depth explanation. Having such an international team organically brings a wealth of ideas from different points of view, and also clarity that comes from explaining them.


ID: ODA's competition entry for the National Library in Jerusalem is one of several projects you've designed in Israel. What does it mean for you to work in your native country?


EC: I grew up in Israel, served four years in the Israeli army and attended architectural school in Jerusalem, but I've spent most of my adult life elsewhere. My childhood memories, though, are through the eyes of a native so I have become increasingly interested in exploring the challenges of the country through the blended lens of who I am today. Israel is a wonderful, albeit troubled, country with both social and physical challenges that are as fascinating as they are causes for concern. I fully believe that it contains all the ingredients to generate unique architectural solutions for its future, which may then even inform many other countries in the world.


ID:  How did your 8 years of experience at

Perkins Eastman

shape your vision for starting your own firm?


EC: Perkins Eastman is a wonderful firm. I enjoyed my time there and it helped develop my identity as an architect. There are two types of architectural companies capturing two ends of the spectrum. On one end there are corporate firms like Perkins Eastman that design well-executed, well performing, pragmatic buildings. On the other end are avant-garde firms producing buildings in similar fashion to product design, yielding projects that are as spectacular as they are impractical, overly expensive, and devoid of any context. At ODA we try to capture a balance, where pragmatism and context are the catalysts for new and unexpected ideas. We meticulously gather and analyze both the needs and nature of a particular client or site and then use that information in the most inclusive way, generating ideas that ultimately also address the future needs of our city.


ID:  ODA recently edged out such well-known contenders as SHoP and BIG and your former firm Perkins Eastman to win the competition for the Hunters Point housing development in Long Island City. What does that win mean for you?


EC: We are extremely proud of this win and excited for the opportunities this project presents. It will permit us to further explore large-scale ideas about housing, which is something we have been developing for a number of years. Hunters Point presents such a rare and unique opportunity, not only for us, but for the category as a whole. With its ongoing commitment to public housing, New York has provided a platform upon which to design and build great, top-quality architecture. It is an opportunity to break the mold of the typical streetscape and yet be inspired by the city's collective heritage, and hopefully even serve as an example for the next generation of New York buildings.


ID: After working on so many high-end private residences, how do you approach such a massive public project that's predominantly housing for low- to middle-income families and senior citizens?


EC: We are constantly bridging different scales and diverse projects where, ultimately, one informs the other. We are becoming more and more interested in exploring, through design, the diverse extremes of our social fabric in New York because through it we can conceive our city's future. One simply cannot begin to understand our city without acknowledging the disparity—it consists of very rich people and very poor people and everyone in between. We are not politicians advocating for one group or the other, we are simply architects looking to create inventive ways to improve all of our collective lives.


ID:  How do you switch between designing large scale projects and furniture?


EC: The same way I can switch between a 12-course meal at Jean-Georges and a falafel at my favorite street corner. I love them both, and derive pure and equal pleasure from each. I love the complexity of big scale projects. I enjoy the collaboration with large teams, the lengthy process and captivating spirit of strong ideas. And then, sometimes, I just like to sit quietly by myself and generate a small idea on a small scale.


ID:  What project have you completed that's given you the greatest satisfaction?


EC: There is a housing project we designed at Union Square. It was a generic white brick building and we had been asked to demo it to the ground and propose a new design. Through our investigation we found that the original structure was Tiffany's first building in New York—a true piece of New York history. In the 1890's, fragments of the cast iron ornaments began falling, and one tragically killed a man passing by on a horse, so it was quickly enclosed in brick. We were thrilled to discover that the main cast iron pillars still existed behind that façade, which we removed with an almost surgical process. With the glory of the original building revealed, we then encased it entirely in a new glass "skin" permitting the interface of history and the present to define the future.


ID:  What building type have you not worked on yet and would love to design?


EC: I would LOVE to design a performance center, an exhibition space, and a market. All in the same place in the middle of the city somewhere. . .Or a park with a library and senior housing all together. Or a school with a chocolate factory and shopping center! The intersection of these diverse programs is where the real urban magic exists and this, in my mind, is the future of our cities.


ID:  What aspect of design brings you the greatest joy?


EC: I love that feeling when the next big idea is not quite there yet, cloaking the air in great mystery, coupled with the anxiety of heading towards the unknown. When the team is searching for the DNA, trying not to fall prey to the expected, conventional solutions. Those moments in the design process, which sometimes stretch into days and weeks, are the most incredible because you know that something remarkable will come but you have yet to discover what it is. In those moments, I feel like a little kid bursting to say his first words. Those moments are worth everything.