10 Questions With… Hotel Indigo's Meredith Latham
Hotel chains may have a reputation for taking a cookie-cutter approach to design—out of identity or expediency or both—but there's nothing repetitive about the properties that Hotel Indigo has opened over the past 15 years. Each is inspired by and designed to celebrate a Neighborhood Story: the history art, culture, and cuisine of its locale. And there are now more than 100 hotels in 22 countries, from the Lower East Side of Manhattan to Shakespeare's stomping grounds in Stratford-Upon-Avon, with another six scheduled to debut in 2020. While part of InterContinental Hotels Group (IHG), each Hotel Indigo property is boutique by nature and features unique design elements, so walking into the lobby is never the same experience. Interior Design spoke with Meredith Latham, the new VP Global Hotel Indigo and Americas Upscale Brands at IHG, about designing to reflect a neighborhood, why the Nashville hotel isn't focused on music, and which new property used to be a monastery.
Interior Design: To what do you attribute Indigo's rapid growth—more than 100 hotels in 15 years?
Meredith Latham: The boutique hotel sector is currently placed as the second-fastest-growing in the industry. As the appetite for reliable yet unique boutique hotels continues to increase around the world, Hotel Indigo is perfectly placed to cater to demand by providing design-led hotels and locally inspired food and beverage, coupled with the guarantee of a consistent experience. Just as no two neighborhoods are alike, no two Hotel Indigo properties are the same. Each one takes inspiration from the area around each hotel to inform all aspects of the guest experience, from the boutique design to locally inspired restaurants and bars.
ID: Why the neighborhood concept, and what criteria do you look for in a neighborhood?
ML: The Hotel Indigo concept was inspired by the charm and service of boutique hotels. The Neighborhood Story is at the heart and soul of our brand. It gives each property its personality and guides every aspect of the guest's experience—from design and décor to service delivery.
There are so many culturally rich communities in cities around the world—from New York to Paris, Berlin to Shanghai, London to Los Angeles. We look for a distinctive local personality where we can become part of the neighborhood—woven into the fabric, not segregated or delineated. We also seek the stories that are not obvious: Nashville is known for its music scene, but Hotel Indigo Nashville's design is based on Printer's Alley and the interior design includes vintage typewriters, letter blocks, and books.
ID: The two newest Hotel Indigo properties are located in Venice, Italy and Williamsburg, Brooklyn—what can you tell us about them design-wise?
ML: Hotel Indigo Venice–Sant'Elena is housed in a 1930s monastery. The building underwent lengthy renovation after the nuns left in 1999, however, distinctive historical features and character were preserved, including the external façade, the inner portico and garden. The interior design brings the property's history to life through oriental design influences and modern elements: deep wood paneling contrasts with elaborate brass lighting and Ebru paintings celebrate Venice's artistic history. The materials and colors are inspired by local culture, taken from the historic palaces of Venice and the contemporary influence of the Biennale of Art. The garden provides a quiet area of respite that is rare in the bustling city.
Hotel Indigo Williamsburg–Brooklyn is set among industrial warehouses and bohemian boutiques, showcasing ultra-contemporary architecture and sleek interior design enhanced with a pool and open-air sun deck. Set in the neighborhood popularized by sugar refining and coffee roasting, hotel décor takes inspiration from classic logos and vintage packaging of sugars and coffees.
ID: Is each hotel's design done totally in-house or do you hire local designers to give each a unique look and feel?
ML: We have in-house design teams who are experts in their regions around the world. We partner with local designers beginning with immersing them in the brand. We tour hotels together and develop the neighborhood story, which drives the design of each new hotel. With this partnership, we ensure the design is unmistakably Hotel Indigo. Our Shop the Neighborhood platform showcases this, bringing together local artisans, makers and creators that are featured in our properties and provide inspiration for the neighborhood story.
ID: What do you consider some of the most innovative design features—for example in lobbies, bars, restaurants—across the Indigo brand?
ML: Because each hotel is designed specifically for its neighborhood, it's hard to say which single feature is the most innovative. The philosophy behind the brand and how the neighborhood story is brought to life is what sets Hotel Indigo apart. The bespoke nature means that you will never see the same thing twice, but by being a branded boutique, the properties are backed by the power of IHG, so guests can expect a consistent upscale experience with exceptional service and the perks of our IHG Rewards Club program.
The same goes for our restaurants. For instance, Hotel Indigo Stratford-upon-Avon has an incredible restaurant called the Woodsman. Executive Chef Mike Robinson, who has a passion for British produce and sustainable wild food, has brought his 'field to fork' philosophy and guests can expect seasonal game and produce. The restaurant comes complete with a private feasting hall that harkens back to the area's Tudor history.
Our goal is to be woven into the neighborhood fabric with authenticity, so we let each property, with our guidance, bring these design features forward.
ID: Hotel Indigo properties' public spaces are heavily influenced by their neighborhood, but how is that carried into the guest rooms?
ML: The design story starts in the lobby when guests first arrive, while the rooms continue the narrative. Gone are the days of wall-to-wall carpeting, mass-ordered bathtub units, and uninspiring colors. Instead, Hotel Indigo introduces guests to elements that capture the essence of the neighborhood—from local lotions and soaps to larger-than-life murals. For example, Hotel Indigo Lower East Side tells the story of the vibrant street art community and features the work of legendary graffiti artist Lee Quinones who emerged from the 70s subway art movement. The Hotel Indigo LES lobby features a 40-foot x 16-foot ceiling mural, "Voices Carrying," composed of painted recreations of iconic Polaroids, with each guest room featuring an individual mural pulled from the lobby piece—from a portrait of David Wilkie (a.k.a. Adam Purple, a local artist and activist) to a piece inspired by legendary DJs Ice and Spanky.
ID: What did you learn earlier in your career that has helped you in fostering Hotel Indigo's creative design and rapid expansion at the same time?
ML: Design-led roles are interesting to me—from fashion at Tommy Hilfiger to function at Spanx, there has always been a common thread. There must be meaning. Great design always has a purpose. Our Hotel Indigo properties have the ability to inspire deeper understanding of the fabric of our world. Each neighborhood tells a unique story and our designers and hotel teams bring that to life. As a result, our guests have a different experience with each visit and our great pleasure is to enable the making of great memories. That inspiration fuels our growth every day—travelers are taking notice, investors are taking notice—and the result is impressive expansion.
ID: Do you have a favorite Indigo property? If so, which one and why?
I love all Hotel Indigos for different reasons. I love our first hotels for setting the stage for this wonderful brand, I love our American properties in Denver; Madison, WI; and Winston-Salem, NC because their neighborhood stories are authentic and the hotels are beautifully designed. In Europe, I love Stratford-Upon-Avon because the neighborhood story is Shakespearean! I love Hotel Indigo Venice–Sant'Elena because it's in the most perfect location. And, finally, I love Hotel Indigo Taipei because the physical architecture is stunning.
ID: You recently launched Shop the Neighborhood. Tell us about it and what you hope to accomplish with the concept.
Hotel Indigo recently celebrated 100 properties around the world—and we are still counting! To mark the milestone, the brand launched Shop the Neighborhood, with Hotel Indigo, which is a digitally shoppable hotel room that celebrates the local creators, artists, and designers that inspire each property. These properties are located in some of the most creative and curiosity-inspiring communities and reflect their surroundings through locally-inspired design, art, culinary, and more. The Shop the Neighborhood platform provides access to anyone looking to buy direct from unique local artists and makers that inspire each Hotel Indigo's distinct personality.
ID: Can you share where we can expect Indigo hotels in 2020—and offer a few details on how those neighborhoods will influence the properties' design?
We are thrilled to have several Hotel Indigos on the global 2020 opening list: Hotel Indigo Saigon (country debut), Hotel Indigo Belgrade (country debut), Hotel Indigo Shanghai Nanjing, Hotel Indigo NYC, Hotel Indigo Mexico City, and Hotel Indigo Dubai Sustainable City.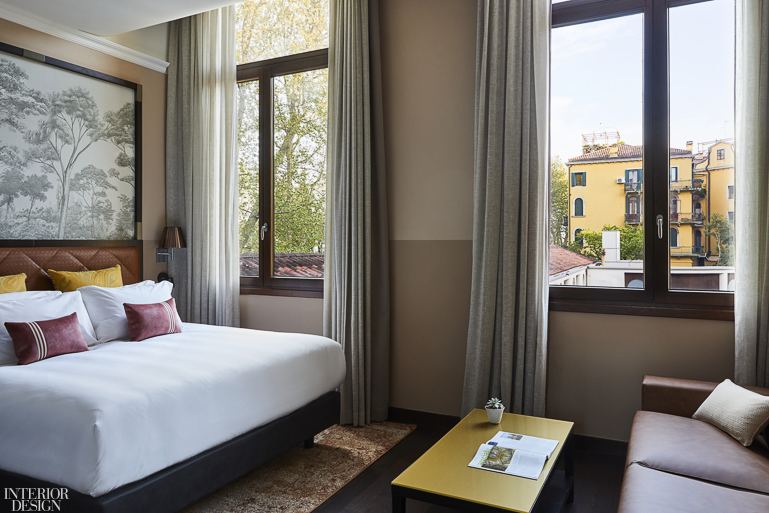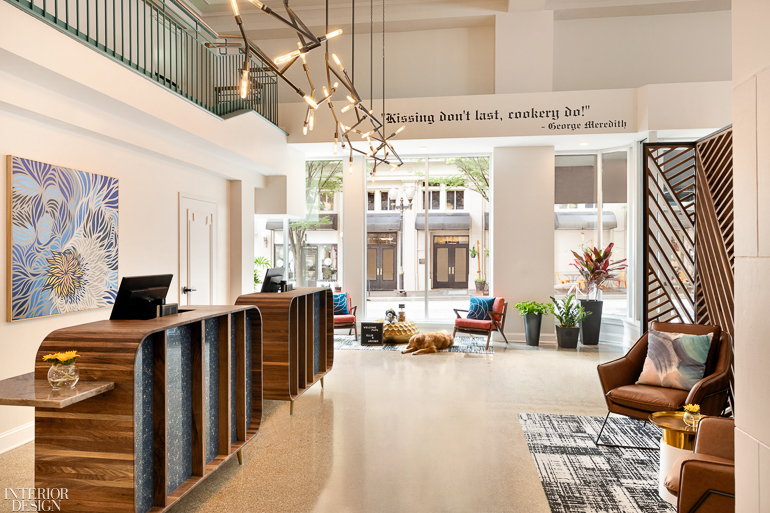 Read more: 10 Questions With… DesignAgency