10 Questions With… Hozan Zangana
"All my inspiration stems from my childhood experiences and cultural heritage," reveals Hozan Zangana, who fled Iraqi Kurdistan as a teenager with his family in the 1980s. Last November, during Dubai Design Week 2020, the Netherlands-based designer presented "Fata Morgana," a socially distanced seating installation punctuated by pillars representing the seven Emirates. Erected in the heart of the Dubai Design District (d3), the installation was the most recent pavilion in the annual Abwab series, which celebrates regional design talent. Zangana is no stranger to the competition—he co-curated and designed "Excavations," the 2016 Abwab pavilion in collaboration with Rand Abdul Jabbar.
After applying for ayslum in The Netherlands at age 15, Zangana attended notable art and design universities Gerrit Rietveld Academie in Amsterdam and Design Academy Eindhoven. A prestigious art grant he received upon graduation allowed him to showcase art and design objects in major cities around the globe. Interior Design sat down with the designer to hear more about his Dubai Design Week installation, childhood in war-torn Iraqi Kurdistan, and a secluded place in the mountains with much of its ancient heritage still present.
Interior Design: What was the overall design goal of "Fata Morgana"?
Hozan Zangana: A 'Fata Morgana' is a mirage phenomenon that occurs in the desert. The name hints at a shimmering beacon in the distance, and our "Fata Morgana" installation, which we created in collaboration with generous.studio and Woodcast Designs, provokes that same interest by using the materials rammed earth (resembling and symbolizing the desert earth that surrounds us) and reflective copper (catching sunlight). To the viewer, with the universal human trait of curiosity, the installation might resemble something of a 'Fata Morgana.' Our intention was to invite people to come closer, to inspect and discover for themselves—in the process, coming together and experiencing a space designed for reflection and interaction.
ID: How did the current global pandemic influence the installation's design?
HZ: It was important that we find a way to create connections, despite being separated by COVID-19 (or cultural backgrounds). In our design, the circle in the middle is surrounded by socially-distanced stools and the table behind the pillars gives visitors a safe and comfortable feeling. Yet facing each other, people are forced to look at each other—and that is where the connection starts.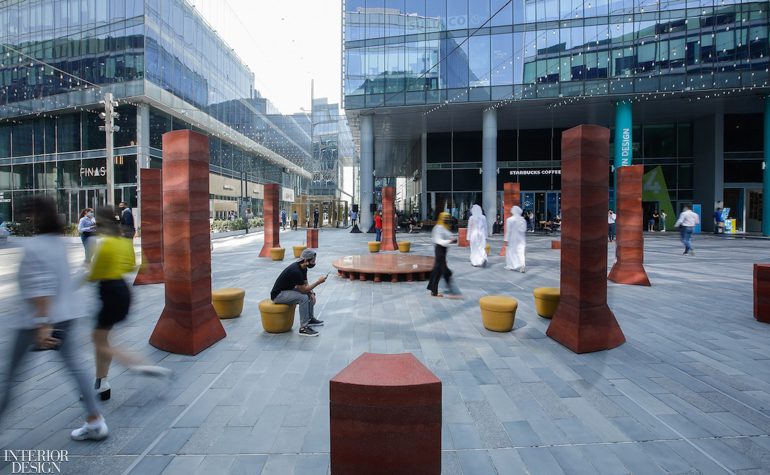 ID: What else have you completed recently?
HZ: My previous project, Arbela, was inspired by the ancient citadel of the Assyrian city Arba-ila (today called Erbil). Arbela reflects my method of heritage-based design, and the collection was exhibited at what was the first design exhibition in Iraq in 2019. The plan was to tour Milan (for Salone del Mobile) as well as Miami and Basel (for Design/Miami Basel), but due to the circumstances our plans changed to a digital visual guide in collaboration with Generous.studio.
ID: What's upcoming for you?
HZ: My next project, "Sinjar: 'No Friends but the Mountains,'" is inspired by the genocide of the Yazidi people in Iraq and the recent struggle with ISIS. Sinjar is the mountain range that provided them shelter and a means to survive. ["No Friend But the Mountains: Writing from Manus Prison" is an autobiographical book about Behrouz Boochani's journey to Australia, where he was detained]. I am currently in negotiation with a museum in Amsterdam to exhibit this collection in 2022.
ID: Could you describe one of your particularly challenging products?
HZ: Finding the right balance between the top and bottom piece of my Faranjy table was a huge struggle – although this struggle may not be visible right away. There's a hidden design solution, as if it's my own little secret that I can share with the owner of the piece.
ID: What have you designed in your own home?
HZ: I live in an apartment in Amsterdam with my wife and two children, aged five and seven. The letter Y from my Kufic collection—based on the original 7th-century Kufic script—hangs in our living room. This piece is really dear to me because of the history, and every time I look at it I am reminded of my childhood fascination with calligraphy.
We also have the Haft Sin collection I designed for my wife. It's a collection of ceramic pieces we use to celebrate our New Year and was one of the first collections I ever made.
ID: How do you think your childhood or formative years influenced your
design thinking?
HZ: I grew up in Iraqi Kurdistan in the middle of war and turmoil. I was not allowed to learn our language in school and we were oppressed by our government. For me, life was pretty much always in quarantine. We often lacked electricity, school, and normal activities.
As a kid I was a dreamer and created my own toys for myself and my siblings. I wanted to become an astronaut and go to the moon…just fly away. This was my way of escaping the terrible things around me at that young age. When I was 15, my family fled to the Netherlands. I felt like an alien there in the beginning. Maybe I was lucky to not have been influenced by the 1980s or 1990s life in the West—it was like my mind was a clean slate. Now as my children grow, I see these Western movies and cartoons for the first time, as if I am reliving my own childhood.
ID: Who in the industry do you particularly admire?
HZ: Romanian sculpture, painter, and photographer Constantin Brâncusi for his work ethic and focus on what is essential.
ID: What are you reading?
HZ: I am a visual person and read images constantly. A book on Dutch artist Tom Claassen is a recent one. I love his work.
ID: Do you have a secret you can share?
HZ: One of the most special places in the world is Hawraman in Kurdistan. Due to its secluded location in the mountains, much of the area's cultural heritage is preserved.
Read next: 10 Questions With… Dubai Design Week Creative Director Ghassan Salameh