10 Questions With… IIDA's Cheryl Durst
Full disclosure: Interior Design relishes any opportunity to catch up with Hall of Fame member Cheryl Durst. Officially the Executive Vice President and CEO of the International Interior Design Association (IIDA), she is unofficially one of design world's most vibrant and vocal cheerleaders. Durst describes herself as "the steward for the integrity of professional interior designers," which means she's serious about educating the public about what designers do.
Durst arrived in her role via a circuitous route. Born in Toledo, Ohio, to a microbiologist mother and educator father, she studied journalism and economics at Boston University, worked in public radio, wrote ad copy, and taught English literature before joining IIDA in 1997 and effectively reorganizing it to create a profitable organization. These days, she travels an average of 35 weeks a year for speaking engagements. Which leads us to the subject of her social media posts—often hilarious, sometimes more serious takes on the injustices faced by a female black executive. IIDA also counts myriad endeavors launched under her stewardship. Among them: national (plus Canada) Leaders Breakfasts, the print journal Perspective, white papers, and a book series, What Clients Want, authored by Melissa Feldman, which provided the impetus for our chat.
Interior Design: Tell us about this latest book. What project type does it explore?
Cheryl Durst: What Clients Want, Volume 4, showcases the best in workplace design with 20 international projects. Included are such global brands as McDonald's, Ford Foundation, Uber, and Edelman. The book shares concepts from the perspectives of designers and clients, from Hong Kong to New Orleans, touching upon the way that design shapes company culture, spurs innovation, and creates community.
ID: Extract some of the book's information as bullet points on what's most important for clients now.
CD: Work is not only an economic and social imperative, but an experience imperative. From that come three overarching themes. Next-gen flexibility: Beyond standing desks and varied meeting spaces, workplaces are expanding flexibility to develop neighborhoods with varied design elements. Spaces must be agile to take into account fluctuating head counts. Culture on display: Examples of bringing core values to life through design include the Associated Press office's memorial wall of journalists who died in the line of service and the poured concrete floors allowing employees to skate from room to room at the Vans HQ [in Costa Mesa, CA]. Over-the-top-amenities: Draft beer, wellness suites, rooftop terraces, and drone-landing platforms are now officially on the table.
ID: An executive embedded in the design world, you have a powerful platform through IIDA. Now it looks like you are expanding your charge to include conversations about gender and race. What were your catalysts; what are your goals?
CD: I've never been shy about being 'face forward' in representing IIDA and the design profession. Ironically, while 85 percent of IIDA's members are female (like me), less than 1 percent are women of color (like me). Those same stats hold true for the profession as a whole. Conversations about the disparity in pay for women vs. men, and women in design leadership, and the overall conversation about equity and inclusion are critical to the ongoing viability and relevance of the design profession. My goals? Quite simply and initially, awareness. IIDA is putting into place some initiatives that will help better prepare and strengthen women and minorities not only for careers in design, but also leadership positions.
ID: We can't wait for the Leaders Breakfasts. What were some of your proudest moments? What can we look forward to?
CD: Wowsa. From interviewing Matthew Weiner ("Mad Men") to Judith Jamison (Alvin Ailey Dance Theater) to Ruth Carter (costume designer for "Black Panther" and all of Spike Lee's films). I love the moments where these incredible icons share their life stories, because most often these stories are design stories. As for the coming year, I can't name names yet. But speakers will talk about living better, kinder lives, and honorees will show us why design is the most civilizing force in the world today.
ID: From your non-stop interactions with designers worldwide, what have you learned of their chief challenges aside from the usual complaints of budgets and time frames?
CD: Designers worry about the same things everyone worries about: issues affecting humans. That would be climate change, health and wellness, political, and economic impacts.
ID: Are designers seeing increasing encroachment in their worlds by real estate folks and consultants?
CD: I think that brokers and consultants and agencies and strategists are simply a reality of life at this point in time. They aren't going away. What we need to do is expand our own spheres of expertise and competency. We know that designers are expert about place and physical space. They also need to be expert in human behavior and create stronger ties with HR professionals, as our partners, for example. We need to control our own narrative. The moment others do, we lose our vitality and viability.
ID: What are some of the new programs and initiatives that IIDA is implementing?
CD: This year we launched a discussion series with AIA Chicago as an opportunity to provide for the cross-pollination of ideas. In 2018, we inaugurated the IIDA Index, which analyzes economic health for the U.S. commercial design industry. Similarly, in 2018 we initiated the IIDA Compensation Survey. For 2020, we're working on an updated economic impact of design report: how environments that prioritize wellness and support human experiences and interactions positively impact the bottom line.
ID: What is the best advice you can give to a young designer?
CD: Stay curious. Stay optimistic. Ask great questions. Listen more than you speak. Design with joy. Believe in humanity. Lead with empathy. Learn something new, every day. Trust gut instinct. Try not to take everything personally—no one thinks about you as much as you. Read, a lot. Embrace, revel in, and accept change.
ID: Your daughter Anabel and son Gabe are budding filmmakers. Any chance you'll join them?
CD: I adore the medium and will be the proud mom in the audience when they accept their Oscars. But a family collaboration? I think that would be amazing. A documentary, perhaps?
ID: You're an insatiable reader. What's on your bedside table and/or tablet?
CD: Talking to Strangers by Malcolm Gladwell, The Testaments by Margaret Atwood, The Water Dancer by Ta-Nehesi Coates, Uncommon Type by Tom Hanks, We Are Never Meeting in Real Life by Samantha Irby.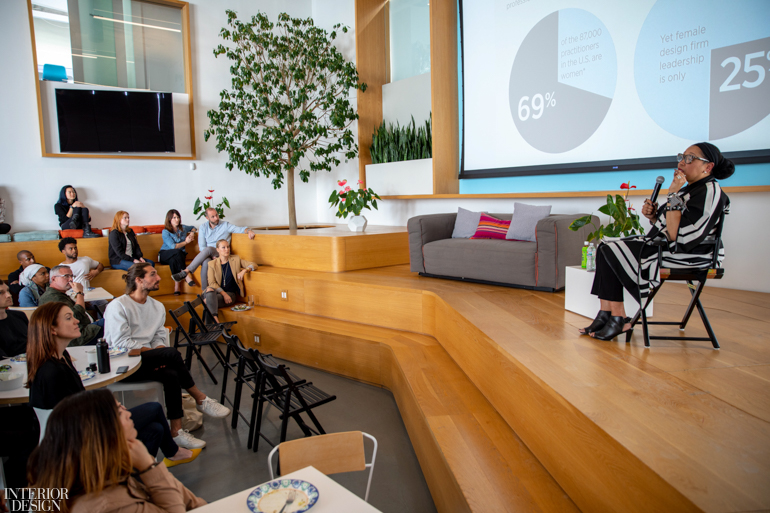 Read next: 10 Questions With… Jean-Philippe Nuel