10 Questions with… James Prendergast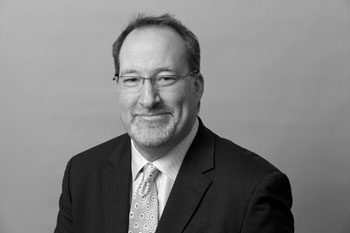 There are many reasons why demanding corporations turn to Goettsch Partners for new and noteworthy architecture solutions. But the chief reason may be Jim Prendergast, who has cultivated and mentored a world-class team of interior architecture talent as a partner at Goettsch Partners in Chicago. Throughout his career, Prendergast has specialized in corporate interiors and has become a much-respected presence in the industry. Here, he shares what makes his stellar team tick.

INTERIOR DESIGN:

What are your commercial clients looking for now, and how do you see tastes evolving in the coming years?

JIM PRENDERGAST:

First and foremost, commercial clients are looking for high-level, effective design that embraces innovative planning efficiencies, which are derived from a deep understanding of their broader objectives.

ID

: Tell us about your team dynamic at Goettsch Partners, and how you offer creativity to these major corporations.

JP:

To serve our clients to the best of our abilities, we develop an intimate understanding of their enterprise's fundamentals and invent a work environment that optimizes their potential and design investment. The same team that interviews for the project, does the project. Those team dynamics are forged in the beginning.

ID:

Are there any widely accepted rules that you'd love to dispense with?

JP

: Abject symmetry. It's so easy to fall into the trap of endlessly efficient, bay upon bay, repetitive planning. Life, and an organization plan, are not symmetrical so why are designs? Embrace the asymmetrical and challenge static compositions wherever you find them! When you do, your mind is released to explore new shapes and forms — creativity flourishes.

ID

: What are the most exciting projects on your plate these days?

JP

: We've just completed Baker & McKenzie's new office here in Chicago. The world's largest law firm now occupies the top floors of a building that GP also designed. It's the first time a GP standalone tenant interior has been located within one of our buildings. In addition, our current workload is focusing on international work, particularly in the Kingdom of Saudi Arabia. We're working with the anchor tenant of the King Abdullah Financial District — the Capital Market Authority — leading the design of their corporate floors in their namesake tower. We're also working with multiple financial service firms on both public and executive spaces in new towers elsewhere in Riyadh. It's extremely interesting work and we believe our approach adds real value to the commercial interiors culture of the region.

ID

: What's the bottom line when it comes to taking on a new project, the essential elements that must take precedence?

JP:

We seek clients who appreciate not only quality design but share a commitment to intelligent planning principles, recognizing that design today is a strategic balance between the smart

and

the beautiful. They appreciate the value that high-level design brings to their organizations.

ID:

What do you feel is your responsibility as a designer?

JP

: I feel that we have to make talents, processes, and our methods more accessible to our clients. The more connected or embedded we are the more they'll trust our opinions and follow our recommendations. When clients feel that we have their best interests at heart, they engage in more far reaching design scenarios than they would otherwise.

ID:

What do you consider successful design?

JP

: For me, the fundamentals of the design process are the application of the imagination in the composition of form, light, and time, in the service of a story or great myth. The core of any successful design is its ability to communicate its purpose to those with whom it interacts. Short of that connection, buildings, spaces, and objects are merely construction, enclosure, or manufacturing.

ID

: What are some of the spaces or locales that have visually inspired you, and continue to stand out for you today?

JP:

From a contemporary perspective, the modernism coming out of Chile and Peru is simply amazing and incredibly inspirational. My favorite historical design period has always been early European Modernism between the wars. There was a moment when modernism was first evolving that humanism was still paramount, when craft and industry enjoyed a symbiotic existence and thrived from the connection to the other.

ID:

Can you give any examples?

JP:

Specifically there are the iconic classics of Maison de Verre by Pierre Chareau (interestingly enough a furniture and interior designer by trade), Eileen Gray's E1027 House, anything by Eric Mendelsohn. Robert Mallet-Stevens and his utopian composition on the Rue Mallet-Stevens, Émile-Jacques Ruhlmann's interiors, particularly those for the SS Normandie, Giuseppe Terragni's Casa del Fascio, and lyrical Danteum, an architectural translation of Dante's poem

The Divine Comedy

.

ID:

What kinds of clients are the most fun/inspiring for you to work with?

JP

: I love hearing views of the world and the issues that drive the perspectives of really smart people. It's [my clients'] stories that inspire and challenge my imagination. Every client has an amazing story to tell and in many cases, they just don't know it yet. That's where we come in.

ID:

As the real estate world is often the greatest indicator of an economic climate, have you noticed a surge in large-scale projects as the economy has slowly started to find its legs?

JP:

Not in the U.S. I think opportunities are lining up for the next wave of commercial development here, which will hit its stride in three to four years. But the moves are starting to come into focus now to deliver the architecture and interiors that this wave will need. Most work today domestically is still in efficiency positioning design, not expansion and growth-based design. But Asia and the Middle East are still very strong and in parts of the Gulf Region large-scale dreaming is still alive and well, albeit a bit less whimsically and more pragmatic these days.

ID

: What was the earliest instance when you found yourself engaged by good design?

JP:

In eighth grade, my junior high class made the field trip to Washington, DC and I was completely blown away by the scale and power of classical architecture. That day, at age thirteen, I decided to become an architect.