10 Questions With… John Edelman
John Edelman has been surrounded by design for as long as he can remember—it is, after all, the family business. Growing up in Ridgefield, Connecticut, design permeated every aspect of his life, from the art in his family's home, which included collages made by none other than Andy Warhol, to conversations at dinner with his parents' mélange of eccentric friends. And though Edelman never felt drawn to become a designer, his innate business sense and eye for timeless forms built the foundation for his illustrious career.
From his start working alongside his brother, Sam Edelman, in the shoe business to his formative years at Edelman Leather and, later, his success as CEO of Design Within Reach, Edelman approaches each task at hand with the goal of making a positive impact and leaving a lasting impression. And he's drawn most to projects that enable him to help others. As a testament to this, most recently, Edelman joined as Co-CEO of Manhattan-based liquor brand Fourth & Pride, which donates 5% of all sales to LGBTQ+ partner organizations, including DIFFA. "A lot of my parents' friends died of AIDS, and so did a lot of our clients at the time," Edelman recalls. "I've been on the board of DIFFA for over a decade, and I'm very drawn to design influenced by mission."
Here, Edelman shares with Interior Design tips on staying resilient in business, the secret to developing what he calls the "best vodka on the market," and the romance of flea market finds.
Interior Design: You come from a family of designers, what was that like growing up?
John Edelman: My earliest memories of design were of my parents' friends. Ken Scott was their best friend for a long time. He was a fabric designer, who was American and lived in Milan, and he'd come and wear my mother's schmatte, or day dress, and cook and regale us with stories. And my father and mother [Arthur and Teddy Edelman], when I was a very young age, founded Edelman Leather. Edelman Leather was my summer job. Since I was 12 years old, I was working. My brother, Sam Edelman, was also a big influence on me because he's 15 years ago. He'd come for the weekend and bring Kenneth Cole and I would hang out with them as a 12-year-old. I knew there was a shoe industry, you know?
ID: That must have been incredible to be introduced to design through so many interesting people and their stories. Is that what stands out the most?
JE: I was never introduced to design because it's all I knew. I'm the youngest of six children and we lived in a converted barn [in Ridgefield, Connecticut] filled with old master's paintings and modern furniture and Tiffany lamps and Andy Warhol collages done for my parents. It was this juxtaposition of time—the original eclectic. I didn't know it was not normal… We grew up on 50 acres and had horses, so I didn't leave much. It was kind of our own little world that we built there.
ID: Given that your parents knew Warhol, do you have any stories about him to share?
JE: No one knew who he was then [in the late 1950s] and my parents fell in love with his work. He did their trade shows, which they were launching with my grandfather's leather company at the time, Flemming-Joffe. They were doing a promotion with silver leathers, so Andy Warhol built the entire display—he silvered out a Harley Davidson. Everything was silver including the Harley in the show. The lights in my downstairs office in my house were hand-painted by Andy Warhol from the original showroom. [My parents] say they didn't really have a personal relationship, they didn't talk—he just did the work.
ID: Who do you consider a mentor in the field?
JE: The person in design who really had a huge impact on me was a photographer, Gordon Parks. He was the first Black director of a Hollywood movie, the movie was called "The Learning Tree," and it was an autobiographical story. He also was a Vogue photographer—that's how we met him—and a sport's photographer. He was the first full blown renaissance man I'd met besides my father and he would come to the house in Connecticut and tell us these wild stories, but it was art. Art and design are so intertwined.
ID: How did your career evolve over the years?
JE: I started off in shoes. I graduated college in 1988, and I spent the summer living with my brother in California when he was still with Esprit and I spent time with their top salesmen. And at the end of the summer, I said to my brother: "I like this world, I like Esprit, I like what you're going to do, but I can outsell any one of these guys so I'd like to graduate from college and work for you." And he said okay, but he wouldn't let me sell. So I lived in Brazil and China. I learned fluent Portuguese and I learned every aspect of shoemaking. I learned shoemaking from the inside out, fell in love with the design of the shoes, and started a private label division. But I didn't own the business. And we didn't make timeless products. My father always raised me to understand luxury, and to try to make the best products in the world. So when my father, who had been asking me for years to join the family business, had a heart attack on his 70th birthday, I asked if I could please come back. So I left the shoe business.
ID: What aspects of your work at Edelman Leather did you enjoy the most?
JE: Once there, I started collecting furniture, because we were in leather but we sold in more furniture. I started getting educated by the 26th Street flea market in New York and I became a pretty large collector of modern furniture and developed a love for it. When I worked with Herman Miller to get Edelman Leather graded in, I knew all the changes in their products… because I had it all. I was prepared to learn at that time. I knew leather, I learned furniture, and I built that business. We built it from less than 3 million to almost 70 million when we sold it to Knoll. What I loved about Edelman Leather was that we were a quarter private airplanes, a quarter hotels and restaurants, a quarter residential, and a quarter corporate interiors, so I had this amazing overview of the design industry. I got to know every aspect of it and every day was different.
ID: Then a bit later you joined Design Within Reach and, as CEO, managed to invigorate the business. What advice would you give others in the industry looking to do the same?
JE: In the beginning, we didn't have time to learn. We had to quickly learn what was working and what wasn't. The biggest lesson is to pivot—constantly pivot. We had 75 stores and 35 were losing money, in order to stay afloat, we had to negotiate with 35 landlords and get out of those leases to survive. They had started losing authenticity… We didn't have our own product, so I hired designers from all over the world to do our own products. If you celebrate the designer, tell a great story, and make timeless product that will last forever then even in a downturn or a recession, you can do business. But you have to be consistent, and clean, and true—the design world appreciates that. And every single day you have to pivot.
ID: How did you leverage your design experience into your current role as Co-CEO of the liquor brand, Fourth & Pride?
JE: I want to do well by doing good. The [Fourth & Pride] business started to support the LGBTQ+ community and give back. The guys I was partnering with said "we have a beer and it's going to be great." So I said: "I'll work with you, and I'll buy part of the company and become Co-CEO, but I don't want to make beer. I don't like beer. I like vodka. I'll make you the best vodka in the world to go along with the cause," and they let me do it.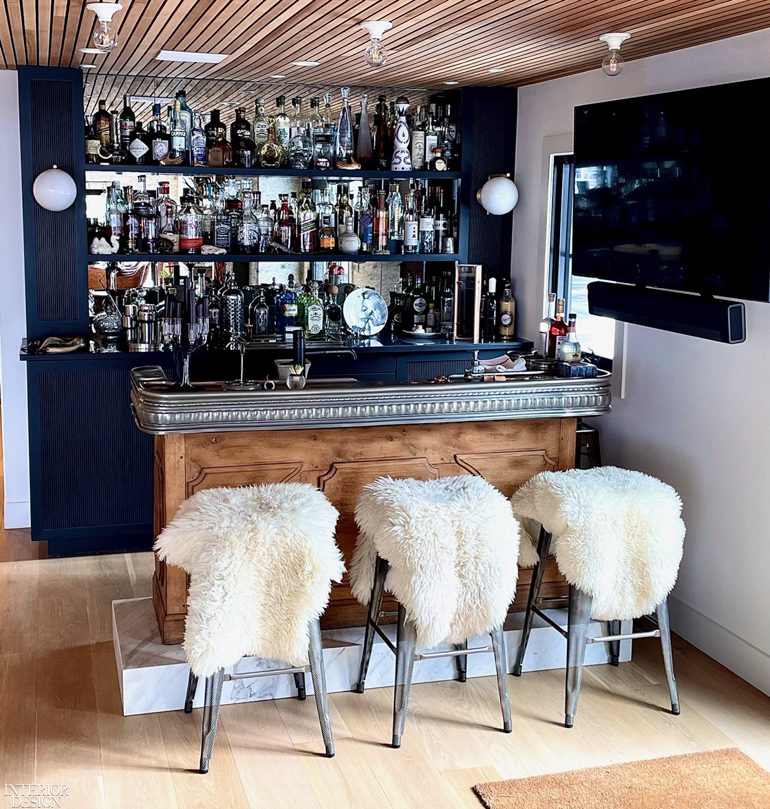 ID: What is the secret to your vodka?
JE: First of all, it's made with love and that's always the secret to everything. It's a proprietary mixture of corn and grape and no one has ever done it. Most other vodkas are made from corn and when I was doing the initial formulation, I couldn't get the aftertaste right. I wanted to make the smoothest vodka and didn't want to add sugar. We used corn and grape to make something that's rounder, which has maybe a hair more bouquet than a regular vodka. After about five tastings, we nailed it. We have the best tasting vodka on the market.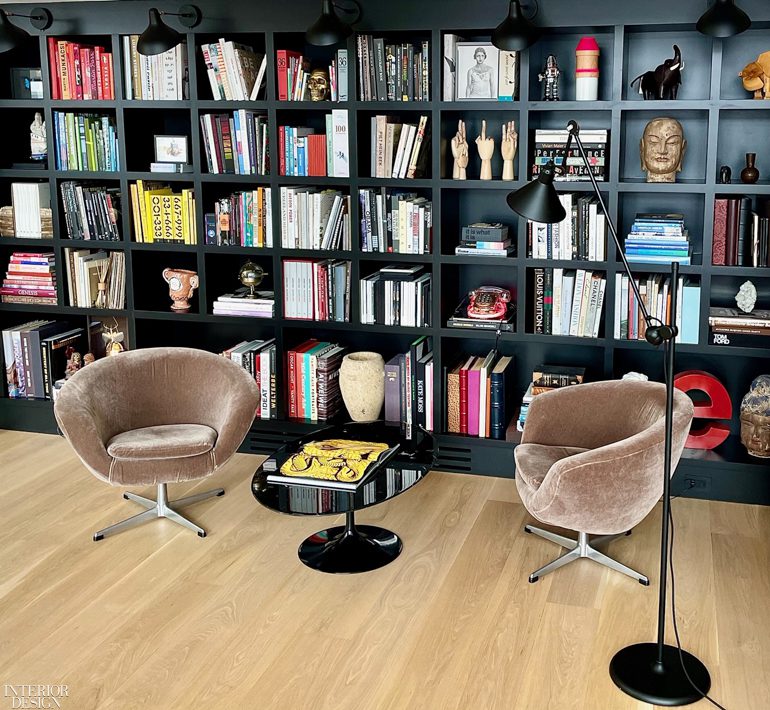 ID: Is there a piece in your home that best reflects your connection to design and your work?
JE: Every single piece (laughs). I fell in love with my wife when I was at Edelman leather and she was at Seventeen Magazine and we'd go to flea markets together. My wife and I fell in love over our shared aesthetic, which we discovered in those years… We've been collecting for 25 years and everything in our home is designed or found by us. There's nothing in there that we don't love and we built it together.