10 Questions With… Kamille Glenn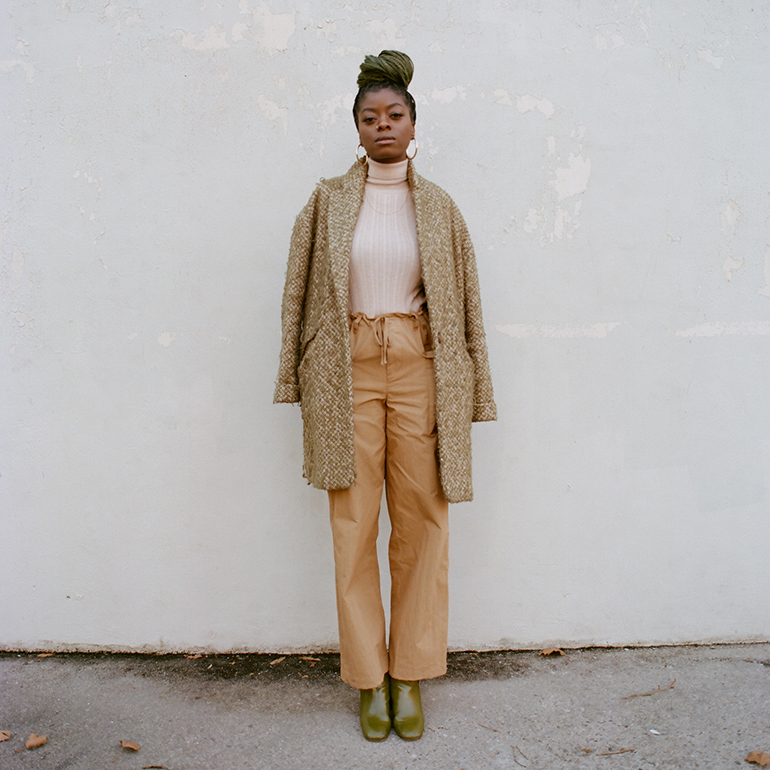 2020 was an incredibly challenging year for the design community—particularly the Black design community, which Kamille Glenn wanted to amplify through The Designer's Workshop collective she founded in June. Its mission of "Kinship through Design" remains urgent in 2021. On February 18, the collective offers VISIBILITY X DSGN, an event in support of Black makers on an innovative platform that swaps out the standard top-down Zoom format for a collection of virtual "camps" to encourage networking and sharing of stories. Here, the associate interior designer at Rockwell Group talks about the collective, the event, "The Sims," and the future.
Editor's note: This conversation has been edited for clarity.
Interior Design: When did you first realize you wanted to make a place for yourself in the design world?
Kamille Glenn: In high school, I studied aerospace. But I was interested in something more creative, so I took an industrial design class and the rest is history. I don't have the "I fell in love with design in youth, watching HGTV" story. (laughs) I mean, I loved playing "The Sims," but not in building mode.
ID: Did that kind of world-building influence your sense of design?
KG: Growing up, I was interested in the drama I could create. And there was no time for it in college. But now I play with my sister, who's coming up on sixteen. It's fun to build with the mindset and knowledge I have now, and looking at it from a client perspective. Prior to my design journey, it was more about what the designer has in mind and less about how it's being received by the end user. In interior design, it's about the challenges the clients my face—what they want to feel when they walk into a space, what we want to stay away from. Creating a sense of place, plus my personal flair of being extremely cognizant of culture and not being offensive, especially in hospitality.
ID: When did you begin at Rockwell?
KG: I just celebrated my seventh anniversary, so I joined in 2014. It's a milestone. Projects take no less than a year, so I've been there long enough now to be working on multiple projects with multiple timelines. It's a great place. I'm grateful for my progression, my exposure, the international projects. I've been able to grow within the industry.
ID: With COVID, with the Black Lives Matter movement…how was your 2020?
KG: (laughs) It was a very interesting year. It was a very emotional year. I was very sensitive to a lot of things, with good reason, and looking at all the efforts and statements and ways to move forward. Like a lot of places, Rockwell has work to do internally, and they're aware of it. I talked to HR and other members in leadership on how we can push forward as a community and a Rockwell Group family. We had good conversations. I would like some things to be implemented with more rigor, but I understand it's a work in progress. For a lot of places.
ID: Have you seen any concrete changes?
KG: We need to diversify the people we work with from all standpoints, from clients to the product vendors we specify, to the people we talk to. We need to broaden our reach. We did create a BIPOC list of artists and designers and vendors, and leadership has circled back to make sure we're incorporating the people on this list. Are people doing it? I am. And I've been telling my team to use the list, to get familiar with it. There's still a lot more work to do. I hope the list continues to grow.
ID: The Designer's Workshop is a great resource for that kind of work. When did you first conceive of it?
KG: My class at the Fashion Institute of Technology had the largest interior design graduate class–60 people—and only two black designers. I was just like, this ratio is crazy. When I got into hospitality, I was shown what that space looked like demographically. The thrill of working on multimillion dollar projects and going wild with design began to fade after a year or so, when I realized I wasn't seeing people of color in the industry. I got tired of seeing the same five people at every event. In 2016, I found a notebook I had written in 2013, laying out my general goals: I want to be a successful designer. I want to be a humanitarian in some space. I want to start an organization. So I thought: Maybe I'll just do it myself. But I don't consider myself a people person, I'm the person who is probably in the back corner taking notes and absorbing everything. I put down the idea in fear. But it kept gnawing at me, and in 2018 I came across the notebook again. I thought: You keep coming back to this notebook. There's something that will accomplish a lot of these goals. At the start of 2019, I started writing goals and telling people I was thinking about starting a collective.
ID: And the idea was always to reach beyond interior architecture and design?
KG: I was wondering, does the footwear designer at Nike know the footwear designer at Adidas? How does a jewelry designer trying to get her business traction be at the same table as someone who's accomplished that? I wanted to focus on the craft of making and get everyone at the table together. Because if that jewelry designer meets someone who is established and able to create a beautiful collection, she'll have a pop-up and need someone to design it. Or that fashion designer needs assistance opening a brick-and-mortar shop. We need a space of connecting, collaborating, bridging the gaps between us. That's where the concept of "Kinship Through Design" came from. Not everyone is a "starchitect" or has their face on the front of a shop—but some of us do. And we should support the scene. So let's have dinner, let's have an event where we're having constructive conversations. Let's have a drink and get to know each other.
ID: 2020 must have been a tough year to launch anything devoted to community building, right?
KG: When we were quarantined I was in the middle of planning the kickoff, which was going to be a mixer at this really dope Black-owned studio in DUMBO. That fell apart. But 2020 was pivotal for the Black community. It forced you to go back to the building blocks. I decided I'll just make this Black group and let people know. I scouted LinkedIn the point where they told me I was giving them recruiter activity. (laughs) Just typing in industrial design and architecture and telling people here's this space I'd like to create for us, join us on Slack. The first talk we had was The Black Experience in Design in June. Then in August we had one on Self Care because it was just a very hard time. In 2020, it was taking me twice as long to do things that would have come to me in no time before. And I know I'm not the only one. The talks were filled with insights. We collaborated with a healer and curated breathing exercises and movements, strategies to apply to our daily creative practices that involve staring at computers and using our hands to pin and sew. We grew as a community and continue to grow. It's fulfilling.
ID: What does the community look like now?
KG: We have a Clubhouse community of about 400 people, and our Instagram is about 50% makers and 50% supporters. Clubhouse is an amazing resource for networking with people you might not otherwise come across, and connecting with multiple people at one time. Being home during the pandemic and being forced to consume the death of George Floyd and so many others, and the hype of the Black Lives Movement, we then saw lots of pledges and hard questions being asked. After our Sustainability talk in October, we began asking ourselves: Have we seen enough? Has what we've seen been impactful to the movement of change within design? The answer was no. We want to apply a little pressure and have the conversations we want to hear. And we're all a little Zoom'ed out as a way of communicating with each other. So we designed a platform for the VISIBILITY x DSGN event that is a little new to the design industry; it's structured as a networking platform where everyone can be heard. It will amplify conversations from the perspective of growth and challenge. It's not about saying "we're mad or here's what you did wrong"—it's about healing the state of the Black designer. 2020 was hard for Black designers. It was hard to produce content. It was hard to create floor plans and think of how to serve clients who are not really affected by what's going on in the ways we are. So the event is about us giving ourselves a space to share our stories, ask questions, and amplify our businesses and brands.
ID: What is important to you about the concept of visibility?
KG: The event is about taking that word and breaking it down into spaces we want to put a magnifying glass on—those spaces of employment, media, the design industry and its clients. We want to empower underrepresented designers with a platform to share that is healthy and constructive. We want to engage black makers in multidisciplinary conversations. What does visibility look like for a jewelry designer, and to a fashion designer? We have designers like me, at Rockwell, and my co-host Felema Yemaneberhan, who is an architectural and interior designer and researcher. We have emerging designers getting their brands up on their feet by themselves, and established designers in leadership. We are in so many different spaces. And when we meet at the same table, do we see each other? Our perspective of visibility varies. We want the design industry to have a cohesive understanding of what we're feeling. So the call can turn into action.
In honor of Black History Month, the Interior Design team is spotlighting the narratives, works, and craft traditions of Black architects, designers, and creatives. See our full coverage here.