10 Questions With… Kim Dolva
Kim Dolva needed a place to have lunch. Near the former envelope factory that houses his Copenhagen design studio, workshop, and showroom, there were few existing options for the cabinetmaker, designer, and cofounder of KBH Københavns Møbelsnedkeri (KBH) and his staff of 20. So, when he happened to meet a New York chef, he threw out a wild idea: How about a restaurant in the graffiti-clad band rehearsal rooms of the same complex? Designed and built by KBH, Alouette quickly garnered a Michelin star—and now serves lunch daily to KBH and three neighboring companies. It's this sense of community that drives Dolva, who worked as a luthier making guitars before finding his calling in furniture design.
Not that music isn't still a passion—at his company party during Copenhagen's 3DaysofDesign, the multi-talented Dolva jumped on stage to fill in on bass for Norwegian band Datarock, despite only one rehearsal of the band's scheduled 12 songs. "When you look at the performance, they are all super happy flying around and I looked like I was having a math exam," Dolva admits. "However, I played almost with no errors." Interior Design sat down with Dolva to learn more about the switch from guitars to furniture, what came first in the design of his Copenhagen apartment, and the surprising way he learned to play the piano.
Interior Design: Your workshop, design studio, and showroom are all centered around a courtyard in such a cool complex.
Kim Dolva: We are in the old factory part of Copenhagen. There's not much left of it as most of the city has been renewed. However, this old envelope factory is still original. For many years, it has housed artists and musicians and their studios. I play bass, and there's a lot of rehearsal rooms, so 20 years ago I used to come out here and rehearse. I was part of this community for several years, before we started the workshop.
ID: And now you have Alouette, a Michelin-starred restaurant there, too. How did that come about?
KD: By chance, I met this chef from New York, Nick Curtin. He asked if I knew of a place to open up a restaurant. So, then I went up above our workshop where all the rehearsal rooms are, and looked at the terrace, which was so beaten up that they didn't even use it—and I thought, this is so trashy, but it could be very cool. So, I invited Nick to see it and said, 'You really have to be creative and think out of the box, but what if we made a restaurant here?'
I became a partner on the project and we built everything from the bottom-up, over seven months. The painted-steel orangery is inspired from the metalwork and color scheme of the Manhattan Bridge, which I saw on a trip to New York. A lot of the walls we left as is. We designed a new floor together with Made a Mano, which is a Danish company that works out of Sicily making handmade tiles, and then we made some new tables with leather tops and beautiful joinery, new chairs, and some battery-driven lamps. I was looking for freedom—and also had this idea, which turned out to be right, that people could look at the space and give us more reign for the next project. Since the restaurant, we have been commissioned for four big projects where we are choosing every little thing. So, it really opened doors.
ID: What else have you completed recently?
KD: A 92-room hotel called the Coco Hotel. We got to do everything, from the reception to the bars, to some credenzas and their doors and mirrors. I created this very unique bar covered in three different sizes of wood sticks. The client liked the entrance door to Alouette—which is carved out of wood and has an almost old Buddhist sort of vibe to it—so we created something a little similar. This was also the first project I worked on with my wife, Mette Bonavent, who was in charge of the design of all the rooms through her firm, Tonen Agency.
ID: What's upcoming for you?
KD: We're working on a summer house in Iceland, about 45 minutes out of Reykjavik on a salmon river. It's this old barn house that we're turning into the most incredible home, with nine bathrooms. We have made everything, from carving the bathtubs in marble to the tiles, floors, furniture for outdoor and indoor, kitchens, and wardrobes.
Read more: 10 Questions With Tom Fereday
ID: What made you cross over from guitars to furniture?
KD: I loved making guitars, but you were dealing with musicians—which I was, so knew all about that. Sometimes you have a job and some money, and then the rest of the time you have nothing. It was really hard to make a living.
The other thing is we made these super-high-end instruments—I've never seen anything as beautiful. But when you play these instruments, there were just some times that the perfection of sound meant you lacked something. The fact is that older instruments, those a little bit non-tech, blend much better into the music and sound much better when you play with other people. I'd always been obsessed with architecture and furniture design, so I thought that was a good combination of both worlds.
ID: What helps develop or enable your vision?
KD: I am super interested in a lot of things and see opportunities in a lot of different areas. The most important thing for me has always been the community and the people out there in the workshop. I have this belief that if we create a community that people really like to be in, that we create furniture that is extremely well-made with no slacking and no compromise, then economy will follow. Everything we do, we do out of a sort of love for each other and for the community out there. We do a lot of cool things together as a company, like go on a ski trip every year.
ID: In what kind of home do you live?
KD: My wife is as mad about aesthetics and interiors as I am, so our home—an apartment with high ceilings and original moldings in Copenhagen's Vesterbro district—is kind of an experimental thing. We have two kids, a daughter who is 15 and son who is nine, so it's full of young people all the time. We've lived in three different places and have now figured out the best way to live is easy living. The first thing we did was install a heavily oiled chevron wood floor, so people can just keep their shoes on. We have a white kitchen with a very chunky countertop and sink, all made from one piece of marble. Because there's such a high ceiling, I also made these floor-to-ceiling cabinets.
ID: How do you think your childhood influenced your design thinking?
KD: My mother was an artist and my father head of sales for a travel agency that was all about finding new places around the world. During my childhood, at least four times a year, we were out traveling all over the world. I saw much about different cultures, about different design and architecture. I think that's why I'm so curious about everything and can't really stand still—because I know that there's a world out there. My wife hates me when we go traveling because I'm always, 'Oh, let's go around the next corner, let's go to the next beach because I'm pretty sure that it will be better than this one.' It's a blessing, but also a curse!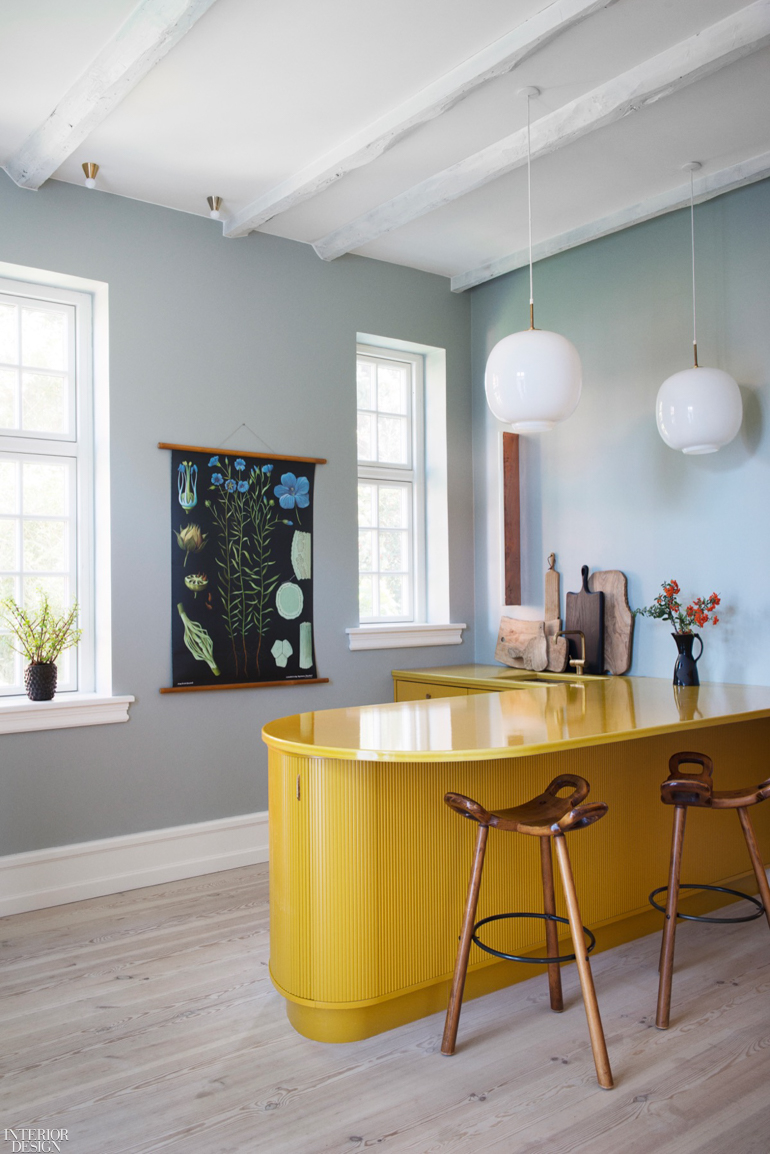 ID: Is there a person in or out of the industry that you particularly admire?
KD: I look at Miles Davis in the 1950s and I think this guy is so cool and everything around him just looks so cool. It may sound weird, but I get a lot of inspiration from music. I love to create environments and give certain moods, to move people in different directions. That's also why we are doing concerts now.
ID: Do you have a secret you can share?
KD: I have a lot of problems sleeping and there are these nights where I could spend four hours watching YouTube videos on how to make the most ridiculous things in the world. It's become sort of an obsession. I was raised by parents who said, you can become anything, you can do whatever you want. So, I've always had these high expectations. I still have those feelings when I watch YouTube tutorials. I wake up truly believing, just by watching these, that I know how to do it—and then I realize I don't. It's weird. But, actually, I did learn the piano that way.
Keep scrolling to view more images of Dolva's work >
Read more: 10 Questions With… Thomas Bentzen