10 Questions With… Lionel Ohayon of ICRAVE
Some designers are very clear on what they want. Lionel Ohayon—the man behind the experiential design and brand-building firm

ICRAVE

—has a preternatural sense of what we, the people, want. Under his direction, ICRAVE has birthed hospitality concepts that turned New York's Meatpacking District into the center of the monied universe (Abe & Arthur's, Catch, Tenjune), helped restaurant groups express their brands. He's kept nightlife electric for lost night owls (LA's Hyde Lounge and Beverly Hills' Villa; Marquee—The Star Sydney in Australia; New York nightclubs Pacha, Provocateur, and Lavo), and provided sleek accommodations for jet-setters with hotel concepts. Ohayon and his crew of 35-plus are similarly accomplished with airport design concepts (Delta's terminal at LaGuardia and Toronto Pearson International Airport) as well as pop-up environments—from roller discos and VIP lounges to runway shows and product launches.

With a covetable new design studio steps from Manhattan's Madison Square Park and sizable projects ranging from hospitality to healthcare, Ohayon tailors a design empire inextricably linked to the concept of "brand savvy." Here, he shares his take on design DNA, the cool side of collaboration, and why he never wants anyone to be "working for Lionel."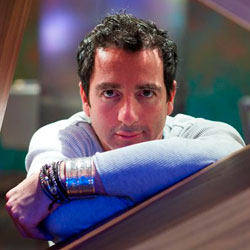 Interior Design: How do the disciplines of design and brand identity overlap, and how have you managed to bring success to your clients by marrying the two?


Lionel Ohayon: When you have a strong brand, design is always going to be part of it. Since the inception of this firm, it's been hard to separate those two things. I find that the DNA of a design is baked into a brand. We spend a lot of time determining what the brand is perceived to be, and what a client wants that to be. I say to clients from the start that if they're just looking for a design firm to make a pretty room and that is it, there are many firms out there that can do that. Yes, we are one of those firms, but that is not specifically what we're about. We spend a tremendous amount of time in the concept phase. From an "experience angle," the first thing you need to do is get to the bottom of what the brand is, break it down, know where it stands. We're always trying to find a solution for a problem, not make a statement about who we are.


ID: How do you prefer to interact with your clients?


LO: We love to host clients and visitors at our office. We throw events, such as one called "Imprimatur"—an interactive series where clients and friends can meet artists we work with and experience our studio culture firsthand. We want the client to feel very comfortable working here, and have worked hard to foster an environment that supports our creative processes. Our ICRAVE studio has been one of my favorite projects, and it means a lot to be able to show our clients what happens here. Our last Imprimatur was called "Innovators, Artists, and Makers," and we had all sorts of people here, making things, doing their craft, potentially engaging in some collaborative experiences. Everything was designed—the food, the mixology, the DJ experience. That was the tone of what is happening in our world. I think Imprimatur points out new frontiers, and allows us to mix things. Next we'll focus on fashion and retail, how each is being influenced by design and technology and vice versa. There's no reason why these disciplines shouldn't cross over.


ID: What's the conceptual glue that holds ICRAVE together?


LO: Our office is built in five teams—three design studios, a lighting design studio, and a curation studio. Curation is key, since we believe in delivering an experience. Having a team of people dedicated to strategy brings great value to our clients. Our spaces are highly theatrical, and once construction is complete, a client might be asking, "What do we do now with it all?" Our curation department helps the owners curate those spaces and programs, to have an incredible experience within what we create.


ID: What sort of people do you bring in to work with you?


LO: I appreciate different walks of life and skills coming together collaboratively to solve problems, and I think we've passed the moment when the "old guys" are telling the "young guys" what to do. Everyone's expected to show up with ideas. We don't have any particular expansion model; no plan to endlessly grow and grow. We've specifically chosen a space that will allow us to grow, yet we want to keep the energy of a think tank. I called it ICRAVE because I've always wanted the people involved to feel that they own a part of it, rather than "working for Lionel." If hanging around on a Tuesday night to solve a problem isn't your idea of a good time, this isn't the right place for you.


ID: The new ICRAVE Studio is somewhat mythic, and many who know of it have office envy. What about the space inspires strong work from of your employees?


LO: When we had our Meatpacking District space, our clients would often say, "We can feel the creative energy." When it came time to move to a larger space, I thought,

I really hope I don't lose that. Did I put the chairs in the right way?

Throughout the move, I knew it had to be about energy. I wanted this to be a place where things happen, and stayed conscientious that this energy was fostered.

In the actual work sense, people engage with each other in the office, and that is underneath the creativity that is fostered here.


ID: What are some of the most satisfying projects on your plate, allowing you to add dimension to the company's portfolio?


LO: On one side of the spectrum, a client owns a large piece of empty land in the middle of the desert, and wants it to become the premier festival ground in the world. Here we are in 2013, with the digital and the physical converging like never before, so the technology component is going to be a major piece of it. And on the other side, we've been invited by one of the world's leading cancer treatments institutions to examine how patients interact in the treatment space, and how that can have an impact in the efficacy of cancer treatment. We're very interested in how we can use digital technology to change conditions for families and staff alike. It's a very important project. So much of our work have been these great lifestyle venues—marrying the emotional and physical, and create a sensory application that will have a meaningful response. Now we can use that to address important issues such as healthcare. I keep this thought close:

If cancer is going to become part of my life, how can I make it something I can live—and thrive—with?



ID: As mentioned, you've found great success in the hospitality world—which has its constants and its caprices. How do you steer your clients away from becoming dated?


LO: That's a tough question to answer. So much of it depends on the client, because ultimately a person outside of ICRAVE is actually going to be delivering the experience that takes place in any space we create. I figure, if you're a good host at home, you are probably going to be good at running a restaurant. Every place is a reflection of the people who run it. There's the room of a restaurant, but also the table. There's the candle at its center, or the chandelier overhead. There's the notion of intimacy, the relationship with the table next to you, and then there's all that transcends tables. We're all about chasing the answer to the questions, "What does this want to be?" in order for the architecture and design to mean something.


ID: You have been instrumental in the morphing of New York's Meatpacking District, have worked with major brands that connect the globe, and have had your hands in all realms of hospitality… What are the opportunities and land mines of designing within the urban context, particularly as cities are getting bigger and denser?


LO: Within a large and dense city, there is a lot of activity in every direction that allows both individuals and brands to really express themselves. But, particularly in New York City, ideas are often slipped into a box with four walls, which from an architectural viewpoint can be stifling. There are so many sensory ingredients that can be inspired by big cities that allow us to literally think outside of this box. In a fast-paced city, clients are often very reactive to current trends, or sizing up their competitors. This mindset often gets translated to style and becomes "the thing" that everyone wants. We work through the desire to fall into this trap at ICRAVE, and aim to create spaces that transcend time and stay focused on what we're trying to achieve. We look for more universal solutions that don't allow design to fall into the "fashion" trap.


ID: Why is this an exciting time for architecture and design?


LO: I think the design industry will shift dramatically over the next few years. We've already seen tremendous opportunities, and the value of design as a commodity for some markets, like construction and real estate sales. Additional opportunities will manifest themselves in a real intersection of the digital and physical worlds. People will interact with spaces in ways you wouldn't normally expect. Marketing and branding agencies, who traditionally resort to advertising tactics, will start to see the opportunities that live within the built world. And designers will begin to provide the insights and solutions to tap into this realm.


ID: What are some of the earliest instances you can remember being engaged by great design?


LO: I'm one of those people who always knew what I wanted to do. When I was six years old, I told my parents I wanted to be an architect. I would spend hours in my uncle's office looking at model real estate developments while everyone else was at the beach. If I had to say what my most enduring source of inspiration is, it would be my experience at architecture school. I attended the University of Waterloo, which really challenged how I thought through problems, and ultimately had a big impact on my vision for the ICRAVE studio. I wanted the DNA of the office culture to be a university, a studio, a design and architecture school—an environment that's totally collaborative. At the end of the day I think design is a huge responsibility. I love fostering people to be happy, to share, and to grow.