10 Questions With… Mac Stopa
Mac Stopa credits both the digital and organic worlds for his signature design expression. Since founding Massive Design in Warsaw in 1996, the Polish architect, interior designer, and product designer has completed futuristic offices—and earned dozens of international accolades—for the likes of Google, BMW, and Credit Suisse. Meanwhile, his products have been produced by Cappellini, Milliken, Nowy Styl Group, and Tonon & C, among others. Stopa sat down with Interior Design to reveal a project that will leave a big mark on Poland's capital, why he has a virtually never-ending design archive, and what recent technology he thinks is altering the design industry as we know it.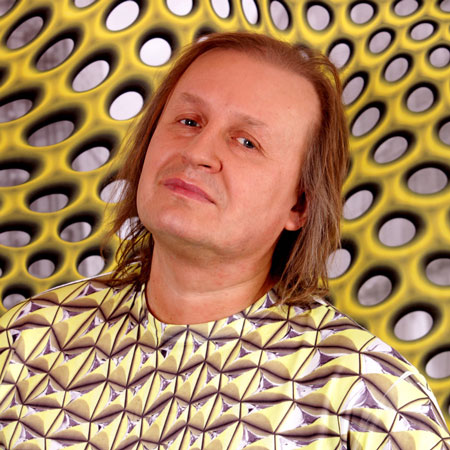 Interior Design: We heard you recently moved into a new office.
Mac Stopa: It's an open, flexible space representing my passion for organic forms and the digital world—with no private offices for either me or the staff. Almost all furnishings are my designs in production, from Cappellini chairs to Milliken carpets. There are also many custom items, from millwork to the conference room table. A lot of office interiors look very similar; my goal was to make ours different.
ID: Could you share an upcoming project?
MS: We are working on the Warsaw Hub, a 1.2-million-square-foot office complex in the center of Warsaw scheduled to open at the end of 2019. It has three buildings connected to each other and to an underground shopping center and subway station. It's a very complicated project, and we are designing almost all common areas. You'll find many custom elements, from flooring to the front desk, which looks like it flows into the ceiling.
ID: How did your childhood influence your design thinking?
MS: My mother had a degree in art and was a space designer working for theaters and TV stations. Many of my relatives were architects. At an early age I developed a passion for drawing. From grammar school on, I created hundreds of hand sketches. Pursuing a degree in architecture was a natural and easy decision.
ID: How does the current design climate in Poland influence your work?
MS: Joining the EU was a great thing, as it opened the door for Poland to again be part of the Western culture. Many important international companies now have production facilities and invest in new technology in Poland, which is very important for our furniture industry. So we are benefiting, and other countries are also benefiting, because we have highly qualified and highly educated Polish personnel for slightly lower production costs, yet with technological know-how. For example, injection molds for many important furniture companies and plastic molds for Bang & Olufsen's stereo equipment and TVs are produced in Poland.
ID: How do you start your design process?
MS: Everything starts from analyzing manufacturing technology, budget, and scheduling. All of these elements are very important. Often, I'm thinking about how to introduce new creative functionality, but it's not an exact process. Some designs are triggered by a series of super fast hand sketches. Others are more about computer-aided methods and 3-D printing.
Sometimes I analyze and adopt designs that were never realized. Over the years, for my own reference, I have created hundreds—maybe thousands—of preliminary designs. So sometimes I look at one and think, 'Oh, this is nice. How can we change or improve it?'
ID: Is there a historical person in the industry that you particularly admire?
MS: I have two, Antoni Gaudí and Eero Saarinen, who were both architects and product designers. Both created organic architecture as well as organically inspired furniture that are very close to my heart. The great vision and design capabilities they had are unbelievable, even though they lived in a different era. It really makes you scratch your head: How could they make such complex objects in a pre-computer age? At that time, they just had a ruler and a pencil.
ID: What inspires you?
MS: 3-D printing. Every year I investigate what is happening in the field. Purchasing a new 3-D printer or learning new technology with my team opens up new horizons. I'm looking into 3-D printing in various materials, from polymers to concrete, metal, glass, and also possibly new hybrid 3-D printed super-performance materials.
How the industry reacts to 3-D printing is also interesting. While many manufacturers and designers like me see a great opportunity, others are underlining a handmade, traditional approach. Yet both of these worlds are growing. It makes the entire industry more diversified and interesting.
ID: How do you use social media?
MS: I present my ideas on YouTube. So, let's say I have a product that I am putting on the market. YouTube is the perfect tool to present this idea to the general public.
ID: What are you always reading about?
MS: New technologies. It's fascinating how rapidly today's science and technology develops and how it influences our behavior, our habits, and, of course, creates enormous opportunities and challenges. I analyze a spectrum of information by various outlets, but the Internet is also full of interesting articles and comments from regular people, the final users. Information from the people working directly with these technologies is really important.
ID: Is there an item in your home that has particular significance to you?
MS: I have this table that I designed years ago, really before I became involved in product design. It has a thick tempered-glass top penetrating a wooden frame and dual functionality as a dining table and a large office desk. Many of my design ideas were created on this table.