10 Questions With… Manit Rastogi

To be a sustainable architecture firm in India, the second most populous country in the world, is a special kind of challenge. What many take for granted

—

from materials to energy

—

is in short supply in this emerging country. However, one firm is stepping dramatically up to the plate:

Morphogenesis

, spearheaded by husband-and-wife principals Manit and Sonali Rastogi. With nearly two decades in the field and dozens of both small- and large-scale sustainable projects under its belt, Morphogenesis recently landed the prestigious fifth

SIA-Getz Architecture Prize for Emergent Architecture in Asia

, presented by the Singapore Institute of Architects and Getz Bros. & Co.

Here, principal Manit Rastogi fills us in on India's tremendously difficult working environment, savvy historical methods tapped for futuristic buildings, and the sustainable structure that inspires him above all others.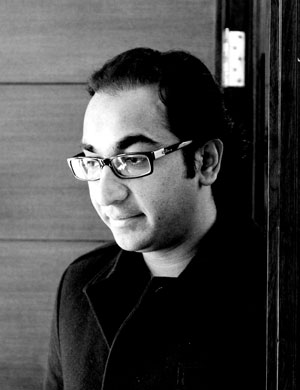 Interior Design: So I hear you recently won the fifth SIA-Getz Architecture Prize. Why do you think your firm rose to the top and what does it mean for you to be at the top of this list?


Manit Rastogi: My partner, Sonali, and I were both at the

Architectural Association School of Architecture

in London. When we came back to India and started our practice, we had a simple vision: How do we define contemporary architecture for a country like India, or any modern nation for that matter, with a strong historical legacy?

Over the years, we've focused on what we thought were the burning issues in the context of an emerging country. In the case of India, one issue was really strongly centered on sustainability, and sustainability not understood as purely energy, but environmental, social, and financial sustainability.

Working across India over the last 18 years, we've seen how the diversity of people, culture, and climate has a very vital roll. At one level, we've seen a change to globalization and global aspirations, from very local and regional cultural lifestyle and values. The diversity of India is as diverse as all of Europe put together in language and people.

It is that bridge, between traditional and modernity, that we've been able to cross as a practice

—

and that's in the context of a very difficult working environment

—

with affordability, cost of construction, and available resources such as energy and water.


ID: As the second most populous country in the world and as a newly industrialized country, what kind of challenges does India have?


MR: The challenges are tremendous. One, there's a huge challenge of affordability, of availability of resources. Two, there's a huge challenge

—

despite its status as the world's most populous country

—

of qualified or talented human resource, across the board. India is an emerging nation and getting access to talent is very difficult. Three, the ability to nurture the local arts, crafts, and traditional construction technology are not in sync with a globalized method of construction.

Form follows finance, and the speed of which things are required and the ability of human resources

—

the vendors, the project managers, the architects, consultants, clients

—

to sync two completely different worlds is a huge challenge. Everything is a moving target. This is just not an established industry.

Architectural projects in India take five to seven, sometimes 10 years to complete. During this transitionary period, so many things change. There's this constant churning that goes on all the time, on all fronts

—

whether it is regulatory, resource, or aspiration. In just 10 years, the wealth in India has increased tremendously.


ID: India has a very rich and long history. How does this effect your architectural planning?


MR: We by and large have the advantage of having a strong tradition of thousands of years of architectural and design history that responded to local challenges of the time

—

there was no energy, there was no water. We built beautiful pieces of architecture that were responsive to climate, that were drastically cooler in a hot climate. What we try and do is combine that system with the technologies of today to develop an architecture that aims to satisfy the needs of local tradition and at the same time meet the new lifestyle of global India.


ID: Can you name a project that fits this criteria that you just described?


MR:

The Pearl Academy of Fashion

is a completely passively designed building that plagiarizes from traditional architecture for hot and dry climates. With evaporative cooling, with a temperature of 46 degrees outside, we get 28 degrees inside without air conditioning.

There's also a 400-acre township, the

Uttorayon Township

, which is now complete in an area with one of the highest rain falls in the world

—

13 feet of rainfall a year. We did that entire project, an affordable housing project, without building any storm water drains. The houses are all built around a dissipated green system of micro dimes which distribute water.

Another project is a very, very high-end resort in Kerala. The entire resort is designed to borrow from the technologies of the traditional back-water boat. The root form of the boat has a hyperbolic power drive that captures wind.


ID: You mentioned a couple projects you are currently working on. Are there more you want to mention?


MR: There's one current project, a corporate office building, that is a complete imagination of landscape and built form. You can't distinguish between the two, it is an interwoven building, where the distinction is completely lost.

We use landscaping, basically architectonics, to offset the oppressive heat where this project is located. At the same time, we're making the landscape fully available to the people of the office. Whether you are indoors or outdoors, the distinction doesn't exist anymore.

A lot of Indians like to live indoor/outdoors, irrespective of environmental conditions. That is how we live in our houses, and that is how we live in our flats.

Therefore, that's something we are trying to bring to the corporate workplace, which traditionally has been this sealed box of fixed hours of confinement, nine to five. Everything has been geared towards that nine to five productivity

—

how to get better lighting, how to get better air conditioning so that people can work more and more efficiently.

We think that the modern day workplace is more about connecting the dots rather than being more efficient. And dealing in what we call brain count verses body count: How do you get 100 or 200 people in a building to work as a brain? You surpass the need of body count and make it function as a network.


ID: So these are all quite high-tech, innovative solutions. What is your design process and how do you come up with these solutions?


MR: Our design process is defined in our philosophy. For every project, we go back to first principles and look at four factors, which we call SAIL. "S" for sustainability, "A" for affordability, "I" for imageability, and "L" for livability. For all of these four factors we do a tremendous amount of research on the physical site itself, the local climate, the availability of local materials, and the local technologies. Based on that research we look at design, but all from first principal, Sustainability.

In an attempt to define the new for what is relevant and adaptive to these conditions, we find it hard to look at existing models in modernity, so we have to do the research each time afresh. So we are heavily centered on research before we get to design.


ID: In your research, have you come up with a high-tech solution that is so innovative and groundbreaking that every single architecture firm should be using it?


MR: Yes, and we do put this out into the public domain. We are doing a campus for one of the largest IT companies, a 140-acre campus, a very high density development. I think we have broken just about every non-metric on sustainability. The entire project is net-zero on energy.
We brought down energy consumption of the building compared to baseline standards set by both Indian and American rating systems by about 75 percent and offset it by onsite renewable energy. We are storing water in a lake and reusing it, so we are net-zero from water from the state and we are net-zero on landfill. So it's a 100 percent sustainable project, and we've done this all by building it cheaper. That's a model project. We do think we have cracked that code which can be used as a model across not only India but globally, and definitely where resources are in a crunch.


ID: What qualities do you like to have present in a residence or a commercial building, something that you think is essential to the feeling of the architecture?


MR: I'll talk a bit about how we are practice is structured and then I'll answer this question. We are divided into 12 teams, but each team works across four factors. Each team will work on something very small and very large. A team will work on a 400-square-foot art gallery but at the same time they may be working on a 1000-acre city township.

The reason for that is the very small teaches you about how to think in detail, and the very large teaches you about systems. Then one crosses over to the other.

Similarly, the teams will work across typologies, so they will work on a house but they'll also work on a very large residential development. What we find traditionally is when you work on a house, a house is all about the person that you are designing it for, and it reflects their personality. You can do every bit of detail for how they are going to live their life.
But when you do a very large residential project, where there are 1,000 condos or apartments, and you don't know who your end user is, then that level of detail thinking disappears. However, when you work on both together you bring one to the other. Similarly when you are working in hospitality, you bring everything that is important to hospitality

—

arrivals, back of house, serviceability, security.

For us, no matter what project we are doing, whether it is commercial or residential, what we think is fundamentally important to that project is that it has to benchmark sustainability, it has to minimize resources, even if it is not a requirement. This is something we do naturally.

Second, in today's modern life we don't think in departmentalized terms

—

what is work, what is recreation, what is private life. People today live in a more systemized continuum. All of these activities go on through the day and through the night. The mind is not segregated anymore. Our spaces need to deal with that level of thinking.

Commercialized projects have to have a feel of your house, because you are going to deal with home issues while you are at work. Residential projects have to deal with the fact that you may be working at home even if it is night or weekends or even sometimes during the day.

So this crossover of typology is crucially important to us in terms of how the livability of the space is configured. Our biggest struggle is in achieving perfection of details, materials, and craft. Traditionally architects are not project managers or quality insurance managers onsite, but we take that on simply because if it can't be executed perfectly, it is not a project.


ID: Can you name a sustainable project that has influenced you?


MR: I've been asked this question and the best example is from the animal kingdom: An ant hill. Or a bird's nest. An ant hill was one of my early inspirations and where the name Morphogenesis comes from. Morphogenesis means the origins and development of form in response to nature.

If you look at an ant hill, the queen's chamber is kept at a temperature variation of only one degree, but an ant hill in a dessert goes through a daily temperature variation of 50 degrees

—

and they do that without air conditioning, they do that without architects, they do that without engineers. They build a habitat perfectly suited to their requirements, without compromising the needs of any other species. There is nothing more sustainable than that.


ID: What do you do in your down time?


MR: I don't have any. I live in this continuum I just described to you. If I am not physically working, I am thinking. I don't think the concept of free time exists anymore. There are very few people who are lucky enough to have their hobby as their work and that's what we have. Architecture is a way of life, design is a way of life. On one level I can tell you: I have 100 percent free time because this is what I love to do. Because that is the nature of design.