10 Questions With… Matteo Thun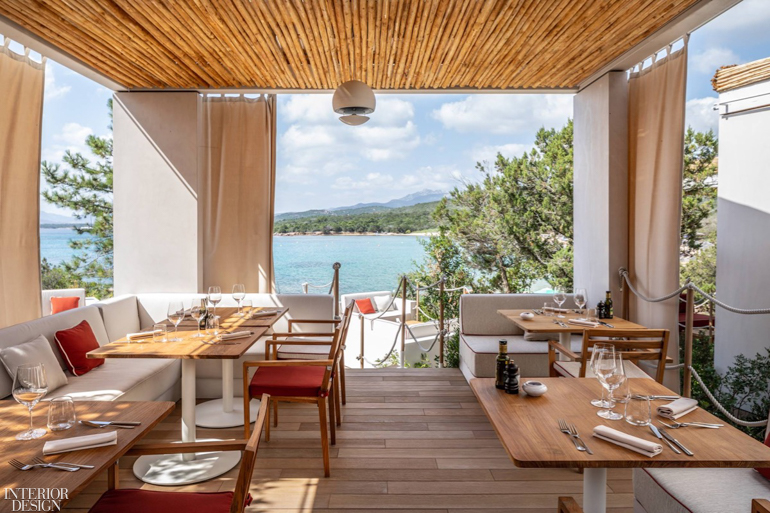 A holistic approach to nature and wellness drives Matteo Thun's built
projects. The award-winning Italian architect and Interior
Design Hall of Fame member co-founded the iconic Italian design
and architecture collective the Memphis Group with Ettore Sottsass in 1981, before
striking out on his own, forming Matteo Thun & Partners in 2001. Thun's happiest designing something
new, he admits, and his firm's creative eye, honed out of a
headquarters in Milan and an office in Shanghai, is behind a long list of
high-profile hospitality and healthcare projects spanning the globe.
Most recently, summer saw the reassembly of Thun's temporary beach
structure, Cala Beach Club on the breathtaking Emerald Coast of the Italian island of Sardinia.
Situated at Hotel Cala di Volpe in Costa Smeralda, a playground for
the rich and, at times, famous—many of them yachting enthusiasts—Cala Beach Club is an environmentally sensitive structure only
accessible by foot or boat. In summer it hums with private parties,
with clientele seduced by the stunning natural landscape. Interior
Design sat down with Thun to hear more about the Cala Beach Club,
what toy kicked off his imagination at a young age, and which project reachable solely by cable car he considers a career turning point.
Interior Design: What was your overall design goal for Cala Beach Club?
Matteo Thun: Cala di Volpe is a beautiful beach in Sardinia. We wanted
to create a shady oasis just between the woods and the sea.
Restaurant, bar, and treatment rooms have been designed to melt within
the landscape, to respect the charm of this special place.
ID: What was particularly challenging about this project?
MT: This property is reachable only by boat or on a path through
nature. Since it serves only for the season, we designed a removable
structure that is easily to assemble and dismantle.
ID: What materials did you use and why?
MT: The structure unites with the beach vegetation, terraces value the
inclination of the land, and views are open to the sea. We only used
natural materials that integrate with the surroundings, such as
chestnut wood and bamboo. All colors are natural and warm.
ID: What else have you completed recently?
MT: We like to bring nature inside and believe in concepts that
emphasize an overall healthy lifestyle as a main approach. Healthy
architecture and interior design guarantees physical and mental well
being, allowing a relationship between humans and the environment. In
Obbürgen, Switzerland, the Waldhotel at Bürgenstock Hotels & Resort, which opened at the
end of last year, is a space for wellness and medical services. It's
made from local stone and wood, and nature will take over in a few
years so that the building will melt with the mountain. As with most
of our projects, we also designed the entire interior.
Another recent project is the new headquarters for Davines, an Italian beauty company dedicated to
sustainability and based in Parma, Italy. Here, we grouped traditional rural
shapes and innovative volumes around a greenhouse that serves as a
restaurant for the employees. Maximum architectural transparency with
a minimum amount of masonry elements provides every working station
with a view of the green areas.
ID: What's upcoming for you?
MT: The Waldkliniken Eisenberg outside of Leipzig at the largest university orthopedic center in Europe. Waldkliniken means 'hospital in the forest' in German, and the new
hospital building and rehab building connected to it will transform
the hospital campus into a health center with a hotel character. This
project represents our idea of a healing environment, an architectural
and organizational structure that helps the patient and his relatives
endure stressful situations caused by illness, operations, treatments,
and sometimes pain.
Another hospitality project, a health bathing spa with medical
treatments and maximum comfort, is underway in Bavaria, at Tegernsee,
a resort town on the banks of Germany's Tegernsee Lake. Nature is also
the point of departure here and was key to the project. The landscape
design integrates the existing flora and references the natural
presence of water, allowing a direct communication with nature without
interfering with the privacy of the patients.
ID: Is there a project in your history that you feel was particularly significant to your career?
MT: I designed the Vigilius Mountain Resort
in South Tirol more than 15 years ago. It was one of the first design
hotels, made from local larch wood and reachable only by cable car.
The owner and I shared the same vision: to create a hotel that fuses
with its surroundings, a place where you can breathe and relax
instantly. Now, after all these years, the wood has a beautiful patina
and the hotel a constant influx of international clientele.
ID: What are you reading?
MT: I very much like to read books in parallel: such as German
philosopher Martin Heidegger with a novel or short
story by Italian journalist and writer Italo Calvino.
ID: How do you think your childhood influenced your design thinking?
MT: My parents took me regularly to the Venice Biennale, so I became familiar with art and
architecture at quite a young age. I grew up in nature, in the
mountains near Bolzano, Italy, where my mother worked with pottery. She
gave me clay to play with—so I had to use my imagination to have fun
with it. I was always very close to material and materiality.
ID: How do think the Italian design culture influences your overall approach?
MT: In Italy, architecture is approached holistically. Let me quote
Italian architect and writer Ernesto Rogers: 'From spoon to city.'
This means working on a chair, on a lighting product, and on a house
at the same time. We've worked like this in my office since the
beginning, and the different teams of architects, interior designers,
and product designers perform across disciplines.
Another big strength is Italian craftsmanship. At Salone del Mobile
2019, we launched a wood chair
collection produced by F.lli Levaggi, a
small manufacturer in Liguria, Italy, and work regularly with the
glassblowers from Murano, such as Venini, Barovier & Toso, and Seguso. We very much believe in 'Made in Italy.'
ID: Is there a person in the industry that you particularly admire?
MT: Ettore Sottsass,
chief designer of Olivetti. I first worked
for him as an assistant, then we formed Sottsass Associati and in 1981 we co-founded Italian design and
architecture collective Memphis Group. Memphis had an important
formative influence on my career, and provided a platform to
experiment with the challenges of constant innovation. Ettore designed
the first Italian computer—in the late 1950s.
Keep scrolling for more images of projects by Matteo Thun >
Read more: 10 Questions With… Gert Wingardh