10 Questions With… Max Lamb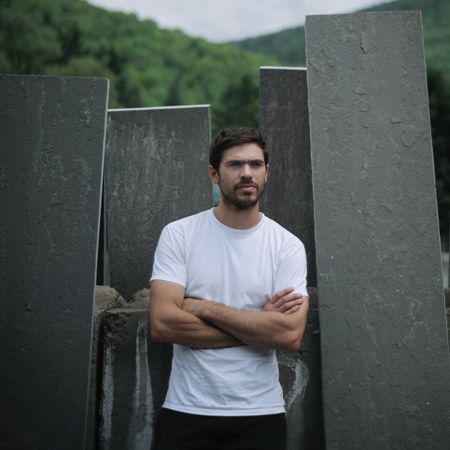 Max Lamb was born and raised in Cornwall, England, in what he describes as a particularly isolated and beautiful part of the UK. His childhood was one spent outdoors: on the beaches, in the woods, digging in his parents garden, or on his grandfather's farm in the Yorkshire Wolds, where physical labor was celebrated. These days Lamb is tapping innovative technology to craft furniture for the likes of Acne Studios and Kvadrat. Here, he reveals to Interior Design the influence of a military upbringing, his latest design obsession, what surprising book he continues to draw heavily from, and more.

Interior Design: Can you name a few recent projects or products?
Max Lamb: I showed the Thermal Spray collection for Salon 94 at Design Miami/Basel. Then there's the Solid Textile Board benches for Danish sustainability startup Really and textile manufacturer Kvadrat, which were presented at Salone del Mobile in Milan this past April. In the new Acne Studios, which just opened in Milan, I have tables and stools made out of Rosa Baveno granite. Last September, I designed the Campione chair in Tonalite granite for Pedretti Graniti.
ID: What's a design obsession?
ML: Thermal spraying as a production process. I've done a couple of thermal spray projects. The first one, last year for an exhibition in France, was just an experiment. Then I did a whole collection for Acne Studios in New York, for the Madison Avenue store that opened in September. That's when I really started to properly experiment. The Thermal Spray collection I showed in Basel is a big collection of furniture—chairs, tables, shelving units, vases, planters—all sorts of things all using the same thermal spray technique.
ID: What is your favorite paint color?
ML: Line-X XS100 Natural.
ID: Do you have an interiors pet peeve?
ML: There is too much unnecessary furniture in hotel rooms. Door handles on the inside of doors that open outwards… if you can push it, it shouldn't have a handle.
ID: Pencil, pen, or computer?
ML: Pencil in the workshop, pen and paper in my studio for sketching, computer for 2D/3D vector drawings.
ID: Can you name a book that has inspired you?
ML: I'd say the SAS Survival Handbook. My dad was a survival instructor in the Royal Air Force. I think that his kind of military style of upbringing, in terms of discipline and control, has settled quite heavily into my work. SAS is actually quite an amazing book and I spent much of my childhood dreaming about being out in the wild and building snare traps to catch my food. Now, I'd say I'm incredibly resourceful in the way that I work in my practice, everything has value. From every single scrap of material, to every minute of my day.
ID: What's an app that you downloaded recently?
ML: Monzo, for my new cash card.
ID: Which do you prefer—the city, country, or beach?
ML: The city to live, and the country and beach to produce work.
ID: Can you name a historic interior that you really admire?
ML: Sir John Soane's house. It's a very diverse cabinet of curiosities. The whole building is just full of artifacts from around the world, somebody's lifetime collection of stuff—and not all masterpieces. We're talking about some very humble bits of manmade paraphernalia that are just absolutely stacked deep. It is such an intense environment, and not set up like a gallery or even a museum. It is set up like somebody has been rigorously collecting their entire life.
ID: What's the best thing about your job?
ML: Freedom to roam.