10 Questions With… Michael Anastassiades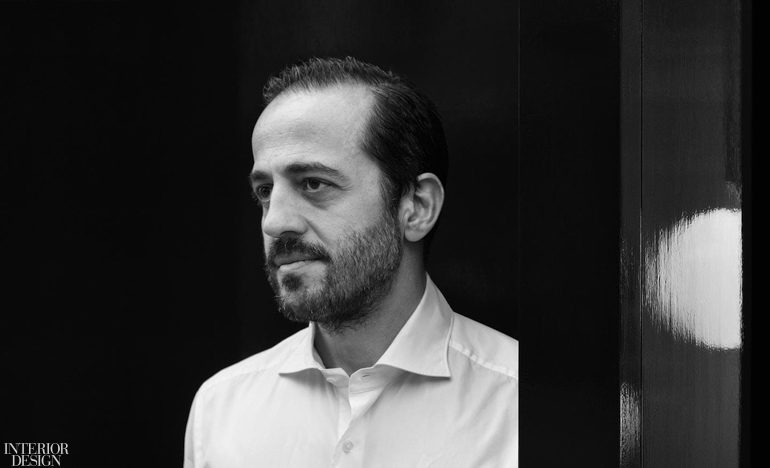 "Who isn't?" Michael Anastassiades replies, when asked if he is inspired by Alexander Calder, the American sculptor known for his mobiles. Last year, when named Maison & Objet Designer of the Year 2020, Anastassiades hypnotized curious onlookers with "16 Acts," an installation of 16 mobile chandeliers. With small motors setting them in motion, the mobiles created a soothing geometric light show and memorable retreat from the busy tradeshow floor during the winter edition of the usually bi-annual Paris furniture fair (The Fall 2020 edition was canceled due to COVID-19).
Since founding his studio in 1994, the London-based Cypriot designer has worked with the likes of B&B Italia, Cassina, and Herman Miller. In 2007, he founded his namesake manufacturing label, in order to also produce his own lighting and objects and, as he says, "express my ideas in the most uncompromising manner."
While lighting is where he's really made his mark, Anastassiades has been increasingly busy in other design categories. Halfway Round—a furniture collection consisting of a table, screen, and stool, all of Oregon pine, for Dansk Møbelkunst—made its debut at Copenhagen furniture fair 3DaysofDesign last fall (one of the rare few design tradeshows to take place in 2020). Other recent launches include the Plein Air collection of outdoor tables for Roda, the Half a Square table for Molteni & C|Dada, and the Sugiloo bent wood chair for Gebrueder Thonet Vienna. A further departure, AA/27 is a collection of bathroom fixtures he designed for Aboutwater, a partnership between Boffi and Fantini.
Anastassiades sat down with Interior Design to reveal more on the series of mobile chandeliers he's been adding to for over a decade, a painting he sends people to view in The National Gallery, London and a whimsical Memphis Group design piece about to drive away in his home.
Interior Design: You have a series of mobile chandeliers you've been adding to for over a decade; can you share more about that?
Michael Anastassiades: The Mobile Chandelier series is quite a unique family of chandeliers, with delicate structures balanced in perfect equilibrium. Constructed following the principles of a mobile, they are arrangements of linear tubes, geometric sources of light, reflective surfaces, and counterbalancing weights. Each piece—with approximately 100 hand-machined and individually patinated brass components—is unique in its dimension and compositional balance, due to the varying weight of the mouth blown opaline glass. The pieces rotate freely and delicately, creating an ever-changing lighting configuration singular to the space they occupy.
This is an evolving series with additions being made every two years—I designed the first mobile chandelier in 2008 and keep on adding new models with the same or similar language based on a certain sort of constants, such as the size of the hand-blown glass globes. When I began, these were the first lights in the form of mobiles, the first in perfect equilibrium.
ID: What inspired your Maison & Objet 2020 installation of mobiles?
MA: This was an installation of 10 years of mobile chandeliers—all I developed for the Michael Anastassiades brand. The 16 pieces were installed at different heights in one space. Attached to slow moving motors, they created an interesting choreography of moving lights. I wanted to focus on this one family because it's the most representative of my work, capturing all my ideas together. There's consistency in the whole design approach, the notion of balance, and timelessness. These are pieces to live with us for a long time.
ID: What else have you completed recently?
MA: Vertigo for the Michael Anastassiades brand is a unique suspension light to be placed over a rectangular table inside a living environment. It's a departure in the fact that it's the first in what will be a series of technologically intelligent fixtures. The Vertigo pendant light is formed of two linear elements: a simple horizontal beam with a linear array of LED light acts as an up- and down-light, while a vertical strap centrally balances the beam in place. It is this simple attachment, suggesting the hoisting of a structural beam, that evokes the iconic images captured by photographer Charles Clyde Ebbets of the steel construction of skyscrapers in 1930s New York.
The light operates intelligently through a touch-sensitive dimmer in the middle of the horizontal beam. Vertigo comes in three lengths and can be customized according to the required drop.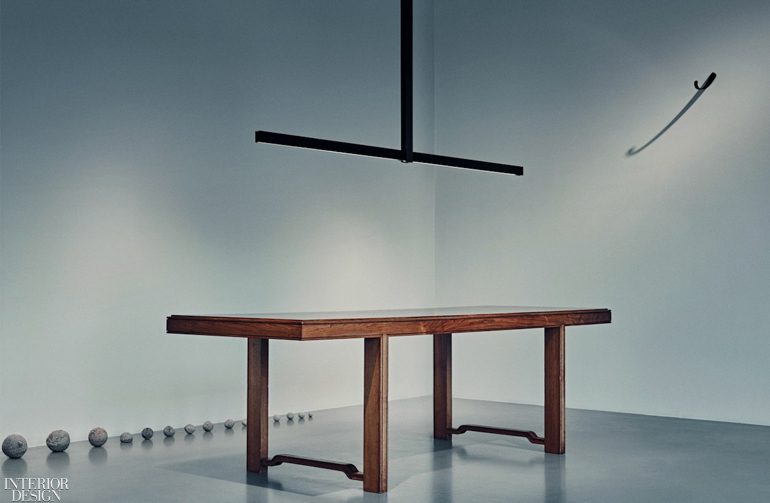 ID: We understand one of your collections arose from the redesign of a celebrated New York restaurant; can you tell us more about that?
MA: Coordinates, which launched in the summer of 2019 for Flos, is a dramatic lighting collection for interiors, suitable for residential use as well as for contract projects. This design evolved from a commission for New York's historic Four Seasons restaurant, which relocated and reopened in 2018 with interiors designed by São Paolo-based architect Isay Weinfeld, before closing in 2019.
Coordinates offers a broad array of set configurations, including four suspended chandeliers of different sizes, three ceiling-mounted lamps available in two lengths to suit both standard and high ceilings, and a floor lamp model featuring a simple round base and two vertical lighting bars.
Its form takes inspiration from the mathematical precision of the Cartesian grid, illuminated and expanded to three brilliant dimensions. Horizontal and vertical linear LED bars form illuminated, grid-like structures of various complexities which can be easily adapted for different environments of varying scale.
ID: What's upcoming for you?
MA: My first partner was Herman Miller, so we're still growing that family of furniture. I am also working on an exhibition for ICA Milano. This is a very interesting space presenting projects by artists. The invitation comes at an interesting moment, during the pandemic, and questions industrial production and our role and responsibility towards design objects.
Then we will launch a new collection of light fixtures for my brand during Euroluce at Salone del Mobile 2021, at the moment scheduled for September.
ID: How do you think your childhood or formative years influenced your design thinking?
MA: Every experience in life influences the way you see things and the way you create. I grew up in Cyprus during the 1970s and 80s, in a place and time that did not offer much international exposure. This was the time after the war of 1974, and the years of recovery did not help the situation, but made me question a lot of things as a child. I learned to be inspired by what would be available locally. I was privileged to have met some very interesting people that had an influence on my thinking.
ID: In what kind of home do you live?
MA: I live in a small terraced house in Waterloo, in central London. It's on a little market street, right behind Waterloo station, in one of the oldest neighborhoods in London. There's a painting from 1760 in The National Gallery which shows the exact location of my house, though it looks nothing like what it does now. You can see the pub that was once there, and the pub license still exists.
I live there with all my objects. Many people struggle with that idea—a painter may not like to be surrounded by all their paintings—but I thought that if I don't actually try my objects then it means I don't believe in them.
ID: What furnishing in your home has particular value to you?
MA: The Super lamp by Martine Bedin. She's a Memphis designer and it's basically a lamp that looks like a toy car with wheels and bulbs all around. It highly entertains me because when I went to London in the late 1980s as a student in civil engineering, I didn't even know that I was going to be a designer. However, I loved design and used to walk around and look at it. There was a design store in London's South Kensington district and I remember walking in there and looking at all these Memphis products—because Memphis was first introduced in the 80s—and suddenly it was all these crazy lamps. I didn't know where they were coming from and they seemed to have no reference to the design that I knew, following no boundaries. This piece is so different from anything that I would design. Back then, I couldn't afford to buy it, I just admired it quietly—and then many years later I just managed to source one on eBay.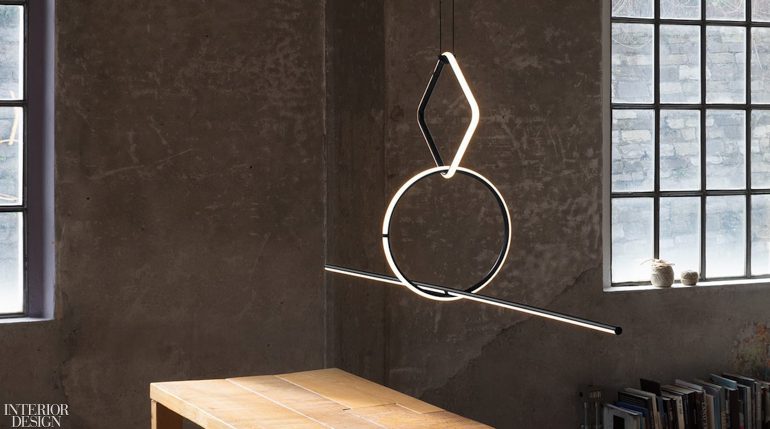 ID: Who in the industry do you particularly admire?
MA: Studio Mumbai. Bijoy Jain, founder of the India-based firm, is a dear friend and also an architect I've worked with. His buildings are absolutely amazing.
ID: Have a secret you can share?
MA: There's a place I go in the summer, a very small Greek island right off the coast of Turkey called Kastellorizo. It's absolutely beautiful.