10 Questions With… Naoko Takenouchi and Marc Webb
Based in Singapore since its launch in October 2006 by Japanese interior designer Naoko Takenouchi and British architect Marc Webb, Takenouchi Webb is a studio with a holistic approach. For each project—mainly restaurants, hotels and bars, but also homes—the duo develops the architecture, interiors, and furniture, carefully combining materials and detailing to create the right balance between design and function. Trained as architects but with very different cultural backgrounds, both Takenouchi and Webb find inspiration through travel. "No amount of online browsing can replace the physical experience of a space," Webb says. Interior Design spoke with them about recent projects, the Asia design scene, and the apartment they share with their two children.
Interior Design: Could you tell us the story behind Geyland Claypot Rice in Singapore?
Marc Webb: This was a traditional Singapore Coffee Shop that was located in Geylang, Singapore, which had been in operation for over 30 years. The shop is well known as it uses charcoal for its clay pot cooking, something not many places do anymore. The owners wanted to take the shop to a more central location and hired us to design a new look. The brief was to maintain the coffee shop atmosphere, whilst adding contemporary touches to develop something that would attract a new crowd, but also not intimidate the regular customers. We achieved this by using a material palette of terrazzo and hand-made ceramic tiles with bright colors to give a very graphic-pop look to the interior. We also custom designed the stools and strip lighting, drawing inspiration from traditional coffee shop elements and taking them into a new territory.
ID: What about Miyako Hotel in Fukuoka, Japan? What convinced you to work on this project and what was the biggest challenge you faced?
MW: We were approached by Transit to work on this new restaurant. It is located in Fukuoka, on the top floor of the Miyako Hotel and it's the highest bar in the city. In addition to the all-day dining for the restaurant, the client also wanted a bar that would attract outside guests. The brief for the design was quite open and the site really stunning with views over the city. This is our first built project in Japan and it was really a great experience. We thought that building remotely would be a challenge, but there was a great team to execute our design.
ID: How has the Asia design scene evolved for the past 10 years and how do you envision the future of design in the region?
MW: There is a wealth of creativity in the region and I definitely feel there is more interest from Europe and America towards Asia now. I think previously there were a lot of clichés about Asian design, but now there are many practices that lead the way in global design.
Naoko Takenouchi: When we first came to Singapore, more than 10 years ago, there were very few interesting food and beverage outlets, while now the local scene is constantly evolving. Also, in terms of design offices, there are many more smaller interesting practices working here than before.
ID: Do you think your British and Japanese backgrounds (respectively) have an impact on your design approach and style?
MW: We are both a product of our background and education. But as we have been together for 15 years now, on the same journey, I think we have influenced each other in different ways.
NT: We have definitely opened each other's eyes to things we maybe wouldn't have appreciated before. Some of our clients have also educated us to many things over the course of all the projects we have done.
ID: How do you complement each other?
NT: Our office is relatively small, so we are both fully involved in all the projects that go through the office from the concept design to completion. As our office grows bigger in size, our roles have changed, but this hands-on approach to every project from both of us is something we strive to maintain.
ID: What is your first memory of design?
MW: My mum is an artist and also used to have an antique and furniture shop in England, so from a very early age I was always being dragged around exhibitions and antique fairs, reluctantly then, but much appreciated now.
NT: In my childhood, my parents never purchased me new toys or clothes, but they bought me materials to make, so from a very early stage of my life I designed and made something that I wanted.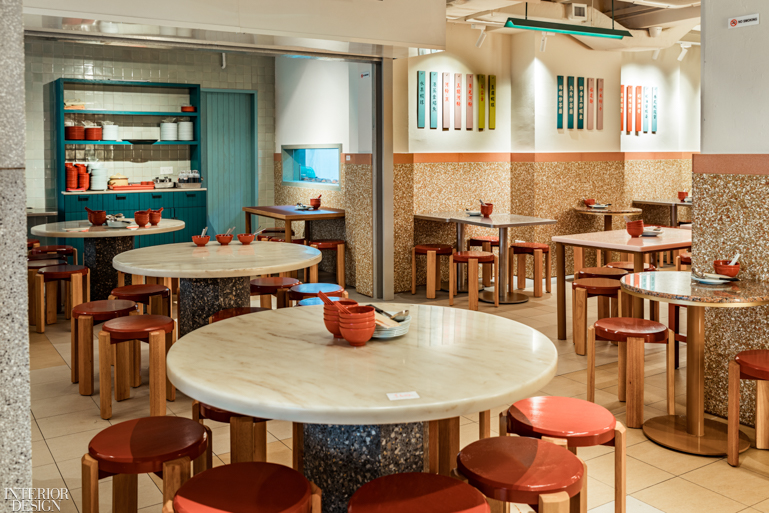 ID: Can you name some people in the industry who inspire you and tell us why?
MW: I really admire Neri&Hu—the quality and extent of their work is impressive and how they manage to straddle architecture, interior, and product design with great elegance. I think they have also changed the global view of Asian design and taken it to a global audience.
NT: Le Corbusier, Mies van der Rohe, and Jean Prouvé. I admire the work of all those 20th-century pioneer designers because of the clear logical design transparency of how they built.
ID: In what kind of home do you live?
NT: We have recently bought and moved into our own apartment in Singapore. It's an old walk-up in the West, built 60 years ago. We totally renovated everything and had many heated arguments over the design. It's relatively small, but perfect for us and our two young children—very functional and simple, bright and open with a fantastic panoramic view over the port. We wanted to make a well-designed space for us to grow in as a family.
ID: What are your upcoming projects?
NT: We always have an interesting mix of projects in the office and the range is quite diverse. Locally it currently includes a small café and two boutique hotels, whilst overseas we are designing a private members club in Tokyo as well as restaurant projects with Shangri-La and Four Seasons. We are also working on the architecture and interior design for a new-build private residence in Jakarta.
ID: What are you reading?
MW: I love science fiction and I am currently reading "Dead Astronauts" by Jeff Vandermeer.
NT: Lots of manga! For example, "20th Century Boys" by Chihayafuru.
Read more: 10 Questions With… OPENUU