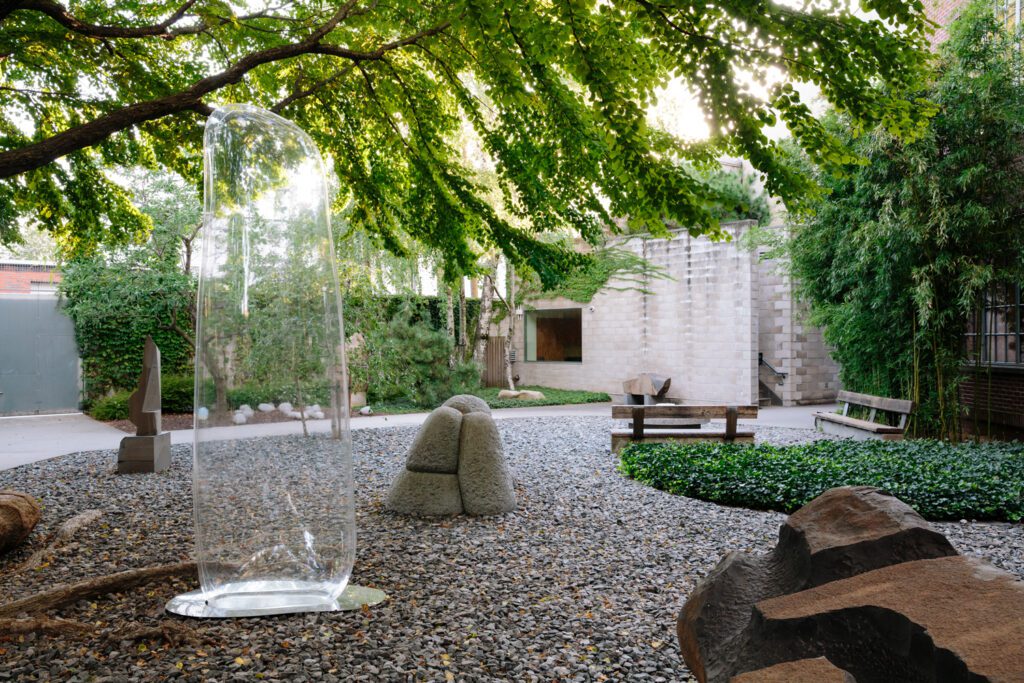 10 Questions With… Objects of Common Interest Founders
Objects of Common Interest, composed of Eleni Petaloti and Leonidas Trampoukis, is having a busy fall. Just like the duo's geography-spanning practice (they split their time between Athens, Greece, and Brooklyn, New York), their current projects are peppered across the globe. In September, the designers opened "Future Archeology," an exhibition of steel futuristic furniture with Danish gallery Etage Projects inside a defunct hospital as part of the Milan Design Week. They later stopped at Athens for the opening of their new exhibition at Carwan Gallery, titled "Volax," which marks their first exploration of wood craftsmanship through the lens of their signature bulbous forms. Their latest project, however, consummates their decade-long foray into form and structure: an exhibition that puts their practice into conversation with Isamu Noguchi's legacy at The Noguchi Museum in Queens, New York. Titled "Hard, Soft, and All Lit Up with Nowhere to Go," the exhibition pairs the duo's objects with those made by the Japanese-American master, yielding surprising parallels between their mutual approach to art and use.
For the exhibition, Petaloti and Trampoukis delved into Noguchi's lesser known time in Greece through museum archives and carried their discoveries to their Greenpoint, Brooklyn, studio for conceptualization. "He was influenced by Greece, but he also influenced the local artists there in the '60s and '70s, and we extend on that," says Petaloti.
Their Formations seating series also is intertwined with the ongoing exhibition "Useless Architecture" at the museum, where nearly 50 objects created by Noguchi in exploration of sculptural, use-defying architecture are on view. "We aimed to create an architectural language to create a feeling and moment, and Noguchi was doing the same," says Petaloti. Here, the pair shares with Interior Design insights into their creative process.
Interior Design: Similar to Noguchi, Objects of Common Interest is committed to a blur between art and function as well as a mystery with materials. How did you approach your research on his philosophy?
OoCI: After we studied in Greece and France, we both moved to New York to study architecture at Columbia University in 2007. Then, the Noguchi Museum became another home for us. We came here to rebalance our brain and energy—we felt linked to the museum. On the flip side, Noguchi had a connection to Greece, which is heavily archived at the museum here. This side of his, however, had never been explored. When we started a discussion about this exhibition, the museum gave us access to his archives and we started spending time here. We gathered hundreds of things and went back to our Brooklyn studio to make a conceptual link between those archives and our work. We had long conversations about functional art: "Was he a designer or artist?" "Which one are we?" The outcomes of those contemplations led to the show.
ID: How did you go about physically occupying the museum?
OoCI: Noguchi's work and ours are intertwined together for the most part, and to allow that, they cleared out the space for us. We are both interested in similar subjects but in different ways, so we wanted to let the viewer create their own links. In addition to these parallels, there are two separate areas reserved for focus. One lounge completely [features] his work and one exhibits ours. These are the only areas where objects are isolated by their makers. This installation process was interesting, almost like a competition to see which lounge will look better (laughs).
ID: Are you excited or intimated by the possibility that the distinction is ambiguous for the viewer about your work and his?
OcCI: At first, we were very intimated. It's much easier to place work in abstract spaces, which is what we are used to. The idea of placing it next to a master's was scary. Now that we see them in place, we understand they feel very natural next to each other. The works don't blend and you can distinguish the differences, but it's not the first thing you see when you enter the room. You walk, inspect, and understand that it's not Noguchi.
ID: Let's talk about marble. It was one of Noguchi's signature materials, but for you, it must also have cultural and historic connotations related to Greece and its aesthetic lexicon.
Petaloti: Noguchi used marble as a core of his creation. He received them as blocks and created forms out of them. When we studied his use of marble, we found out that it was like a love affair that started with a search for the right stone. He ended up getting influenced by the stone itself. For us, it's different. When you're born and raised in Greece, you unfortunately and fortunately live with marble in your DNA. At first, I used to hate it because it's everywhere but not in the best style. Municipalities, churches, stores, all have it and it's not a cool to thing to like. After school, I started loving it because it has a life in it. Like any other natural material, none of the blocks is the same. Now, we are trying to explain to galleries and collectors that the material was here before any of us. Marble has beauty and story through its veins. This is also reflected in Noguchi's way of choosing the marble—to build character and function at the same time. We are not not interested in industrial production, where everything has to be same. That's why we use left-out marble over those with no veins. We pick up those that no one wants from the marble yards, almost sacred ones.
ID: Given you work on both sides of the pond, where do you source your materials from?
OcCI: Mainly from different quarries in Greece. Tinos island has beautiful green marble, which we work a lot with. The resin "rock" at the museum's yard, on the other hand, came from just out of the museum, from a resin craftsman who we recently discovered.
ID: Do you commit to production in Greece partially to support the market and industry there?
OoCI: When we started working with this show, Greece was coming out of a deep crisis. We work with Greek makers out of principal and guilt. We want almost everything made there. The galleries and dealers were hesitant to accept this at first due to financial issues and the difficulty to import and export. They were freaking out because Greeks are notorious for not being good at timing. It took years to convince the galleries [to use] Greek fabricators but we insisted. In Greece, we have people making great things, however, they are not good at marketing. Eventually it always works out, and we even recommend them for other designers. At first, the fabricators were approaching our practice like they would with mass makers—such as convincing us to choose decorative options—but they now understand our state of mind and the philosophy.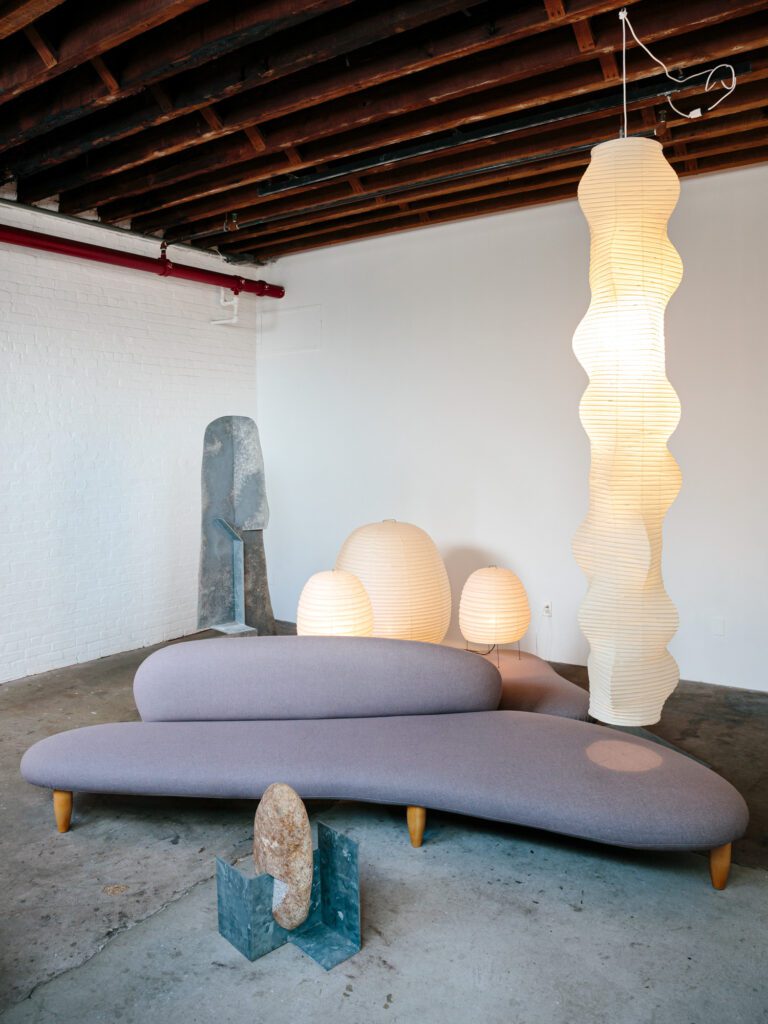 ID: How did you study of the architecture of the museum which is quite distinct?
Petaloti: Yes, there are lot of pieces that are very present which makes it a challenge to figure out the installation. Do you confront and reject or engage? We did a lot of exercises in our studio with models. Last February, we experimented different configurations in the space—we brought a lot of pieces to the museum and moved them around and documented everything with a camera. The way we design installations is to make people interact, create a feeling or provoke them to contemplate, like a hidden instruction. Noguchi's space for us is sacred and serene. We tried to not to break that silence. Sometimes we even lowered our voices like we'd get into a church. Not that I am religious, but we do that out of respect for being at a sacred space—it was similar.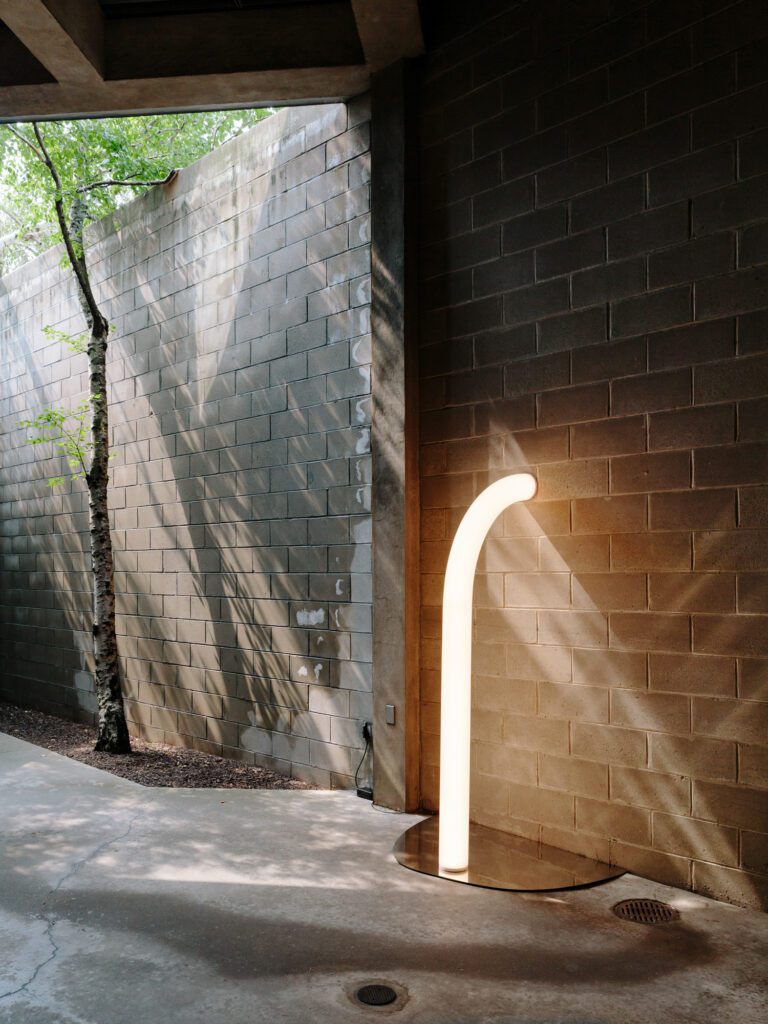 ID: Could you talk about your curved neon pieces?
OcCI: They are not typical neons but tubes of light. They're resin pipes with cores of LED lights inside. This gives the impression of flashlight with long exposure. Think of drawing light lines in the space. Very sterile and grounded… Our work is utopian compared to his lights. We have a different approach to lighting a space, and I think the lounges will show that difference.
ID: How about your furniture's engagement with the participant and Noguchi's idea of the body? Human form, especially torsos, are of course a main thread in Greek art, while his take on the subject was less representational and more referential.
OoCI: He was amazed by Greek sculptures from an early age since his mother told him about Greek mythology and the gods. The young Noguchi was intrigued by these forms, and this continued to his earlier years in Athens where he worked with human forms. He, of course, made much more abstract versions to refer to the body. In our practice, we are zooming into the human body and try to replicate its extremely interesting and appealing curves. We are constantly studying zoomed-in photographs of the body and try to cast the same curve. We are, however, not replicating anything specific per se.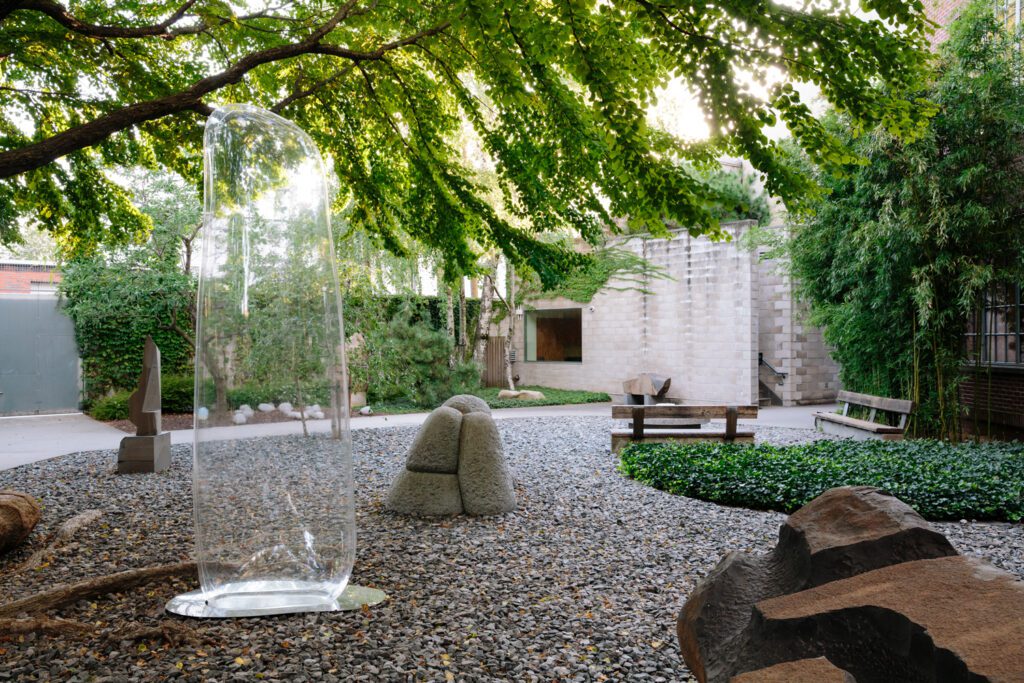 ID: Is there one work which you think encapsulates your interpretation of his legacy?
OoCI: We handcrafted the opaque acrylic resin stones just before the pandemic. They were not for a specific show or anything in mind. When we started the show, we both said: "These rocks have to be included." Once we placed them next to the rocks in the backyard, it was surreal. They transform color and texture through light. It's an ideal conversation between him [Noguchi] and us. The stones look like they came from Mars but they had to be there, kind of a like stone from future. I will be most sad to remove them when we take down the show in February.