10 Questions With… Olafur Eliasson
Recreating dramatic elements of nature indoors is a consistent theme for Olafur Eliasson. In 2014, the Danish artist's installation "Riverbed" brought just that to an entire wing of Denmark's Louisiana Museum of Modern Art, down to the carefully placed stones and running water. Rainbows, a waterfall, and a much-buzzed about tunnel of fog can be found in the exhibition "In Real Life" on view through January 5, 2020 at the Tate Modern in London.
Born in Denmark yet also raised in Iceland, Eliasson founded Studio Olafur Eliasson in Berlin in 1995, when the city was in a unique period of rapid transformation, following the fall of the Berlin Wall. He now splits his time between Germany's capital and Copenhagen. From the palace and gardens of Versailles to a museum's gardens in Porto, Portugal, Eliasson's artistic interventions are wide-reaching in both location and discipline—he fearlessly crosses boundaries between sculpture, painting, photography, film, and installation.
In recent months, Eliasson has stepped even further afield with his studio staff of 100, into the arenas of design and architecture. His first piece of architecture, the Fjordenhus building, opened in Denmark last year. This past April—at furniture fair Salone del Mobile in Milan—marked the debut of his first example of industrial design. The OE Quasi Light for Louis Poulsen, also points to nature—and its complex mathematical forms. With a subtle reference to minerals or crystals, its geometry is based on the 20 faces and 12 vertices of an icosahedron.
Eliasson sat down with Interior Design to share more about how he came to produce his first industrial product, his passion for driftwood logs, and what predator bird keeps a watchful eye over his home.
Interior Design: How did the OE Quasi Light come about?
Olafur Eliasson: Louis Poulsen approached me three years ago and I was excited about the opportunity to do something outside of the art projects I normally make, because of the skills and the production methods that a company has. This allowed me to do things I would otherwise not be able to do. Also I was quite curious about the history of Louis Poulsen. Having grown up in Denmark, I of course knew the company and the legacy.
In terms of content, the OE Quasi Light is not different from my artwork. It is formed from the same ideas that I always work with, yet democratically accessible—meaning you don't have to go to a museum to see it and it is certainly more affordable than my artworks.
ID: Can you mention a few highlights from "In Real Life"?
OE: One of my earliest works, "Beauty," from 1993, is a really simple mechanism installed in a dark room: By shining a spotlight on a haze of fine droplets of water, it allows you to perceive a rainbow in the space. What I've always loved about this work is that the rainbow is there in the space, but it is also a phenomenon created by your vision and perception. You can only see it from certain angles, and it moves with you as you move around the space.
"The Presence of Absence Pavilion" is a bronze cast of the space left over by the melting of a piece of ice that broke off the Greenland ice sheet. While this piece was completed this year, it grew out of experiments I have been engaging in for a number of years at my studio. To create it we used some of the ice that I had collected for the Ice Watch project in London last December. It's really quite large—you can even step inside it.
The exhibit presents a broad overview of my artistic practice over the last 30 years. There's a selection of artworks from a range of my interests: sculptures, photographic series, installations, and paintings. Some of the artworks are from the beginning of my career, but there are also a number of newer works that are being shown here for the first time.
ID: So last year you completed your first building from the ground-up.
OE: The Fjordenhus building in Vejle, Denmark, is a major project that came to an end last year and is the first work of architecture that my studio and I did in its entirety. I designed it together with Sebastian Behmann, who co-founded Studio Other Spaces with me and is head of design for Studio Olafur Eliasson.
All aspects of the building were intricately planned, from the 15 different colors of brick to the round tables and spiral staircases. This was necessary, since the building is constructed around a series of interlocking cylinders. It is also located directly in the waters of the fjord and accessed via a bridge. I am drawn to circles and ellipses, as these forms drive people to move and counteract the orthogonal grid design of contemporary city planning.
ID: What's upcoming for you?
OE: My exhibition, "Olafur Eliasson—Y/Our Future is Now," with some installations indoors and some new sculptures and a pavilion in the surrounding park, is on view until next June in Porto, Portugal at the Serralves Foundation. The entire exhibition revolves around cycles, currents, and vortices. The sculptures are based upon spirals created by drawing a curve, known as a Clelia curve, along the surface of the sphere. The results create a strong sense of movement that drives visitors to move around and view them from all angles.
I've also brought to Serralves a selection of driftwood logs that I collected from the shores of Iceland. There are no real forests left in Iceland, since the Vikings essentially deforested the country a thousand years ago, and these driftwood logs come from the rivers of Siberia and are carried across the Arctic. I've used these logs in exhibitions, artworks, and interventions for over 10 years now, ever since I brought them to Berlin and quietly placed them at night within the cityscape in 2009, where they lay stranded like aliens from another world. In Serralves, I've painted them black on one side, a bit like the painting on the hull of a ship, and distributed them in the park around the building as if they had been washed up there by the tides.
In October, I will add a new selection of arial photographs to "In Real Life," placing them besides the original series I took of all the glaciers in Iceland 20 years ago, called "The Glaciers Series" (1999). It's really quite shocking to see how much they have shrunk over the years. It's sometimes even difficult to find them again.
ID: What made you open a studio in Berlin?
OE: I moved to Berlin in the mid-1990s, but I actually traveled there as soon as the wall came down to see the city for myself. In those years, there was an incredible sense of possibility and lots of empty, open space. Obviously, a lot of this has changed over the years and if you visit today it is impossible to even imagine what it was like at the time. To a certain extent, Berlin is also a victim of its own popularity, with more and more artists and cultural producers moving here. Affordable spaces for young artists are hard to come by and there is especially a lack of structures to help artists sustain their practice in the mid-stages of their careers.
ID: How do you start your creative process?
OE: My ideas generally start as nebulous feelings, before language. I go through a process of verbalizing, sketching, and modeling these ideas—together with my studio team—until the artwork is ready to come into contact with the audience. I think best in groups, in conversation with others, so when I am in my studio, I have a series of meetings with the various departments, such as those working on design problems or production issues.
ID: In what way has your childhood influenced your design thinking?
OE: My father was an artist as well as a cook on a fishing boat, and I spent many hours looking through the books of modern and contemporary art in his studio in Iceland. I also spent time in Iceland with my grandparents. In contrast to Denmark, where I spent most of the year, Iceland was always this place away from the everyday, where I had a stronger connection to nature. The landscape had a profound effect on me, which is why I have traveled back there regularly to document elements of the Icelandic landscape. It is really underrepresented in the history of art.
I have powerful memories of the light in Iceland in the summer, the midnight sun. During the energy crisis of the 1970s, there was a rationing of electricity in the town where my grandparents lived, and at a certain hour in the evening, all lights would go off and the light from the sky would take on a new quality.
ID: How has your home country of Denmark shaped you?
OE: During my childhood in Denmark, there was a strong emphasis on the values of the common space, of sharing. Social democratic values, you might say. This has given me the confidence in art's ability to host a dialogue among disparate audiences.
ID: What are you reading?
OE: I am currently very inspired by considerations of how and what constitutes our understanding of 'We.' It's a question of who or what we identify with, and where the borders of our capacity for empathy lie. This has led me recently to the writings of the feminist writer Donna J. Haraway, who writes in "Staying With the Trouble: Making Kin in the Chthulucene (Experimental Futures)" about the importance of developing a sense of multi-species kinship, identifying with all those human and non-human animals in need of climate justice.
ID: Something people might not know about you?
OE: I am a great fan of owls. The front door of my home is carved in the form of an owl, and I have a small collection of antique owls.
Keep scrolling to see more of Olafur Eliasson's work >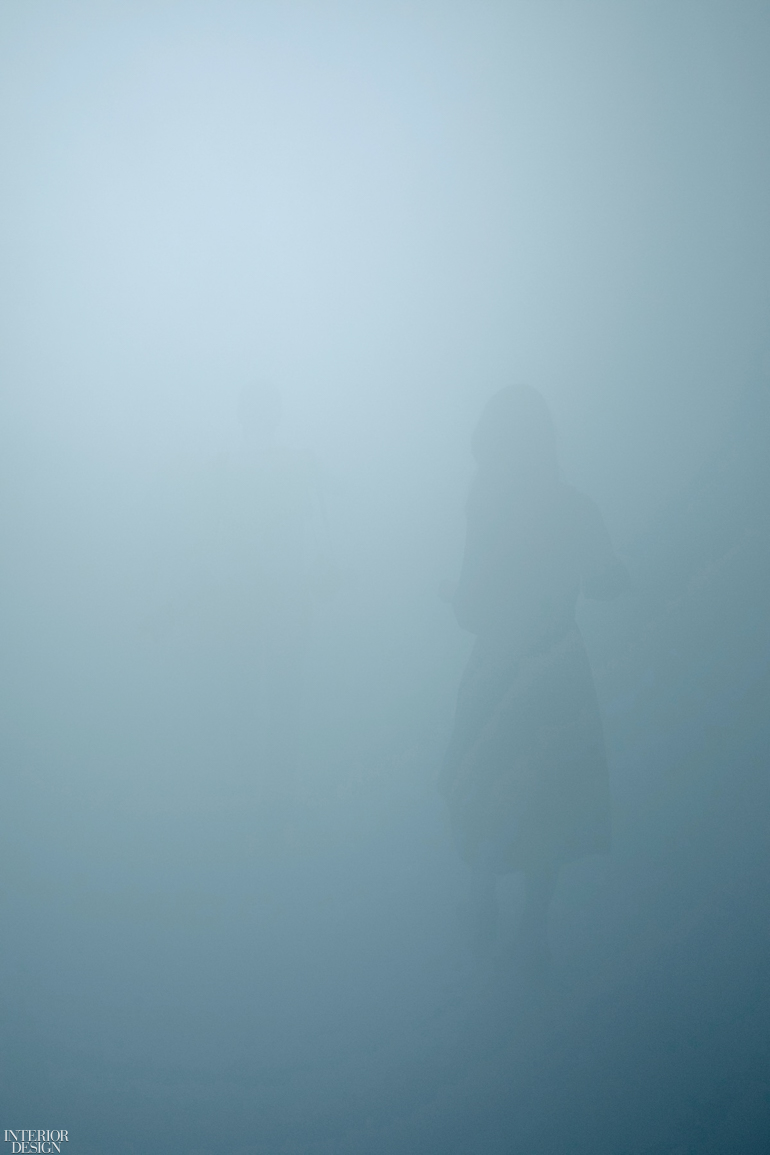 Watch now: OE Quasi Pendant by Louis Poulsen at Salone del Mobile 2019