10 Questions With… Pascale Girardin
Pascale Girardin makes ceramics for architecture. The Montreal-based artist specializes in creating large-scale clay works for major hospitality and retail clients—recent ones include Saks Fifth Avenue, Four Seasons, and Nobu. For the latter, Girardin created three immersive pieces in Manhattan's new Nobu Downtown, designed by Rockwell Group and featured in Interior Design's upcoming June issue. She tells us about the challenges of the medium and how she tackles new work.
ID: Tell me about your installations at Nobu Downtown.
PG: I wanted to honor the great culture of Japanese crafts and its traditions while maintaining a personal expression throughout the project. The two murals I did consist of thousands of individually handcrafted ceramic elements that were made in my studio. They were assembled in such a way as to produce a dynamic brushstroke that graces the walls.
The blue block tiles were inspired by Japanese boro textiles. It took over eight months of work to develop the right tones and finishes for the blues. The glaze recipes that we developed are now baptized "Nobu Blues"!
And finally, for the sake room, I researched traditional sake ceramic containers and drew the profiles. I then worked with one of Montreal's best wheel throwers, Christian Roy, to produce the vessels. I decorated each bottle with single brushstrokes using blue glazes. (David Rockwell also decorated a few of the sake bottles when visiting my studio that are now in the shelves.)
ID: What was it like working with Rockwell Group on this project?
PG: It was such a treat to work with David Rockwell. He respects the arts and good craftsmanship. It was wonderful to be able to stay creative and to have the flexibility needed to be able to produce such a large-scale project, knowing that we would find solutions to the many challenges that ceramics can bring along the way.
ID: What are some of those challenges?
PG: The permanence of the medium and the impossibility of modifying a fired piece makes it an art that requires much discipline and humility. The biggest challenge is communicating to the client the amount of time that it can take to develop new colors, shapes, and textures. There are many things that need to be taken into consideration, such as the shrinkage rate as a piece moves from wet to dry. The briefs need to have an openness that will ensure that we will do something beautiful and respectful to the craft as well as to the overall interior design.
ID: What strategies do you use to tackle work of larger scales?
PG: I make reduced models out of anything I can lay my hands on—mostly clay, cardboard, and wires. I try to figure out the volume of a piece and how it works in the space. Once I have these basic outlines, I start sketching in clay, then photograph and collage it using Photoshop. The idea is to keep the conversation going and not to waste excess time on fully developed ideas in the first phase. Eventually, I will have it sketched out in Illustrator, or will send it to rendering when the concept is more advanced.
ID: What have you learned about running a business that you didn't know when you started out?
PG: Working with clay, you have to start from the end and retrograde the process in your mind to see where there will be risks of failure. When I started, I thought that all that was necessary was to make things work. This often resulted in visually weak pieces because there was very little room for the material to express itself. With 20 years of experience with the material the design process gets easier. I spend most of my time observing the material and working around it.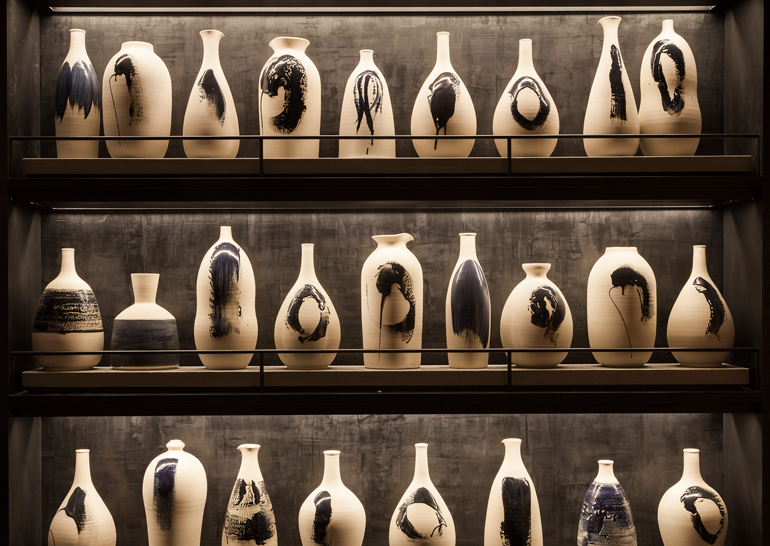 ID: Where did you grow up, and how did it influence your work?
PG: Montreal, Quebec City, Maryland, Florida, and Ohio! This upbringing has had a great influence on the way I perceive art and culture. I am forever curious and open-minded.
ID: What are a few recent projects?
PG: Suspended artworks for Saks in Houston and Saks Fifth Avenue's 8th floor shoe department in NYC; Nobu Downtown murals and sake bottle shelves; art for Four Seasons Kuwait; and more.
ID: Most recently download app?
PG: Téo for Montreal's electric taxis.
ID: Most admired historic interior?
PG: Taliesin West in Arizona.
ID: Dream commission?
PG: Creating large outdoor sculptures of heads—and producing the pieces at a large ceramic facility such as the EKWC in Netherlands or Sèvres in France with all the technical assistance needed to make it happen.