10 Questions With… Production Designer Alexandra Schaller
For Alexandra Schaller, the theater is a second home. The production designer—who recently worked on Apple TV+'s series "Little Voice," which premiered over the summer—grew up immersed in the stage as well as the worlds of art and design. "My earliest memories are of going to the theater with [my dad] and I just remember being so wowed by feeling like I was always part of the performance," she says, explaining that her father worked behind the scenes on such productions in a role not far removed from her own.
But Schaller, who was born in New York and raised in London (with bouts of time in Los Angeles), recognized her affinity for production design only after working on sculptures and light-based installations earlier in her career, which enabled her to create a feeling around an object and use it to tell a story. Intrigued by the relationship between atmosphere and narrative, Schaller went on to study theater design and, ultimately, land projects ranging from the immersive performance "Sleep No More" to "Little Voice," as well as the Netflix series "The Get Down," and film "Maggie's Plan." She also served as production designer on FX's anticipated series "Y: The Last Man," and A24's "After Yang."
Here, Schaller talks with Interior Design about recreating the nuances of life in New York City on set, the lasting impact of a production of "The Wind in the Willows," and her affinity for sculptures of hands.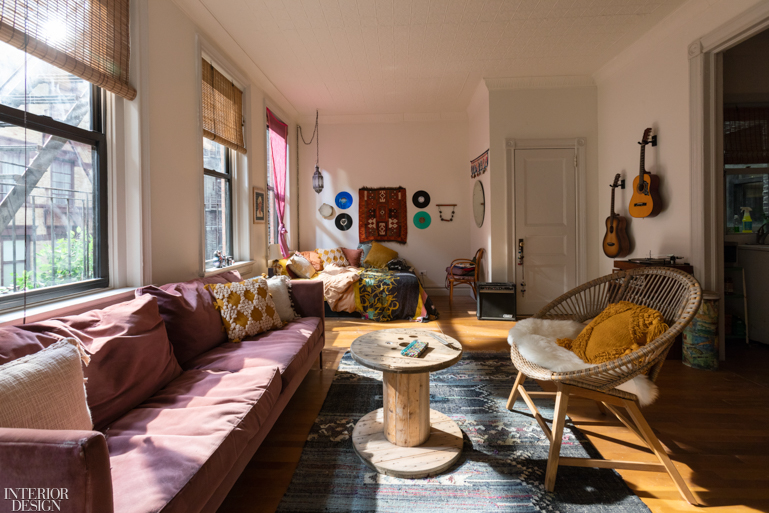 Interior Design: Given your dad's involvement in the theater, did you always view a career in production design as an option growing up?
Alexandra Schaller: My dad is not a designer, so to speak, he's a concept designer and creator…design feeds into that later, but it was never so apparent to me from the beginning. My mom has a background in art history, so I would go to every gallery opening with her and I was learning stories visually, so I knew that was a thing, but I never knew production design—particularly for film or television—was a thing…I never knew early on that there's a whole team of people doing what it is that I do now. And I learned about it by doing it. People would say: "I'm shooting a short film; would you help me decorate the space?" So I would come and do that and found myself really thinking about the story and the characters and how every object tells a story.
ID: Was there one performance in particular that really drew you into the world of theater?
AS: There was an amazing performance of "The Wind in the Willows," believe it or not, and I remember being so small that the theater seats would flap up and my dad had to weigh them down. I was so immersed in the performance that I cried out in the middle. I said something like, "You'll be okay, Mr. Toad!" because I was so rapt by the surroundings. The staging was also not the classic proscenium theatre stage with a darkened audience, it was in the round, with the audience in amongst the action as spectators, which was the first time I had experienced a performance like that. I remember being wowed by that kind of immersive storytelling. I think it always stuck with me.
ID: Where do you first start when beginning a new production design project?
AS: If I really think about my own practice, it's about asking, what are we trying to say? But also, how do we want to feel? It always starts there with a conversation with the director. I always start my design process in kind of a blue sky way where I often go to artwork for my initial inspiration. I'll usually find a particular piece that speaks to me in the context of the movie or show and kind of elaborate from there. Every job is totally different, so for the last show I designed that's out now called "Little Voice," one of the main sets we had to build was a bar, a performance venue, where our main character works and aspires to perform. We were trying to think about what this bar would look like because it could be anything and it had to be partly connected to one of the show runners—Sara Bareilles's—past because the show is loosely about her, but also had to communicate our main character's taste in music because she's an old soul. I remember walking around New York and thinking about what we wanted this bar to be. One of my favorite bars was this crazy place in the East Village called Burp Castle and it has absolutely nothing to do with our show, it's a monastery-themed bar… but there was something about what that space captured to me that kind of infiltrated the design of our bar. I was inspired by these medieval murals, so we kind of took a little flavor of that and infused our bar with it.
ID: It seems like you really captured the feel of a 20-something apartment in New York. Can you speak to culture influences and how you use objects and spaces to reflect a character's identity?
AS: Cultural influence was very important…and this idea of history and culture was one of the founding principles of how we approached selecting locations and designing sets [for "Little Voice"]. The main character Bess is an old soul and we wanted that reflected in the design – in the spaces themselves and the objects in her home, everything had a past life. Much like New York City, which is the backdrop of the show and is an ever-evolving place, where everything has once been something else. We wanted our sets to capture that sense of history. One of the reasons Bess [the main character] lives in a tenement apartment is because Jessie Nelson [the creator of the show] comes from an immigrant family who lived in a tenement when they first arrived in the US. In order to be true to the history of tenements and to the experience of Jessie's family, I spent a lot of time at the Tenement Museum as a foundation for my research, in an attempt to make the details of the environment as authentic as possible. The show was always skirting this boundary of realism and a bit of magical aspiration, and in order to depart from realism and make something a little more elevated that stills feels grounded, first you need to understand the history and origins of things. It was also important to me that anyone who knows NYC could recognize the beat of the characters: their neighborhood, the places they go […] and it wasn't just Washington Square Park and the beautiful bridges and cityscapes, but we also took great care in selecting places that the characters would have really gone, where you could also go if you were in NY.
ID: Where you do find the pieces you use for set design?
AS: I work closely with the set decorator to pick the individual pieces in a set, I call it "meeting the piece"—it's important to meet the elements before they are dressed into the set to see if they're the right fit, just like what happens in any interview. But before meeting the elements, I have a pretty clear idea of the types of things I'm looking for that will support the storytelling. I focus a lot on research, I make a lot of mood boards—I'm a serial moodboard maker—the vision is hopefully very clear from the outset and is unique to every project.
ID: What are some challenges of designing for the stage or camera?
AS: I feel like I'm in the industry of fielding curveballs, but that's what I love about this job—there's never a dull moment and you're always on your toes. I've been on jobs where I built huge sets and then the writer changed the story and that set goes bye bye and we need to build something else with a quick turnaround. You just have to be really flexible in this business, especially in TV where maybe the character is killed in the next episode, so then the question is: Who moves in?
ID: How do you approach working across different mediums from TV to theater?
AS: I think it all comes from a similar place. I went to Central Saint Marins – University of the Arts in London and my course was called Performance Design and Practice and it was about essentially design for performances, rooted in fine art. It's interesting because the medium they talked through was theater, but I feel like the skills are transferrable because you're still creating believable environments and asking people to suspect disbelief but not too much, or just enough—especially now where the film and TV worlds are merging, I feel like it's all very fluid.
ID: Where do you often find inspiration if you feel stuck on set?
AS: All over, but I will say If I get creatively stuck, I usually go outside, I go out whether it's pouring rain or beating sun or somewhere in between and I try to absorb the world around me because inspiration is anywhere. I was walking around and saw piece of graffiti over some wheat paste and I was kind of looking at it and I peeled it away and there were these super detailed illustrations—the ghosts of wheat paste past—and that was what I needed to jumpstart me back into what I was doing.
ID: Can you paint a picture of your own home design?
AS: I'm an objects girl, I have to say. Everything I have is something from a movie or some crazy flea market I saw by the side of the road. My mom calls me kitsch, I'm not sure if that's a good thing, but I have tons of curios and objects all over my apartment that I treasure. Some of those I got from my grandmother, who is similarly an objects person. I have this piece of the petrified forest that I take with me on every job that my grandmother gave me. My grandmother and I both love hands, so we have a lot of hand sculptures. I have a credenza where you enter [the house] and there's a hand there that holds little Venetian candies. It's useful until you go to reach for them and realize they're blown glass [candies] from Murano.
ID: How has the pandemic impacted your projects this year?
AS: In the beginning, everything stopped. I was working on a show as the world came to a pause, and it was perfect for me to have a breather because I had been going from job to job to job, but now everything is gearing up again and its kind of nice to be able to step back and reread all of the scripts again and have conversations in a relaxed way. This is all happening on Zoom. It's going to be interesting to see because I love human interaction and I feel that's where some of the best work happens. We're going to figure out how to get out into the world, especially while the weather is still good, and be together to have that free-flowing of ideas.