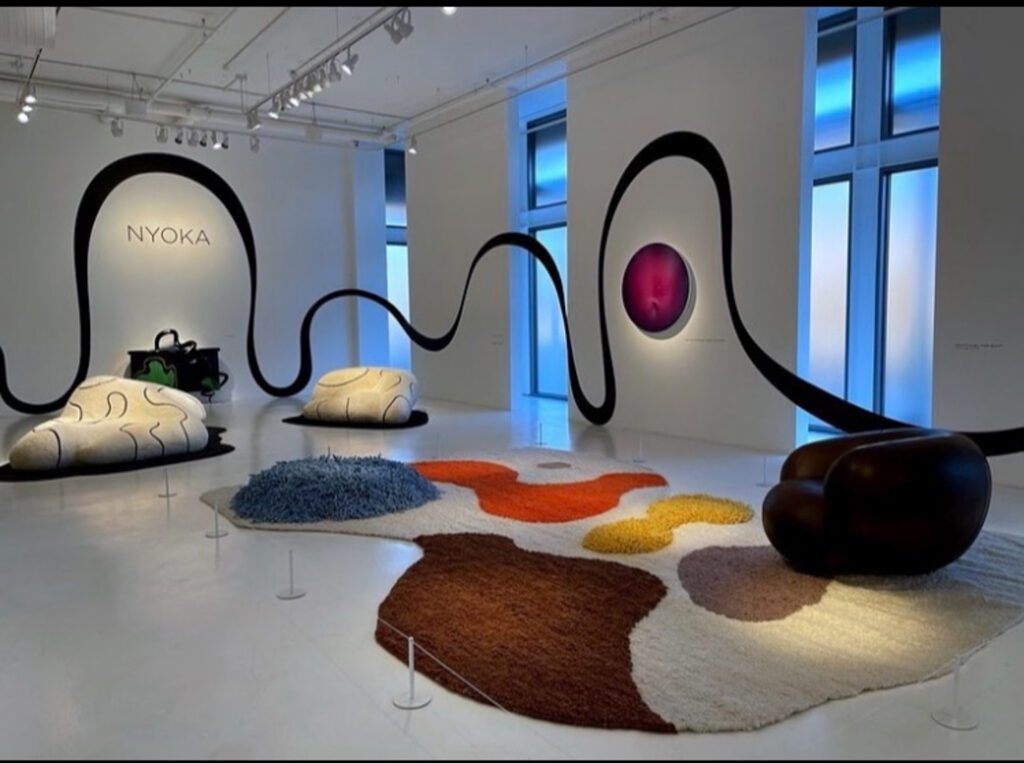 10 Questions With… Rich Mnisi
Rich Mnisi, the 29-year-old South African designer, is many things—paparazzi king, messenger of androgyny, and the creative director of his eponymous brand, which he founded in 2015. He also is known for igniting global visibility of African fashion with his designs, which are uniquely embedded with stories that resonate with traditional African myths and tempered with lush, textile prints.
Now the fashion guru is in the midst of his first solo show. After taking home Africa's 30under30 honor in 2020—one of several accolades—he recently launched a collection of experimental and self-descriptive furniture pieces, called Nyoka, on display in the Southern Guild gallery in Cape Town, South Africa, through February, 4, 2022.
Interior Design sat down with Mnisi to chat about his pivot to furniture designs, inspirations, and debut solo exhibition.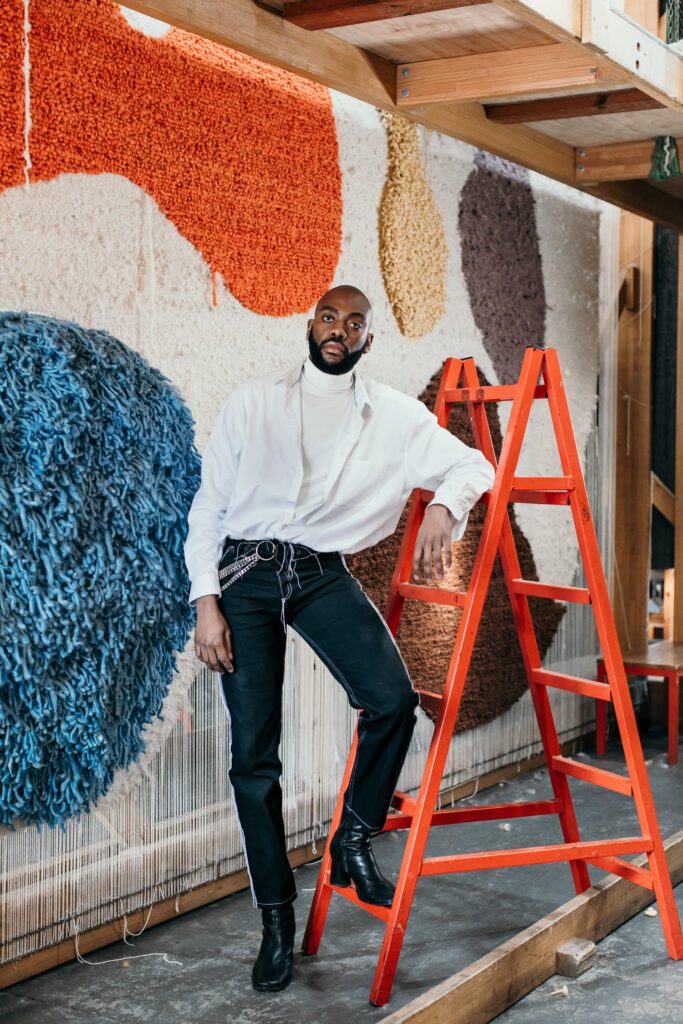 Interior Design: What inspired you to pivot from fashion to furniture design?
Rich Mnisi: In 2018, I was asked to be part of a group show at Southern Guild called Extra Ordinary. I designed the Nwa-Mulamula's Chaise and Nwa-Mulamula's Tears, both of which are organic-shaped pieces that are an extension of my NwaMulamula fashion collection. The collection pays homage to the memory of my late great-grandmother, an ever-present guardian whose teachings have lived on in my family through storytelling generation after generation. The following year, my second collection of seating, Alkebulan, was featured in a second group show with the gallery, titled Communion, and it's just been a natural progression really from that point really. It's been an exciting new journey being able to express myself through a new medium, and I'm grateful to Southern Guild for guiding me and helping to bring my vision to life.
ID: Is Nyoka your debut furniture collection?
RM: Whilst I have designed furniture pieces before, as mentioned above, Nyoka is my first extended furniture collection and my debut solo exhibition.
ID: What is the inspiration behind Nyoka, and how did it come to you?
RM: Nyoka draws on my family history as well as African mythology, while playing with the duality of fear and beauty—all epitomized by the image of the snake. This is what inspired the show's title, Nyoka, which means snake in Xitsonga. It also has its origins in a dream, or rather, a nightmare my mother had when she dreamt of a snake on her back. The journey began here and led me to Congo's Bushongo mythology and its creator god, Bumba, the god of vomit. To live is really to embrace this duality: to accept that joy and tragedy, light and darkness, dreams and nightmares are all connected, orbiting and defining each other.
ID: What was the creation of Nyoka like?
RM: I worked closely with Southern Guild to realize my vision for these pieces, and I was lucky enough to collaborate with several local artisan groups as well. Texture, pattern, and movement have always been key features in my fashion designs, and this can be seen in my choice of fabrics. When it came to the Nyoka collection, form, flow and movement were at the front of my mind—all elements epitomized by the snake. So, with this inspiration to draw on, as well as various others representing flow, when it came to choosing materials for the pieces, it was important to select ones that would help convey this. For example, for the console, we wanted to capture that sense of movement of the xibelani skirt, and beading seemed like the best form of artistry to relay that feeling and flow. Whilst the furniture design process came easily, I think the hardest part was navigating the technicalities of some of the pieces, especially the chandelier—working with new processes and materials can be tricky.
ID: Did your journey in fashion assist you a lot with starting a journey in furniture designs?
RM: I feel as a designer you're always going to have a certain visual vocabulary, aesthetic, and philosophy that's going to come through your work, whether it's fashion, furniture design, or painting. My broad design vision is underpinned by an aesthetic and philosophical fluidity, something to which I'm naturally drawn and I view as an extension of myself—this informs my approach to all design, regardless of the medium. For me, fluidity represents inclusivity, a tenet I hold very close to my heart. Also, whether designing clothes or furniture, the process is always an intuitive one for me. Fluidity and form, for example, are two things that always inform my work, so yes, it's intentional in the sense that these influences are elements to which I'm naturally drawn: they're an extension of me.
ID: What was it like creating Nyoka while also focusing on your SS22 fashion collection which launched at Milan Fashion Week in September?
RM: It was weirdly easy. The exploration covered in RICH, the magazine, helped me put into words my design aesthetic and what I hope to achieve with each piece I create—it was through that exploration that I was able to find my voice. MAFAMBA YEXE just kind of slithered out of me as a result. It wasn't particularly stressful because each of the two bodies of work had this amazing kind of symbiosis.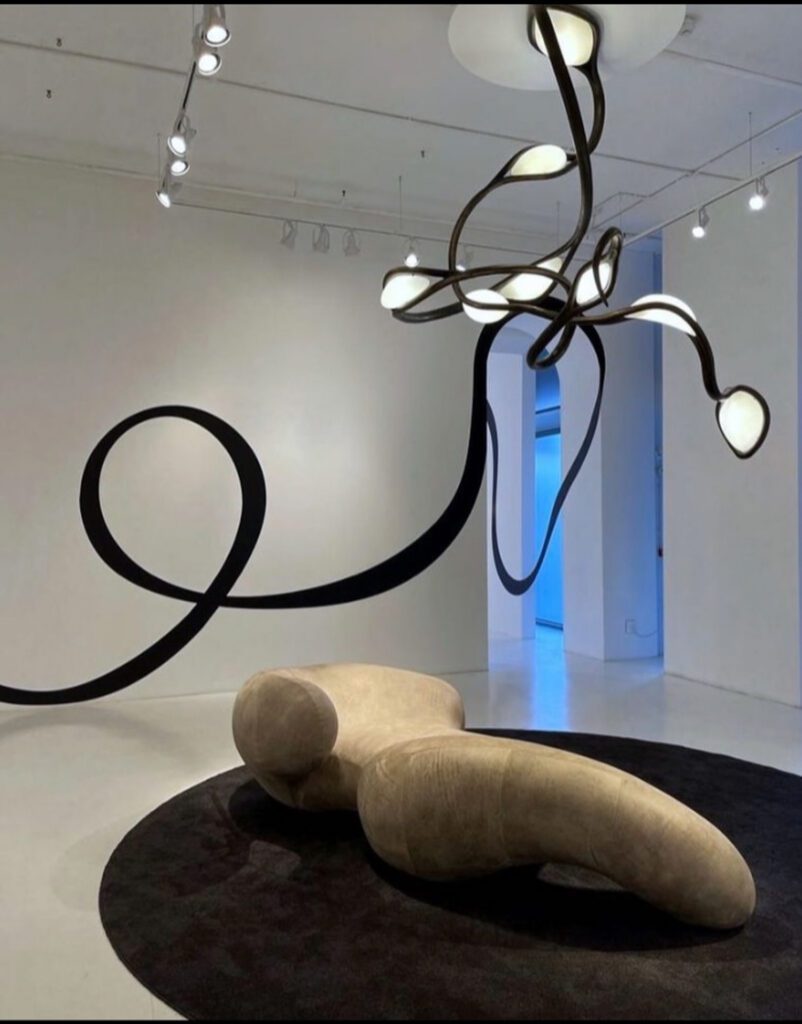 ID: You wrote that Nyoka wrestles with forces of fear and pleasure, fright and freedom; can you tell me how it does that as well as its sensual approach?
RM: Nyoka wrestles with the idea of beauty distilled from darkness, and as I've said before, to live is to embrace this duality. To accept that joy and tragedy, light and darkness, dreams and nightmares are connected, orbiting and defining each other. The snake perfectly encapsulates this idea of duality, being both beautiful and frightening at the same time, and it was with this image in mind that I created each of the pieces in the collection. Each one echoes the movement of a snake, as they curve and twist in the space. The idea of sensuality also comes through here, thanks to the fluidity present in each work—the curvaceous pieces ooze a kind of flow that is both sensual and alluring.
ID: How do you find balance given your exhibition for your furniture collection, fashion week, and recent classes in Paris?
RM: Little sleep, a lot of water, and a fully charged laptop. I try to manage my time as best as possible. It's not very easy—balance in life is elusive at the best of times—but it's all towards the growth of the RICH MNISI brand, so I do the best I can.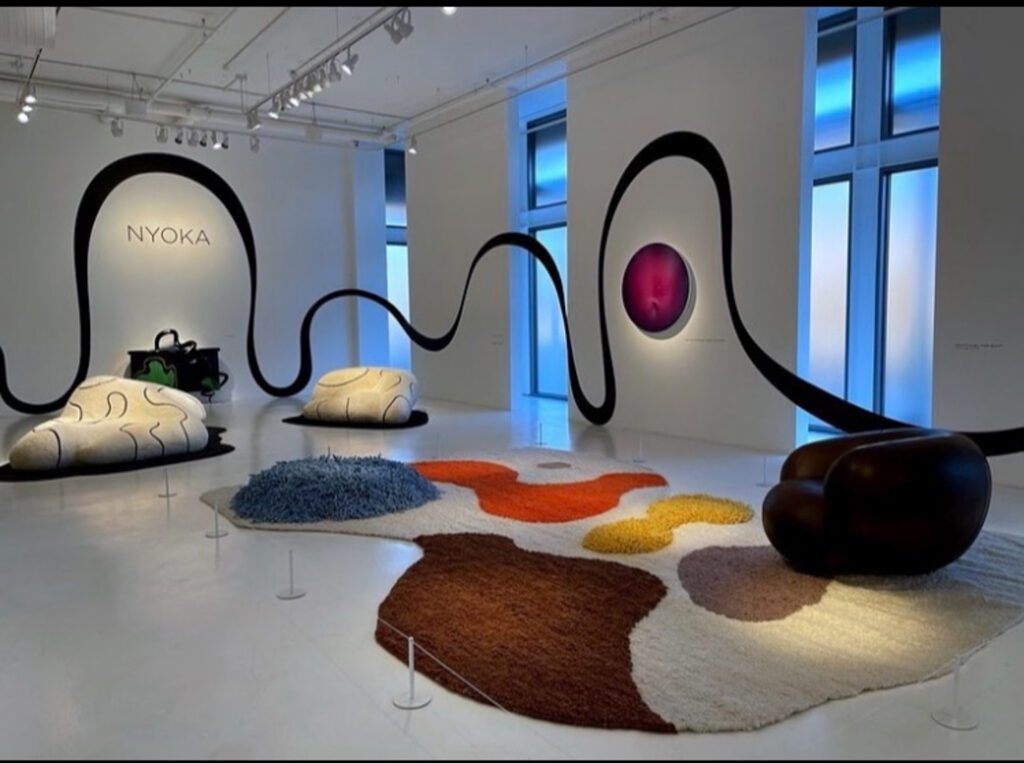 ID: Who are your greatest inspirations in the furniture design world and why do they inspire you?
RM: I honestly live in a bubble, and I live so much fashion that my furniture is purely inspired and influenced by it—I guess that's what makes it so fresh. For me, without it being intentional, this is about rejecting the idea of a medium looking at itself to expand. I also try to stay away from looking at other people's work. We are exposed to so much information all the time, and as a young designer, you can be very easily influenced. I try and design from an organic point of view from things that naturally flow out of me, as opposed to being informed by trends or what other people are doing.
ID: Should we expect more furniture design projects from you?
RM: The furniture design journey has been such a fulfilling and interesting experience, and I've really enjoyed being exposed to new materials and different processes. It's been a learning opportunity as much as it's been a creatively freeing one, so I for sure see other furniture pieces in my future.