10 Questions With… RISD's Rosanne Somerson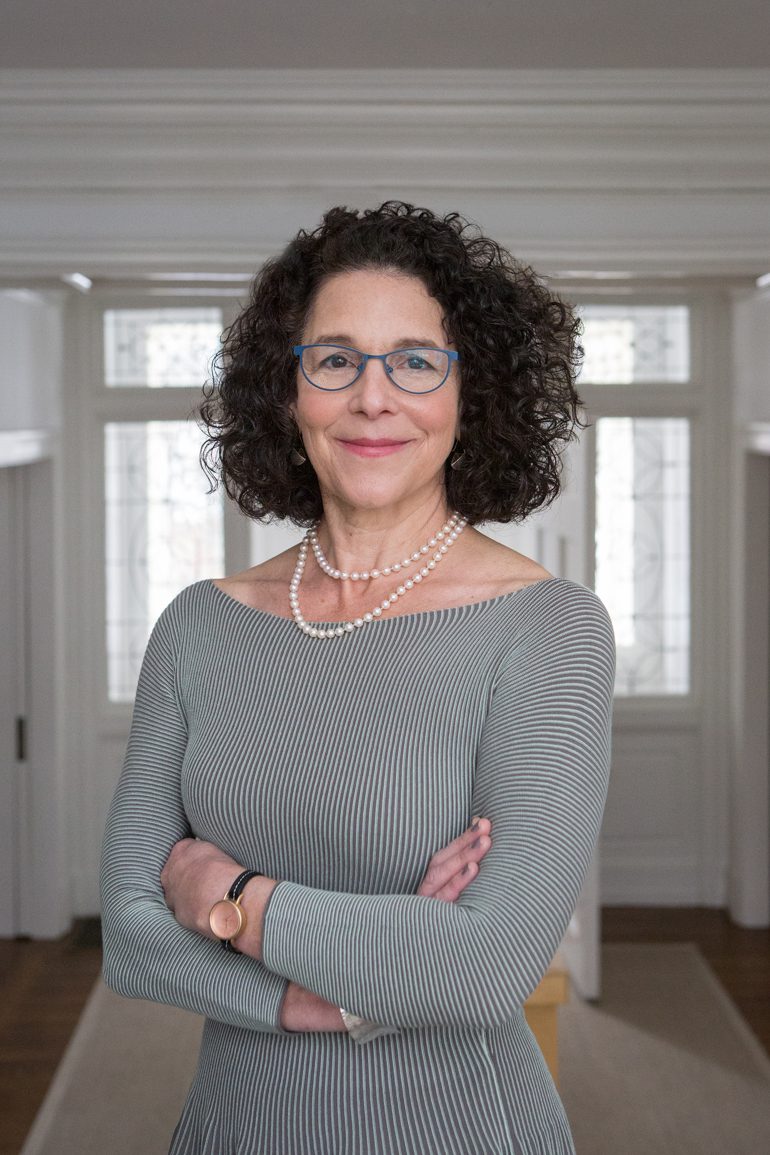 Forty-five years at the Rhode Island School of Design has taught Rosanne Somerson many lessons. "Have faith in the strength of your ideas and weave compassion into everything that you do are the most important two," she tells Interior Design. Somerson recently retired from her role as the school's president, a position she held for the last six years, but many social and environmental initiatives the designer and educator implemented will continue to play a critical role in RISD's future as an increasingly inclusive and innovative institution.
In 2019, she spearheaded NEXT: RISD 2020-2027, a seven-year strategic plan to document and explain the school's current and future goals to broaden its commitment to social justice and sustainability. Following the establishment of a Social Equity and Inclusion Plan in 2017, the school launched the Center for Social Equity and hired Matthew Shenoda as its vice president. Available financial aid also has been increased 46% and, in the 2019-2020 fiscal year, $15.8 million out of a record-breaking $24.7 million donation was allocated to financial support.
Somerson first experienced RISD as an industrial design student in the early 1970s. "My first memory at the campus was a Halloween party, with three [members] of the Talking Heads—who were students at the time—playing as our band," she recalls. Since then, she has returned to the school as a teacher, founded its Furniture Design program, and held different provost roles before being named president in 2015. Her last days at the school, however, were occupied by anchoring a number of achievements she set into place: "I am committed to work to the finish line and I think the nostalgia will come later."
Here, Somerson shares with Interior Design thoughts on her last week as president of RISD (she now holds the title of president emerita), the impact of the school's newly implemented diversity, equity, and inclusion initiatives, and hopes for the next generation of designers.
Interior Design: Racial justice and environmental awareness are two pillars of NEXT. While these are two of the most pressing issues concerning the overall culture, how do you see the role of social consciousness in design?
Rosanne Somerson: Design is inseparable from deep-driven attention to the human condition, which is the basis of social consciousness. We live in a time when rising awareness about imbedded inequities demands change. The creative minds of design practitioners are needed to unravel the complex web of structural injustices, in our cities, our systems, our media and communications, and throughout all the many tentacles that define cultures and cultural assumptions. Art and design students are increasingly committed to social reinvention, and design pedagogy is changing dramatically to address this growing imperative.
ID: Design and access are becoming gradually intertwined. How has the definition of access—both in terms of opportunities for underprivileged students and access to design in diverse communities—changed in the field and what is its trajectory in near future?
RS: It has always been my priority to enroll the best and most talented students, regardless of socio-economics, and then to support those students to succeed by providing access to not just the place, but to the full range of experiences and opportunities that a higher education institution offers. Beyond financial aid, we are committed to student academic and wellness support. But we also allocated assistance for every student with demonstrated need for materials purchases, travel funds, and financial support for unpaid internships. As RISD has enrolled increasing numbers of students from diverse backgrounds, their contributions to the whole of the art and design experience are transformational for everyone, and everyone benefits. Dialogue and diverse life experiences—the lived experiences that form varied points of view—serve to define and inform influential components of a solid academic environment. As new expertise advances, the fields that our students enter into, or the startups or non-profits that they form or contribute to, are all beneficiaries of this enhanced learning and broadened awareness and identity.
ID: After holding so many different positions at RISD over the years, what changes do you see in the notion of academic hierarchy both within the faculty and in leadership departments?
RS: All systems are under evaluation as the whole notion of undoing long-standing structures of inequity are addressed. A collaborative approach, where influence is multi-dimensional, is far more effective than a simple hierarchical structure that will inevitably lean to the past. Faculty has to own the curriculum, but they also need to fully understand the ways their disciplines are evolving as well as the advancing learning interests of students. Curriculum must be dynamic to remain relevant and to drive new knowledge.
Technology, too has changed how we all work, learn, and communicate. Since students use technology very differently than many faculty, those differences can be levelers as well in terms of teaching and learning. For any structure to be successful, genuine communication is key. Establishing a common set of values and developing a shared vision for where an institution is headed are drivers for aspirational change And the times demand nothing less. All voices need to be part of formulating that vision. In the end though, those who bear the responsibility of decisions that are made need the authority to make them. But success requires full collaboration along the path that leads to those decisions.
ID: Could you talk about how your expansion of the faculty broadens the discussion of decentralizing design?
RS: Every art and design field is going through rapid "self-reflection" and rapid change. We made a commitment to building expertise around the imperatives of our times, notably prioritizing the development of new expertise in race in art and design and around climate challenges and sustainability. These priorities meant bringing in new faculty with relevant essential scholarship or practice expertise. We are also developing pathways for faculty to enhance their professional practices, which can influence the connectedness to developing their fields. In the past, RISD's academic structures were very siloed, but we have been emphasizing the intersections among bodies of knowledge and creating new concentrations that are not located within a single discipline. I have always said that innovation sleeps in the overlapping spaces between disciplines, and collaborative perspectives can awaken it.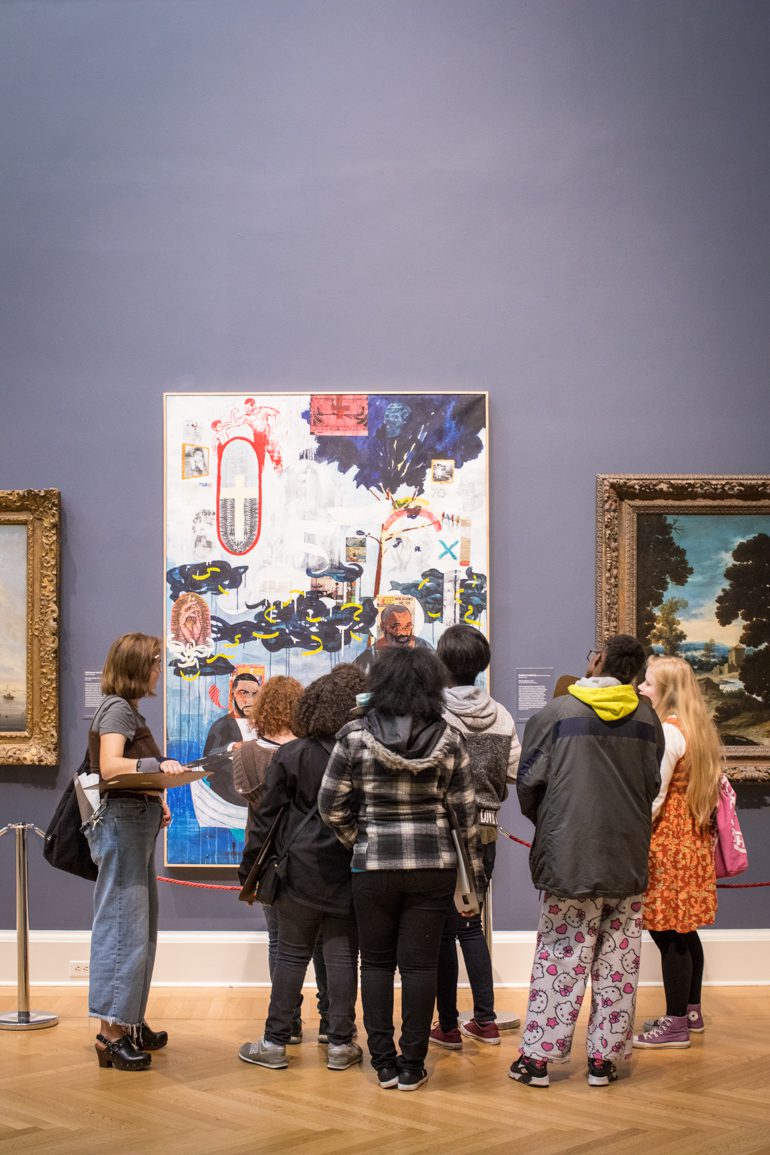 ID: Could you talk about the impacts of the Social Equity and Inclusion Plan since its launch?
RS: RISD is a completely different institution than before the plan. The students have been particularly key in moving the institution forward. There is really so much progress to point to, that I encourage readers to review our site.
At a high level, curriculum has revamped, institutional demographics have changed dramatically (41% of next year's first year class identify as students of color), and we have raised record-breaking funds for financial aid, raising more in the past two years than in RISD's cumulative history. We supported a 10-faculty cluster hire through generous donor support, as well as making a commitment that all academic hiring for the next five years builds on our SEI commitment. We created a "Teaching and Learning Lab" to help faculty to revise their syllabi and to create new courses that focus on inclusive pedagogy. And we have established a new program called the Society of Presidential Fellows which gives full tuition support for graduate students. We have created 17 such awards in 18 months, with two additional spots for the academic year 2021-22. The RISD Museum of Art has committed that 75% of its new acquisitions are works from artists in under-represented groups. The plan has touched every single part of the institution, though there is still much work ahead.
ID: As someone who has background in furniture design, how do you see the future of object-making from an environmental point of view?
RS: Design educators are much more outspoken about the toll of manufacturing on the environment, as well as the social justice issues around how materials are sourced. New finishes, glues, dyes, composites, biophilic materials, and categories of new materials offer designers a far broader palette of choices. Objects always reflect the culture of the times in which they are created, and while there is no singular voice that describes either a time or a culture, design can play a leading role in articulating the moment we live in and how we impact the future. Projects need to consider the full object lifecycle as well as appropriate materials sourcing and manufacturing that makes the least environmental impact. Students increasingly are committed to designing with those considerations in mind.
ID: As you leave RISD just after an unparalleled time in recent history, how do you see the future of design with this newly gained consciousness towards global emergencies?
RS: First and foremost I want to offer my sympathies for those who suffered or who lost loved ones in this past year. This crisis stress tested the systems of so many communities and institutions, and pointed out searing inequities. Design is about analysis, strategy, and innovation (or invention), and all are critical aspects of how we take from the learnings of this last period and draw the best from them to rethink what works in the future. Everything changed: how we live, shop, eat, work, communicate, and socialize. Much deep reflection occurred and the takeaways are too important to overlook. Designers can help us to make these transitions, and to imagine a future that takes into account what we learned. Designers are really good at challenging preconceptions, and reframing the very questions that lead to solutions. This last crisis is rife with possibility that can transform our future expectations to live more honestly, equitably, and nimbly.
ID: How has holding the highest position at RISD's leadership influenced you as a designer yourself?
RS: Everything influences me as a designer. I would put the question in reverse, and say that my design background really influenced my leadership style, and how I moved the institution forward collaboratively. A good design education provides the tools for dissecting and reconfiguring complex systems so that they work more beautifully and effectively. Design is inherently humanitarian. Every significant institution is undergoing massive change, and leading from a design perspective was very helpful in pushing forward a very ambitious set of priorities.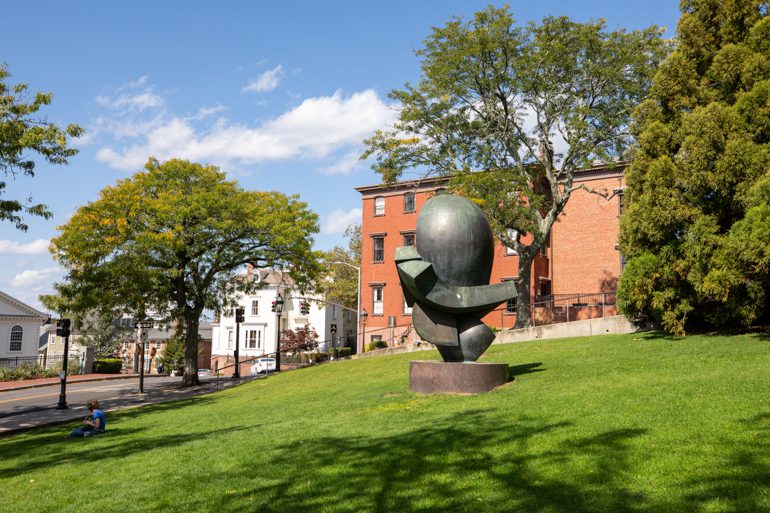 ID: Do you plan to purse your furniture-making practice in near future?
RS: I am beginning to make work for a solo exhibit next year consisting of all new pieces. When I cautiously opened my sketchbook to reignite my dialogue with the long relationship I have had with my work, I was surprised to see eight pieces just fall out and onto the pages for further development. I still like starting new ideas by sketching by hand. The work that I will do in the immediate future will be far simpler and more personal than projects in the past. I am excited about the sheer pleasure of making, and in seeing what finds its way into reality.
ID: What would be your one piece of advice to a young person who is interested in pursuing design today?
RS: Approach your work with your full truth and your full self. Don't let others' judgment of you impede you in any way. Find a way to accomplish the impossible—it is often right in front of you. Don't let the weaknesses or fears of others influence your ability to be true to yourself. The world needs your unique point of view. That's more than one bit of advice, but it's all related.