10 Questions With… Rive Roshan
Rive Roshan is an Amsterdam-based design studio founded by Golnar Roshan and Ruben de la Rive Box in 2012. The practice has an experimental and intuitive design philosophy and shifts with ease between art and design and between graphic, product and interior design. The duo's work often features color, texture, and tactility in a mesmerizing and uplifting way. For Dutch Design Week 2019—which continues through October 27—Rive Roshan has curated Form Editions, a group exhibition in the Veem building, and created a beautiful installation called "Stilled Life" in Galerie KRL at Section C. For the latter they have created new chairs, stools, and vases made out of 3D-printed sand with complex geometries. Also part of the display: the studio's two new carpet collections for Moooi, one featuring optical illusions and the other rippling water patterns that appear almost infinite. Interior Design sat down with the designers to talk about inspiration, oxidization, and Brexit.
Interior Design: How would you describe your design approach?
Golnar Roshan: We once read a poem that had this line in it—'work is love made visible'— and it really stuck with us. For us our studio is a very personal part of our lives, it is a place where we can bring all our creative ideas and values to life. We often start with a feeling we want to evoke in other people or an idea which is driven by curiosities. We never feel limited to working in a certain way, material, or technique and we love to be exposed to new processes. In a nutshell, we want to have an impact on the way people experience spaces and objects around them.
ID: You recently launched a new and accessible platform for international creative talent called Form Editions. Can you tell me more about it?
GR: Form Editions is an experimental platform launched to create opportunities for independent designers. The underlying idea is to connect creatives with consumers, collectors, and commerce.
Ruben de la Rive Box: For now, it has taken the form of an exhibition in DDW and a magazine—the first edition of Form Edit has been published and is sold through Frame—but we intend to build a community around learning, exchanging, selling, and commissioning.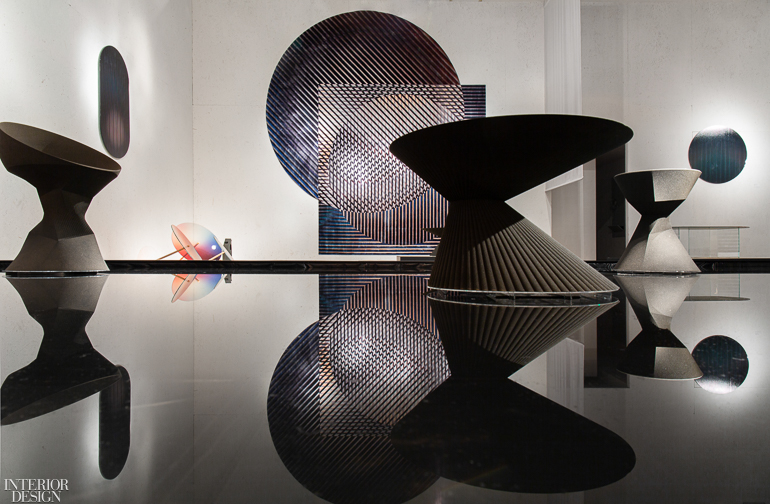 ID: The first Form Editions exhibition you curated is dedicated to the theme of Hybrid Times. Can you expand on this title and what it refers to?
GR: We feel that the design industry is at a turning point, not only in the way people are creating things that fall somewhere between art and design but also in terms of the potential these objects have. We are really interested in this grey area of so-called Functional Art and in the potential of finding new opportunities and avenues for this type of work.
ID: Your other show at DDW is an art installation called "Stilled Life" at Galerie KRL that features two water installations, 3D-printed pieces out of sand, and your new signature carpet collections for Moooi. What was the concept behind that exhibition?
GR: Karina [the owner of the gallery] loved our work and asked us if we could create an art experience for DDW. With that idea in mind we decided to create a space that you enter after having experienced the hustle and bustle of design week and where you feel at ease and connected to yourself and everything around you. We loved the idea of using water. Our studio sits on the River IJ in Amsterdam. Whenever we are really busy or have a lot going on we just step outside and clear our minds by looking out over the water and gazing at the waves and the way light bounces off them. We wanted to bring that experience into our exhibition.
ID: Tell me about your 3D-printed pieces made out of sand. What inspired you to start making these?
RDLRB: We were approached by [a German company called] Sandhelden who asked us if we could experiment with their production techniques. We started exploring ideas and came to the conclusion that the most beautiful thing about sand is that it is so changeable—it is easily taken up by the wind and will pour away between your fingers, yet it is also a very heavy and hard material. We realized the movement of sand, and the patterns that movement creates in sand were fascinating to us, so from there we decided to make pieces that are somehow frozen in motion. They look like organic kinetic sculptures, but they are solid and still.
ID: How are these pieces made? And do you plan to make larger pieces with the process?
RDLRB: The pieces are made out of 98 percent Bavarian sand—which is an extremely soft, white quartz sand—and 2 percent binder. They are 3D-printed within a box that gets filled with sand. Then the pieces get excavated out of the box. The oxidization of the binder in reaction to the sand makes the pieces turn black. We love to see the way people respond to the material. You just want to touch it. It looks very fragile and soft, but amazingly it is as strong as reinforced concrete. We would love to do a spatial project using this technique. A space where you feel the walls might all of a sudden fall on top of you, but don't—where people have the feeling of walking through massive desert dunes or a cave that was formed by thousands of years of erosion.
ID: There is a strong experiential or immersive quality in this installation, as in other works of yours, such as the Trichroic table and mirror you showed at DDW last year that featured shimmering layers of glass. Do you strive to make people dream?
GR: It's funny because a lot of our ideas for "Stilled Life" became more concrete for us as we were walking in the Black Forest in Germany last spring. We gave ourselves the brief to create a similar feeling to what you feel when you are surrounded by nature's wonders. What intrigues us the most is when we can create something that can be perceived in many ways from many angles in different moments in time. That gives objects and spaces a life of their own and expands our minds—so we can dream.
RDLRB: We definitely try to make people feel happy but not in an escapist way. We actually use the word 'dream' a lot but we don't see it as something to replace reality but rather as a place where you can visualize what reality could be like, or what you would like it to be like. This is also the role of artists and designers: to show people what they don't see yet, to show a possible world beyond the current one.
ID: What are your current concerns as designers in terms of materials, ideas, and the needs of society?
GR: Our greatest concern currently is the lack of humanity and depth in political and populist ideas. And the way humans are losing touch with the idea of caring for others and the world around them. This lack of empathy is something we try to respond to in our own way. We believe that if we evoke positive or mindful emotions in people, people will in turn make better and more progressive choices. This is something the world really needs right now.
RDLRB: People say, 'you are what you eat.' We believe you are the space you inhabit. And you are shaped by your physical surroundings. Samuel Ross, the founder of fashion label A-Cold-Wall, refers to this—how the council estates in the U.K. shaped him and influenced him and the people around him. If a space is not designed with love and respect for its inhabitants, how can you expect love and respect back from the people that inhabit it?
ID: You are based in Amsterdam but used to live in London. Why did you choose to move and what do the two cities offer to you?
RDLRB: Our move away from London was a result of many considerations, but in all honesty, Brexit also played a big part. Not from a practical standpoint, but because we disagreed with it so fundamentally. It just made it much easier to make the decision to move. We really miss the energy, the rawness, and the scale of London—there is no place quite like it and we loved our five years there. But Amsterdam is an amazing place to be as well and it allows us to combine our studio life with raising a child quite easily. Also, the support for creatives in Holland is great, whereas in London everything much depends on your own effort and resilience. Having said that, I think we grew up a lot starting out in London! It really forces you to get your act together and learn fast.
ID: What does Dutch design mean to you today and how has it evolved over the past decade or two?
GR: The Dutch design scene today feels quite free and is rooted in ideas that respond to social or environmental matters. It is very real but not afraid to be futuristic. A lot of progressive ideas have come out of the scene. I don't think that Dutch design necessarily means you have to be Dutch to create it, but for me it means you need to think beyond the present moment and look into the future. Droog started what is now known as Collectible Design or Functional Art, but Dutch design now is moving into broader fields such as food, technology, environmental, climate, and social design.
RDLRB: I agree. The generation before us that made big waves with witty and quirky design broke with the seriousness and exclusivity of design. When that wave slowly died out I think people were holding their breath and thinking, 'What will be next?' But the scene diversified and shifted its focus from celebrity and personal style to delivering new ideas and solutions for society. It sort of redefined its relevance before becoming irrelevant.
I think that Dutch design today walks the line between art, design, and science quite effortlessly. It is this hybrid attitude that allows fresh ideas to flourish without worrying about what label to put on it. The danger is that it can lose its connection to commercial or societal realities; sometimes it is conceptual without testing its real-life relevance.
Read more: 10 Questions With… OPENUU