10 Questions With… Roar Founder Pallavi Dean
Pallavi Dean is the founder and creative director of Roar, a Dubai-based interior design studio. The firm's design approach is "deeply rooted in empathy and creating experiences for the user of the space" she says. "When we describe our firm we always say it is 50 percent wild and 50 percent tame. The tame side is the scientific research side, the wild side is the artistic part." Dean studied architecture, graphic design and set design as well as interior design. "We spend about 86 percent of our time indoors, maybe 95 percent now with COVID, so I thought if I really wanted to make an impact, interiors would be the best fit." Dean grew up in the UAE to Indian parents and has a British husband. "I always think these are the three cultures that have really collided to shape me as a designer."
Interior Design: The design scene in Dubai has grown very fast. How has it changed from its beginnings? And what does Dubai offer that other design destinations don't?
Pallavi Dean: In the 1960s we were just a desert fishing settlement and now we have the world's tallest building, so that speaks a lot about the leadership and ambitions of this tiny little country that didn't want to just rely on oil money or tourism. The UAE has always been seen as an importer of design but now I feel like we are starting to become an exporter of design. Last year at Milan Design Week I designed a light for Italian brand Artemide, it felt like a major moment. Often when you think of Dubai you think of the biggest, the boldest, and the fastest. But there are designers doing very mindful and meaningful work here. And because we live in a very harsh climate we try to create designs that are contextual. What might work in the U.K. or in New York doesn't necessarily work here and I think we are starting to define that.
ID: One of your recent projects was the redesign of an iconic Levantine restaurant in Dubai called Mezza House. You based the design on the geography, colors and plants of the Yarmouk river valley.
PD: Whether it's a restaurant, a light, or a nursery, we always start with a question: what is the design problem? And with Mezza House the design problem was that the market is oversaturated with Levantine restaurants so we had to differentiate it from the others. We chose to make it unique by focusing on our client's heritage and giving it a connection with nature. We did a lot of research into what flowers you find in the Yarmouk valley and suspended them in blooms from the ceiling—creating that really strong narrative is what sets it apart.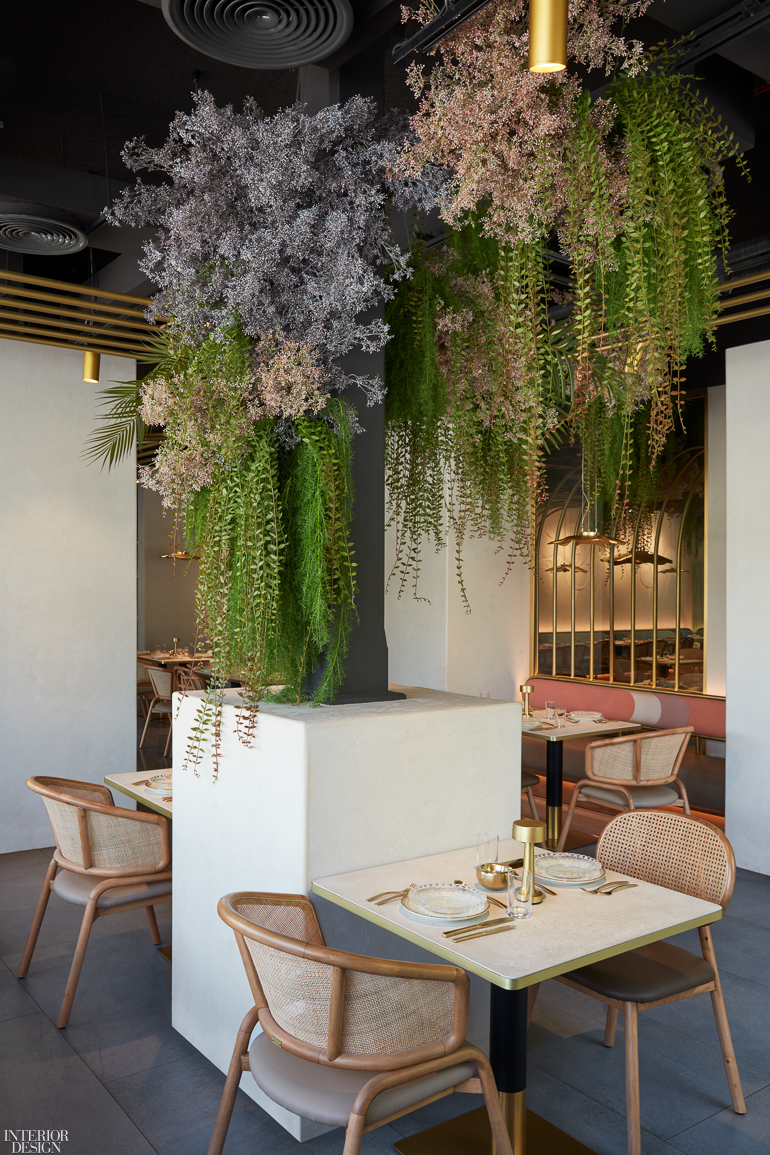 ID: In 2018 you designed Ora, a nursery designed to help children prepare for a future that doesn't exist yet. What was the design problem in this project?
PD: In this case it was that people think bright colors in nurseries is what stimulates children, which is not true. We worked with the latest pedagogical research on how children like to learn and you actually need a very subdued environment that serves as a canvas to teaching aids and the childrens' own artwork. Our nursery of the future was all about technology and how to integrate analogue play with digital play. So, on the one hand we had an analogue splash pad, play park, and wood working area and on the other, lots of really interactive projection technology and opportunities for coding etc.
ID: Will the future of education be phygital, that is, a mix of the physical and the digital?
PD: Of course! Who has the real estate to de-densify a classroom from 25 kids to 10 kids?! Yes, we will have to repurpose space, but we also have to combine both worlds. It's the same in the workplace. We will still continue to work on Zoom but now we need a touch down room in the office that is acoustically sealed where we can carry on those conversations. The hybrid model was already happening in retail and in hospitals where you can have online consultations, COVID has just accelerated it.
ID: What are some of the core ideas behind your just completed Dubai office for Takeda, a major pharmaceutical brand?
PD: It's a Japanese company so it was about understanding what their core values were, how their Japanese heritage is important, and translating that into a design, but not in a pastiche way. Sometimes you see someone create a beautiful zen garden in an office and they will say 'this is Japanese interior design,' but it isn't, because it's not contextual. For Takeda, we had an Emirati designer called Khalid Shafar create artworks out of woven dried palm leaves using a technique that is employed in the UAE to build roofs for houses and floor mats. It is very contextual but it also references Japanese Tatami mats and how they are woven. We like to work with local craftspeople or local environmental ideas where possible, and here we married the Japanese aesthetic with a very Emirati one.
ID: How did the COVID-19 crisis affect you professionally? Do you think of it as a disaster or an opportunity?
PD: When COVID hit, we were super busy but six weeks into it we lost a restaurant project, an office, and one of our big architectural projects went on hold. We were like 'oh my god this just got real'. But because we are quite a small team, and quite agile, we were able to make cuts and tweak the business model to make it comfortable again. And we have picked up so much work in the last two months, at least five new projects. On a personal level I am an introvert, a homebody so I loved working from home and not having to fly anywhere and meet people. But I am wary of people who talk about it as an opportunity because it feels a bit cynical. These are dark times and we must acknowledge that but also chart a way forward and keep going, because that's what we do as humans, right? We keep going.
ID: You worked on two white papers during lockdown, one on education and the other on restaurant design. Were you working on them anyway or was it the extra time that encouraged you to do so?
PD: I used to teach at the American University of Sharjah so academia and research is my sweet spot. But sometimes you are so busy traveling, being a mum, running a business, that you just don't get to do the things you want to do and I find that working from home I have never been more productive. The traveling stopped. My commute time disappeared. I gained two to three hours every single day, my kids were busy with their home learning, so I wanted to use the time constructively and do something that I enjoy.
ID: One of the things that came up in the education white paper is how important flexible interiors will be in the future—folding walls, moveable furniture, movable space dividers—as well as making more of underused areas. Do you think this is actually something all sectors will have to work on?
PD: Yes, let's look at the residential sector as an example. My home is open-plan. It has had to work so much harder lately because it has become a school, an office, a hospitality area. It needed an acoustic pod in it for me to have conversations like this, which is not something I needed before. I think every sector has had to adapt and having these partitions or acoustic barriers you can dismantle, or even just using more planting, is a given for offices, restaurants and educational or residential environments. And in terms of offices, when you think of the cost of real estate and how more people are working from home, the spaces and desks companies do have will have to be used on a sort of rota system.
ID: A lot of interior design trends were already gathering momentum before COVID-19 happened. Which ones have been accelerated by this crisis?
PD: We have already talked about de-densifying the classroom and therefore activating the circulation areas and not letting corridors or stairwells go to waste. We are also seeing the use of more anti-microbial materials. As a firm we have been looking at adhesives with a copper base that can be stuck on to surfaces—fabric or furniture—to stop the absorption of germs and parasites. There is also a spray version that is being developed. Another area is HVAC systems. People think they can just put an HVAC system in, put their mask on and keep two meters apart but an air-conditioning system is no good. We are already hearing a lot more about HEPA filtration and UV lamps. Beautifully-designed sanitizer dispensing pods will also become the new normal and contactless bathrooms is a big one for restaurants and schools.
ID: In terms of office design and the need for safe spacing do you think the cubicle is going to make a comeback? Perhaps in the short-term?
PD: Not the cubicle as such but defensible space, space that belongs to you. The 2020 version of the cubicle won't be actual walls but rather planting and deep workspaces. A lot of people are saying that working from home is great. It is great but only because you have built up the social capital from working in a physical space. That's why I always come back to this hybrid reality because you need to have that team camaraderie and spirit and be able to look at and touch physical samples. You can go away but you always have to keep coming back.