10 Questions With… Scholten & Baijings
From daybeds to outdoor benches, gridded textiles to glassware, and analog clocks to car components, what hasn't Amsterdam-based studio Scholten & Baijings successfully designed? Founded by husband-wife duo Stefan Scholten and Carole Baijings in 2000, the prolific studio is world-renowned for masterminding products infused with rich variations of color, texture, and pattern—characteristics that belie the duo's Dutch origins. Each product marries minimal forms with eye-catching visuals via an experimental approach to hand-craftsmanship that Scholten acquired while training at the prestigious Design Academy Eindhoven. From there, Baijings channels her previous professional experience in commercial production to breathe detailed elegance and refreshing livability into each object. The award-winning results are coveted by designers, collectors, and museums worldwide.
The duo recently hosted hands-on workshops at the Cooper Hewitt, Smithsonian Design Museum for its biannual Design by Hand program, presented in partnership with Van Cleef & Arpels. Augmenting the series is an interactive installation in the museum's Process Lab called "Scholten & Baijings: Lessons from the Studio," on view through March 2019, that invites visitors to engage with the studio's experimental design process. The programming closely follows the launch of Dutch Darning Sampler, in which the duo scoured the Netherlands' rich textile history throughout the 17th and 18th centuries. The three patterns that emerged, released through Maharam, wowed at NeoCon 2018. The duo chats about this collection and their balanced creative synergy below.
Interior Design: First thing's first—how did you two meet?
Carole Baijings: We actually met on a job. I was working as an assistant director in an old church, and my boss hired Stefan to design a small lounge. That's how we were introduced—we met again one day on the beach and fell in love!
ID: As a creative couple, how do you complement one another?
Stefan Scholten: It's a combination of masculine and feminine intuition and creativity that results in successful products. Because we are this male/female team, and we share the same passion with our team of twelve very talented young designers, we create products that are neither too masculine or too feminine.
ID: Can you share one product in your 18-year history that you're particularly proud of?
CB: That's like choosing which child you love most; it's impossible! But our Colour Plaid blanket for HAY sparked the beginning of our love affair with color and textiles.
ID: How are new technologies such as VR impacting your creative process?
SS: Technology helps us test what we've designed. We use VR to check how our furniture looks and feels before making a mold. It also lets us see if our installations work in a particular space, even if we haven't physically seen it—for example, the presentation of new Maharam accessories in the Herman Miller showroom in Tokyo.
ID: How did you discover the Dutch darning samples that became the new collection for Maharam?
CB: Mary Murphy, senior vice president of design at Maharam, told us about this ancient Dutch craft that we, being real Hollanders, weren't even aware of! We discovered that many original Dutch darning samplers were coveted by museums and collected in Japan and America—both countries we love working in.
ID: What were the most challenging parts of creating that collection?
SS: Making it real! It was difficult finding a mill that could weave with so many colors and refined details.
ID: Michael Maharam has called your studio "a candy shop for the curious eye," a nod to your bold use of color in the relatively muted Dutch design scene. What's your approach to incorporating color into your designs?
CB: We always mix our own colors, make our own models, and create our own materials. That makes the difference! For every new assignment, we create new colors.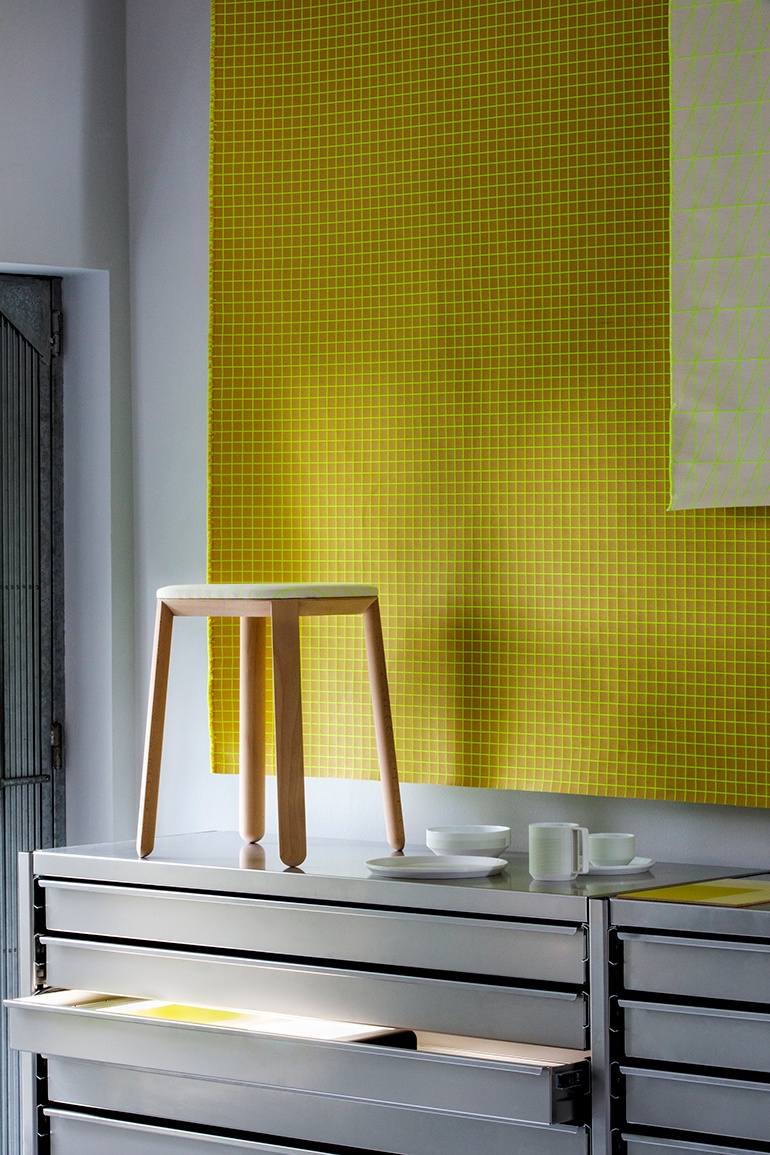 ID: You're the featured speaker for Cooper Hewitt's Design by Hand series, where you'll also lead a material and prototype workshop. Tell me about the programming and how you got involved.
CB: We were extremely involved in the programming and exhibition, which will be on display at Cooper Hewitt for the next ten months, so please check it out! You can view our design process firsthand and learn exactly what it takes to design a product from concept to creation.
ID: How do you know when one of your designs is finished?
SS: We know exactly what the finished product should look like, so that's what we aim for in the production process. But sometimes it's nice to revisit prototypes that weren't chosen and discover qualities that we could use for another project.
ID: What's a dream commission?
CB: Nowadays, we have the great fortune of our work being widely recognized, so companies like Maharam are willing to invest a little extra. It's important to work with clients that appreciate the finer details. In terms of a dream commission: we would love to design the interior of an airplane one day!