10 Questions With… Sculpture Artist Vince Skelly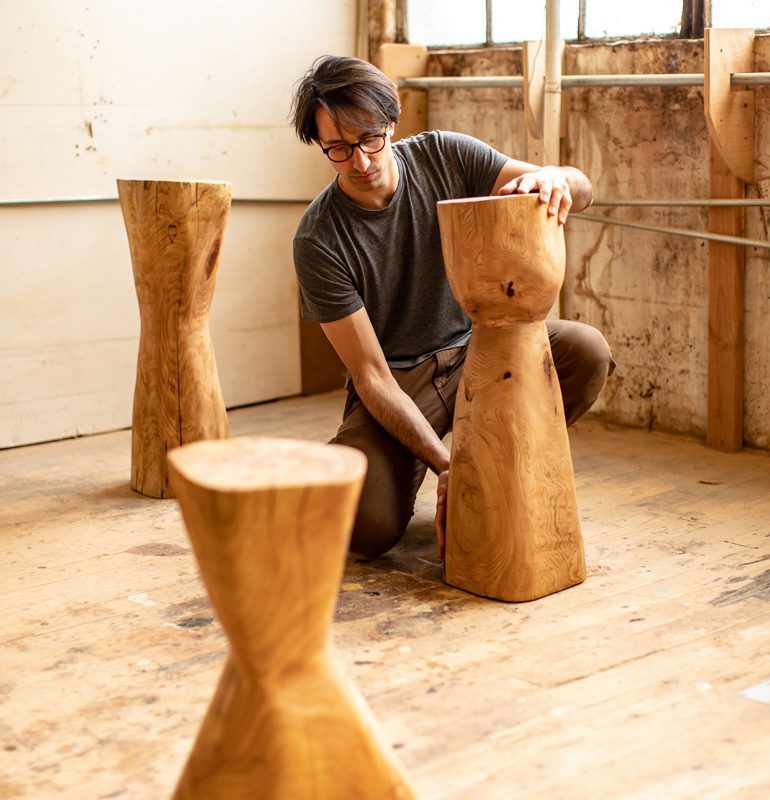 Growing up on the west coast, sculpture artist Vince Skelly gravitated toward public art installations and sculptures—the kind that invite interaction rather than frown upon it. "There was a 35-foot-wide concrete sculpture of the alphabet, which was the perfect playground," he says, recalling time spent as a child climbing the oversized letters. Such memories shaped his decision to create biomorphic sculptures that meld form and function, including chairs, stools, and tables, using a chainsaw along with handheld tools.
Now he runs his own studio in Portland, Oregon, where he carves sculptures and furnishings out of single blocks of wood, which he often finds while scouring the area for felled trees. Like simple yet elegant rocking chairs, Skelly's creations have "no tricky joinery," as he points out. Rather, each piece evokes ancient forms, notably dolmens. Here, Skelly shares with Interior Design insights into his latest collaboration with fashion designer Lauren Manoogian, Object, set to launch March 9, and the evolution of his craft.
ID: What led you to pursue sculpture-making as a career?
VS: My background is in graphic design, so I studied visual communication in college. I didn't go to school for art or sculpture. The way I got into this was purely out of curiosity from seeing large abstract wooden sculptures and being curious about how they were made, like wood that's carved from a solid block. When I first started seeing sculptures like JB Blunk's, I was just blown away, so out of curiosity I got into his work and learned about his process and found out that he did it with a chainsaw. I hadn't seen a lot of people doing that, or wood sculpture in general in that type of technique, so when you see something you're not used to seeing, you're naturally curious about it and I started experimenting with it years later.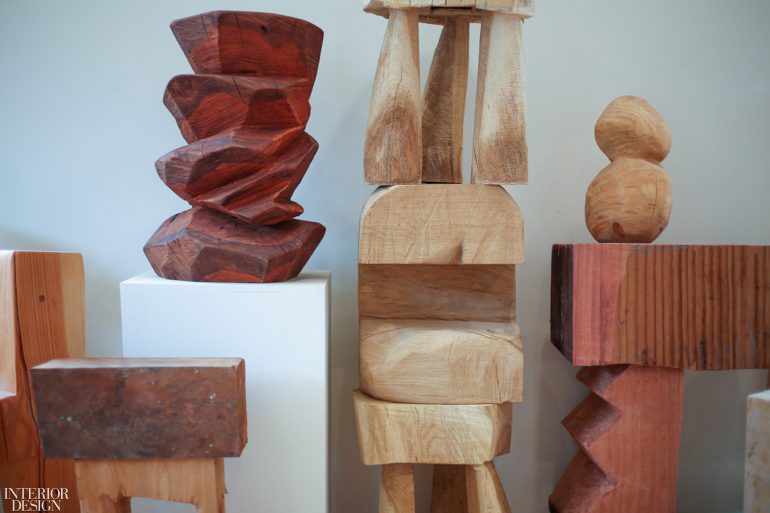 ID: As a self-taught artist, what was the learning process like?
VS: It took me a really long time to get the courage to use a chainsaw, it's just a scary dangerous tool. Probably nine years after building up all these ideas and wanting to make these things, I finally got the tool—and did a lot of research on the safety and how to use it—then really slowly started… It was about trial and error. I would approach each piece I did in the safest way I could because of my inexperience with the tool. I started carving upside down because it's the easiest way and safest way to see bar of the chain—to stand over it and not poke straight into the wood—so safety really dictated a lot of the approach to learning.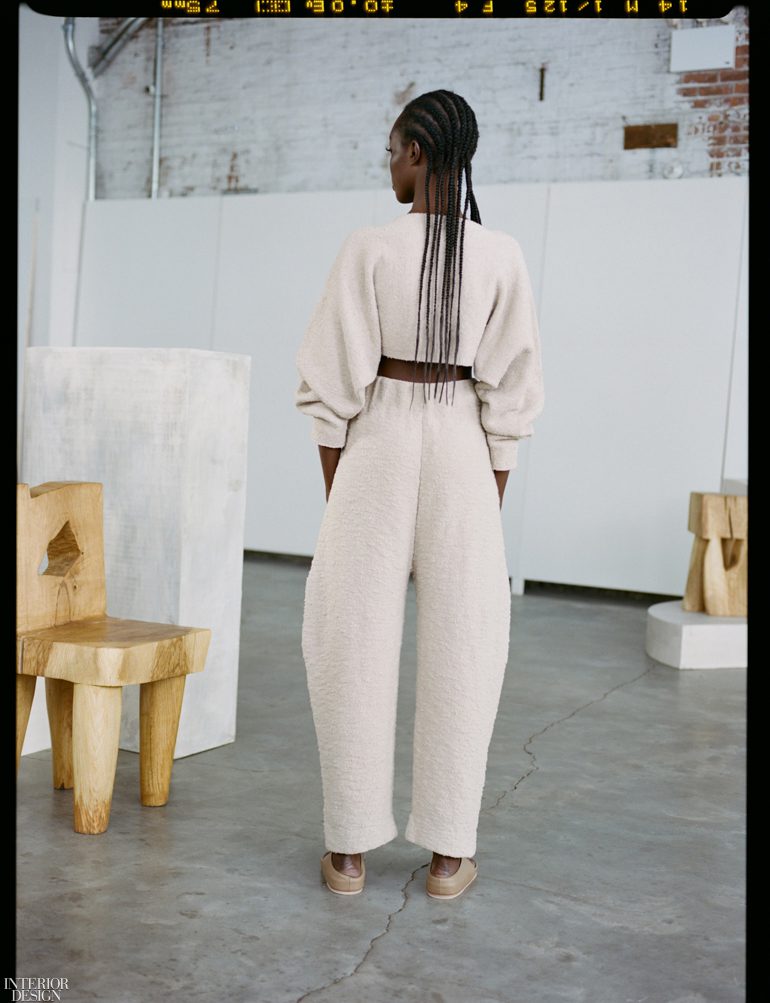 ID: How did you break into the design and fashion industries with your work, initially?
VS: I've gotten a lot of organic exposure through Instagram… I never go to Design Week events, but I went to one three years ago [in 2018] and participated in an event at Totokaelo Seattle. It was with Julian Watts, who is another awesome woodworker, and that led to me getting my work into the store Totokaelo in Seattle and New York. From there I think I got a lot of exposure in the fashion industry and the design and object world.
ID: How did the collaboration with Lauren Manoogian's clothing brand come to be?
VK: We had a mutual friend, and we were put in touch to make an introduction and see if maybe there's something there. Once we started talking and learning more, there were a lot of similarities in our approach and our thought process. One of them being the things we do to honor the materials we work with. We both work with natural materials, and we build things slowly by hand and we're really conscious of the materials that we're using and letting those materials inform the design. So after finding that out about each other, we were like 'yes, we should do something together.' And a couple of ideas turned into this capsule collection.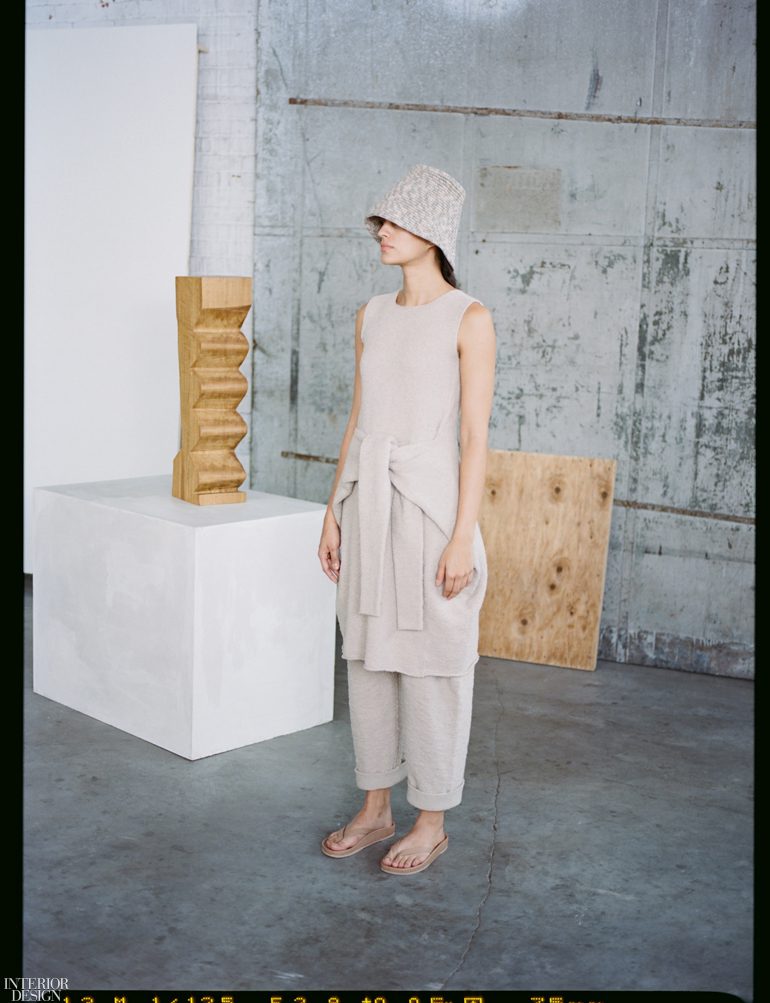 ID: What is in the inspiration for your current collection of wood sculptures?
VS: Most of all the work was created in lockdown, but the source for all these pieces and all the things I've always created comes from the same place, which is looking toward ancient building structures and ancient objects, and tools and prehistoric things and seeing their relationship to contemporary art and design. I personally think a lot of those objects and architectural styles look perfectly placed in our world today and they also just hold a more spiritual quality than a lot of the things we see out in the world today because of how organic they are and how natural they are. Essentially these sculptures are sculptures of prehistoric dolmens and other megalithic structures.
ID: It seems like you don't add any finishes to the wood, can you speak to your creative process?
VS: Nothing I do is assembled, it's all carved from a solid block and that's one of the things I like to point out because it's not noticeable all the time. I don't do any staining on my pieces because I like to show the natural imperfections of the wood and show the natural grain patterns—it's kind of paying respects to nature and the material. I recently just started charring some pieces as an experiment, it's a new process to me. It's a technique that's for wood preservation—an ancient Japanese technique—but aesthetically it makes the piece look totally black. For the first time, I'm struggling with this because it's aesthetically not my choice, but it's preserving the wood in a better way than I have been.
ID: Where do you source your wood?
VS: It has to be sustainable and I'll never take down a tree. The way I started getting wood when I first started this was looking on the side of the road, you'd see a tree that had to come down and someone stacked up the logs and put a "free" sign on it, and that's how I get wood to this day, and it's really fun because you can also go on craigslist and there's almost always free big chunks of wood… When there's a certain commission, or if I want to do something that's larger and more planned, I work with Sub-Urban Forestry, which practices sustainable forestry, and I've learned so much from them.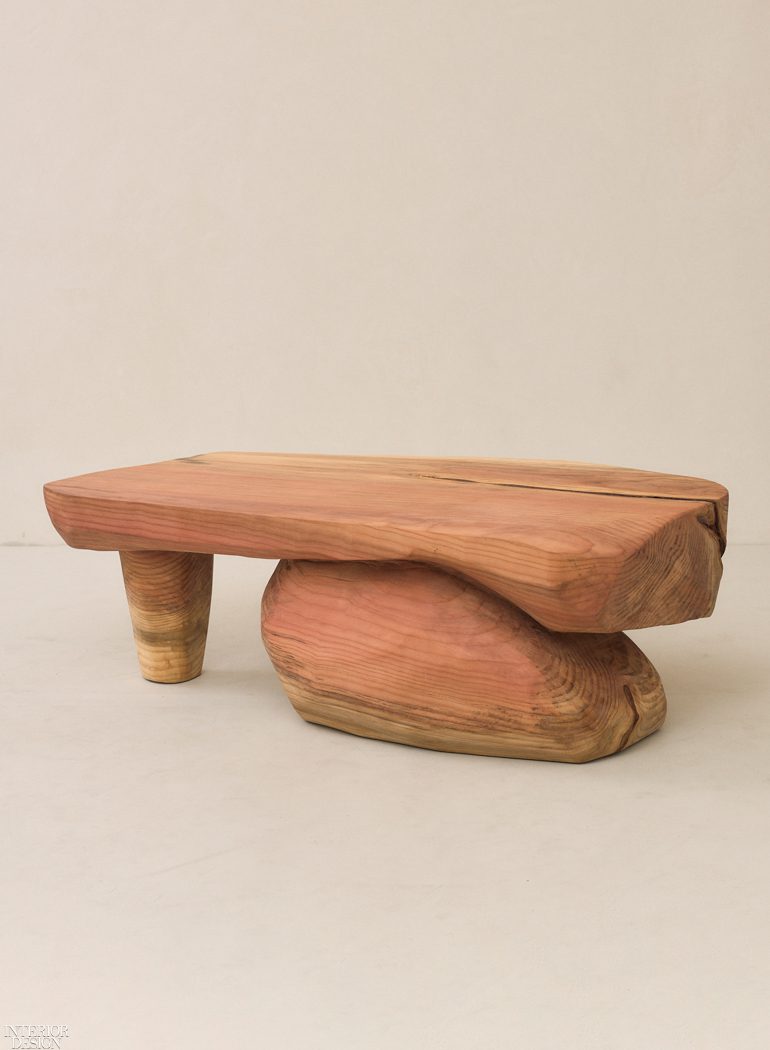 ID: The Redwood Boulder Dolmen seems very intricate, how did you arrive at this design?
VS: It's the first time I've tried something like that. I've been making these tables that are basically that chair without the back to it—a bulbous leg contrasted by a really thin leg base right next to it and then the flat top and that comes from the dolmens, that's essentially a typical shape of a dolmen but made out of stone. So over time I started to think about how I could evolve it and putting a back on it turned it from a table to a chair. The design decision was wanting to experiment with one of my more common pieces I create to evolve on the index of shapes and forms I'm creating.
ID: How has the past year of working from home informed your pieces and process?
VS: It didn't change the approach, it really allowed me the time I've been wanting to sit down and focus on work and not have social obligations. It also allowed me to experiment with new materials like ceramics. I just finished a limited edition of slip caste ceramic stools, which were taken from a mold of one of my three-legged stools, and charring was a new experimental process, and also painting. I've been working on a large series of abstract paintings of my forms, the lockdown been an incredibly productive time for me in the studio. I think it's so important as a person, and especially as a creative to think of what you do and interpret it in different ways, so if you're a painter I think it's nice to see them interpret their paintings as a song or a dance or a sculpture and I think it's a good exercise for your brain to see things from a different perspective…. Play is everything. I even like my pieces to have playful qualities, like I've referenced the Flintstones before, I love all their table and couches. They are really dolmen-like but it's also in that era of 50s and 60s modern design, so it has that spin on it too.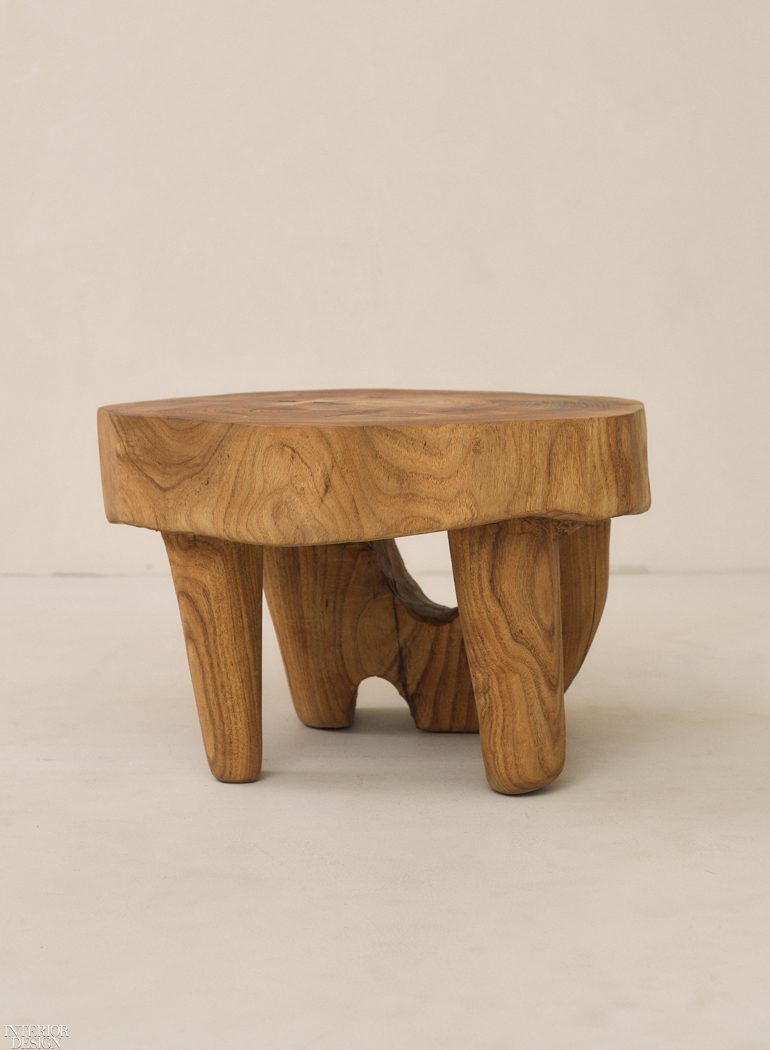 ID: Is there a piece in your home that you feel best reflects you or your design journey?
VS: There's a smaller version of the table forms that I make, it has a flat top and kind of an irregular shape because it was a found piece of wood and there's a hole, or a circular window through one side, and two peg legs in contrast on the other side. It was a total experiment, and I was working around cracks and voids in the wood, I had to make certain cuts to keep the piece in tack, I couldn't touch certain areas otherwise it was going to fall apart and that became the blueprint for a lot of the work I'm making now. Every piece I make now has that DNA in it and I'm just making different versions of the same thing essentially.