10 Questions With… Shigeru Ban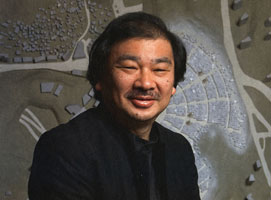 Interior Design Hall of Fame member Shigeru Ban is nonstop. He shuttles between offices in Tokyo, Paris, and New York, and project sites as far-flung as New Zealand, Indonesia, and Colorado—all the while raising disaster-relief funds for the earthquake and tsunami that hit northeast Japan in March 2011 and supervising the Voluntary Architects' Network, which he founded in 1995. En route from Mexico to France, Ban stopped in New York City for the ribbon cutting of Camper's House of Shoes, his first Manhattan retail project, which features a "gabled roof" of his signature paper tubes. Before heading to the airport, he squeezed in a moment for our questions.

ID: How does your design process begin?
SB: By making many sketches.
ID: Do you prefer a completely open-ended commission or one with restrictions?
SB: I prefer restrictions and challenges, whether it's a small budget, a complicated site, or a difficult material. I like problem solving, and design is about problem solving. This is not to say I wouldn't want a project with a big budget.
ID: Your design of Camper's House of Shoes doesn't really allow passersby to see the shoes that are for sale—highly unusual for retail design. Why did you do that?
SB: First, I thought it important for the logo, the brand, to be prominent. So that's very visible. Second, I wanted there to be an element of surprise—not being able to see what's for sale draws people into the store, where they discover the shoes one by one, like special objects. Displaying shoes in the window is not very interesting.
ID: Why the "gabled roof?"
SB: The store is inside the only single-story building in the immediate SoHo area. It looked lonely, like a leftover piece. The tubes address that loneliness somewhat. And since it was going to be called a house of shoes, we went for a gabled roof, like one you'd see on a home.
ID: What do you hope will happen to your Volvo Ocean Race pavilion and its paper tubes after it finishes in July?
SB: It's up to the client, but I hope they will be reused somewhere.
ID: What other projects are you working on that utilize paper tubes?
SB: A chapel in Christchurch, New Zealand, where there was an earthquake in February 2011, and the Garage Center for Contemporary Culture Temporary Pavilion in Moscow.
ID: Any other humble materials you're exploring these days?
SB: I look for materials to be more local and readily accessible rather than humble. For instance, we are involved in a competition for a library project in Israel, so I'm exploring Jerusalem stone, which is difficult to work with. But I like that it's difficult.
ID: What material is your own house made of?
SB: Our main house is a steel structure. Our weekend house is paper tubes.
ID: Print or tablet?
SB: Print.
ID: With the Camper project complete, do you see fashion design in your future?
SB: I would love to design a pair of shoes.