10 Questions With… Siobhan Barry
Clear brand message, heightened guest experience, and revolutionary design are the guiding principles of renowned design firm ICRAVE, which operates from a dream factory of a studio in New York's North Chelsea neighborhood. One of the firm's founding partners, Siobhan Barry has been involved with the realization of many culturally significant projects—from the Bask by Exhale Spa and the new guard of airport terminals (Jet Blue's Terminal 5 at JFK; Delta terminals at JFK, LaGuardia, and Minneapolis-St. Paul International; dining concepts at Toronto-Pearson) to the W Midtown Atlanta, to Manhattan hotspots like STK, Catch, and Arlington Club. As the firm has grown in its influence, Barry helps her team to dream bigger and execute better.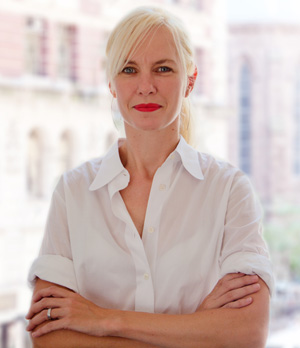 Interior Design: ICRAVE has made huge waves as predictors of what's next in hospitality, brand identity, and guest experience. As an original member of the ICRAVE team, what do you think has contributed to the firm's ability to remain on-pulse?
Siobhan Barry: We are well into our second decade, and ICRAVE has matured in a lot of ways. We've found a more consistent voice, while still staying true to our brand of energy and invention. Also with maturity comes wisdom, and we definitely trust our instincts more—whether it's in selecting the projects that are the right fit for us, or determining the right design solution to a problem.
ID: Translating a concept into an environment that will prove both current and appealing for the long haul is a very rare ability. Where does on-trend meet timeless?
SB: Building in flexibility means marrying those elements that are timeless and "permanent" with the more ethereal components that can be changed or updated. We have a responsibility to our clients to build projects for them that are balanced between on-trend and trendy. As trite as it sounds, behind every challenge is an opportunity, and for us that means we have also become content creators. . .Part of our job is breathing fresh air into an existing project and keeping it relevant and renewed.
ID: The ICRAVE studio sounds like a big-thinker's playground. How does the environment lend itself to creative discourse for you and your colleagues?
SB: Our studio was modeled in many ways after the School of Architecture where Lionel [Ohayon] and I both studied. We wanted an environment that promoted collaboration and engagement, whether it's a guest lecture or a client meeting, or a spontaneous pin-up in the crit room. We learned early on that problem solving thrives in places where seemingly unrelated ideas can overlap and cross-pollinate.
ID: How have you been able to help hospitality venues be aware of brand identity?
SB: We've recently been working with a major hotel brand to reinvent and redefine their design aesthetic and to start with a completely blank slate, with respect to their brand signatures and statements. We're helping them establish a presence with an emerging younger traveler demographic, and it's been a great process with them, really getting to what that means and how to build it into a teachable mandate.
ID: What are some projects currently on your plate that are expanding the firm's repertoire and giving you interesting challenges to work through?
SB: We're working on some great projects right now. The Battery Maritime Building renovation is under way—this is one of those rare opportunities where we get a chance to bring a New York City treasure back to life, and we are deep into the design on that. Le District marketplace will be opening its first phase later this fall in Brookfield Place, by Battery Park City, so we're all over Lower Manhattan at the moment. And certainly one of our most inspiring opportunities recently has been the work we are doing with Memorial Sloan Kettering Cancer Center , finding ways to bring hospitality into the realm of healthcare, and really understanding what that means to people—our cousins, our mothers, teachers, and best friends—who are living with cancer.
ID: What is your preferred way of communicating with clients… the dynamic you strike, the kind of information you like to glean from your interactions, the degree of latitude with which you like to play?
SB: "Make us uncomfortable." So many of our recent projects have started with this mandate from the client on our first meeting. It's an inspiring starting point, and we always feel privileged to accept this challenge. Taking an idea to this point means first establishing trust in the partnership, so we can really engage with our client in the process. It means putting in the rigor and research to fully understand our clients' business and to see the problem for what it truly is. Establishing that foundation lets us play, and gets us closer to the perfect solution to the problem.
We often talk about what it means for clients to "participate in their own rescue," and for us this means encouraging them to sit at the table with us, to brainstorm, and let us lead them in playing "What if?" It always leads to discovery, and is such a galvanizing experience for the entire project team.
ID: ICRAVE knows a thing or two about airport terminals, and have become hugely successful at winning over an ever-changing, international captive audience. What are the great opportunities of an airport terminal, and how can you see these spaces being made ever more engaging and dynamic in the future?
SB: There are a lot of negatives with air travel—long waits for security, long waits to board, and frequent delays. For travelers, time is precious, and we believe the smart airport operators and retailers will recognize the potential for turning the air travel negatives into positives. We see real opportunity to expand the idea of what an airport can be. We want to bring full service solutions that let us take care of personal and professional needs when we are on the move. Airports can still learn a lot from the hospitality industry.
ID: From your perspective, what are the unifying traits of ICRAVE's 30-plus employees, and how do internal creative conversations go?
SB: Our employees come from at least a dozen countries around the world, and they come from many diverse educational and work experiences, but we try to build a team of people with some consistent qualities. The first of these is rigor, which I see this come out in even the smallest projects in the office it is passion mixed with discipline. It's the commitment to bringing a concept through from the biggest ideal down to the smallest detail. The next is boldness, because you have to be fearless in this business. It can be tough on younger designers to find their voice at first, and ICRAVE can be an intimidating place to work, but being a part of this studio means you need to be willing to take a risk and put your ideas out in the open. Finally, humor. This is partly about assembling a team of people you still want to be around in those intense hours of a deadline, but in a larger way it is about maintaining perspective, and keeping your balance in an exciting but often-challenging business.
ID: The needs of hospitality clients—be it a spa or a restaurant or a nightlife venue—are ever changing. What are your clients asking for today that might be different from the requests of five or ten years ago?
SB: I think a lot of fuss was made in recent years about giving choice back to customers and guests—from pillow selection to content like digital art that can be altered to suit one's mood. Choice is important, but I think it's important in different ways. And now that our digital devices feel practically implanted in our hands, we probably make a couple hundred decisions a day, and decisions can start to feel like chores. So I think the luxury of hospitality is not in the guest being in charge of customizing, it's in the power a designer has to curate the moment, and to create welcome suggestions or to choreograph moments that feel natural and intuitive. It's about making a confident statement in an environment—one that is both welcoming and surprising.