10 Questions With… Studio DB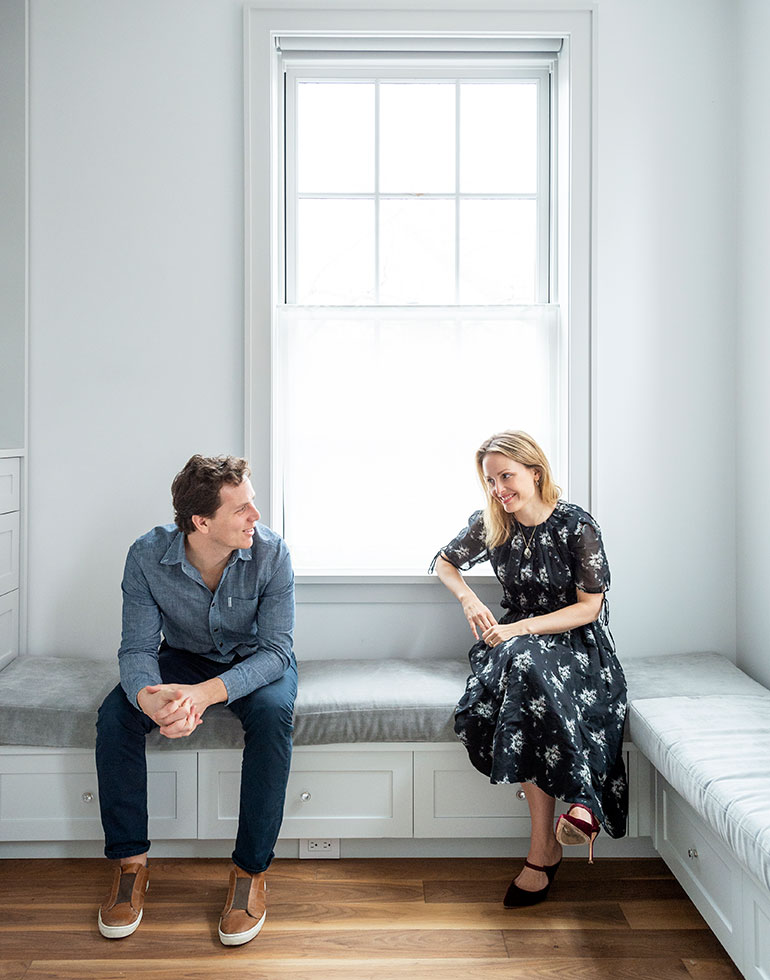 First off, Britt Zunino and Damian Zunino met cute. They married in 2009 after starting their studio in 2007, coming to design from different directions. He holds a Master of Architecture degree from Yale University and has worked with Cook + Fox Architects and Zubery Development, both in New York. She studied painting and was a professional snowboarder in Colorado. Then came New York where she studied interior design at F.I.T. and went on to manage merchandising for Ellen Tracy, work at Downtown by Philippe Starck, and do magazine styling for Martha Stewart Living and Blueprint. Pre-pandemic, Studio DB's headquarters were in Hell's Kitchen with a staff of 10, the number still constant. While best known for residential work, especially high-profile condominium projects, the firm has had a hand in retail and commercial work. Its latest project is The Symon in Brooklyn Heights. Home is a loft near Union Square or an upstate house, they built six years ago. The Zuninos share their live-work experience with a 15-year-old son and daughters aged 6, 7, and 10.
Interior Design: We can't resist. How did you meet?
Britt Zunino: I met Damian while he was working on a project below my apartment, cleaning brick with cornmeal, which filled my apartment with dust. The contractor sent him upstairs to clean the mess. We became friends, collaborated on a little store, and built everything ourselves. It was fun and totally unexpected. The rest is history.
Damian Zunino: One of the visitors to the store asked us to do a project for him in Sag Harbor. The sparks flew pretty much from the start.
ID: Let's start with your latest endeavor, The Symon in Brooklyn Heights. What are its standouts and particular challenges?
BZ: We wanted to create a building that referenced the history of Brooklyn Heights but through a modern lens. The palette is rich and sophisticated with elevated finishes. It's a departure from the typical shiny modern or "Brooklyn industrial" new developments.
DZ: Like all development projects, the challenge was getting as many details and custom work to be included in the project budget. The details of the project are what make it stand out. I believe sales are continuing to close even in this tough market.
ID: How did you enter the development world, which led to such previous condominium projects as One Clinton in Brooklyn Heights and One Vandam in SoHo?
DZ: We were brought into One Vandam and The Symon by Sean Turner, then with Stribling, which is now part of Compass. With One Clinton, we had a few professional connections with the Hudson Company, and our approach to design aligned well.
BZ: The developers of One Vandam took a chance on us. We were committed to creating beautiful interiors and being very resourceful to make the numbers work.
ID: Your residential work goes from Upper East Side and Park Avenue posh to a bit tougher with downtown addresses. What's the common denominator among them?
BZ: Our work is very material and detail driven. We enjoy the process of collaborating with artisans and fabricators. We love color, pattern, texture, and a healthy dose of whimsy. Though our work is modern, I enjoy the challenge of working outside our comfort zone and mixing things up a bit.
DZ: Our projects are designed specifically for our clients and their site or building. They are livable, detail oriented, and thoughtful. We enjoy the balance and tension of modern and traditional in detailing and furniture.
ID: Do the two of you collaborate on every project? What particular expertise does each bring?
BZ: We collaborate on everything, integrating interiors and architecture from the beginning. Damian views a project through the lens of an architect, starting with site plan, big-picture ideas and how they function and be built. I tend to be inspired by a small detail or interesting material and build out from there. My process is not as linear.
DZ: It's important that we only work on a select number of projects at a time, so we can be actively involved in each one. To start, we often look at projects at a different scale given our backgrounds. Throughout the design process, we work to bring those scales and different approaches together in a team-based approach to design.
ID: What drew you to architecture and design? Would you encourage your kids to go into the professions, and what advice would you give them?
BZ: My hope is that our children discover their passion. I want to expose them to the world of art and design and show them that being creative is a gift worth celebrating. As a small child I was interested in building and creating spaces. I have vivid memories of pouring over shelter and fashion magazines. They were windows into another world.
DZ: My father is an architect and developer, and my mom was a fashion designer and in retail so creative professions were part of my upbringing. Each of our kids is so different, though there is a lot creative energy in each of them. We are trying to let each carve their own path with the advice to follow your passion.
ID: Do you have mentors? Whom do you admire?
DZ: My parents and dad's business partner have always been great advisors. We started our firm early in our careers, so I didn't spend too much time in offices before.
BZ: We have a wonderful network of friends who are architects, designers, and small business owners. We've appreciated the support, especially during the pandemic. We've banded together to push through this tough time. I especially admire the architects and designers who are women and POC, who created incredible work and only now are being recognized. They are inspirations to me.
ID: How has the pandemic affected your practice and personal lives?
BZ: I feel incredibly grateful that we're all healthy and still in business, but juggling hasn't been easy. I started prepping our team for remote work earlier than most. We moved to our home upstate and began schooling and working from there. Our kids all go to the same school. We took turns working and guiding the kids and got into a groove with them. We would all cook dinner together and go for walks in the woods. We got a new puppy. The biggest challenge in working remotely was the lack of samples and inability to get them easily. We're back in the city now.
DZ: During the beginning of the pandemic, we realized we were able to work remotely quite effectively. We have a daily morning Zoom meeting with our entire team and set up breakout Zoom meetings throughout the day. At the beginning we had a couple of projects in the design phase put on hold and construction halted on projects being built. A lot of past clients and some new clients have reached out about new projects, mostly outside of the city. We're now doing projects in Boston, Florida, Connecticut, New Jersey, and the Hamptons as well as NYC.
ID: What have you learned during this period, and how do you intend to play it forward?
BZ: This period has given us time to reflect on the culture of our company, what types of projects are interesting to us, and has opened our eyes to working more outside of the city. I'm looking forward to taking on new ground-up projects.
DZ: We have been able to spend more time upstate, and members of our office have worked from the West Coast and up and down the East coast.
ID: What are you working on? New typologies to explore?
DZ: We have a lot of residential projects, including ground-up, along the East Coast. We're doing our first hospitality project on a 10-acre waterfront site in Jupiter, Florida. It will include an 80 + key hotel and 60 + condominiums.
BZ: We're deep into creating the narrative for the project and researching spots all over the world. I'm living vicariously through our mood boards and dreaming of traveling again.