10 Questions with… Ted Boerner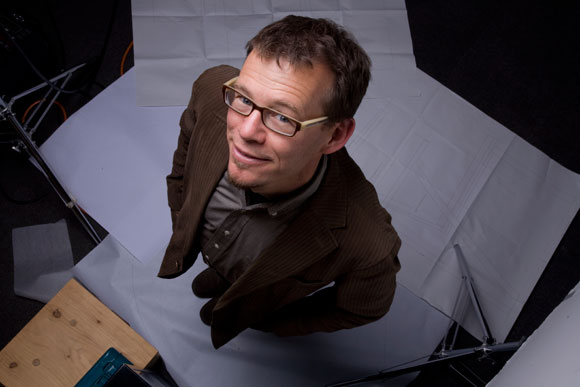 Furniture designer

Ted Boerner

sat down with us to talk design while sleepwalking, well-dressed spaces and aesthetic choices in his work.




ID: What were some of the earliest instances when you found yourself engaged by good design?


TB:

I was born in Wisconsin, and my first house was a converted log cabin from the 1830s with a mid-century modern-like extension joined to one corner. We lived with my grandparents who were artists, and had a combination of rustic pieces and modern classics like Eames and Nelson. I'm not sure I remember the first time I acknowledged this mix but it stuck with me all these years. I get great comfort from rusticity, and pleasure from the clean lines of the moderns. It was also how the house was arranged; It was a reflection of how our particular family lived.That tension of these two aesthetics is very much a part of my work and my life to this day.

Another vague memory of my first inklings was when my mother woke me up from a sleepwalking furniture rearrangement effort taking place in my bedroom. I even adjusted the lighting to be appropriately moody.


ID: How do you develop such depth and richness in your pieces while sidestepping extraneous details?



TB:

Proportions, quality of material, and construction are key. Some of my pieces look simple but I always say, "simple isn't easy." When doing pared-down pieces, there's no decoration to hide behind. A piece has to be made well and has to have human proportions. This makes it accessible and understandable to the user. The "idea" behind a piece is important; to infuse it with meaning-whether the user knows it or not. There's a richness there. They can then begin to layer their meaning over it.



ID: Your furniture is very body conscious. How do the best-dressed rooms "feel" to you?


TB:

If I can place myself in a room, or rather, if I can sense where the person belongs as opposed to struggling past the style or decoration, that is a human space. I feel freer in an authentic, well-designed space. I design for the body and the experience of what happens on or at a piece, not for its style. That is part of the concern, just not the initial impulse. I trained as a costume designer and drew the figure so that, plus a little bit of chronic back discomfort, helps me to design from the body out.



ID: Are there any widely accepted rules that you love to dispense with?


TB:

Most! At least initially, during the beginning of the design process. Toss it all out, start from scratch, keep what works, and improve and invent the rest. And now, since I've been doing this for a while, I'm beginning to dispense with my own rules.



ID: What are some spaces that have always visually inspired you, and continue to stand out for you today?



TB:

The Pantheon comes to mind! There's a café in Amsterdam that has a perfect blend of privacy and community. Another in Avignon, with tall ceilings—spare but elegant, quiet yet dynamic.

ID: How have your aesthetic choices changed since you began your career?



TB:

I've moved from theatrical to minimal and now onto deconstructionist and monolithic. I used to love Art Nouveau and Deco decorative objects and designs. I tend now to be inspired by architectural forms like the Watercube from the Beijing Olympics, which inspired our Cloudbox Cumulus Sofa. Nature and the human body, and how people gather and engage with each other or with themselves is a constant, never-ending source of exploration.

ID: What qualities do you like to be present in your own residence?



TB:

I need my place to be cozy and welcoming for me and for others. I try to maintain order, but it doesn't need to be flawless and perfect like a picture in a magazine. My place is dynamic and changing and an expression of who I am today, where I've traveled and what I bring back. I had some quirky notion a long time ago that when I put something down or left something out, it would be done in a somewhat artful or mindful manner so it always felt casually composed, not [messy] or cluttered. I'm only somewhat successful at that, but it's a decent aspiration. Aesthetics are for the visual sense. We take that into our bodies and it effects us. I try to live with that in mind.

ID: You boast a really impressive list of commercial clients. What is it about your works that speaks to discriminating companies like Nike and Conde Nast?



TB:

Our products are typically for the home and when a corporation or commercial project seeks our things it is usually because they are wanting to add a human element or an element of comfort to a setting. I hope that they are looking for originality with a sense of familiarity—something understandable yet not cliché or expected. Maybe they just want an original "Ted Boerner" to add to their corporate collection to go next to their Picassos and their Eameses!

ID: What's your process for keeping quality control when you produce a custom-made piece on a larger scale?


TB:

I have to see the final product, especially if it is in larger quantity, to make sure mistakes don't get replicated. Being a part of the whole process from the very beginning is essential. The design process isn't over until the piece is delivered, and sometimes beyond that. I work very closely with shops that I've developed relationships with and there's a lot of trust and a willingness to get it right. It's a constant plate-spinning kind of act to keep all the plates spinning and operating in sync. Once in a while, a plate falls and… crash! That's the human part. Our job is to rebound and take care of whatever happens.

ID: What are the most exciting projects on your plate these days?



TB:

New products for Ted Boerner, Inc are always exciting and excruciating. We're working a little in metal and glass and all the variations that those materials offer. I'm working on small table top and accessories for a company that produces pieces made of recycled paper with craft villages in Vietnam. The challenge is to elevate that material into desirable, artful objects that go beyond "craftsy." The great thing is these pieces are small, and pretty much unbreakable! We'll see how that goes. Doing something I have no experience doing is always fun. I'm up for more of that.