10 Questions With… Thomas Barger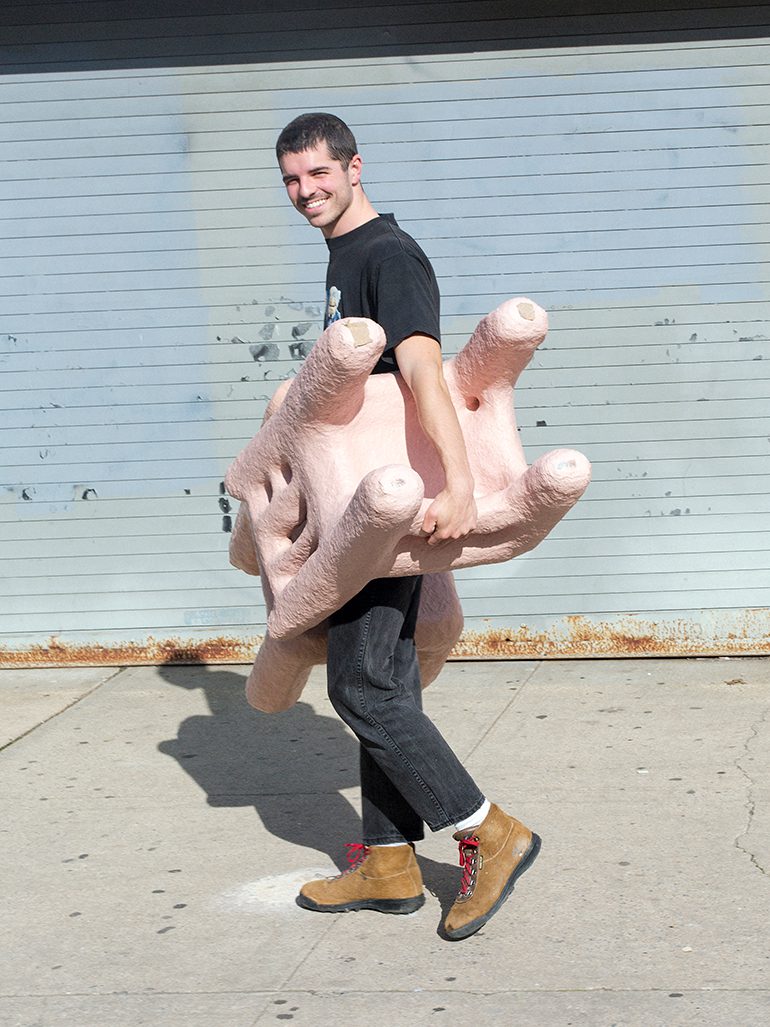 Childhood often is a rewarding period in life, which might feel less so at the time. A yet untainted imagination and exemption from duties can yield visions that may follow a designer into adulthood—even towards their breakthrough. This was the case for Brooklyn-based designer and artist Thomas Barger. The 28-year-old's first solo exhibition, Growing Up, at Salon 94 Design in 2018 reflected on his upbringing in a religious farming household in Illinois and his coming out. Post-church Sunday dinners and memories of his mother folding laundry were transformed into seemingly puffy furnitures and sculptures in pulp, which he created by shredding discarded paper in a Cuisinart kitchen appliance, eventually sealing the mold with resin.
Flashy colors and bulbous forms have since been synonymous with Barger's design language, which continues to evolve with his ongoing investigation of queer domesticity, definition of function in a digital landscape, and background in architecture. The recent months have seen many firsts for Barger. He is currently in his first museum exhibition at the Hancock Shaker Village Museum in the Berkshires. The group exhibition, By Design, is about the echoes of Shaker design across a host of intergenerational designers. Showing sculptures that combine Modernist architecture inspiration and traditional domestic spaces within Shaker heritage excites Barger. "To be given space and time to explore my relationship to a beautiful American design movement is very rewarding," he says. "It has been interesting to make work in an urban context for a farm museum." This month, he will also participate in a joint show with painter Claire Milbrath at Montreal gallery, Projet Pangée. For his first two-person exhibition, Barger has created eight works, of which half are functional and the other, purely sculptural.
Here, Barger shares with Interior Design childhood influences on his work, thoughts on reflecting queerness onto design, and his interest in discarded materials.
Interior Design: Do you consider the narrative in your design a collaboration between you and those activating your furnitures—something they complete through use, or do you have the complete story finished in your head?
Thomas Barger: The hands-on way that I make work totally makes room for error and surprises. I believe through these accidents it creates opportunities for spatial narratives. I really enjoy exploring space compositionally and making the work that is overloaded.
ID: "Queering" in design means subverting function and purpose. How does this notion of queer influence your work?
TB: I come from an architecture background. By "queering" design, I believe, I challenge my own background in modernist design. That training was all about efficiency and structure. Queer helps me subvert goals of design. I do this by loading the object with narrative as well as materiality. They are primarily made of paper sawdust composite, not typical to furniture. By approaching the work this way, it doesn't make sense to make reproductions.
ID: Your first show with Salon 94 was a nod to childhood and coming out. How do you approach memory as someone who makes tangible objects?
TB: I think about that line in a poem by Louise Gluck, "We look at the world once, the rest is memory." I'm constantly reinterpreting my background. There is so much richness in my past that I highlight in an artistic context. Coming from a farming and religious background was very formative. It offered a lot of material for my first show when I was confronting something so jarring as coming out. Being an artist, it's special to dive into your own world and find what inspires you and go from there.
ID: Do you still rely on chance encounter in your search for materials, such as paper pulp or foam, on the streets or online?
TB: Making work out of those materials is special to living in New York City. If I made work where I grew up, it would look so different. Stemming from not having much cash, I think I have a knack for being resourceful. There is so much discarded on the streets that it's hard not to use what's at your fingertips. But if I made work somewhere else, I would totally entertain chance encounters with materiality. I am excited to make work in the near future carved out of stone or cast in metals.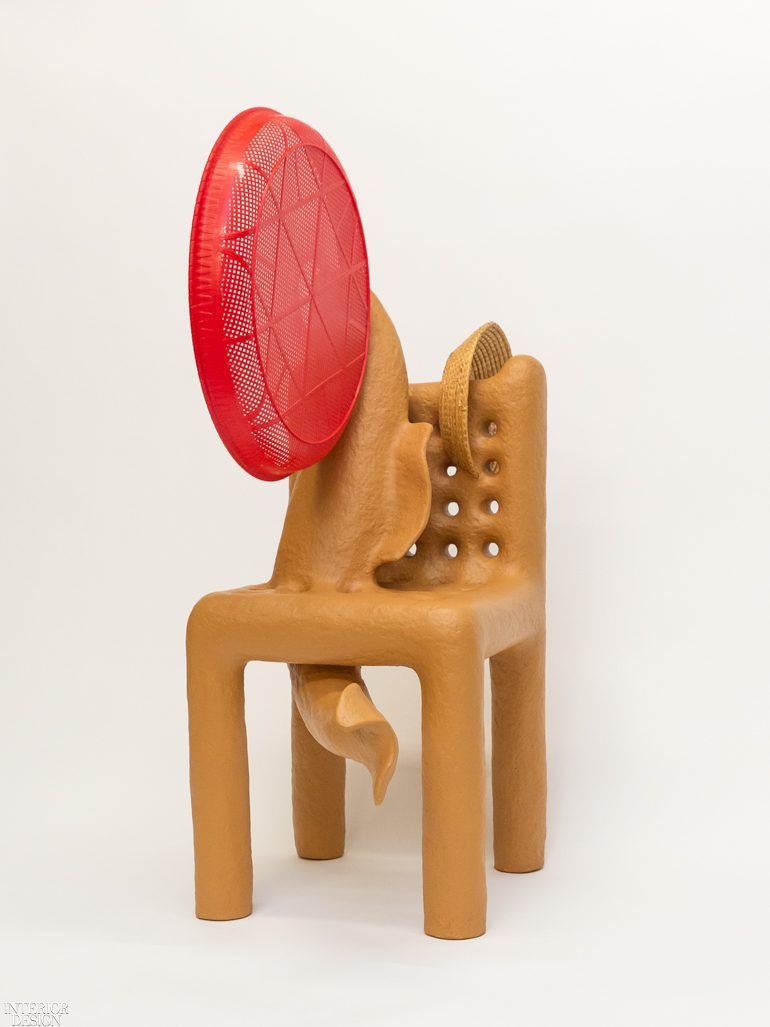 ID: How do you approach color? Similar to certain smells, color can resonate with certain places or past moments, too.
TB: Additive and playfully for the most part. Working three dimensionally is all about function and form. But color nudges it to a degree of peace and intensity. Some colors I'm attracted to resonate playfully in the kids show, Barney & Friends, and others feel more intense like BDSM. The color can offer a disparate experience.
ID: Do you see a similarity or parallel between whimsy and queer aesthetic?
TB: Queer aesthetic is all about inclusivity. There are so many ways to express queerness. I think whimsy is a trending aesthetic.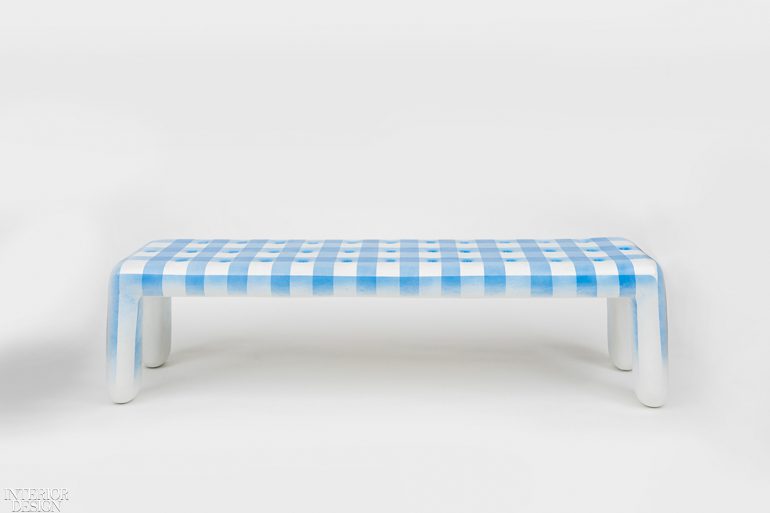 ID: There is a sense of comfort in your work, which I believe, is partially tied to your employment of joyous colors and robust forms. Do you think about comfort in both physical and emotional senses in design process?
TB: The work is physically not comfortable, but it does offer a cuteness in a space. The thickness of armatures and proportions has an effect to almost be miniature if you weren't physically there.
ID: How does the Midwestern landscape influence your visual language today? Do you think about wide open roads, hyperbolic, and colorful roadside signs, or a sense of having a lot of space?
TB: Coming from the Midwest definitely inspires the way I work. But I don't think the literal landscape is the most influential. My background in farming and religion make up a dominant part of my relationship to that region. To work with your hands and being resourceful are skills that are hard not to absorb. Through observation I soaked up so many aesthetics that are specific to my formative years.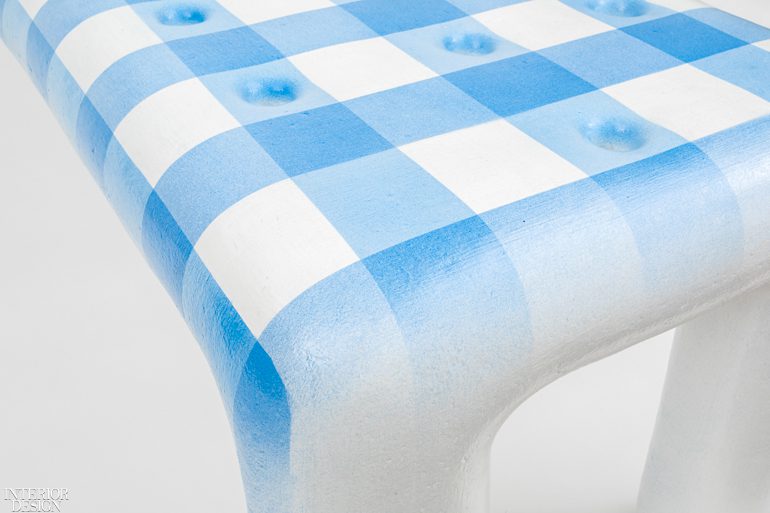 ID: Childhood and camp have surprising parallels—they both resonate with striking colors, continuous performativity, and a type of distance from the reality outside. How do you balance or mix the two in your design?
TB: Camp is a little confusing to me. Since Camp: Notes on Fashion exhibition at The Met, I consider a sensibility that you can't escape. For me it's really not something I go into first. I feel like camp is being expressive because you can. Coming from a strict architectural background it is fun to be more hands on and ultimately a bit more expressive. But lately, I'm interested in combining that way of working with content and narratives.
ID: There is a sense of fluidity in your approach to furniture—almost as if everything was flowing like liquid. Could you talk about the idea behind this visual code?
TB: The fluidity found in the work stems from the materiality that is at hand. It almost operates like clay. It's paper, sawdust, wood glue, and paint all together to make a reconstituted MDF. I primarily draw before making something. I draw at a slant and repetitively, sometimes over and over a drawing. Maybe the fluidity found in the physical work stems from translating a hand drawing.