10 Questions With… Thomas O'Brien

Warmth, modern design expression, and time-honored allure do more than simply "coexist" in Thomas O'Brien's work. O'Brien is a noted designer of lighting, furniture and rugs (with pieces on grand display at his

Aero

storefront on Broome Street in New York), as well as the founder and president of design firm

Aero Studios

(residences in NYC, the East End, and further afield; retail spaces for

Williams Sonoma, Inc.

's home stores,

Donna Karan

,

Giorgio Armani

;

David Barton gyms

and the

60 Thompson hotel

).

He's currently watching his visions of

Greenwich Lane

come to life—five addresses and five townhouses (200 units) at Seventh Avenue and West 11th and 12thStreets in New York, at the former site of St. Vincent's Hospital. Presented by the Rudin family and

Global Holdings

, Greenwich Lane will have interiors created by O'Brien's Aero Studios, in collaboration with architecture and design firm

FXFOWLE

and interdisciplinary landscape design firm

M. Paul Friedberg & Partners

. Here, O'Brien takes us inside his newest project, and his mind.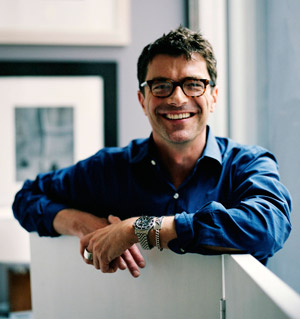 Interior Design: Greenwich Lane is rising on an incredibly significant site in New York. Knowing its history—and how passionate Village residents are about the lay of the land—what does it mean to be a driving force in this project?


Thomas O'Brien: For me, the approach and design of Greenwich Lane came in every way from a personal point of view about downtown and the Village. I love this neighborhood, as a citizen and as someone who dreamed about coming to the city when I was young… There was a kind of cinema in my head of Old New York, sophisticated New York. My earliest memories of being here are of walking on 10th and 11th Streets everyday as I was going to school at the

Cooper Union

, and looking at those classic, romantic brownstones. And then, discovering the apartment buildings of the 1920s and 30s, with their wonderful geometry and casement windows and elegant scale—neither a town home nor a skyscraper.

All that history of the evolution of the city is part of my own history, of what I was absorbing and learning from. And I still learn from it, especially in taking a building apart and finding pieces of design to revive or reinterpret—to make the old part of something new. So these things became the reference points for each of the individual buildings in Greenwich Lane: how the architecture and design might all fit together on a spectrum and could be part of the authentic documentary landscape of the city. There's an earnestness to it beyond the obvious drama of the site. This project is really my fantasy and story of New York.


ID: The spectrum of decision makers that are invested in Greenwich Lane must be legion. How have you and the project's collaborators communicated with one another throughout this process, and how have you kept your intentions clear?


TO: As I've mentioned, I come out of a conservatory art program at the Cooper Union, which was based in a really meticulous process of inquiry, refinement, presentation, review, and critique. And that formal process is something that is built into the way my office operates. We work through design in a classic and very careful way. We review and coordinate and communicate with our partners constantly. We're rigorous in our documents, in the details. I think we gain trust by virtue of how carefully we insist on doing things, and how we link each idea together in the thread of the work. That keeps everyone moving in the same direction with a kind of mutual industry. There's nothing that replaces clarity and control in a design process.

I use this approach on every assignment, no matter what it is. My question for every single thing I'm looking at, at any juncture is, what is this about? Where does it fit in the puzzle? Is it finished or do adjustments need to be made? It seems simple, but I always say that every meeting we have is about the meeting we had before and the meeting we're having next. It's the practicality of

making

the design, the countless steps that takes. What needs to be changed, addressed, at this exact moment? The before, the now, the next… keeping track of every detail in its place in the process. I hope we're known for that.


ID: What, from your perspective, are the greatest distinctions of Greenwich Lane?


TO: I think it's the absolute uniqueness of five completely different but unified, linked buildings, plus a row of townhouses and the garden courtyard that anchor the site to the graciousness of the original neighborhood. I don't know that there's a development in the city that's examined those urban connections on this scale.

It's been the game and the magic of the project—not only for practicality and business but also for a design integrity overall—to have shared materials and details across the buildings that can still exist in these individual ways. Creating each property has been about finding the path to allow the buildings to have seemingly evolved over time, next to their neighbors. You have these overlapping eras that borrow from or echo each other, without being chaotic. I've enjoyed creating and telling that story.


ID: You've often said you love any opportunity to marry the classic with expressions of today and tomorrow. In what ways does Greenwich Lane accomplish this marriage?


TO: Greenwich Lane comes from the world of reference and history and classic New York, but I don't think it will feel old, or like a restoration. It is certainly new. It was important to keep a fluidity between the buildings, especially in the merging of the modern architecture with the older portions, that provides a sense that the site is real, had been here before.

The trick of it is that something's authentic nature doesn't have to be old. It can be new. I'm always interested in finding the pieces of a historical record that can be made anew, so that they feel fresh. Maybe they are scaled differently or pared down in some way, but they are true to what would have been original and really modern and chic many decades or centuries ago. There's another project that I'm currently working on in this spirit. It's a house that's meant to have evolved and been added onto over decades and generations, but it's entirely new. I want people to wonder,

Is this a house that's being renovated, or is this a new building?

It's idiosyncratic enough that it's just real as itself. But you can't really tell where the past leaves off and the present begins.


ID: Does it comes naturally for you to flip from the intricate focus of furniture and lighting design, your concentrations with Aero Designs, to the intensely personal planning behind a luxury residence, to the large scale vision behind Greenwich Lane?


TO: For me, furniture design and interior architectural design follow exactly the same kind of creative process. The size of the project doesn't affect the way I approach it. Whether it's a cabinet, a chair, a lobby, an apartment, or a master plan for several buildings, I think of them all in one way. They're all about the details and proportions and reference points you are going to choose, and how to put those layers together with care and harmony. I do the same relative amount of drawing and measuring on the fittings of a lamp as I do on the sequencing of rooms and furniture in a house plan. Every smaller thing is just always in relation to the larger form in which it lives.


ID: What are the traits you look for in people you employ at Aero Studios, and how do you engage creative conversations taking place within the firm?


TO: One of the biggest challenges is always to find people who both love and are interested in classical detailing. Even though we do modern work, we're always searching for that architect or designer who is skilled and interested and passionate about more historical interiors. But I find that fewer and fewer people come in with this sort of background or specific training anymore.

It's also really useful to find those special people who are capable of managing client communication in an elegant way. The art of conversation is so important. In general, in this age of technology, it's just challenging to get everyone away from their computers to talk. One thing I've always done is provide a home-cooked staff lunch so that everyone can pause in the middle of the day and eat together and chat. They feel like part of a community. It's a way to take the blinders off and become aware of what's going on at someone else's desk. And that makes everyone on a team more patient, gracious, collaborative, articulate, and supportive—which then translates into communicating successfully with all of our partners outside the studio.


ID: What is the upscale residential client asking for today, and how do you navigate that fine line between input and "it's time to let me do what you're paying me to do…"?


TO: I'm certainly one to explore lots of design directions, but I am also mindful of the fact that the creative process can become costly for clients, both emotionally and financially, if at some point decisions don't get made. So sometimes you do come to a place where you have a responsibility to make the client aware of that fact and be a guide towards an answer. One of the things I do say, in a good spirit, is: "It's time to pick a lane and stay in it."


ID: Your retail work is beautiful and—more importantly—effective for clients, such as the home stores under the Williams-Sonoma umbrella. Do you have to integrate a lot of sociology or anthropology into your approach when conceiving retail concepts for such enormous brands? How much of all this is about understanding human nature?


TO: Thank you for that. I've always loved doing stores. That's how I started out, with Aero. Whenever I've become involved in retail design, whether it's a fashion or a home brand, the primary thing that I want to do is create a residential character and sense of detail in the public space. I want to make stores that are more actual and homelike in spirit—in the way they're lit, what they're built out of, and how you move through them. I think of them as well-made rooms with a certain degree of craft and intimacy that allow you to be more comfortable as a shopper and a human.

But this orientation is definitely matched with the part of me that loves being a merchant myself. Merchandise plans and adjacencies and all the back-of-the-house issues are very real in what a store is about. Creating all of that feels both natural and like an interesting challenge for me. So for me, store design has to do with both points—making something more residential in feeling, and coming at it with a merchant's mind, being a shopkeeper myself.


ID: Responsible practices are of the utmost importance to the architecture and design community. What's your guiding philosophy to responsibly building for the future?


TO: I think one of the practices that's so important for the future is, paradoxically, to learn, remember, and respect what's been done before. I'm not one to be obsessed with what's modern and current just for the sake of being cutting-edge. Good invention happens in every age, and we all think we are the most innovative in our own time. I've come to believe that one of the biggest gifts in what gets designed by anyone is looking back and making sure to consider how things were done by previous individuals and cultures—if only to respond to them in a knowledgeable way. That's an incredibly important part of it all for me, to honor where ideas come from but also to know that in the real making of things, the tried is true in many ways—and is often still the most economical or lasting. I worry how much of that's being forgotten now, and with it will go all kinds of craftsmanship and home traditions and just a kind of prudence and conservation that are being replaced by these faster, more disposable, outsourced lifestyles.


ID: You obviously work from a source of great inspiration… How were you inspired as your career was first coming together—or even earlier—and what now brings you the most inspiration?


TO: I've always been inspired by wonderful homes and beautiful museums and public spaces. What interests me is that you can see eras of all kinds repeating in the great places—the way that classical thinking or a reinterpretation of anything is about one generation respecting or literally loving something about a thing that's come before. So I tend to look at what is in the heredity of each object or place; what's in something of the 1920s that has been distilled down from the Renaissance or even antiquity. How that history is interpreted, how intriguing it is to see how some creative person puzzled it together. For me in this generation, I work in that process, too. I hone and edit and redraw. It's history and reference meshed with this time and place and all these different signals, I guess, that fascinate me.

So much of my inspiration certainly started out about New York, not just in being here and the endless places to discover, but in pictures and documents of so many things large and small, this idea of an American aesthetic. I've collected layers and layers of that in my head over the years. But most of what I'm craving and collaborating on with clients, it turns out, is beyond design. It's about home, garden, cooking, and living. In many ways, I'm more inspired to help clients find that way to live now. To not just be swayed by the modern world but to know how to live beautifully in it. To put together the plan and the way to be in this time. To be at home.